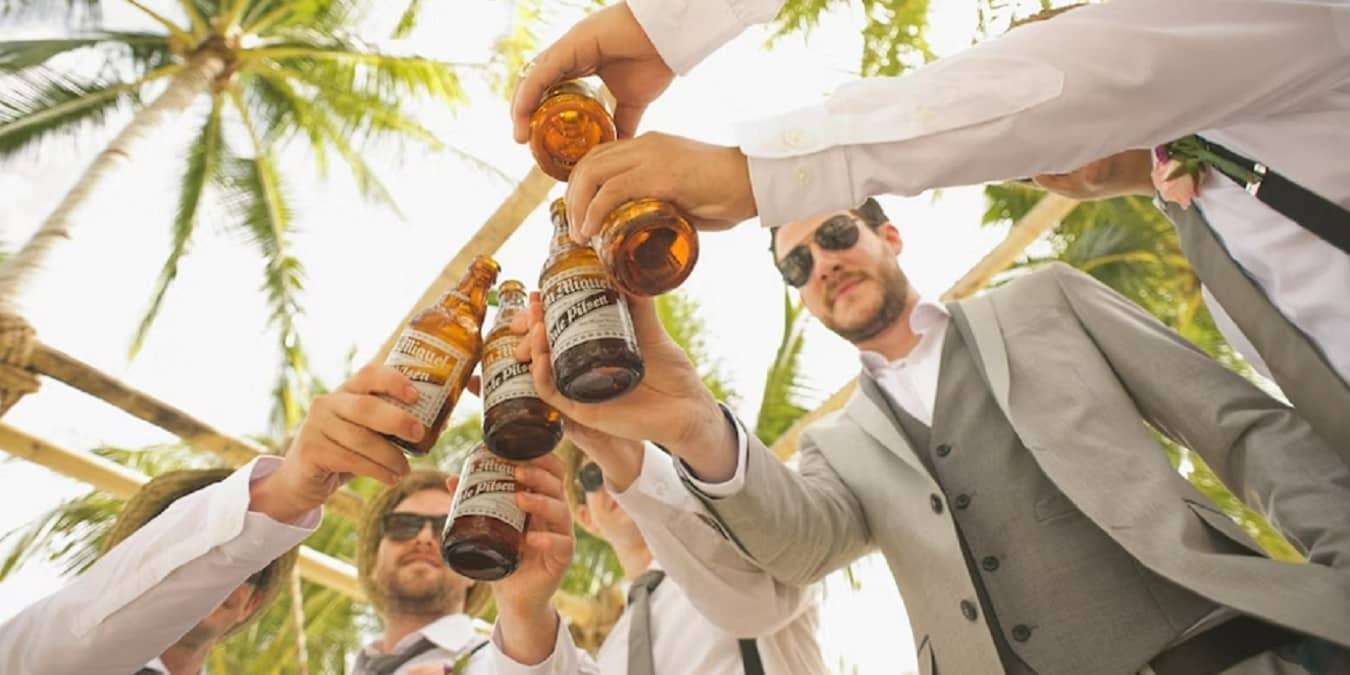 After seeing movies like Bachelor Party and The Hangover, you might have some insane misconceptions about what it means to throw a bachelor party. Sure, they can get wild or they can be rather tame. Of course, as the best man, it's your job to ensure you put together the perfect bachelor party for your best bud.
Talk to the Groom
The single most important thing is to talk to the groom. Trying to surprise him with some off the wall, crazy party or activity might sound like a great idea, but it still needs to be something he'll enjoy and something that won't make his partner leave him once they find out.
I'm not saying the groom needs to throw a bachelor party for himself. Just, get some ideas of what is and isn't okay. For instance, is he okay going off somewhere or does he want to keep it low-key near home?
Get Some Help
You don't have to do everything by yourself. Gather the other groomsman, or some other friends and family if you're the only one, to help you plan. Pick an activity or even a few activities that the groom will love. And start making plans. This can include:
Choosing a date
Booking reservations
Inviting guests
Gathering supplies (if necessary)
Arranging transportation (no one drives drunk)
Plan Early
Don't be that guy that waits until the last minute to throw a bachelor party. Yeah, you could just go with drinks at a strip club, but it's your friend's last night of freedom and all that. Make it more memorable, unless that's what he's dying to do.
Despite the reputation bachelor parties have for just being a long night of debauchery the night before the wedding, most of these parties happen anywhere from the week before to up to three months before the wedding. Obviously, destination parties usually take place further ahead of the wedding than just getting together for drinks.
As soon as the groom asks you to be the best man, start thinking about the bachelor party. Also, if possible, consider planning the party around a holiday weekend so people don't have to try and get extra vacation days.
Understand What Makes a Good Bachelor Party
Alcohol, strippers, and getting tattoos you'll definitely regret might be what the movies say is a great bachelor party, but that's really not the truth at all. Your friend's getting married. He's grown up and is probably looking for something more fun, yet respectable than what he might have thought was amazing at a frat party.
Make sure your plans hit all the boxes and it'll be something the groom remembers for the rest of his life (no pressure):
Keep his interests in mind
Go big, but be reasonable – Maybe he loves skiing, but that doesn't mean you should plan an extreme heli-skiing trip.
Make it affordable for everyone – You don't want friends skipping out because it's too expensive.
Make sure food's involved – This is a must, no matter what. An incredible meal makes every guy happy.
Get everyone to make a toast or roast – Take the time to share embarrassing stories, how everyone became friends, and enjoy laughing at each other.
Create a groom fund – Have all guests chip in to pay for the groom's costs. The party's in his honor after all.
Invite the bridal party and the groom's friends – Don't limit invitations to just the other groomsmen. Invite the groom's closest friends and even family members too.
At the end of the day, it's just about having a good time together. Skip the boring and the extreme and you should be all set.
Bachelor Party Ideas
If you're lucky, your best bud already has the perfect bachelor party in mind. While little girls might dream of their wedding, guys tend to think more about the bachelor party. If he's not sure or just wants to be surprised, consider some of the following bachelor party ideas:
Simple, Yet Good
A night out at his favorite restaurant with ample drinks
A bar crawl leading back to a hotel to crash for the night
Rent a movie theater for a movie marathon, snacks, and drinks
Head to an amusement park, followed by an epic dinner
Have a fun backyard cookout
Host a board game or video game night
Take a Trip
Book a deep-sea fishing excursion
Go skiing for the weekend
Go camping or hiking
Go to a major sporting event or events
Plan a weekend of his favorite activities, such as playing golf, going bowling, playing paintball, etc.
Head to a casino
Spend the weekend at a major resort with a variety of activities
Go Big or Go Home
Go skydiving
Consider heli-skiing
Hire strippers
Book a racing experience
Whatever you choose to do, follow the groom's lead and enjoy yourself. After all, that's the entire point – having fun and forgetting all about the stress of planning a wedding and going from bachelor to husband.
Frequently Asked Questions
What if I suck at party planning?
You don't have to be a party planner to throw a bachelor party. However, if you know your friend wants something big, don't hesitate to hire a party planner to handle all the fine details for you. Or, assign friends to handle different tasks so you're not overwhelmed.
Can I keep a bachelor party simple and cheap?
Definitely. A bachelor party isn't about how much you spend, but how much the groom enjoys himself. If sitting at home watching movies, grilling some steaks, and throwing back a few beers is his favorite thing to do, then go with it.
Is alcohol required at bachelor party?
No. Not at all! If the groom doesn't drink or doesn't want to be hungover leading up to his wedding, skip the booze. There's nothing wrong with staying sober so everyone remembers the party.
Image credit: Unsplash
Subscribe to our newsletter!
Get the best of ModernRatio delivered right to your inbox!