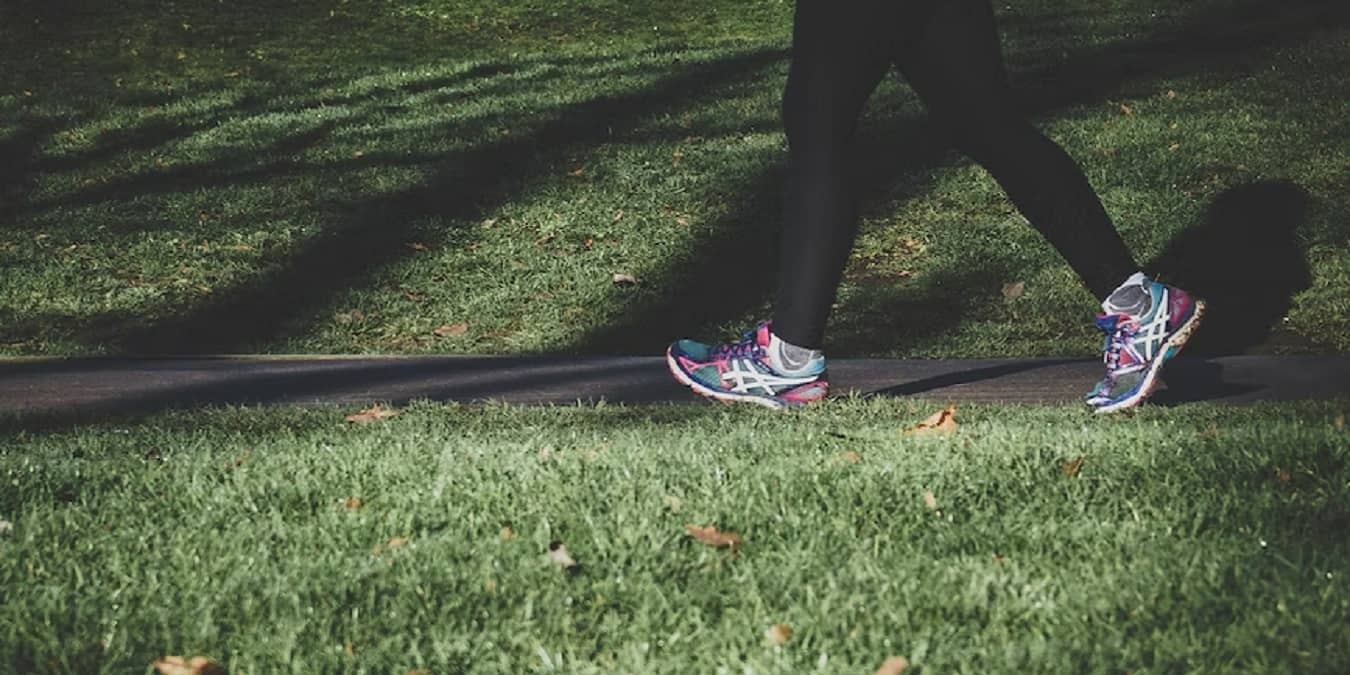 Want to get fit at home, but hate the high intensity, high impact workouts that seem impossible to do? Try YouTube channels for at home walking workouts. They're easy to do for all fitness levels, even complete beginners, those recovering from injuries, and seniors looking to increase mobility and balance. Plus, you're able to get fit without being super sore or risking joint pain.
1. Walk at Home – Best Overall
Walk at Home has been a highly popular fitness routine for over 30 years, even predating YouTube. But, Leslie Sansone, creator of Walk at Home, has kindly uploaded numerous full workouts and clips to help you get fit for free at home. While she occasionally uses resistance bands and light weights, most workouts are equipment free.
Her workouts usually include at least four simple steps with variations, such as raising your arms, squatting slightly, or speeding up. You walk, do knee lifts, walk side to side, and kick your legs out. It's that simple, yet it's fun and accessible for everyone. It's my personal favorite and one I come back to at least several times per week.
2. Lucy Wyndham-Read – Best for Less Commentary
Lucy Wyndham-Read offers both general at home walking workouts and more targeted options, such as abs, legs, and arms. She's a certified trainer. While some of her workouts are slightly more intense, they're still good for beginners. I love that there's not a lot of commentary, which is great if you want to put on some music and not worry about missing instructions.
Start with the Walk at Home playlist that starts you with just 1,000 steps. She recommends doing this workout each morning to start the day off right. Build up to more steps when you're ready.
3. Get Fit With Rick – Best Upbeat Workouts
Love working out to a scenic view? Get Fit With Rick often has you walking and dancing to hit songs while looking out over the water and the city of Dubai. Rick Bhullar is a professional dancer turned weight loss coach. He didn't start offering YouTube workouts until 2020, but since then, he's gained over 350,000 subscribers.
His low impact HIIT workouts will definitely make you sweat. However, Bhullar offers slower at home walking workouts for beginners or more intense options when you're ready. His infectious personality and upbeat music are what really set this YouTube channel apart.
4. yes2next – Best for Beginners
One of the top YouTube channels for at home walking workouts for beginners and seniors is definitely yes2next. It's run by April, who's a personal trainer that also has functional training specialist and senior fitness certifications. Videos feature both her and her mother, who's over 80. It's inspiring to see older women staying fit.
What's wonderful about this channel is all the workouts are designed with seniors, people recovering from injuries, and those dealing with joint pain in mind. The walking workouts may remind you a little of Leslie Sansone at times. If you haven't worked out in years or you're starting over after an injury, start with this channel. I enjoy the workouts on days when I just want something easier or for a great warmup.
5. growwithjo – Best Walking Mixed With Dance Workouts
Do you hear your favorite song and can't help dancing along? Then, you'll love growwithjo. Join Jo for fun and free fitness featuring a mix of walk at home and dance at home workouts. Don't worry, you don't have to be a professional dancer to enjoy these. I'm kind of the anti-dancer and I still have fun with these.
What I love about these workouts is they're designed for small spaces, such as apartments and bedrooms. Plus, Jo just knows how to keep you smiling even when you're sweating and think you can't possibly finish those last few minutes. You'll also find some Pilates and yoga sprinkled in for flexibility.
6. Improved Health – Best Gentle Workouts
Improved Health focuses on gentle workouts for beginners, seniors, and anyone who just needs to get fit while taking things a little slower. Jules is a personal trainer and recreation therapist. She guides you through simple, yet highly effective walking, standing, and even chair exercises.
If you enjoy yes2next or just want a little more variety, try this YouTube channel. You'll find almost 300 videos. While some videos are more targeted, most are for general fitness. There's even some great simple dance workouts to spice things up.
7. Moore2Health – Best for Extra Fitness Tips
Tiffany, owner of Moore2Health, does an incredible job at making fitness fun with themed walking workouts, such as the music of Michael Jackson, Tina Turner, and Donna Summers. Her workouts focus on the whole body, but are still beginner-friendly. If you're looking to gain more energy or drop some extra weight, start here.
Another benefit of this channel is the extra fitness tips you get throughout the videos. These help you learn how to maintain a healthier lifestyle. Plus, there's a lot of motivational talk to help keep your spirits up and keep you on track to reach your fitness goals.
Frequently Asked Questions
Are walking workouts safe?
Overall, yes. If you have an injuries or health concerns, please contact your doctor first. If you have any trouble, either slow down or stop. The great thing is you can pause videos and rest to take things at your own pace. Walking's also a great way to start a healthy lifestyle.
Are walking workouts effective for weight loss?
Yes. At home walking workouts mix in cardio to improve heart health and burn calories. Even the slowest workouts on this list will help you lose weight over time.
Image credit: Unsplash
Subscribe to our newsletter!
Get the best of ModernRatio delivered right to your inbox!