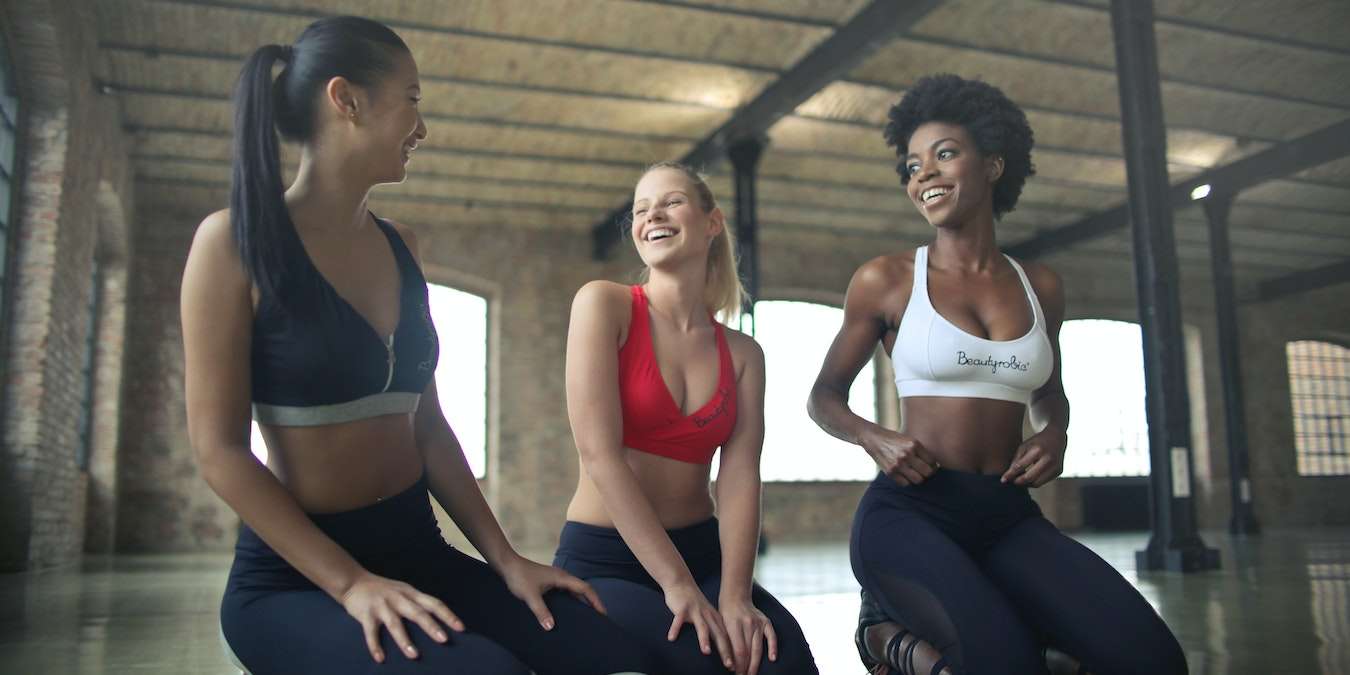 If you search the internet for "yoga pants for women," you will easily find hundreds of options. However, many companies who sell yoga pants do so at a premium, with the average price of many pairs sitting just below $100 for a single pair. Because we know most women work on a budget and enjoy a good deal, we've compiled a list of the best yoga pants women can buy online for under $40.
1. Best Overall Yoga Pants for Women: BALEAF Workout Leggings
Price: $28.99
Although they are labeled as "workout leggings," the BALEAF Women's Workout Leggings are by far one of the most affordable yoga pants you can buy online. The moisture-wicking, breathable fabric prevents you from overheating while keeping you adequately covered. Many Amazon reviews note that the high waistband keeps everything tucked in without pressing on your stomach during both beginner yoga poses and more elaborate ones. This means you'll still feel cool and comfortable throughout your entire yoga session.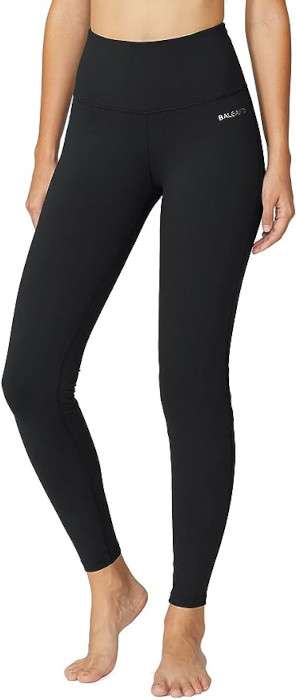 These tight yoga pants come in two different inseam options, eight unique colors, and sizes ranging from extra small to 3XL.
2. Best Cropped Leggings: HeyNuts Essential Yoga Capris
Price: $23.99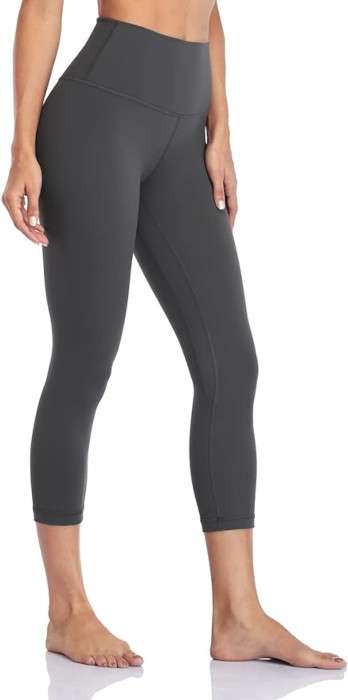 If you don't like the way leggings feel around your ankles or prefer cropped leggings in general, the HeyNuts High-Waist Yoga Capris are an excellent option. These squat-proof, buttery, soft yoga pants for women offer just the right amount of compression to keep things in place without feeling too tight. They also come in 15 unique color options and sizes ranging from XX-small to extra large.
3. Best Option With Pockets: PHISOCKAT Yoga Pants with Pockets
Price: $27.98
The PHISOCKAT High-Waist Yoga Pants With Pockets are yet another affordable pair of yoga pants for women. But, instead of just feeling great, these pants provide the added benefit of every woman's best friend: pockets! Perfect for your next hot yoga class or just wearing during your morning routine at home, these soft and form-fitting leggings offer comfort, support, and flexibility for all levels of yoga enthusiasts. The best part? You can purchase them in a two-pack for the price noted above or a three-pack for just a few dollars more.
4. Best High-Waist Yoga Pants: ODODOS High-Waisted Yoga Capris
Price: $25.98
The ODODOS High Waisted Yoga Capris are an outstanding pair of women's yoga pants for those who need a high-rise waist. The wide elastic waistband ensures your leggings stay up no matter how intense your yoga sessions get. They also prevent muffin tops, providing maximum coverage as you bend and stretch. Also, the chafe-free, gusseted crotch ensures you don't have an unfortunate rash, even during sweaty hot yoga sessions.
ODOSOS offers pairs in four different lengths and over 50 unique color options. You can also order anything from an X-small to 2XL online.
5. Best Squat-Proof Yoga Pants: Yogacraft Squat-Proof
Price: $22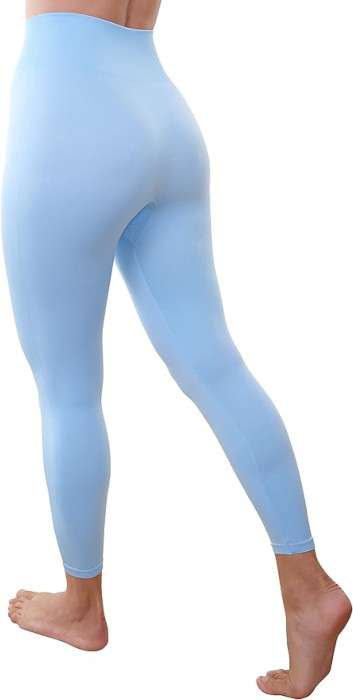 Unlike most of the other yoga pants on this list, these YOGACRAFT leggings have no side seams or annoying seams along the tummy. Instead, they provide smooth, form-fitting control thanks to the combination of nylon and spandex made from high-denier yarns. The fabric is also designed to wick moisture away from your skin, prevent chaffing, and keep you cool.
6. Best Maternity Option: POSHDIVAH Maternity Capri Leggings
Price: $24.99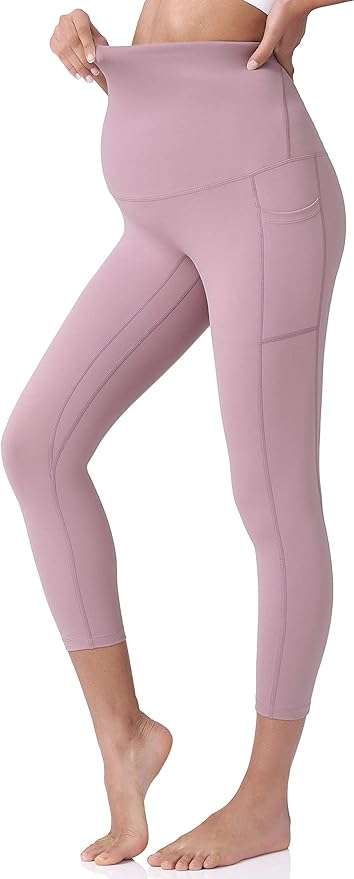 Yoga can be highly beneficial exercise during pregnancy, but chances are your pre-pregnancy leggings won't work. Instead, you'll need maternity pants like the POSHDIVAH Maternity Capri Workout Leggings. These yoga pants for women are specifically designed to stretch over your belly, offering adequate back support while still looking great on you. The ultra-soft fabric feels comfortable no matter how far along you are, and you can easily pair the available colors with any top you choose. The best part? These yoga pants come with pockets!
7. Best Flared Choice: AFITNE Women's Bootcut Yoga Pants
Price: $28.99

If you want leggings with a wide leg, then check out AFITNE Women's Bootcut Yoga Pants. These bootcut pants are made from breathable, moisture-wicking fabric. They provide lightweight comfort and sweat absorption so you enjoy the best wearing experience all day long. These leggings also provide many of the same features as other options, including two pockets, chafing reduction, and more.
Gather Up Your Yoga Gear
Yoga pants definitely make your stretches more comfortable. However, to truly enjoy all of the benefits yoga has to offer, you'll want to invest in other equipment and accessories, too. So, before you checkout with these affordable pants, be sure to select a quality yoga mat, a bolster, some yoga blocks, and possibly a wedge.
Image credit: Pexels
Subscribe to our newsletter!
Get the best of ModernRatio delivered right to your inbox!