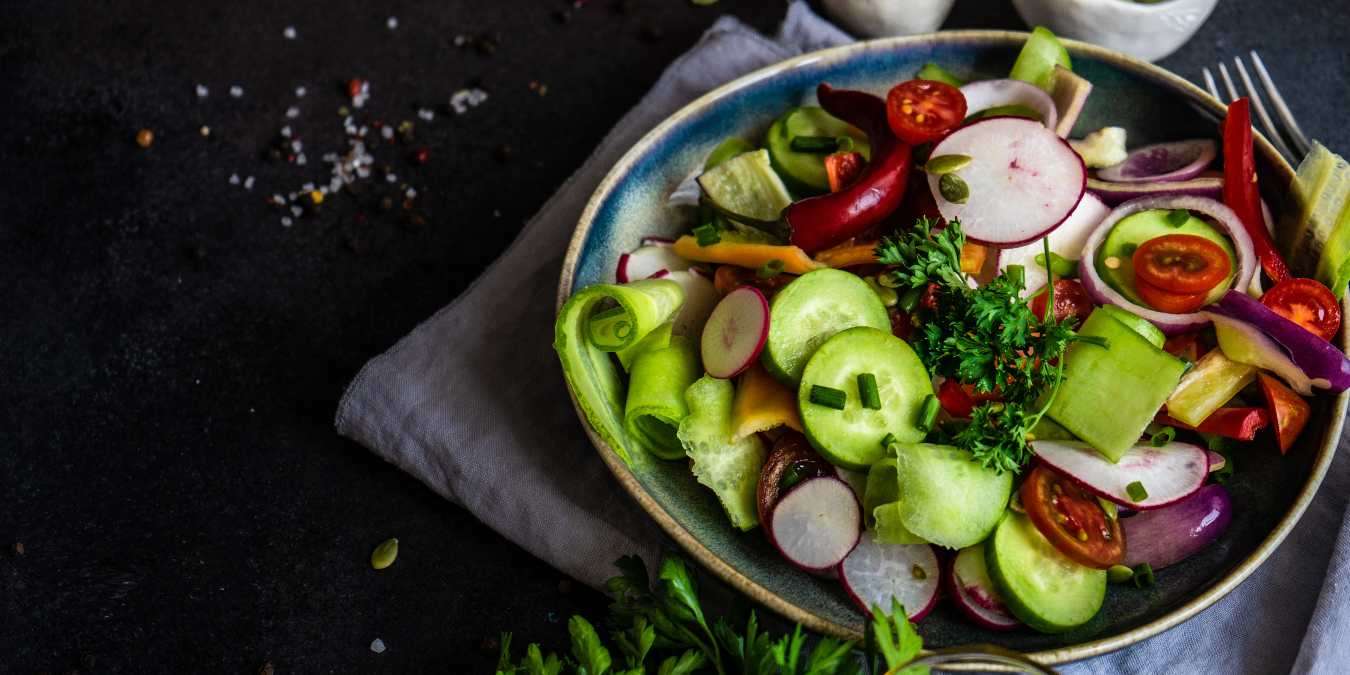 Packing healthy lunches can be a game changer for your monthly budget and your physical health. However, not everyone has time or access to a microwave when they work in an office or other location. Luckily, this list is chalked full of healthy lunch ideas that don't need to be heated so you can still nourish your body without worry.
1. Veggie Delight Wrap
If you've ever stopped at Subway for lunch, you may have noticed their "Veggie Delight Wrap" is packed with delicious vegetables and condiments. Luckily, you can make your own version of this tasty sandwich at home and pack it for the perfect lunch that doesn't require heating.
To make the "Subway version," you'll need a wrap, lettuce, spinach, bell peppers, fresh onion, tomato, and cucumber. However, you can easily swap any unwanted ingredients for something else, add shredded carrots, olives, or other items, and top it with your favorite cheese. For added protein, work in some hummus or beans. If you want to add some flavor, drizzle balsamic vinaigrette or another dressing on it, too.
2. Zesty Quinoa Avocado Bowl
Quinoa is an excellent grain that provides protein and fiber. It's also packed with vitamins and minerals such as folate, iron, magnesium, and potassium, all vital for our health. Also, once you cook quinoa, you can eat it at any temperature, making it the perfect base for a bowl or salad when you're looking for healthy lunch ideas.
Whipping up a Quinoa Avocado Bowl is easy. You just need some diced avocado, cucumber, tomato, red onion, and jalapeno. We also recommend adding some black beans, corn, cilantro, and fresh lime juice for added flavor. Top it all with a homemade olive oil dressing, a zesty ranch, or some salsa.
3. Colorful Bento Box
Bento box meals are essentially the adult version of a Lunchable, and you can throw in virtually anything when you're coming up with lunch ideas. If you want to keep a balanced plate, we suggest including exchanges of protein, dairy, carbs, vegetables, and fruits. And, as the title of this Bento box implies, it's always better when you work in various colors.
To start, select a sliced meat such as turkey or ham to include. Then, add some cubes or slices of your favorite cheese along with some whole-grain crackers. Then, include a handful of baby carrots and sugar snap peas, a fruit of your choice (apples, berries, and melon all work well), and a small portion of nuts. It's the perfect "adult Lunchable" with lots of tasty items.
4. Tasty Tuna Salad
Tuna salad is a relatively easy lunch to prepare, and it's also something most people genuinely enjoy. Also, it's a great option for people who like the variety because you can eat it with crackers, in a lettuce wrap, or on some delicious multigrain bread. 
To prepare tuna salad, you just need canned tuna, diced celery, red onion, chopped pickles (or relish), and a dollop of mayonnaise. If you want to be more adventurous, you can try Food Network's tuna salad recipe or head over to Delish for another variation.
5. Protein-Packed Bento Box
Not in the mood for a Lunchable-style meal, but still like the idea of a Bento Box? You can easily make a protein-rich lunch with balanced options that aren't lunch meats. Fill your lunch box up with a couple of hard-boiled eggs, some cheese cubes (or slice up a brick of cheese), then add in some of your favorite vegetables (we recommend sliced bell peppers, celery sticks, and/or baby carrots). You can also add some almond butter or handful of nuts for extra protein, and apple slices or mixed berries for a fruit exchange.
6. Classic Chicken Caesar Wrap
Chicken Caesar Wraps are tasty, refreshing lunch ideas that are easy to make. All you have to do is roll up some grilled chicken strips, crisp romaine lettuce, grated Parmesan cheese, and Caesar dressing into a whole-wheat tortilla. The end result is a satisfying twist on the timeless Caesar salad in a format that doesn't require a fork.
7. Greek Quinoa Bowl
Greek dishes are delicious, but many of them are best when served hot. Luckily, you can whip up this vegetarian-friendly Greek Quinoa bowl and enjoy the flavors of Greece without needing a microwave or oven.
This dish includes diced cucumber, red onion, Kalamata olives, cherry tomatoes, and crumbled feta. The linked recipe also includes parsley and a simple oil and vinegar dressing, while some other chefs recommend making your own lemon-oregano vinaigrette for an explosion of Greek flavors.
8. Chickpea Salad
Looking for a vegan-friendly lunch recipe with no heating required? If so, check out this tasty chickpea salad. It includes cucumber, tomato, chickpeas, avocado, and cilantro. You can add feta cheese if you aren't vegan, or make your own Vegan Feta cheese if you are. You can make a big batch and throw it together in minutes, then eat on it as many times as you'd like throughout the week.
9. Sweet Potato and Black Bean Bowl
Unfortunately, most carbs and starches make people feel sleepy after lunch, but without them, most people don't feel full after lunch. This Sweet Potato and Black Bean Bowl is the perfect solution to this, not to mention it's vegetarian-friendly and heart-healthy.
If you roast the sweet potatoes up the night before, this recipe is easy to prepare. Just make sure you have sweet potatoes, black beans, and avocado on hand. The above recipe has lots of other tasty ingredients, but you can prepare this in many different ways depending on your taste preferences.
Take Care of Yourself During Lunch and Beyond
Healthy lunch ideas are a great way to care for your body and mind during the workweek. However, eating a nutrient-rich lunch isn't the only thing you need to do to take care of yourself.
If you're looking for more ideas on how to care for your body and mind, check out these morning smoothie recipes and this list of exercises you can do without equipment.
Image credit: Healthy food concept with fresh organic vegetables salad on stone background with copy space by 123RF
Subscribe to our newsletter!
Get the best of ModernRatio delivered right to your inbox!