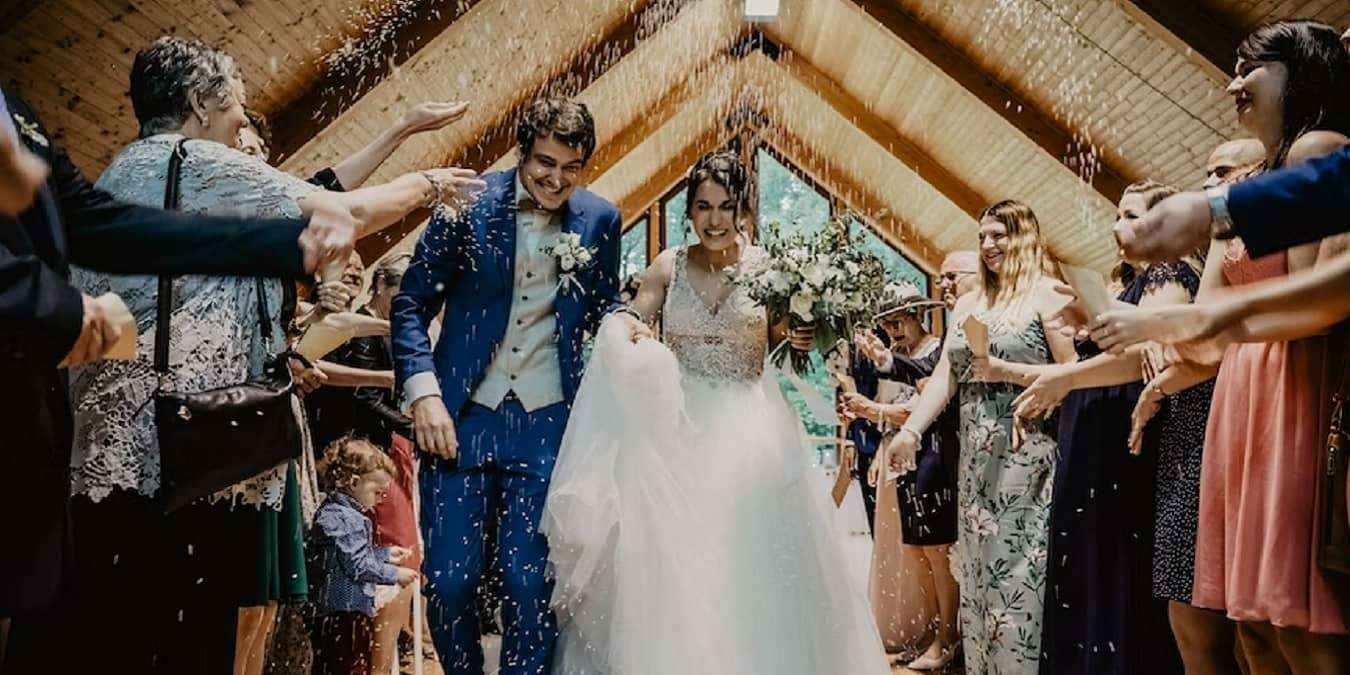 While it's all about the bride, that doesn't mean you can't look absolutely stunning as the wedding too. Narrowing your search for the best wedding guest dresses is usually much harder than picking out a wedding gift. But, thanks to Amazon, finding the perfect dress is simple. Plus, if your a Prime member, you can even take advantage of the free try on feature to ensure it fits before you buy.
1. Significant Other Verona Dress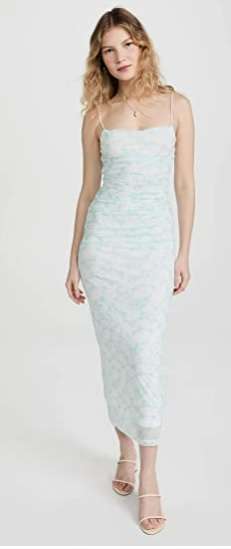 Simple, yet elegant, the Verona Dress by Significant Other looks great alone or paired with a stylish wrap. The pale floral print is subtle, making it easy to match with accessories. Light touches of rouching give it a contoured look and the slinky design accents curves extremely well. There's no closures to deal with or get your hair caught in. Spaghetti straps make it ideal for warmer months or pair it with a wrap or shawl for a winter wedding.
2. Milumia Button Up Split Floral Maxi Dress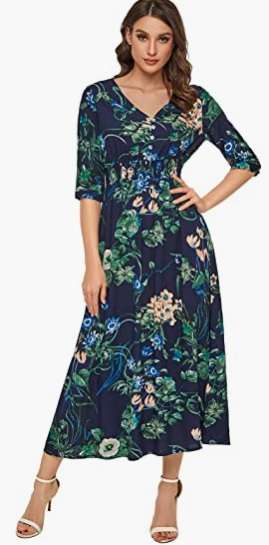 Milumia has a variety of wedding guest dresses that are ideal for more casual affairs, especially outdoor weddings. The flowing Button Up Split Floral Maxi Dress is both comfortable and beautiful for all body types. A contoured waist and V-neck shape well. It's not too low-cut or tight, so feel free to dance all night. With 13 colors to pick from, you won't have any trouble finding one that works for you. Plus, this dress can easily be worn again for casual and dressy occasions.
3. Floerns Plus Size Satin Cowl Neck Wrap Dress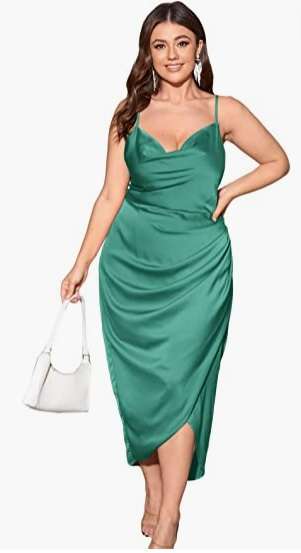 For more formal weddings, Floerns Plus Size Satin Cowl Neck Wrap Dress is a stunning choice. A slight stretch to the material makes it easy to move around in. Spaghetti straps make it ideal for summer weddings or pair with a wrap for winter events. The gorgeous wrapped hem and ruching turns a simple satin slip into an elegant wedding guest dress. It's also available in 30 colors, though a few options are velvet instead of satin.
4. YMDUCH Off Shoulder High-Split Evening Gown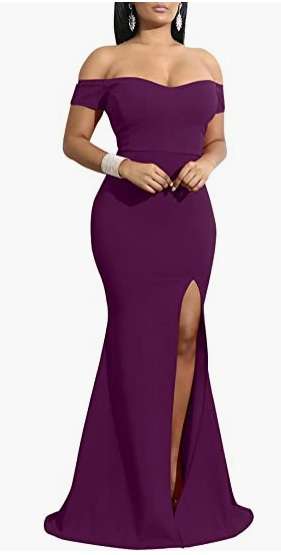 YMDUCH's Off Shoulder High-Split Evening Gown is the epitome of elegance. For formal weddings, this is one of the best wedding guest dresses. The floor length design with a high-split offers a timeless look. Thanks to it being partially spandex, it'll easily move with you all night long. It's an eye-catching look that you'll definitely want to pair with high heels to keep the hem off the floor. Choose between 15 colors.
5. Zaberry Mermaid Velvet Cocktail Maxi Dress

For weddings during cooler temperatures, you might want to opt for wedding guest dresses with longer sleeves. Zaberry's Mermaid Velvet Cocktail Maxi Dress features long sleeves, a V-neck, and a wrap design that accentuates your curves. Pleats gather the dress near the waist for even better shaping. While longer, it won't drag the floor and the mermaid style makes it easy to dance and move. Plus, it's soft and stretchy and available in four bold colors.
6. Grapent 3/4 Sleeve Plus Size Evening Gown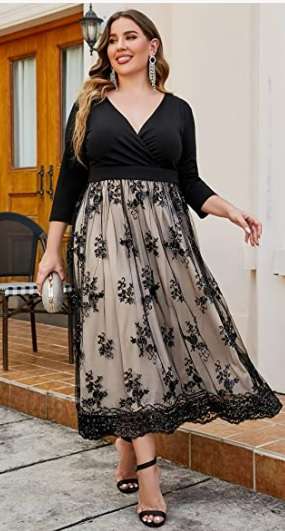 Grapent offers one of the most flattering plus size evening gowns to wear to weddings or any formal occasion. The high waist, slim bodice fits snuggly and offers a modest V-neck neckline. The beautiful flowing skirt is patterned with flowers and sequins. The black top mixed with a black/white flared skirt sits right above the ankle. Plus, the 3/4 length sleeves work well for fall, winter, and early spring weddings.
Thanks to the colors, this dress would pair well with bold red lipstick. Use these tips to wear red lipstick with ease.
7. xxxiticat Spaghetti Strap Satin Dress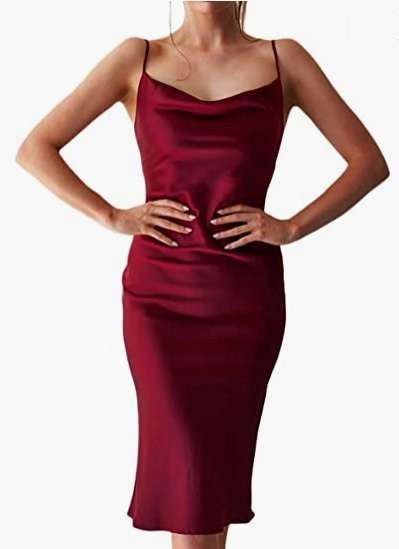 Nothing quite beats a classic spaghetti strap satin dress and this one from xxiticat delivers when it comes to being both elegant and sexy. The midi dress is a slim fit with a flattering cowl neck. While slightly stretchy, there's a zippered closure in the back to make it easier to put on. The low back makes it perfect as a cocktail dress as well as a wedding guest dress. Even better, it comes in 23 different colors, including a few floral prints.
8. Bdcoco Floral Lace Hi Low Dress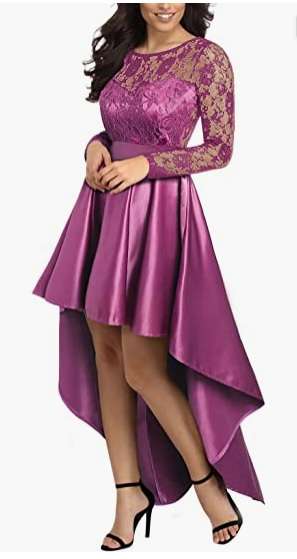 One of the most elegant and stunning wedding guest dresses available on Amazon is Bdcoco's Floral Lace Hi Low Dress. The gorgeous lace bodice with a sweetheart neckline is flattering for every body type. The ruffled satin skirt is knee length in the front and ankle length in the back. It creates a memorable dramatic effect that makes you look your best. It even features long lace sleeves to match the bodice. It's also available in six timeless colors, including a classic black.
9. IWEMEK Transformer Evening Gown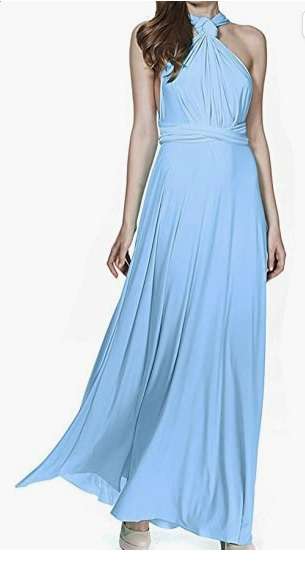 IWEMEK's Transformer Evening Gown is one of the most versatile wedding guest dresses you'll ever own. The floor length gown can easily be converted into 24 different styles. Opt for halter, cap sleeves, spaghetti strap, off the shoulder, wrap, or another combination. This is a dress you can wear over and over again, but with a unique look each time. You'll likely want to pair this with some heels as it can be a bit long. It's also available in 27 colors.
10. Knitee Deep V-Neck Ruffle Dress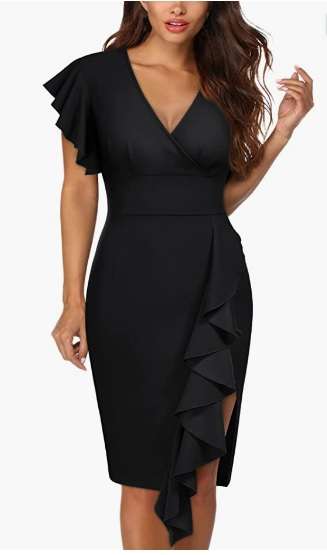 For a sexier, yet elegant look, try the Knitee Deep V-Neck Ruffle Dress. Sitting just above the knee, this form fitting number features a ruffled slit and belted waist. Ruffled short sleeves and deep V-neck highlight the chest. If you don't already have a LBD (little black dress), this might be the perfect option. It works well for many occasions, including as a glamorous New Year's Eve dress. Or, pick any of the 12 available colors.
11. Fashionme Midi Satin Dress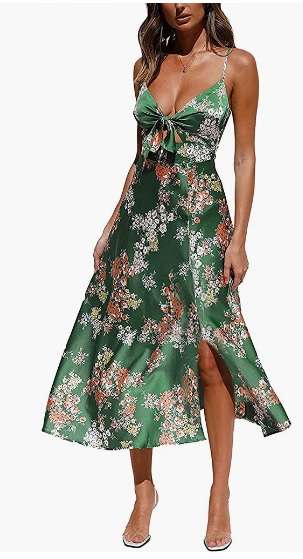 Not all wedding guest dresses are flattering for women with smaller busts, but the Fashionme Midi Satin Dress works perfectly. While great for most bust sizes, the front tie lets you easily adjust to get the right fit, whether you need it tighter or a little looser. Spaghetti straps with a fitted high waist and flowing midi skirt are elegant and ideal for summer outdoor weddings. A slight slit adds even more movement. While the green floral is beautiful, you can also pick from 17 other options.
Frequently Asked Questions
Should I wear a strappy dress to a winter wedding?
As long as the wedding's indoors, there's no reason not to wear a strappy dress. You can always pair it with a matching wrap if you need to be outdoors at any point.
Are heels or flats best?
This usually comes down to comfort and personal preference. For longer dresses, heels work best, especially if the dress brushes the floor. The last thing you want to do is trip over your own dress. But, flats or sandals work well with shorter dresses, especially for outdoor or summer weddings.
Image credit: Victoria Priessnitz via Unsplash
Subscribe to our newsletter!
Get the best of ModernRatio delivered right to your inbox!