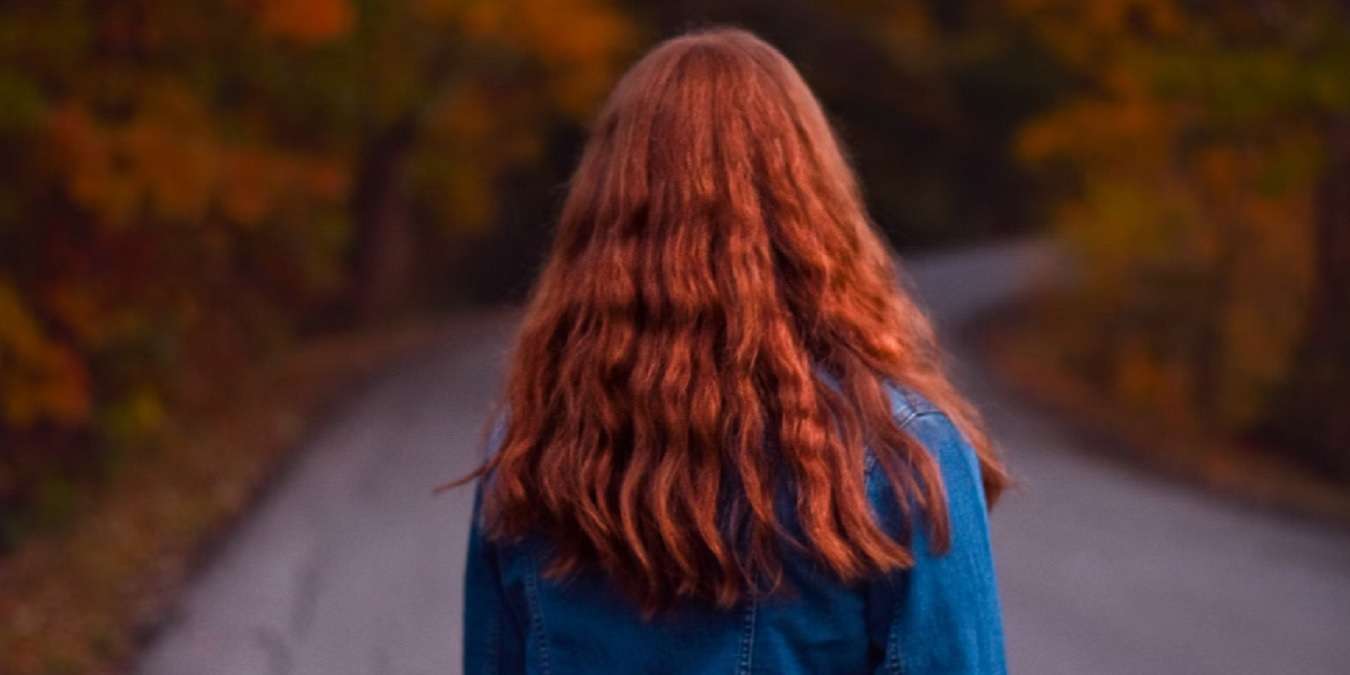 The season of pumpkin spice everything, cute boots, and stylish layered outfits has finally arrived. The hardest part might just be picking out the best fall coats and jackets for women. You'll want something that is just thick enough to keep out the early fall chill, but not necessarily as bulky and warm as a big winter coat. Think of your fall jacket as a way to transition from summer tanks to snuggly knit sweaters.
1. Most Versatile Jacket: Levi's Cotton Hooded Anorak Jacket
Price: $85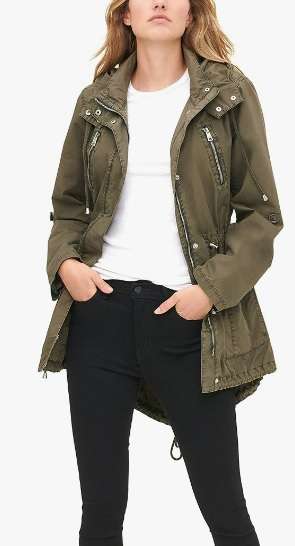 Fall makes our mood swings seem like nothing. Thankfully, Levi's Cotton Hooded Anorak Jacket is ready for whatever fall feels like throwing at you. Chilly and rainy? Drawstrings let you adjust the look while pulling the jacket and hood closer to keep you warm and dry. Just a cool, sunny day? Take off the hood and take advantage of the roll tab sleeves. It's a versatile jacket that comes in 11 colors.
2. Best for Wind: SaphiRose Long Hooded Rain Jacket
Price: $50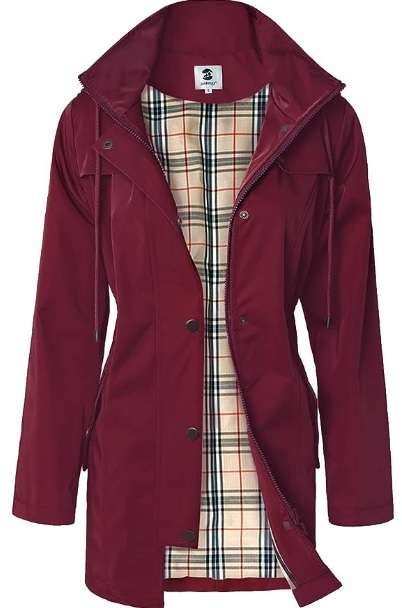 One of the best fall coats and jackets for women is the SaphiRose Long Hooded Rain Jacket. It's lightweight and protects from both the wind and rain. If you're headed out hiking to look at the changing leaves, grab this jacket to be prepared for whatever weather might happen. The cotton lining offers protection against chilly temps, but it's thin enough to keep you from getting too hot.
3. Best Denim Jacket: Riders By Lee Indigo Denim Jacket
Price: $39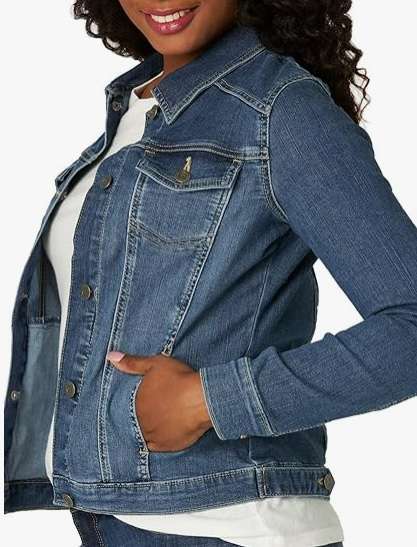 What's one of the best parts about fall? Breaking out the denim jacket. This classic jacket looks amazing on every woman and the Riders by Lee Indigo Denim Jacket is the perfect example. It's a stylish and cute denim jacket that strikes right around the waist. It's perfect for pairing with your favorite short or long-sleeved tee and a stylish pair of mom jeans. Enjoy this slightly stretchy jacket in one of 10 colors.
4. Most Stylish Fall Coat: Aprsfn Double-Breasted Midi Wool Blend Pea Coat
Price: $90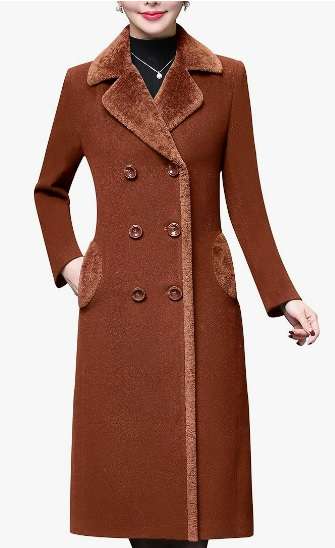 A lot of fall coats look great, but heads will turn when you wear the Aprsfn Double-Breasted Midi Wool Blend Pea Coat. This wrinkle resistant pea coat features faux fur accents around the collar, down the front, and on the two front pockets. The inner polyester lining is warm, but not super toasty like a winter coat. The wool blend is extra soft. Pair it with your favorite boots and leggings for a classic fall look.
5. Most Affordable Motorcycle Jacket: Apperloth Faux Suede Motorcycle Jacket
Price: $55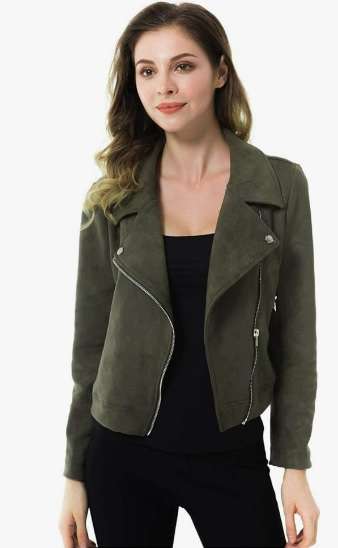 At this price point, you might expect a cheaply made imitation jacket. Instead, the Apperloth Faux Suede Motorcycle Jacket is incredibly soft, lightweight, and stylish. It's made short, but not a full crop. The beautiful color and zipper accents on the sleeves dress it up well. In fact, this could easily be a lightweight everyday fall jacket, or dress it up for special occasions.
6. Best Bomber Jacket: Carhartt Crawford Bomber Jacket
Price: $70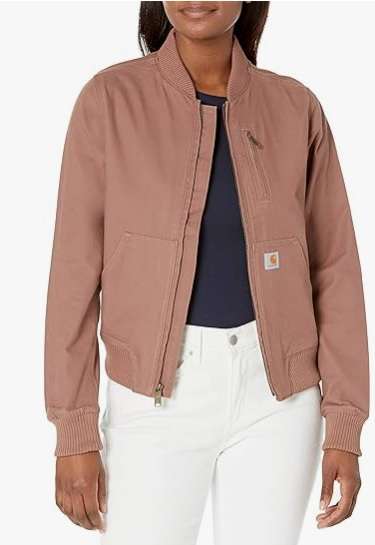 Carhartt is well known for high-quality outerwear and the Carhartt Crawford Bomber Jacket lives up to the name. It features a slightly more fitted, feminine cut with flexible fabric to make it easy to move. The rib knit cuffs, collar, and waistband help keep the wind out. It also has four pockets for carrying your necessities. Plus, it comes in six cute fall colors.
7. Best Sweater Coat: Sidefeel Hooded Sweater Coat
Price: $50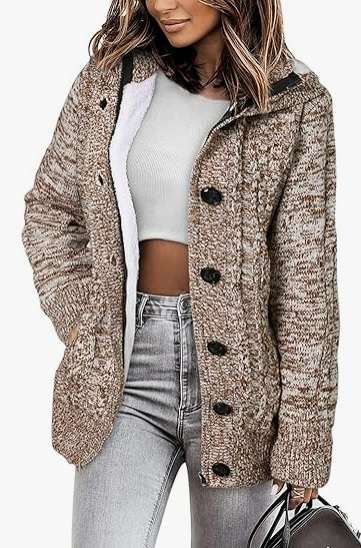 If a cardigan and a coat had a baby, the Sidefeel Hooded Sweater Coat would be it. It's one of the best fall coats and jackets for women for both fall and winter. Unlike a standard cardigan, it's fleece-lined to help keep you warmer, so it's perfect for cooler fall bonfires. While it does have big, stylish buttons, there's also a zipper closure if you prefer. Plus, it comes in 34 colors, including multi-color styles. Don't be surprised if you end up buying several different colors.
8. Cutest Fall Cardigan: PrettyGarden Open Front Cardigan Sweater
Price: $43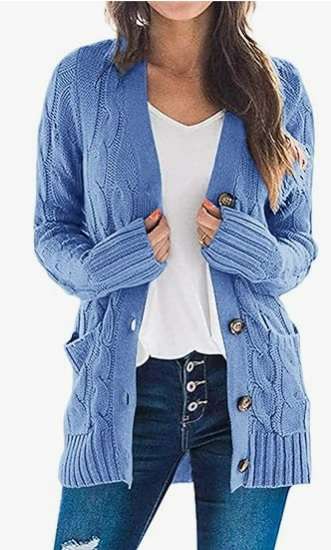 No woman's closet is complete without a fall cardigan. The PrettyGarden Open Front Cardigan Sweater is the perfect choice that comes in 25 stunning colors. Unlike the previous coat, this is simply a knit cardigan sweater without the lining, so it's a lighter-weight option that's not quite as warm. Large buttons make it easy to quickly slip this on and off, and the big pockets keep your hands warm as fall cools things off.
Now that you've picked out a few fall coats and jackets for women, you may want to start planning ahead for winter. If temperatures drop sharply as fall comes to an end, make sure you have a great winter coat already on hand. If you're struggling to figure out the best coat or jacket for you, start by determining your own personal style type.
Image credit: Unsplash
Subscribe to our newsletter!
Get the best of ModernRatio delivered right to your inbox!