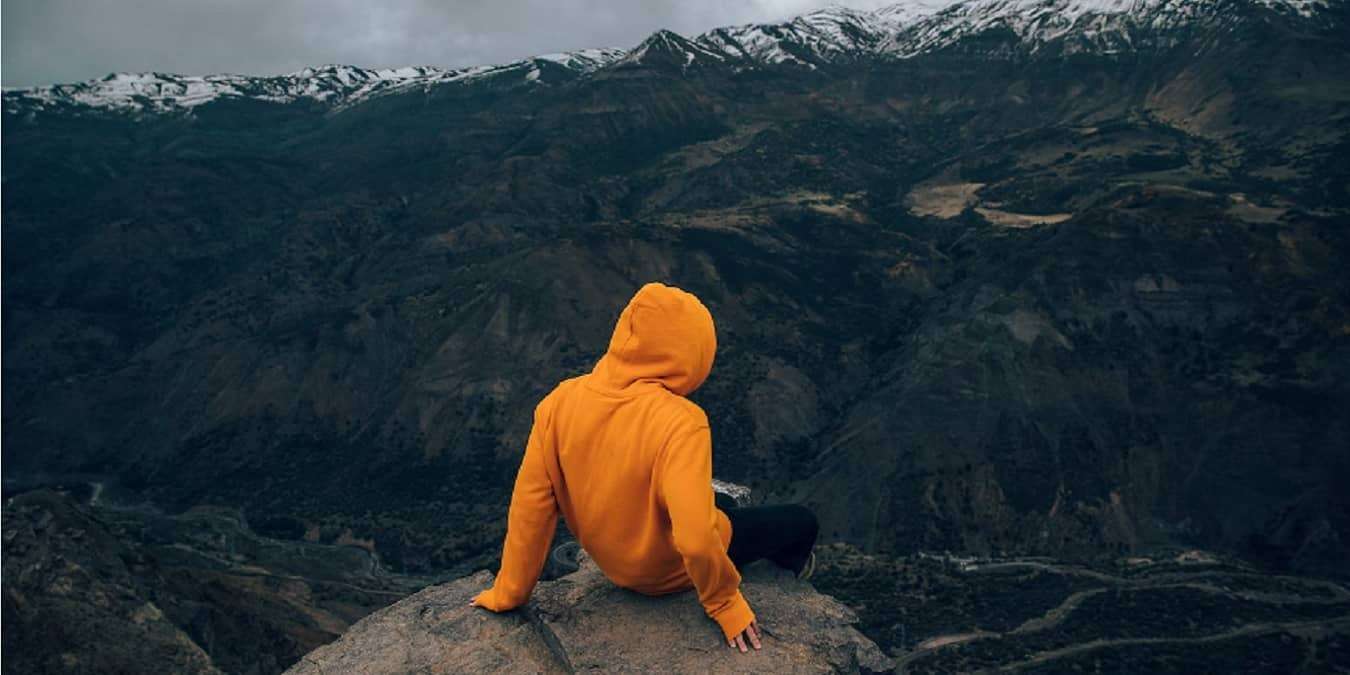 Hooded sweatshirts ("hoodies") are one of the toughest pieces to wear in a stylish way. If you aren't careful, you'll end up looking like a bratty kid who's been held back in high school for a few extra years, or like an old slob who doesn't put any thought into what he wears. It's a shame because hoodies are super comfortable and easy to throw on at a moment's notice. But, choosing stylish men's hoodies ensures you look great while staying comfortable.
Rules for Wearing Hoodies
Because they're so hard to pull off, I only own two hoodies myself: a simple grey zip-up hoodie and a plain maroon hoodie with a criss-cross collar. Here are my personal rules when shopping for hoodies:
Proper fit is the most important thing. The biggest mistake you can make when wearing a hoodie – like most articles of clothing – is to wear one that's too big for you. The hoodie's shoulder seam should rest on top of the end of your clavicle (follow your collarbone all the way to your shoulder, and that's where the seam should be).
Simpler hoodies are easier to pull off. Colors should be mostly limited to one, with a secondary highlight color being acceptable on a case-by-case basis. Solid is best. Avoid loud patterns like plaid and checks. Big logos and printed graphics are juvenile, while singular small logos can be OK. It's best to have zero images.
Pair with jeans versus sweats. Unless you're working out or jogging, the most stylish men's hoodies for fall and winter look best with a well-fit pair of jeans. These pair well with hoodies to keep you from looking frumpy.
Best Classic Hoodie: Champion Powerblend Men's Hoodie
Price: $18 – $30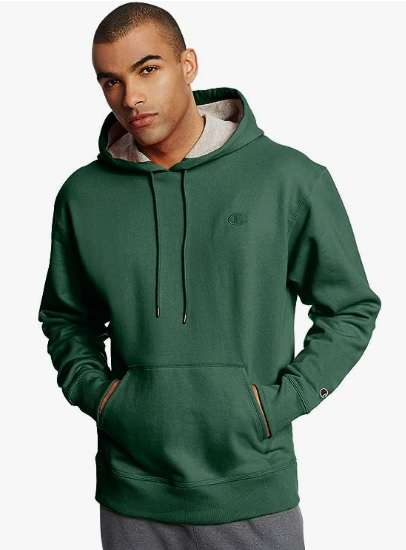 It doesn't get more classic than Champion's Powerblend Men's Hoodie. It's lightweight enough for cooler fall days, but the fleece lining keeps you surprisingly warm in the winter. It's a midweight fleece, so you get the comfort and warmth without all the bulk. The ribbed cuffs also add a nice style element. Grab a few in one of 15 colors.
Best Fitted Hoodie: Under Armour Rival Fleece Fitted Hoodie
Price: $30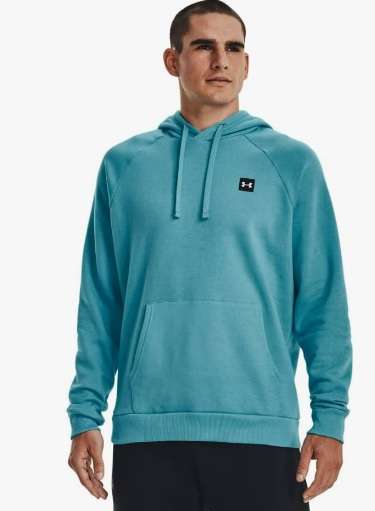 You don't have to be athletic to wear this hoodie by Under Armour, although it will definitely fit better on an athletic frame. The pouch pocket is sleek enough that it doesn't detract much from the overall aesthetic and the heather pattern is both simple yet visually interesting. The logo stands out a bit more than Champion's, but it's still small enough to not be a dealbreaker.
Best Multi-Color Hoodie: Gesean Color Block Pull Over Fleece Hoodie
Price: $40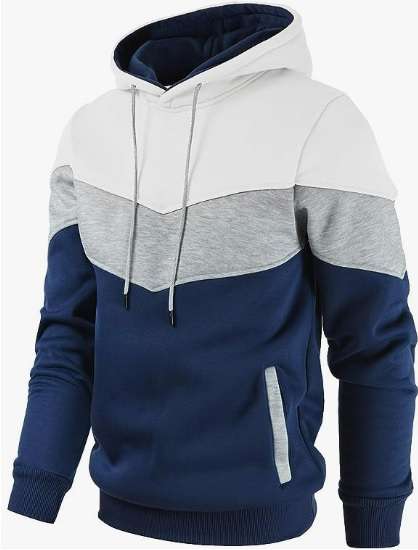 If you hate sticking to a single color, try Gesean's Color Block Hoodie. Each of the 15 varieties features three colors, which work well together. The large blocks of color make this stylish men's hoodie stand out among the rest. Plus, the pocket features a colored edge, yet somehow manages to blend in with the hoodie. It's a looser fit hoodie, so you may want to order a size smaller if you want a slimmer fit.
Best Heavyweight Hoodie: Carhartt Rain Defender Heavyweight Sweatshirt
Price: $60 – $70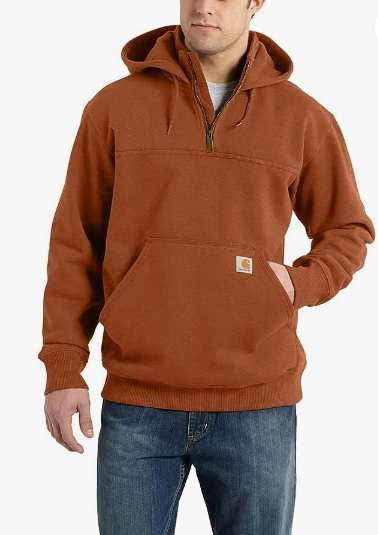 Carhartt is well-known for durable clothing, and the Rain Defender Heavyweight Sweatshirt keeps its reputation intact. It's probably too warm for most fall weather, but you'll love this hoodie in winter. An inner standing color, a quarter-zip front, and soft jersey lining keep you warm and comfortable. There's even a hidden inner pocket. Plus, it's water resistant to keep you dry. It comes in seven neutral colors.
Best Budget Hoodie: Amazon Essentials Lightweight French Terry Hooded Sweatshirt
Price: $20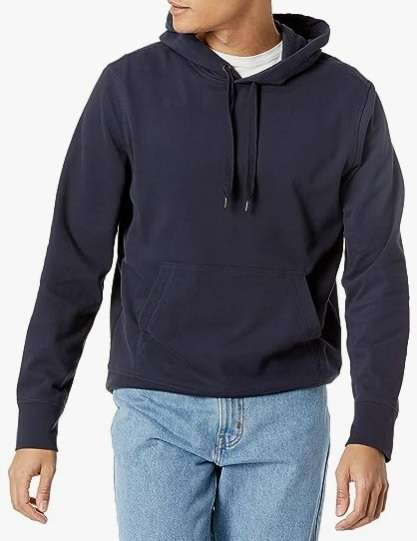 The Amazon Essentials Lightweight Hoodie offers a comfortable fit thanks to the French terry fleece. It's lightweight and breathable, making it ideal for fall or going out for a run on cooler mornings. It also pairs well with any of these stylish running shoes. What's nice is it fits true to size without any bulkiness. If you prefer a looser fit, order a size up. At this price, grab several of the 15 different colors.
Best Budget Zippered Hoodie: Hanes EcoSmart Zip Front Fleece Hoodie
Price: $16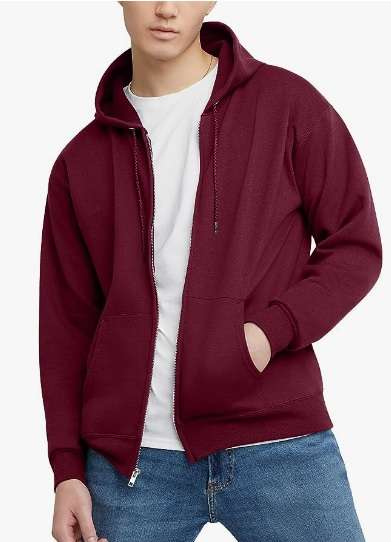 Whether you just prefer a zippered front or you want to create a layered look, it's impossible to beat the quality and price of the Hanes EcoSmart Zip Front Fleece Hoodie. It's made partially from recycled plastic and designed to last for years. I love that it's pill resistant and holds its shape, no matter how often you wear it. Plus, the easy tearaway tags are a nice bonus. The well-fitted design makes it one of the more stylish men's hoodies for fall and winter.
Best Textured Hoodie: Yundobop Pullover Hoodie
Price: $32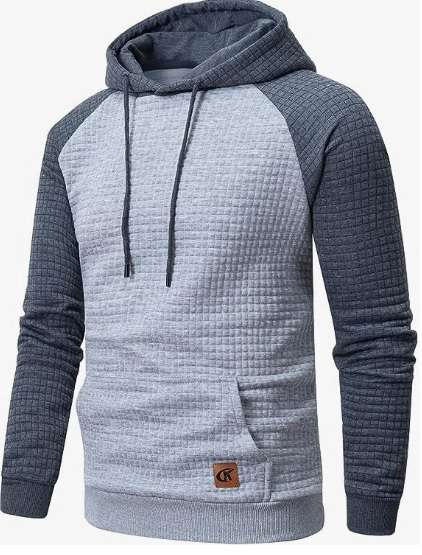 I know I said to skip patterns and graphics, but the understated plaid Jacquard texture of the Yundobop Pullover looks more like a thermal undershirt than loud patterns. It's a nice way to spice up the plain hoodie look. It's made of polyester and spandex, ensuring it doesn't shrink easily and stretches to fit nicely. Some reviewers say it's best to wash before the first wear to make it softer. Otherwise, enjoy this in one of 26 color combinations, including solid, duos, and tri-colors.
Softest Hoodie: Goodthreads Washed Fleece Pullover Hoodie
Price: $28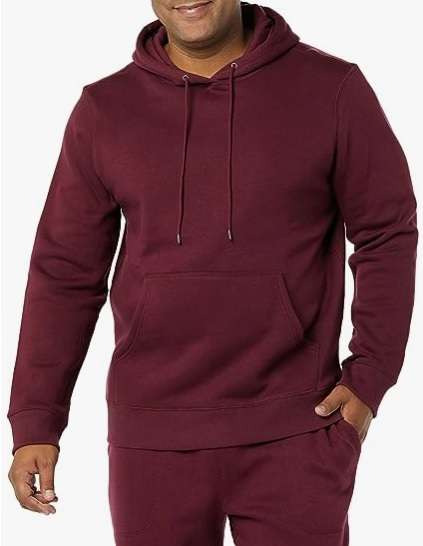 The Goodthreads Washed Fleece Pullover Hoodie is simple, yet extremely soft and comfortable. The enzyme wash gives it an extra bit of softness. This stylish men's hoodie fits a little loose, yet still looks great. Naturally, the fleece helps you stay warmer in the winter, but it's still lightweight enough for fall. Available in 13 colors, you'll find it hard not to pick up at least a few.
Best Slim Fit Hoodie: Lacoste Jersey Cotton T-Shirt Hoodie
Price: $50 – $100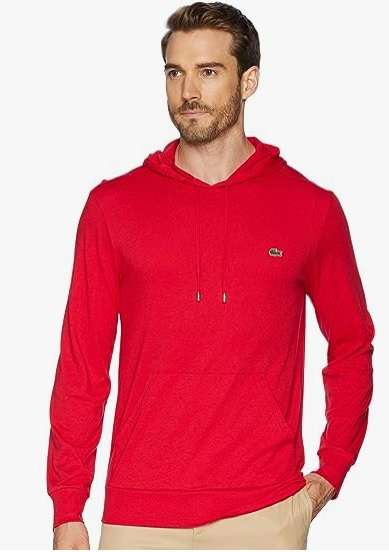 The Lacoste Jersey Cotton T-Shirt Hoodie is best for warmer fall days thanks to the thinner Jersey cotton material. Of course, this also makes it ideal for working out without melting in a fleece-lined hoodie. This is one of the most stylish men's hoodies for slender men. It does an incredible job of showcasing your physique. For larger guys, order a size or two up.
Conclusion
Whether it's lounging around the house, going out with friends, or enjoying a nice run, these stylish men's hoodies for fall and winter ensure you look great and stay comfortable. Consider pairing your hoodies with some of these men's winterized sneakers for extra warmth. Or, if you're not wearing a hoodie, try these winter hats for men.
Image credit: Unsplash
Subscribe to our newsletter!
Get the best of ModernRatio delivered right to your inbox!