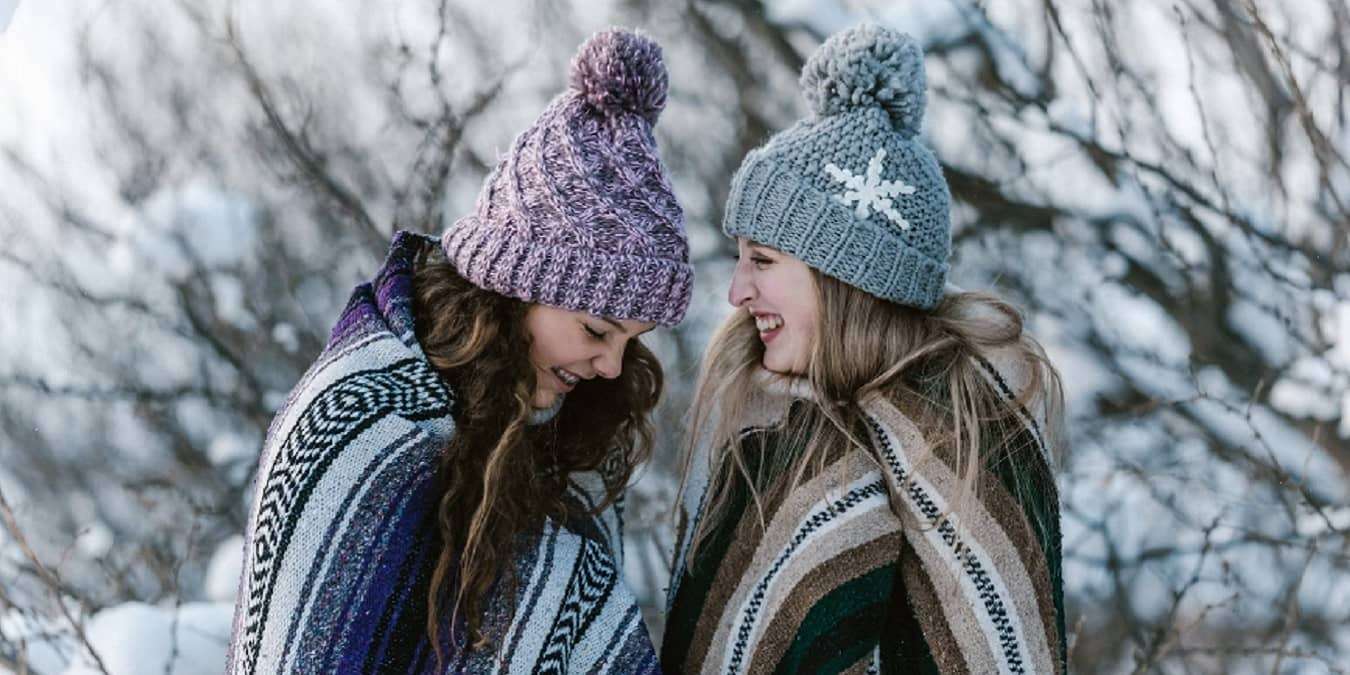 Ready to rock the hat hair? The best winter hats for women aren't always the most hair-friendly, but they do make stylish additions to your favorite sweater and leggings outfit. Plus, no one enjoys having cold ears. Even better, you're not just limited to beanies.
1. Best Budget Versatile Winter Hat: FURTALK Winter Knitted Beanie
Price: $15 – $17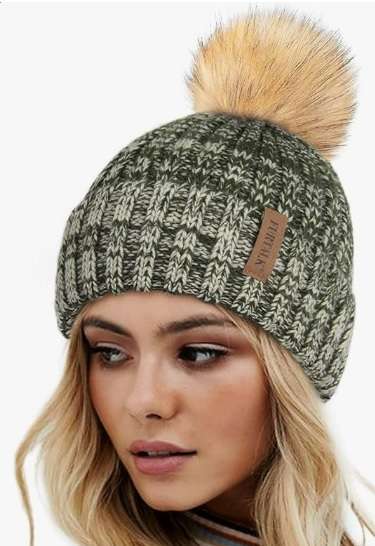 Pompom or no pompom? With the FURTALK Winter Knitted Beanie, you don't have to choose. Plus, it's inexpensive. This knitted hat features acrylic yarn to keep your head and ears nice and warm. But, the best part is the removable pompom. You can even switch out pompoms from any of the 31 color options if you buy multiple beanies. The only downside is it's hand-wash only.
2. Best Trucker Hat: TrailHeads Winter Ponytail Hat
Price: $36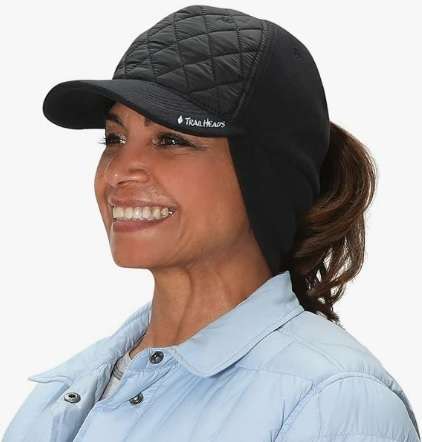 As a woman, I love baseball caps during the summer so I can pull my ponytail through the back. That's not quite as common with winter hats for women. But, the TrailHeads Winter Ponytail Hat is a classic trucker hat with a back panel that covers your ears and the back of your neck. It's also insulated for added warmth. Plus, as the name implies, there's a small slot in the back for your ponytail or bun.
3. Best Beanie for Ponytails: C.C BeanieTail Beanie Hat
Price: $18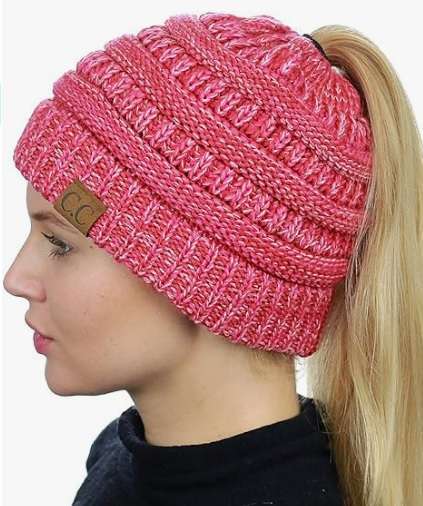 Beanie + ponytail usually equals disaster. You end up with messy hair and a squished ponytail against your scalp. The C.C BeanieTail Beanie Hat features an elastic opening for either a high or mid pony. The soft acrylic fabric keeps your head warm on cool winter days. Plus, it comes in 117 colors to match any outfit.
C.C offers other beanies for ponytails as well. For high ponytails, try the high pony visor beanie. Or, try the soft stretch cable knit beanie with three openings for low to high ponytails.
Tip: also check out these winter boots for women to go with your winter hat.
4. Most Stylish Winter Hat: Vecry Wool Bucket Hat Beret
Price: $30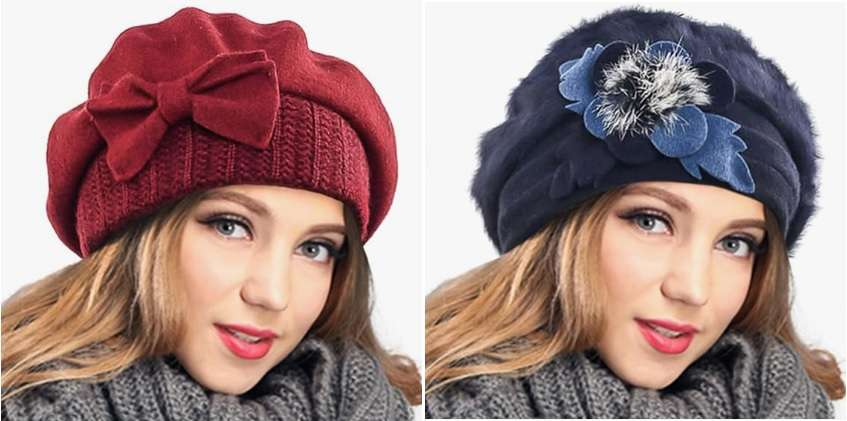 What if you mixed a bucket hat with a beret? You'd get this super cute and fashionable Wool Bucket Hat Beret from Vecry. It's made from 100% wool with a knit Angora brim. A soft fur lining inside adds extra warmth. The only issue is it doesn't quite cover the ears on larger heads. Otherwise, it's a nice dressy or casual winter hat for women. It also comes in 21 stunning colors with some featuring a bow and others a pompom on the side.
5. Best for Skiing: Shy Velvet Fleece Balaclava
Price: $19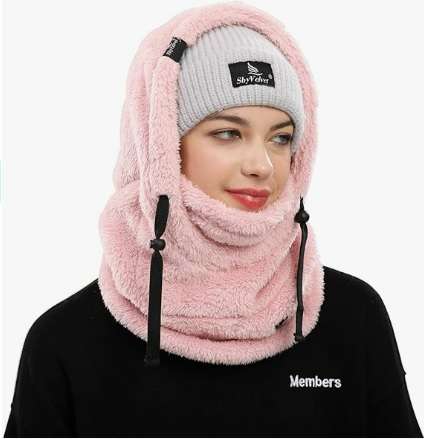 One of the best winter hats for women while skiing is the Shy Velvet Fleece Balaclava. The soft fleece is perfect for keeping you warm from the wind and cold. The stretchy fabric can be worn alone, under/over a helmet, or over a beanie for added warmth. Plus, the mask portion is easy to move up and down when needed. Drawstrings help you fit it perfectly to your head and face. A few more colors would be nice, but the seven options available are wonderful neutral colors.
6. Best Wool Cloche: Scala Packable Boiled Wool Cloche
Price: $41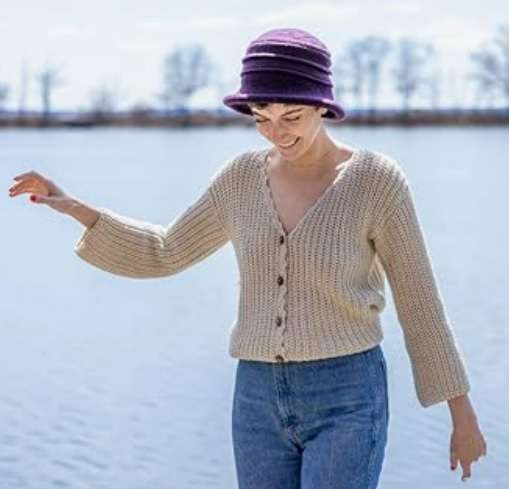 If you need a dressier hat that's also easy to stuff in your purse or suitcase, Scala's Packable Boiled Wool Cloche is perfect. It's designed to return to its original shape, even after being squashed. The wool cloche is ideal for keeping your head and ears warm. It's available in 12 colors, but reviewers say the colors all look slightly different than the product images, so keep that in mind. Otherwise, it's a great addition to your winter hat collection.
7. Best for Avoiding Hat Hair: Lvaiz Satin Lined Slouchy Knit Beanie
Price: $17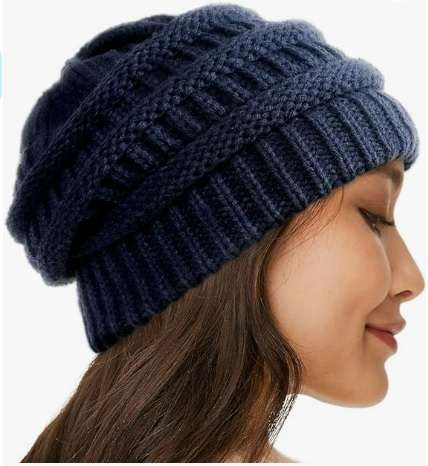 Not only are chunky knit beanies super cute, but they're super warm too. Now, imagine wearing a beanie that doesn't destroy your hair. The Lvaiz Satin Lined Slouchy Knit Beanie slides gently over your hair to avoid tangles and static that ruin your hair. Plus, the spacious slouchy design gives you room for simple hair accessories, such as a low ponytail or barrette. I wish there was a better variety of colors, but the 11 available are pretty.
8. Warmest Bucket Hat: Timberland Sherpa Bucket Hat
Price: $38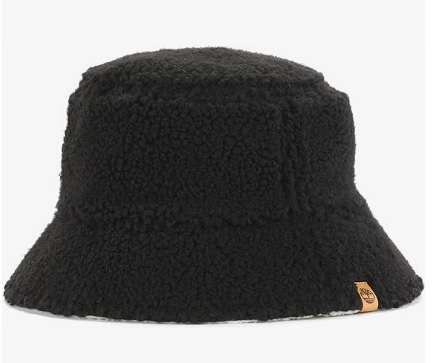 One of the best winter hats for women that mixes style and warmth is the Timberland Sherpa Bucket Hat. It's lightweight and thin, but the sherpa still keeps your head and ears super cozy. As a bonus, the hat is reversible. For instance, the black hat turns inside out to reveal an off-white hat. Sadly, there are only two options to pick from, but instead of a one-size-fits-all, you can choose between S/M or L/XL.
If you prefer a faux fur bucket hat that's a little cheaper, try the Umeepar Winter Faux Fur Bucket Hat for $23, which comes in 57 colors.
9. Best Winter Hat With Ear Flaps: Himalayan Sherpa Hat
Price: $40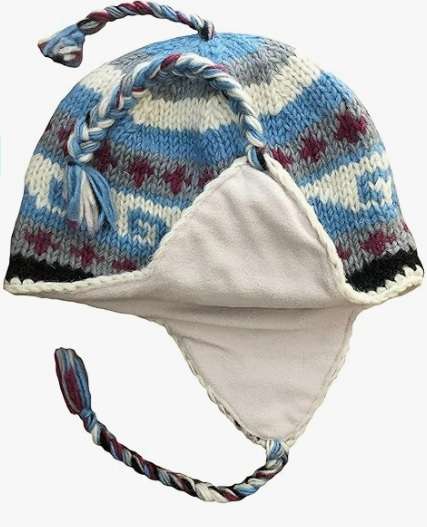 The Himalayan Sherpa Hat is made from 100% hand-knitted wool with a fleece lining. It's made in Nepal through a fair trade company that supports local women. While I know ear flaps aren't always stylish, this hat is an exception. The beautiful knit beanie-style hat has small ear flaps that keep you nice and warm. It's one of the more stylish trapper hats without all the extra bulk. There's not even a pompom on top. It comes in 40 beautiful options.
These winter hats for women ensure your head stays warm whether you're commuting to work or hiking in the snow. Keep the rest of you warm by pairing your hat with a great winter coat. If you're wearing a heavy sweater or hoodie, match it up with these warm fleece-lined leggings.
Image credit: Unsplash
Subscribe to our newsletter!
Get the best of ModernRatio delivered right to your inbox!