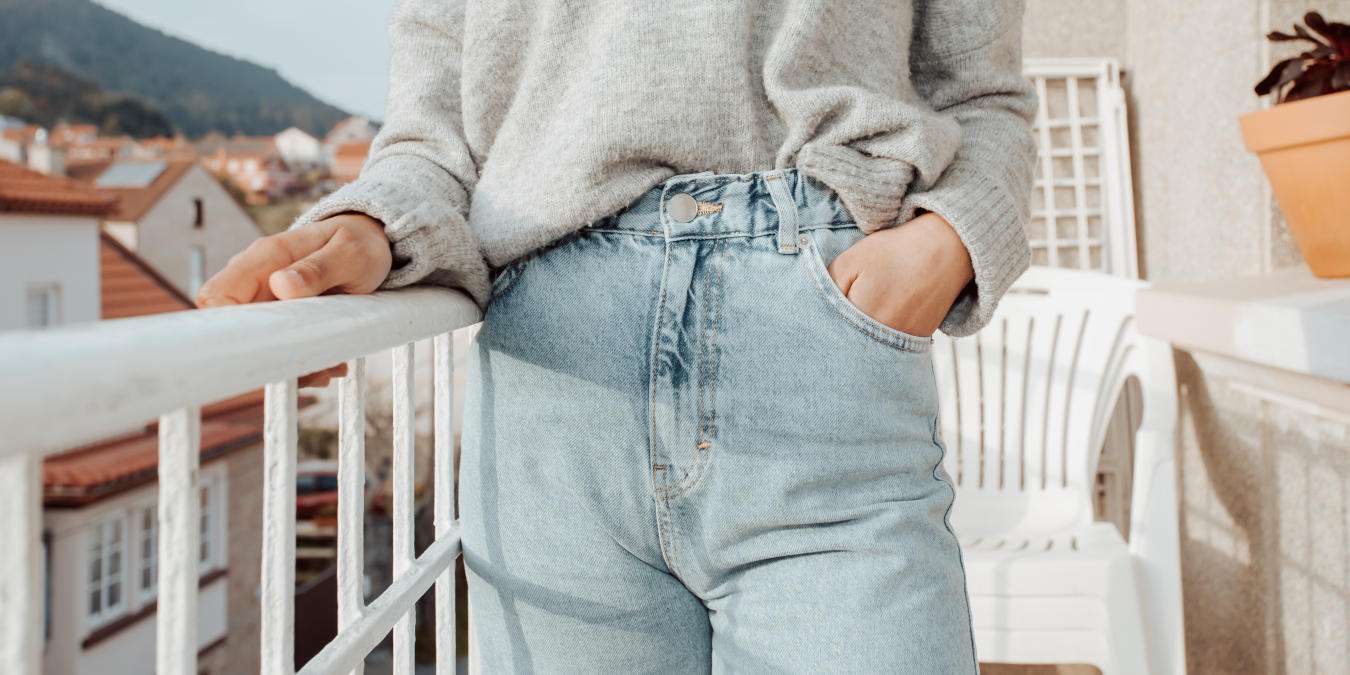 Mom jeans are straight-leg, loose-fitting jeans that typically sit above the waist. This style of blue jeans has made a massive comeback in recent years, and they aren't only for moms any more. These jeans look great with everything from fall boots to sandals, and they're the perfect addition to a woman's minimalist wardrobe. If you want to try out some stylish mom jeans, check out these ten outstanding options.
1. Best Overall: Levi 501 Original Fit
Price: $68.60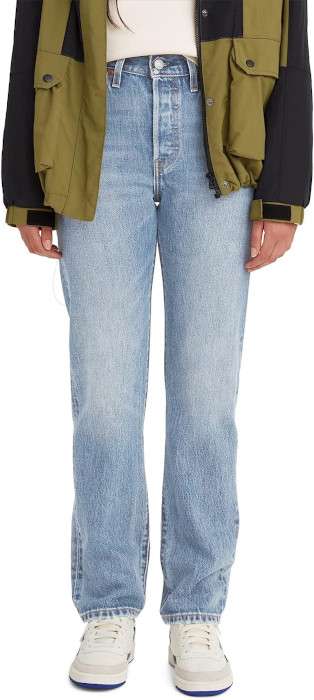 The Levi's 501 Original Fit classic mom jeans have been a staple in Levi's lineup for decades. The tailored, relaxed fit looks and feels good on virtually any body type, not to mention Levi's are known for their durability and value. With nearly a dozen color and wash options, you're bound to find a finish you like.
2. Best Ultra-High Waist: H&M Mom Comfort Ultra High Ankle Jeans
Price: $34.99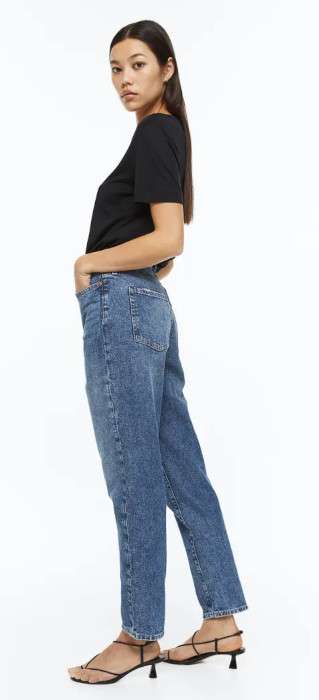 Multinational clothing chain H&M offers a wide variety of clothing options for women, men, and children. Their Mom Comfort Ultra High Jeans are the perfect choice for women who want mom jeans that sit high on the waist. The jeans feature 5 pockets and a fitted, supersoft waistband at the top. These jeans are made from non-stretch cotton denim that softens and relaxes the more you wear them. With five color options and a wide variety of sizes, anyone can wear these delightful pants with their favorite pair of canvas sneakers.
3. Best Tall Mom Jeans: Madewell Tall Perfect Vintage Jean
Price: $114.99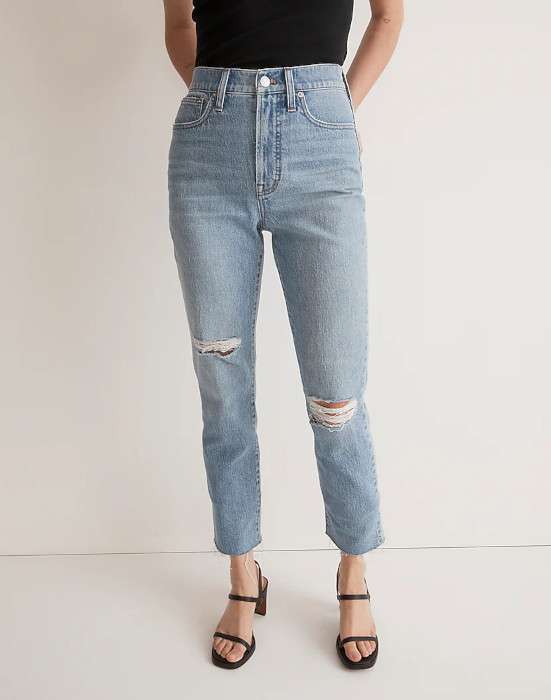 Although they're a little more expensive than some other mom jeans on this list, Madewell's Tall Perfect Vintage Jeans are great for women who find that traditional cuts look more like capris than pants. What's more, Madewell offers both a "tall" and "taller" cut, so you can get as long as a 33.5″ inseam if you need it. Although this particular pant is only available in one color option, you can select from a variety of sizes.
4. Best Plus Size: Eloquii Classic Fit Stretch Mom Jeans
Price: $52.99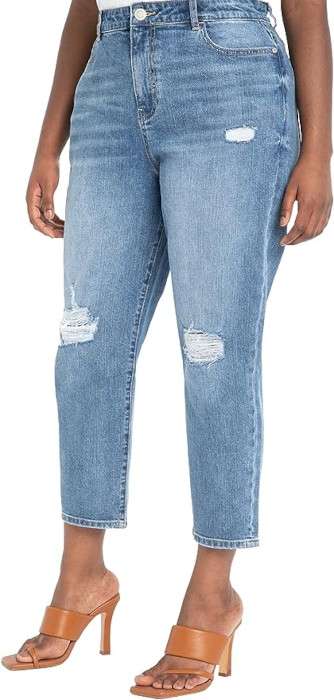 There's no rule that says curvy girls can't rock mom jeans as well. Luckily, Eloquii's Classic Fit Stretch Denim Mom Jeans are the perfect option for women in sizes 14 or above. The jeans are very giving, as they contain a bit of spandex, and the contour waistband gives the perfect fit throughout the hips. The tapered leg is also a nice touch.
Tip: you can also check out these stores to find a plus-size summer party dress.
5. Best Petite: GAP Women's High Rise Straight Fit Denim Jeans
Price: $34.99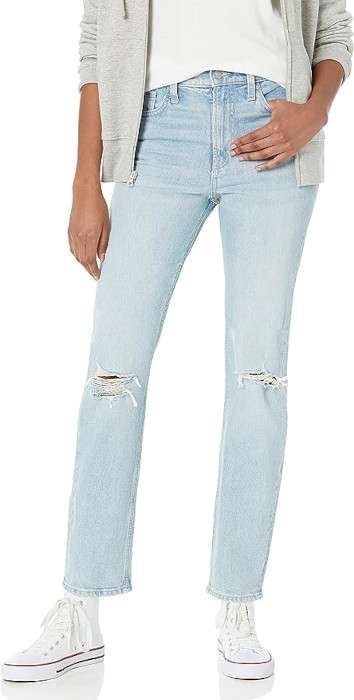 For short, small-waisted women, GAP's High Rise Straight Fit mom jeans are an excellent choice. They fit well, feature five pockets, and come in a variety of color options. However, the best part of GAP's pants is the fact that they're part of the company's water-conserving Washwell program, meaning they're responsibly made with the environment in mind.
6. Best Slim Cut: Levi's Wedgie Icon Fit Jeans
Price: $89.50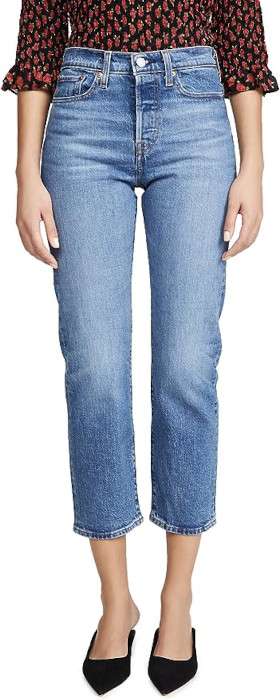 Levi's Wedgie Icon Fit Jeans are a more modern take on classic mom jeans. They feature a slightly slimmer cut, but this can work to a woman's advantage as they accentuate the butt while still giving a slim appearance in other areas. Reviews say they're flattering to all body types, and they come with the same durability and feel you'd expect from a pair of Levi's.
7. Best Loose Fit: Old Navy Extra High-Waisted Balloon Ankle Jeans
Price: $49.99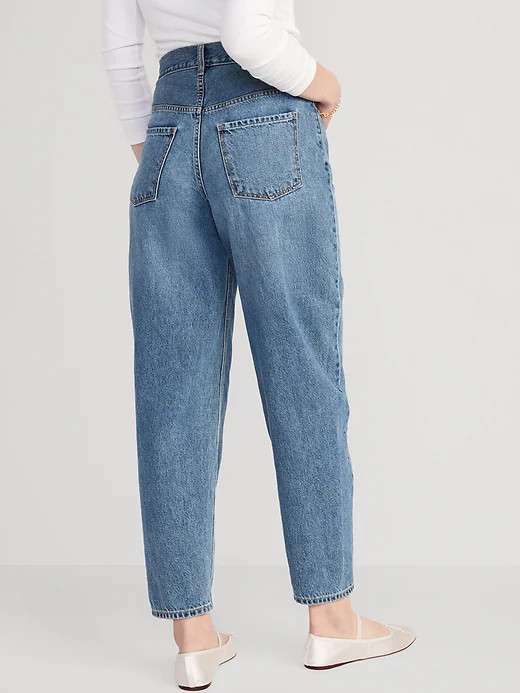 Old Navy jeans are always a great option as one of the best value jean brands. These Extra High-Waisted Non-Stretch Balloon Ankle Jeans are no exception. They're a bit looser fit than many of the other pants out there, yet they aren't so stretchy that they lose their shape over time. What's more, they're truly made for any size woman, with options in regular, petite, and tall throughout US sizes 0-30.
8. Best Ripped Jeans: American Eagle Strigid Curvy Ripped Mom Jean
Price: $59.95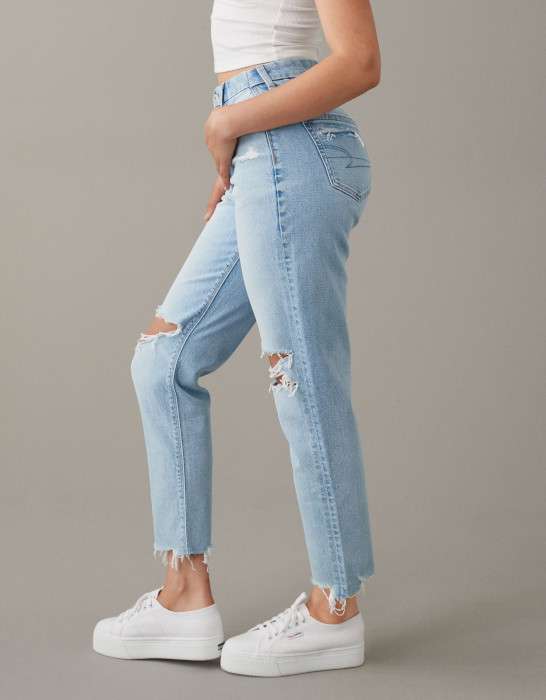 If you're looking for jeans that are rigid and ripped in the front but still stretchy in the back, then check out American Eagle's Strigid Curvy Ripped Mom Jeans. The design is made for curves, and the limitless comfort stretch waistband means you won't get uncomfortable in the jeans as the day goes on. Also, the distressed light wash is in, so you'll easily be able to make these work with a variety of tops.
9. Best Budget Option: Universal Thread Women's High-Rise Jeans
Price: $32.00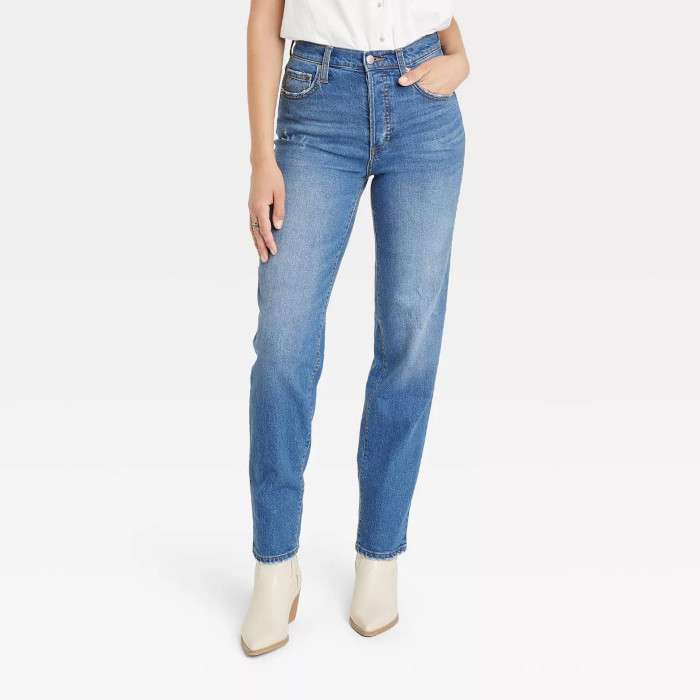 Universal Threads, a store brand sold in Target, offers some great options for budget-friendly women's clothing, including these High-Rise 90's Distressed Straight Jeans. The denim is stretchy, yet holds its form. These jeans also feature everything else you'd want from mom jeans, with two color options, a variety of sizes, and five pockets.
Go Back in Time With Mom Jeans
Feel free to raid your mom's closet for her old pair of jeans. If she already donated her vintage jeans, it's time to get your own. You can get creative with such versatile pants, so have fun with them!
Before you shop for a pair of mom jeans, make sure you know how to choose the perfect pair of jeans.
Image credit: Shutterstock
Subscribe to our newsletter!
Get the best of ModernRatio delivered right to your inbox!