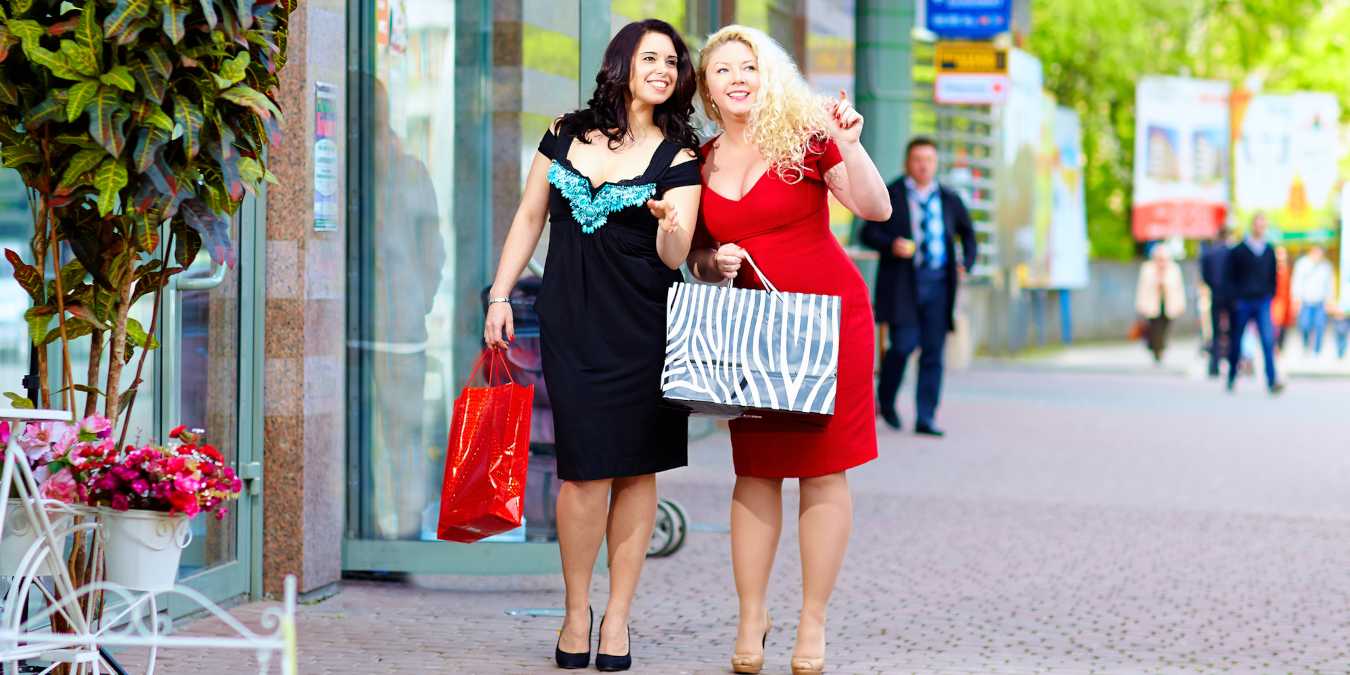 With school starting back up soon, there will be plenty of farewell-to-summer events. That means you will need at least one more perfect summer party dress to get you through the end of the season. Here are our picks of the top stores to offer plus-size brands at affordable prices.
1. Rue+/rue21
Rue+ is the in-house plus-size brand for rue21, the company that's been around since 1976 and has over 1,000 brick-and-mortar stores across the United States. Their online store is constantly adding new trendy finds at ridiculously affordable prices. I was hard-pressed to find a dress over $35, let alone any clothing item over $50.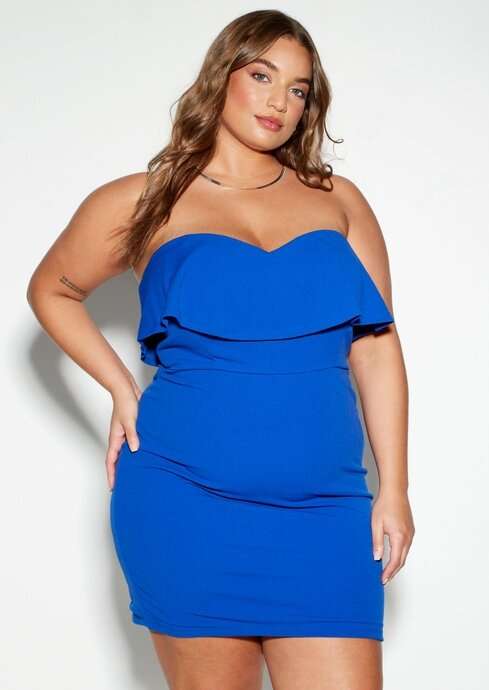 It can be hard to find fitted pieces made for larger bodies, but this bodycon tube dress has us ready to show off our curves. This piece comes in both white and electric blue. There are plenty more fitted dress options to be found on the site, like this floral ruched dress with an asymmetrical hem and high slit.
If fitted and tight isn't your style, there are a select few flowy numbers, like this baby doll smock dress in olive green.
2. Bloomchic
Browsing Bloomchic's collection feels like hitting the holy grail. Every item in the online-only store was made with midsize and plus-size women in mind, and the company has recently announced an intention to take its largest size offering from size 22 to size 30. Even with their incredible prices, they maintain a commitment to sustainability and even donate some of their customer returns to women's shelters.
Bloomchic offers size XS to 4X, and in the Rue+ section of the website, both midsize and plus size models are used to show what the clothes will actually look like on a body similar to yours. A major downside is that all online orders must be picked up at your local store, so if there isn't a rue21 near you, you're out of luck.
Under the "Party Dresses" category, I found well over 100 summer dress options for under $50. Notably, most of the dresses appear to have pockets, a rare find in women's fashion. With sizes going from 10 to 30, or Medium to 6X, this is one of the more size-inclusive brands on the list. However, despite the more expansive sizing, the models are mostly midsize or on the smaller end of plus size, so it may be difficult to estimate how the clothes will look on anyone over 1X.
Bloomchic offers many modest but youthful designs featuring longer hemlines and higher necklines, such as this glittery polka dot dress with a flutter sleeve. It comes in both black and dark blue, and each features white and gold polka dots. There's also this black and white geometric dress that could easily go from day to night.
However, they also have dresses that feel mature yet sexy, like this floral maxi dress with a side slit that still feels appropriate to wear to a family barbecue. It comes in eleven different color options, but in case you're stuck, we recommend dark green, bronze, or raspberry.
3. Torrid
No list of plus-size brands would be complete without mentioning Torrid, North America's largest women's plus-size clothing brand. As of May 2021, they have over 600 brick-and-mortar stores, which are mostly located in malls. Like Bloomchic, they offer sizes 10 to 30.
Unlike many other plus-size stores, they avoid the practice of "grading up," where they take existing items and offer them in larger sizing. This can lead to lower-quality products and clothes that do not fit right or look good on larger bodies. Torrid actually utilizes plus-size models when designing and fitting the clothes, so there is a guarantee that these clothes are meant to be worn by people with larger bodies.
Torrid is also known for its incredible and frequent sales. While it can be easy to spend hundreds of dollars at their store, Torrid can be a good affordable spot if you are determined to buy only one key item like a party dress.
This color-blocking seersucker tiered dress will grab everyone's attention, whether you're on vacation or at a pool party. It also comes in a solid emerald green. Seersucker is a great summer fabric but a rarer find.
This Grecian-like midi tie-sleeve dress is made out of cotton, so it will be comfortable and chic (not sure what chic means? Check out this breakdown of chic style). If you want to be able to wear it past Labor Day, it also comes in a mint green that could be paired with a sweater for fall or worn regularly in spring.
If you want to stay on trend with the cranberry red craze, this lace skater dress is a strong contender. The peek-a-boo sweetheart neckline under the high-neckline lace is a nice touch. It would also work well in six months when it's time for holiday parties.
Other plus-size options
Keep in mind that there are dozens of fantastic plus-size clothing brands in the United States alone, and these are just three affordable options to get you started while on your quest to find the perfect summer party dress. Be sure to check out this list of Best Women's Fashion YouTube Channels for inspiration on how to style your new purchases.
Image credit: Happy plus size women shopping by DepositPhotos
Subscribe to our newsletter!
Get the best of ModernRatio delivered right to your inbox!