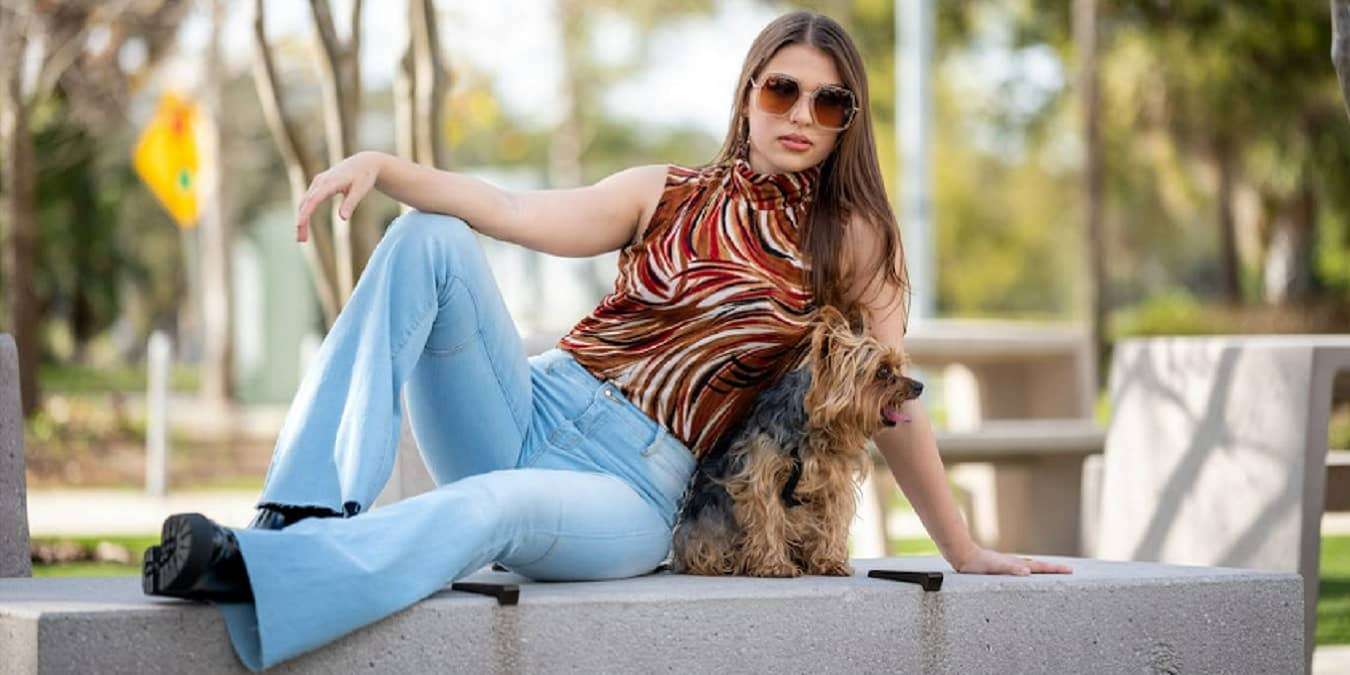 Shopping for jeans is an endless nightmare. After trying on five pairs, you still probably can't find one that looks good on you. While you always can't avoid the struggle of jeans shopping, you can at least make the process go a little faster.
Before you go shopping, you'll want to know what to look for. The following tips will help you find the perfect pair of jeans in record time!
1. Choose the Right Wash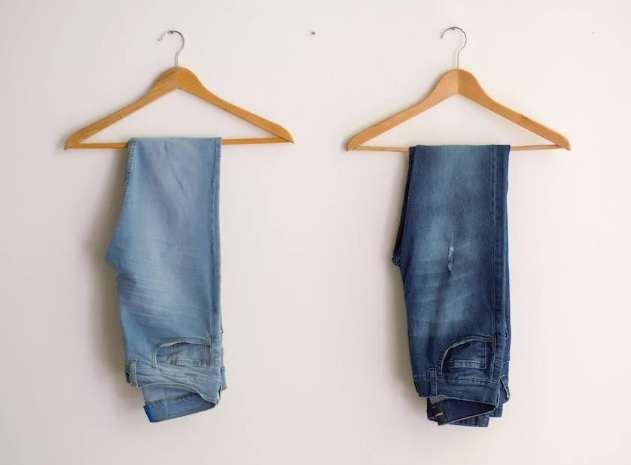 The first thing you see on a pair of jeans is its wash. You can't go wrong with a pair of blue or black jeans, as these washes suit just about any outfit. However, that doesn't mean you should immediately write off any other color. Light washes, white denim, mahogany denim, and even army green jeans can all look amazing when paired with the right outfit.
2. Experiment With Cuts and Styles
After choosing a wash, you'll need to pick a style. There are tons of jean styles available for women, which makes it that much harder to find the right pair.
Although you might feel tempted to buy another pair of jeans with your favorite style, I urge you to try something different. If you're a diehard skinny jean wearer, try a boyfriend jean or straight leg. You probably won't like the slight bagginess at first, but you can definitely whip up some cute boho or even business causal outfits with them.
3. Try Before You Buy
There's one rule you should always follow when buying new jeans: don't leave the store without trying them on first. Different styles and brands of jeans don't have the same fit, even if you pick out the same size. You don't want to get home only to find that you have to return your ill-fitting jeans!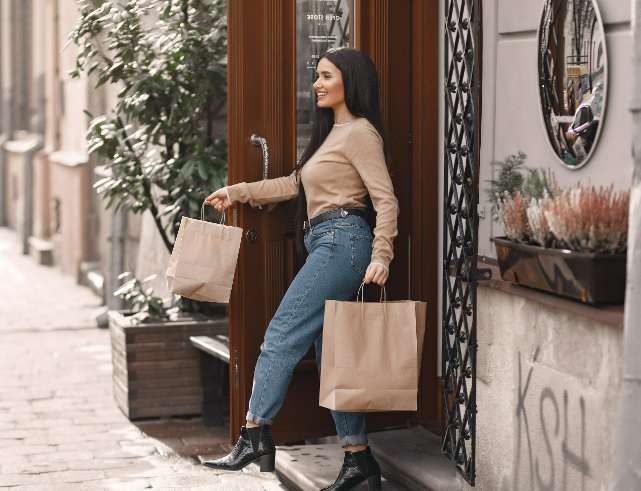 Before you get into the dressing room, gather several pairs to try on. Try on different sizes and styles to get the most out of your trip to the dressing room. That way, you can really figure out what style and size fit you the best.
If you're buying online, check the return policy. Some retailers let you return items that don't fit for free. Amazon even lets you try before you buy if you're a Prime member. Another option is to check out local thrift shops to try a variety of styles and brands in one place.
4. Comfort Matters
You might look amazing in a pair of jeans, but there's no point in buying them if you don't feel comfortable. Jeans that make you feel like you're wearing a corset on your legs is a pair that you definitely shouldn't buy. The same goes for jeans that create a dreaded muffin top.
Don't ever feel bad about getting a bigger size. Size doesn't matter – it's the fit and feel of the jeans that will make you look amazing.
5. Don't Forget About Pockets
Many brands behind women's jeans never include pockets, which is a phenomenon I'll never understand. Instead, these brands give you two useless, fake pockets on the front of your jeans. If pockets matter to you, make sure to check for them before buying a new pair of jeans.
You should also check for back pocket placement. Higher and bigger back pockets will give you a more flattering, curvy look.
6. Get the Right Inseam
Inseam length is very important when it comes to finding the right pair of jeans. Your inseam is the measurement from your jeans' crotch, down to the end of the leg. Without the right measurement, you'll have jeans that are too long or too short.
To find out the right inseam for you, get a tape measure and take out your best-fitting pair of jeans. Measure the pair of pants from the crotch seam, all the way to the bottom of the pants. Just remember that you'll need a longer inseam if you plan on wearing any shoe with a heel. On the other hand, you'll want a shorter inseam for ankle-length jeans.
7. Check for Durability
Cheap jeans definitely look appealing when you're on a budget, but they're not always ideal. Paying a little extra can improve the quality of your jeans, preventing future rips, tears, and sagginess. To do a quick durability check in the dressing room, make sure the jeans retain their initial shape after you try them on.
8. Don't Always Go for the Looser Option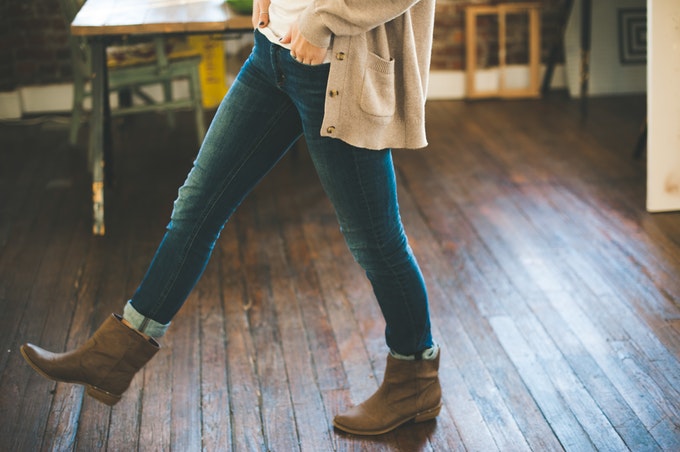 This might sound contradictory, but you shouldn't always put a pair of jeans back on the rack if they feel more fitted than usual. Jeans will loosen up a bit once you start wearing them. Opting for a looser pair of jeans can result in unflattering bagginess after one wear.
9. Consider Your Body Type
If you can't figure out where to start with various styles and cuts, start with what's most flattering for your body type.
Curvy and Hourglass Bodies
Your ideal jeans are skinny, skinny flare, and flare. High-rise waists create a slimmer looking waist and better define your curves. Stick with average size back pockets to make your butt look its best.
Pear Shaped Bodies
If you're more curvy below the waist and slimmer above the waist, bootcut and flare styles often work best. These are slimmer at the top, yet flare out to create a more even proportions. Add in a longer inseam and you instantly get longer looking legs. Opt for a smaller waist size to avoid the pesky fabric bulge in the back. Look for jeans labeled as curvy or stretch for best results.
Rounder Middles
Want to disguise a rounder middle? Skinny jeans with a high rise waist work surprisingly well. If you're wider at the hip, a lower waist may work best. Trouser style or a slight flare helps you achieve a more balanced look.
Athletic Bodies
Finding the perfect jeans for women when you have an athletic body isn't always easy. Opt for stretchy fabrics that are far more comfortable around more muscular thighs without feeling baggy. If you don't like the stretchy material, opt for a wide or flare leg. High rise waists and a straight hip give you more definition.
Rectangle Bodies
If you're tall and slender without a lot of curves, you can still find highly flattering jeans. Skinny jeans or skinny flare with a long inseam look amazing. Low rise waists make your legs look slightly shorter, while a high rise accentuates those long legs. For extra comfort, try mom or boyfriend jeans.
Tip: Once you find your new favorite jeans, you'll want them to last. Make sure you know how to care for denim to keep your jeans looking fresh.
Frequently Asked Questions
Should I stick with just one style?
Not at all. Fill your closet with a variety of styles and cuts. After all, different tops and shoes require different types of jeans. Just pick the styles that make you look and feel great.
What's the best waist height?
This usually comes down to personal preference. High rise can give the illusion of more height, while a low-rise accentuates your hips. A mid-rise is generally the best option if you're not sure. It's also available in the most styles.
Image credit: Pexels
Subscribe to our newsletter!
Get the best of ModernRatio delivered right to your inbox!