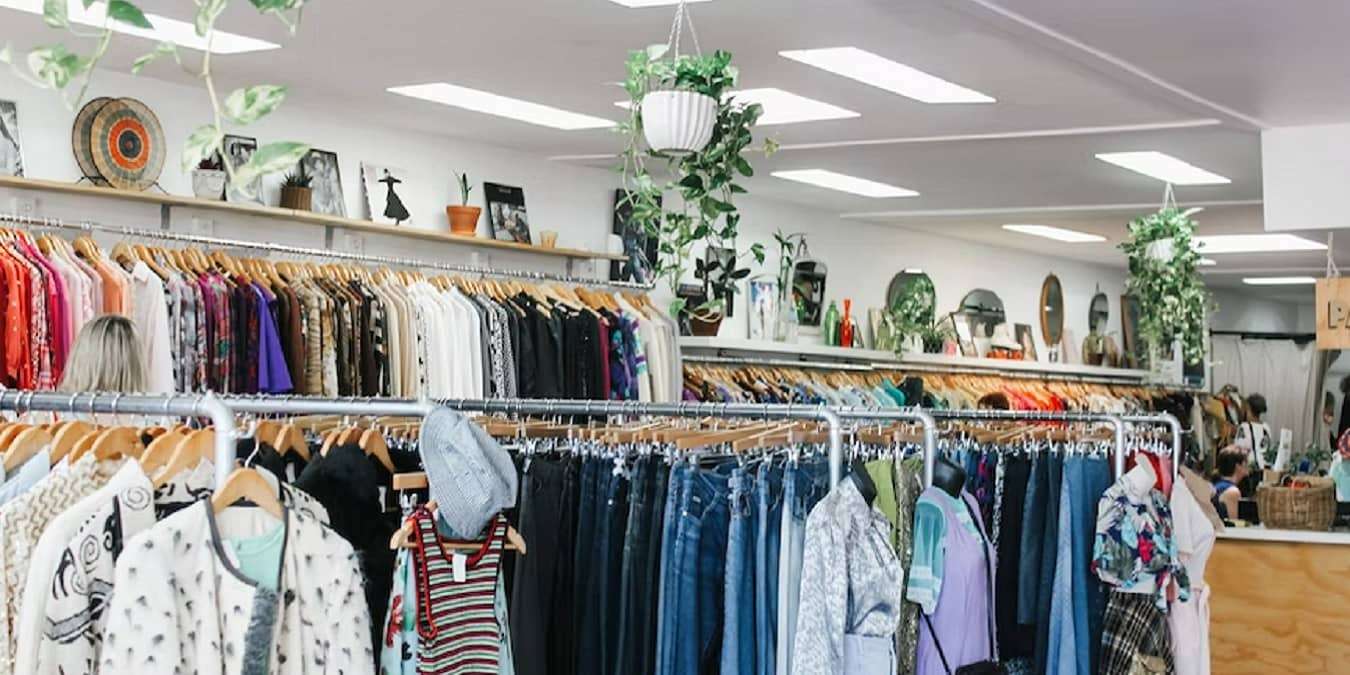 The easiest way to find affordable fashion is with online thrift shops. When stepping into a physical thrift store, it's easy to feel overwhelmed. The clothes are usually separated into specific sections, but it's so disorganized that it's impossible to find what you're looking for. All sorts of colors, patterns, and styles of clothing are grouped in the same category, leaving you sifting through shirts for hours.
Avoid this whole mess. It is the 21st century, after all – you should know that thrift stores have now migrated to the internet for simpler shopping.
1. thredUP
thredUP is my go-to online thrift shop. Once you sign up to the site, you automatically get a discount (and you'll keep receiving more from time-to-time).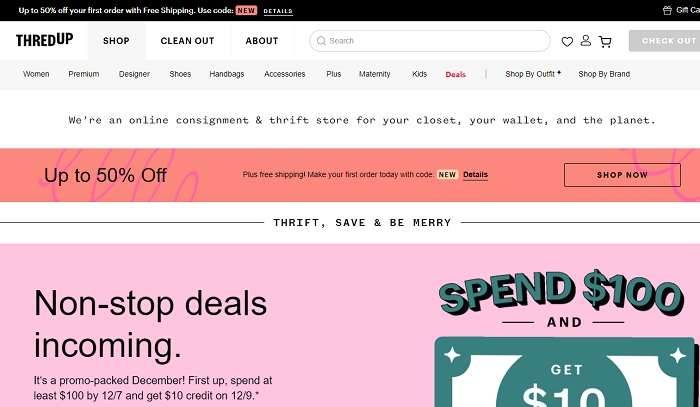 The constant stream of discounts isn't the only thing that makes this thrift shop amazing. You can sort through a huge variety of clothes, ranging from designer brands like Ralph Lauren, and more affordable brands like Forever 21. Once you click on something you like, thredUP lets you know if there are any signs of wear and tear in the description.
Right now, thredUP only has clothes for women and kids. If you're ready to give up the old clothes in your closet, make sure to send it to thredUP and get compensated for your used clothes.
2. Goodfair
Goodfair works a little differently than most online thrift shops. The company saves fashion that other shops might turn away and gives them some TLC. Instead of ending up in landfills, they get new life. Then, items are mainly sold in bundles, such as four "preloved" hoodies.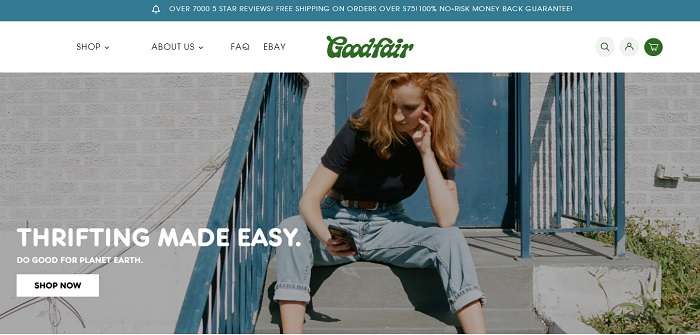 If you love mystery boxes, you'll love thrifting at Goodfair. While you can pick your size, you don't always know what colors or patterns you might get. So, it's always a fun surprise when you get your items.
Of course, if you don't love what you get, donate the items or gift them to friends and family. You can even return items for a full refund, minus shipping costs.
3. The Real Real
Prefer luxury fashion from designer brands such as Gucci, Louis Vuitton, and Christian Dior? Then, The Real Real is the best online thrift shop for you. People sell their items to The Real Real and then the company authenticates every item. So, you don't have to worry about cheap knock-offs here.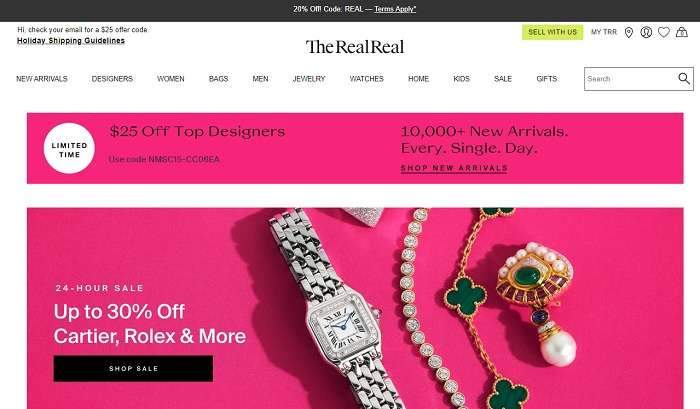 You're not likely to find ultra cheap items here, but you do get steep discounts. For instance, you can get Louis Vuitton leather pumps for under $400 versus the usual $1,200 and up new price tag.
Of course, you can find cheaper designer brands here too. Expect savings of around 40% to 50% in most cases. Some items are up to 90% off. Plus, you can always sell back your designer items to buy more.
4. Ragstock
Unlike many other thrift stores, Ragstock doesn't only sell recycled or donated clothing. Curators at Ragstock purchase new clothes in New York City and Los Angeles at an affordable price to keep up with the latest trends. You can find some funky vintage clothing at Ragstock as well.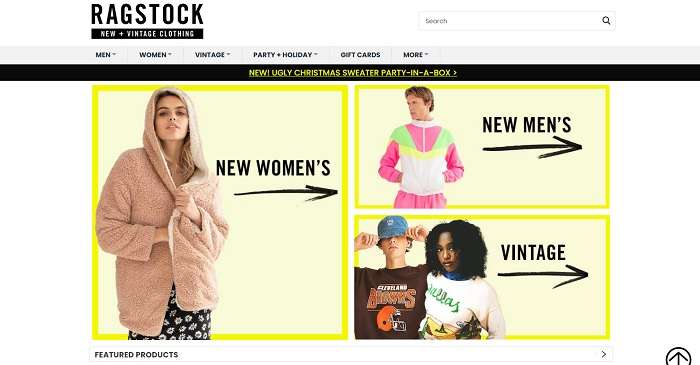 When Halloween and Christmas roll around, Ragstock has just what you're looking for. In addition to having a plethora of ugly Christmas sweaters and clothes perfect for a custom Halloween costume, it also has festive garb for St. Patrick's Day, Pride Month, and more.
Ragstock (thankfully) has a section dedicated to men's clothing. Find a traditional t-shirt for less, or take a look at some Hawaiian shirts and Baja hoodies. The prices on Ragstock are a little higher than other thrift stores, but it's worth it if you're looking for something specific.
5. Swap
The team behind Swap is passionate about recycling clothes in order to prevent them from piling up in landfills. Thousands of new products get posted daily, with some items priced as low as $3.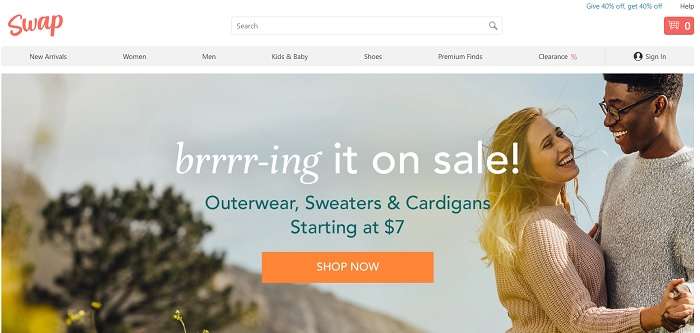 Swap is especially great if you have kids or a new baby. Children and infants grow so fast that it's almost pointless to buy them new clothes. The new shirt you just bought your kid might not fit in a month, so why not save your money and buy used clothes on Swap instead?
Clothes for kids isn't the sole focus of Swap. This online thrift shop also sells clothes for men, women, and even has a variety of gently-used toys.
6. Thrifted
If you're really into vintage clothes, you should definitely check out Thrifted. You'll find a wide price range, with the most expensive items in the vintage designer clothing category. Make sure to look out for old-school Versace, Dolce & Gabbana, and Tommy Hilfiger when you visit the site.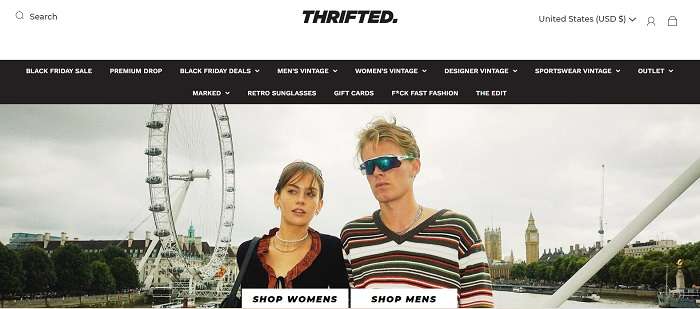 Thrifted has extremely high standards when it comes to clothing quality. The shop gets all of its clothes from sources in various countries, and ensure that none of the pieces are fake or have any tears.
Since vintage 80s and 90s clothes are all the rage these days, Thrifted has you covered. Browse through the Festival category for men and women to find the perfect quirky buttondown or retro shades.
7. Poshmark
Poshmark is the eBay of thrift shops. Instead of giving your clothes to a store and having it sell for you, Poshmark allows you to become your own seller. After you sign up and input your size and favorite styles, you'll get to browse through thousands of clothing items.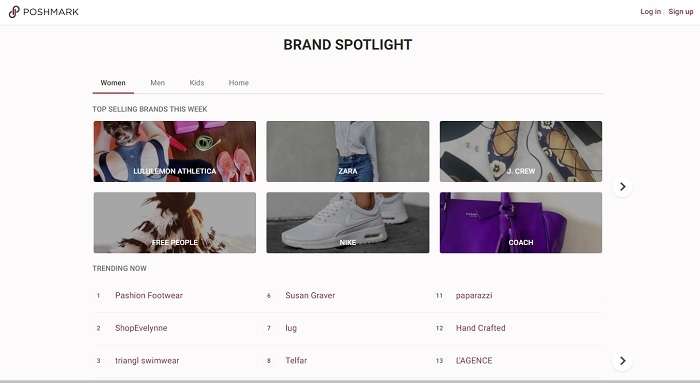 Other users who want to clean out their closet will post their new or used clothes, along with a description of the item and its condition. Since so many people use Poshmark, you can always come across a great deal on designer brands.
Poshmark has clothes for just about anyone, including men, women, and kids. When you're ready to give up your own clothes, simply post them on Poshmark and earn some extra cash.
8. Goodwill
While Goodwill has over 130 locations across the United States, the company also offers two online thrift shops – ShopGoodwill and GoodwillFinds. The first lets you shop items from throughout Goodwill's physical locations.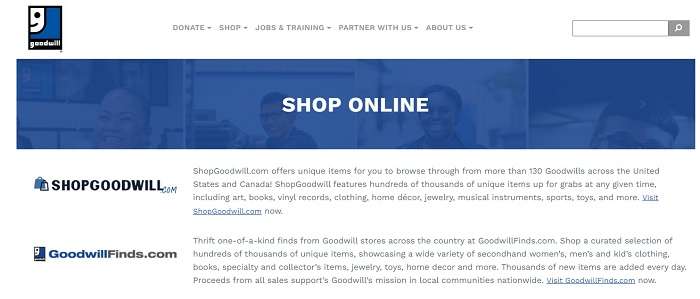 For curated items, including rare vintage and designer finds, you'll want to use GoodwillFinds. Thousands of items are added daily to each site. Of course, it's not just fashion. Pick up discounted toys, instruments, and home décor too.
Most items are available in an auction format, though some you can buy directly. If you're in the local area, you can also pick up your item in person after buying it. Plus, proceeds go to help Goodwill's charity organization of helping train and place people in jobs.
9. Worn Wear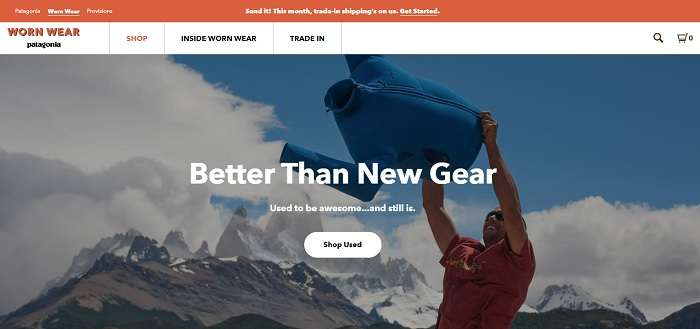 If you're a fan of Patagonia clothing, then you'll love Worn Wear. This is the online thrift shop of Patagonia. You can buy used items and even trade-in your own for cash or credit. For outdoor adventurers, this might become your new favorite thrifting site.
Most items tend to be around 30% to 40% off, but you can find even better deals as you browse. You'll find items for men, women, and children along with gear, such as backpacks and totes. Sure, this isn't the most fashionable site for a night out, but for hiking and camping in fashion, it's hard to beat the deals.
Frequently Asked Questions
Are online thrift shops really better than physical stores?
It all depends on how you prefer to shop. The only real benefit to shopping in-store versus online is you get to try things on. But, both have their pros and cons, so shop the way you prefer.
Can I trust sizing when thrifting online?
The problem with used fashion is sometimes the clothes have been shrunk or stretched slightly. This means they might not always fit as expected. Higher-priced online thrift shops tend to be the closest to the original size. However, you never know for sure.
The great part is you can always donate items or sell them back (or to another consignment shop).
How else can I save on fashion?
Affordable fashion isn't limited to just thrift shops. If you want new clothing, try shopping clearance items as these stores. Or, try these online shopping hacks to get great discounts on full-priced fashion.
Image credit: Prudence Earl via Unsplash
Subscribe to our newsletter!
Get the best of ModernRatio delivered right to your inbox!