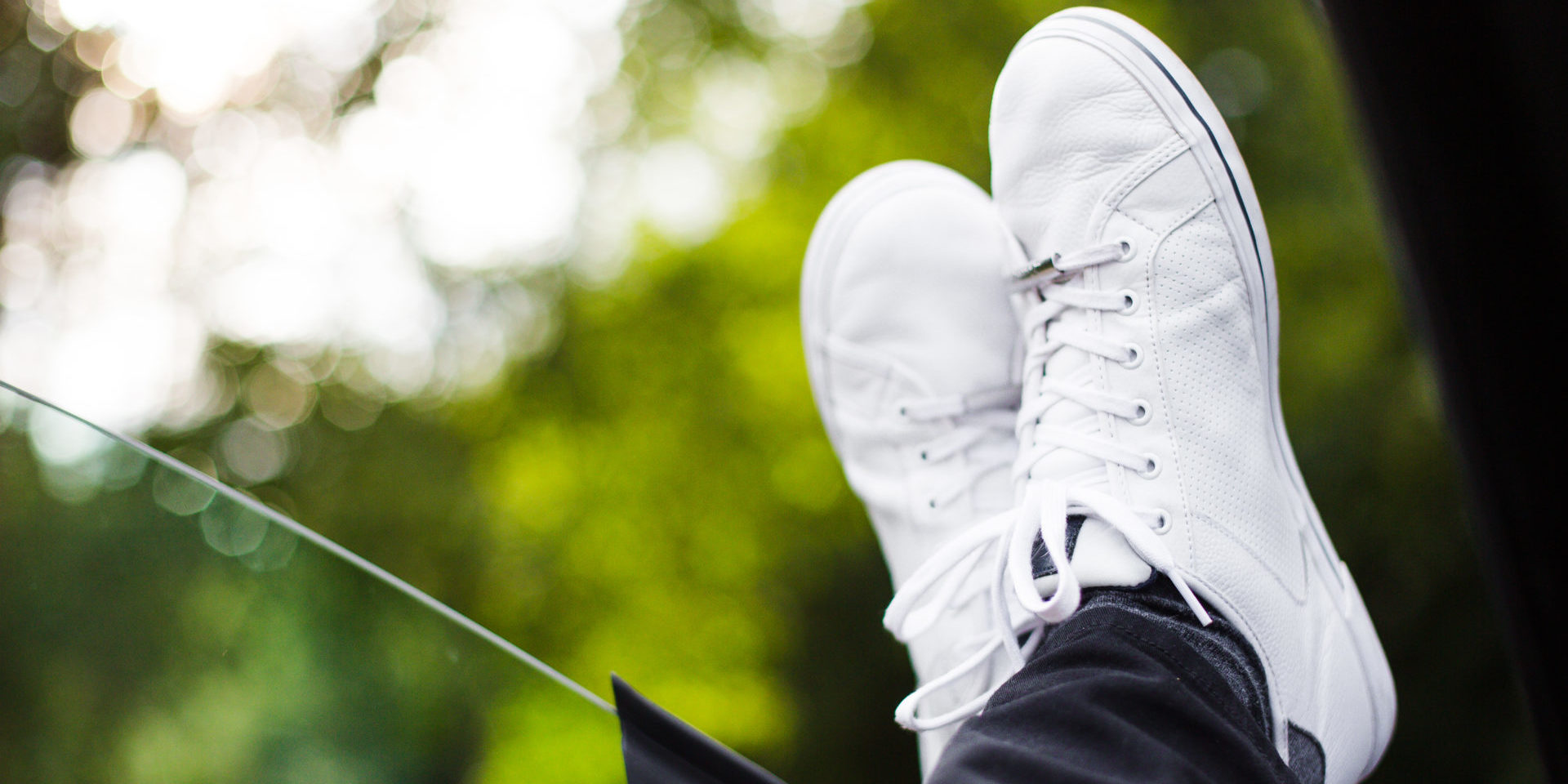 Except for hardcore sneakerheads, most of us abuse our casual shoes without a second thought to caring for them. However, a little bit of preventative maintenance can go a long way in extending the lifespan of our favorite sneakers and walking shoes.
Below are a few things you can do to keep those spiffy kicks alive for longer.
1. Apply a Shoe Protector
When you first take those new shoes out of the box, one of the best things you can do to protect them is to apply a shoe protector. This should not only make your shoes more stain-resistant, but also help prolong life expectancy. A good protecting spray will ward off multiple threats to your shoes including scuffs, water damage, heat damage, and even fading from sun exposure. You'll have to reapply every month or so depending on how often you wear your sneakers, but applying a shoe protector spray is one of the simplest ways to keep your shoes in near tip-top shape.
2. Try a Shoe Sole Protector
The part of your shoe that will likely wear the most quickly is the part that contacts the ground when you walk, the sole. If your outer sole wears away, you will have to take it to a shoe repair shop and if the wear is uneven due to the way you walk, it may even affect your joint health. A sole protector is usually an adhesive film that will keep your sole from wearing away as quickly. This is another tip to keep your favorite pair of sneakers in pristine condition before you even take the first step in them.
3. Store Your Shoes in a Dry Place
Humidity is extremely damaging to your shoes. Instead of keeping your shoes in a shoebox in your damp basement with no ventilation, consider using shoe bags and keeping your shoes on a shoe rack. The cardboard boxes your shoes come in inevitably hold in moisture and are thus conducive for mold growth. This puts your shoes at risk of dry rot, which is when fungus and humidity attack your shoes and cause them to begin falling apart.
4. Gently Clean Your Shoes Regularly
No matter how well you care for your shoes, they will eventually pick up dirt and grime from wearing and storing them. This is particularly true for your casual shoes that you wear far more often, and thus why it's essential to learn how to clean your shoes properly. This depends on what kind of shoes you're cleaning, but in general, you can follow a few general rules with most casual shoes:
Before cleaning, remove your laces and clap your shoes together to shake loose any excess dirt or dust. You can then spot clean stains using a mild laundry detergent diluted with an equal amount of lukewarm water. Alternatively, I've used baking soda and lukewarm water to great effect as well. For white leather sneakers, some say that white toothpaste also does wonders. Using a soft washcloth or soft-bristled toothbrush, apply your cleaning solution of choice to the stains and gently scrub until the shoes are clean again. Leave out in a well-ventilated area to dry.
With white canvas, mesh, or knit sneakers, you can also apply a dilute solution of 1 part bleach with 5 parts water before cleaning in detergent to keep those sneakers white. Be careful not to use too much bleach, as it can actually impart a yellow tinge onto your sneakers.
5. Use a Shoe Filler After Each Wear
In order to keep your shoes from deforming, be sure to use a shoe filler after taking your shoes off, especially if you plan on storing your shoes for a longer period of time. Using absorbent shoe stuffers such as newspapers or a fabric softener sheet that absorbs humidity can help prevent odors and mold from building up.
If you want to go the extra mile, using a wooden shoe tree will help your shoes retain their forms for longer. The rigid shoe trees will help keep your shoes' soles flattened out, and the wood will absorb the humidity away from your shoes.
6. Use a Shoe Horn When Wearing Your Shoes
If you are like me and too lazy to untie and retie your shoes every time you put them on, the best thing you can do is to use a simple shoe horn. This prevents you from crushing your shoe's ankle support whenever you slip your foot into your shoe. There really is no excuse for this one, so be sure to grab a shoe horn if you don't have one—even a cheap one, like the Velette Metal Shoe Horn 3-Pack, is better than nothing.
Show Your Sneakers Some Love
Employing even just a handful of these tips will help your shoes go the extra mile and keep them looking nice for many steps to come.
Subscribe to our newsletter!
Get the best of ModernRatio delivered right to your inbox!