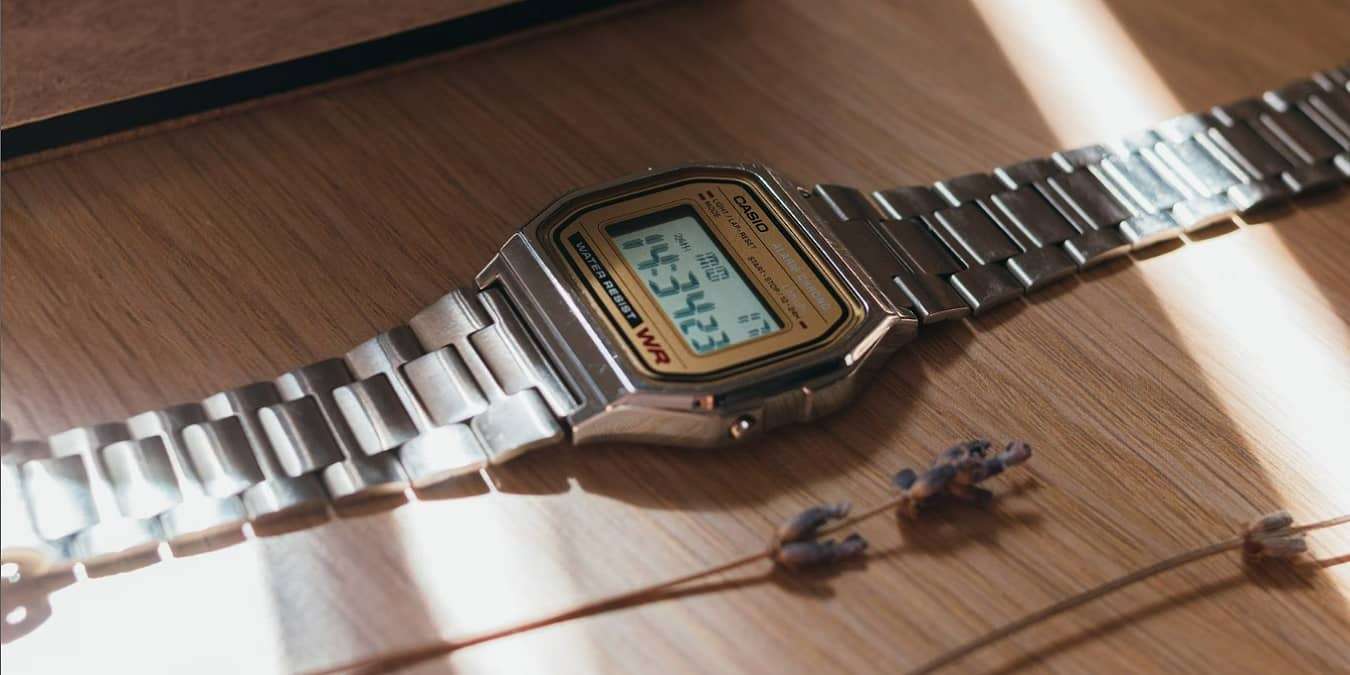 Casio is a well respected electronics brand and you can score some great, yet cheap Casio watches from Amazon. Accent your wrist with a Casio watch for under $100. Whether you're looking for a sports watch, everyday watch, or even something slightly dressier, Casio has you covered.
1. Casio Collection Vintage A168WA
This is the classic unisex Casio watch with the stainless steel band. Removable links let you adjust to the size you need. It has electro luminesce and it's also water resistant. Of course, that doesn't mean go swimming or diving with it on. But, if you splash some water on it, you're fine.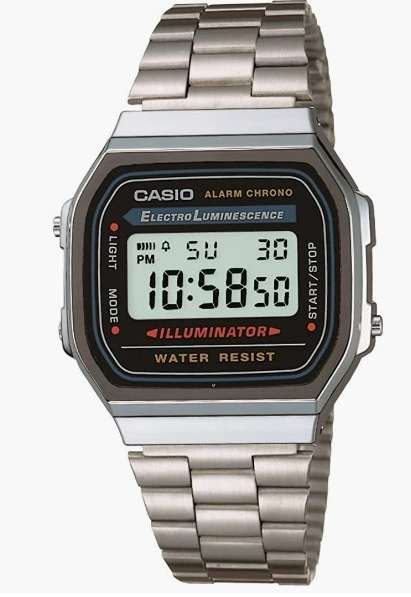 A protective mineral crystal keeps it safe from scratches. This is also what makes this such a popular choice for daily wear. Not only does the digital face show the time, but also the date. You can also set alarms. The best part, though, is it's just $30.
2. Casio Databank DBC611-1
The Casio Databank watches not only feature a clock, but also a calculator. It's designed for men and the stainless steel band matches anything you might wear. Set alarms, use the LED light to quickly tell the time in the dark, switch time zones, and even see the date.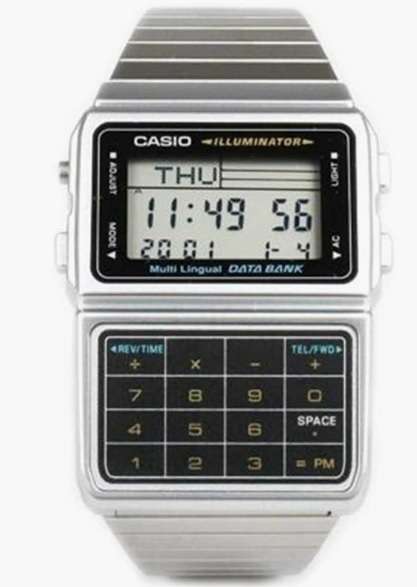 While it's not the typical watch face design, if you need to quickly calculate a tip or do calculations quickly at work, this could become your new best friend. Just remember, it does have a larger watch face with the calculator. But, it's steal at around $60.
If silver isn't your style, you can also pick one up in gold or in a slightly different design in forest green.
3. Casio Classic Core DW9052-1
While many Casio G-Shock watches are over $100, this one is just $75. But, that doesn't make it any less durable. It still features the classic G-Shock shock resistance, giving you protection against drops, bangs, and bumps. It's even water resistant up to 200 m.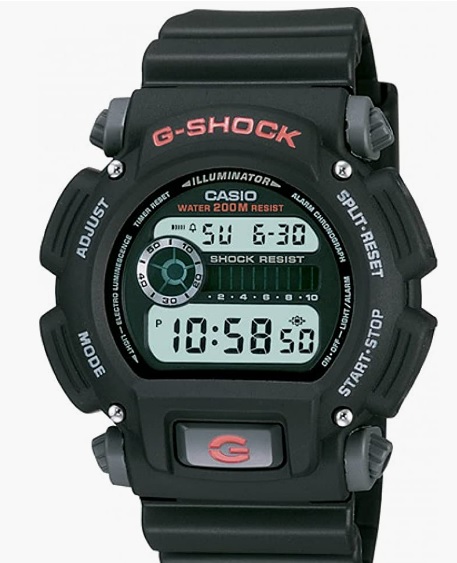 The black resin sports-style strap is made for all-day comfort for work and play. As you'd expect from Casio, you still get the backlight display, so you'll always be able to tell the time day or night. The display also features the date and there's a stopwatch built-in.
4. Casio G-Shock GA-700UC
If you're looking for more military-style Casio G-Shock watch, the GA-700UC might be your best option. While designed for larger men's wrists, anyone can wear it. The gray on black design gives it a more sleek look. It's made for more extreme wear with G-Shock technology and a water resistance up to 200 m.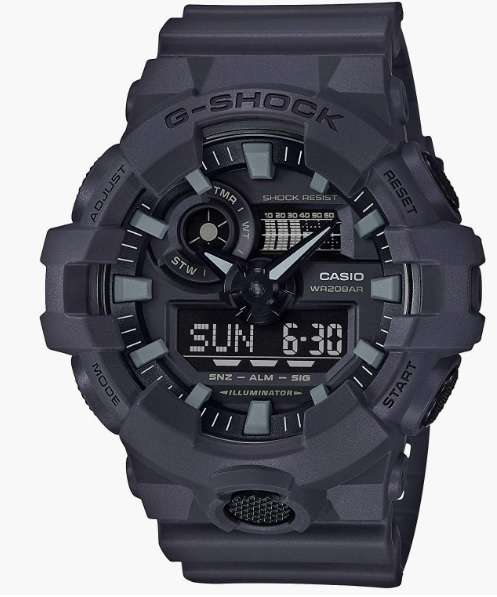 It features both an analog and digital display, along with backlight technology. Easily set alarms, change time zones, check the date, and set timers up to one hour. You can set up to four alarms at once. The buckle strap makes it easy to adjust to your wrist size.
While it might feel too bulky for some, it's one of the most durable cheap Casio watches, coming in at just $99.
5. Casio Women's LQ139B-1B Classic Round
The LQ139B-1B is a classic design perfect for the office, date night, or just hanging out with friends. The dainty design works well for women and teens. A slim, black band along with a round analog face looks both elegant and professional.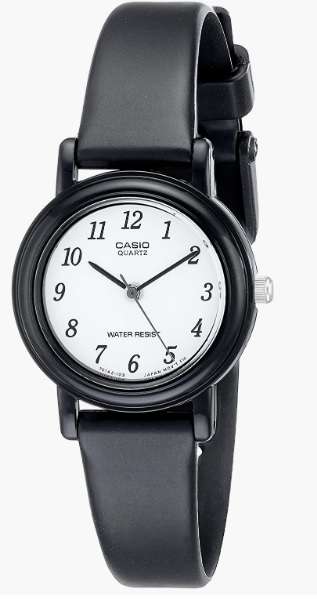 While it's not completely water resistant, it is splash resistant. At just 8 mm thick and 25 mm in diameter, it'll feel more like a bracelet than a watch.
There aren't any extra bells and whistles. It's tells the time and that's it. However, if you don't need alarms, a stopwatch, or the date, it's a great watch for under $15. Also, at the price point, it works well for kids too.
6. Casio Men's Forester FT-500WC-5BVCF
Looking for something a little different? Casio's Forester line definitely fits the bill. This particular watch is a mix of earth tones that features a rugged cloth band. It bucks the typical buckle design in a favor of a Velcro clasp. The analog face features bold numbers and a backlight display along with showcasing the current day of the month.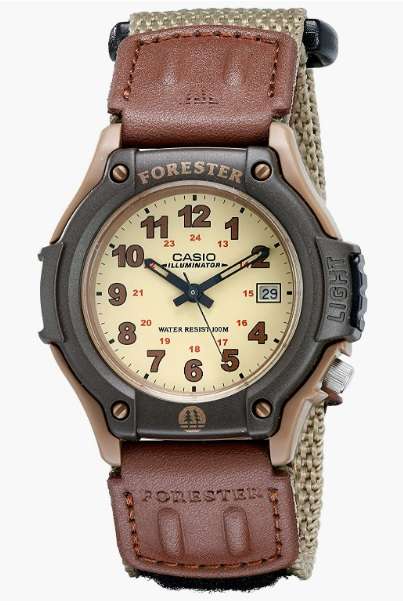 Brown screws mixed with a black bezel give a unique look. It's built to be durable, making it great for hiking and other outdoor activities. It's even water resistant up to 100 m. It's perfect for an average size wrist, but may feel too small on larger wrists.
7. Casio MDV106-1AV Dive Watch
Surprisingly, Amazon's selection of cheap Casio watches also includes a dive watch. For just under $75, you get a watch that's good to up to 200 m. The anti-reverse rotating bezel is designed with divers in mind. Large fluorescent time markers make it easy to see the time in all types of light.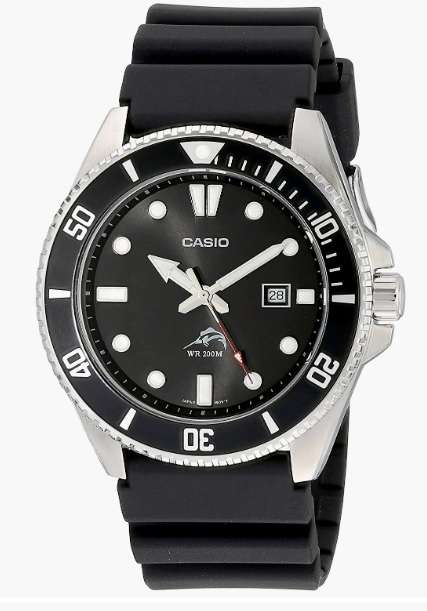 A black resin band with the stainless steel case give you a classic look that's for far more than diving. Both men and women can easily wear this watch most anywhere. The analog display also features the current date and looks quite elegant. Another great feature is you can get the watch with different color faces outside of the standard black and white.
Frequently Asked Questions
If a watch is listed as a "men's" or "women's", will it still work for anyone?
Usually, yes. The designation between a men's watch and women's watch usually refers to the wrist size and face size. Larger watches with wider bands and faces often look best on larger wrists. More dainty designs are often categorized as women's watches. However, they work for most anyone, including teens and sometimes kids. Just look at the sizes to ensure they'll fit properly.
If you have an Apple Watch and want a more stylish band, consider these great stylish Apple Watch bands.
Does "cheap" mean a short life?
No. Casio is a well-respected brand with watches that can last for years. It's just a more affordable brand. Obviously, the more features, the more expensive the watch. But, for an everyday watch, Casio's cheap options are surprisingly durable. If you'd prefer a smart watch over a standard watch, try these options.
Image credit: Unsplash
Subscribe to our newsletter!
Get the best of ModernRatio delivered right to your inbox!