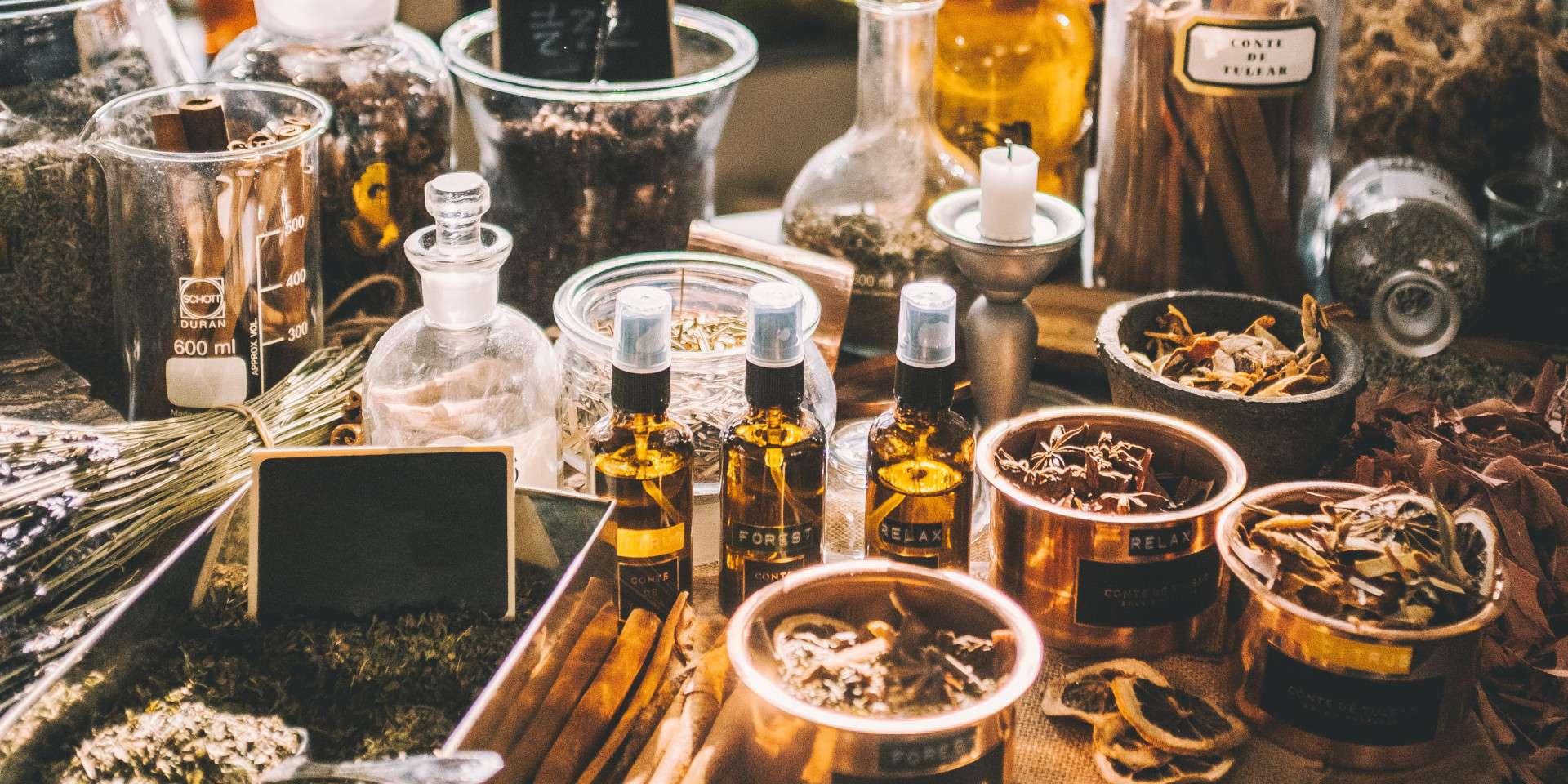 Once you start diving into the world of fragrance notes and accords, you'll start to realize that many colognes and perfumes share similar aspects with other colognes and perfumes. It's a lot like food: even though graham crackers and pumpkin pie are completely different, they prominently share cinnamon as a common taste. If you like one, there's a good chance you'll like the other.
And so it is with fragrances, which is why colognes and perfumes are categorized into scent families. A scent family is a grouping of similar or complementary notes that can be used to describe the "type" of scent given off by a cologne or perfume. However, just because two fragrances are in the same scent family doesn't mean they'll necessarily smell alike!
The Fragrance Compass
Fragrance categorization is subjective. There's no standardized set of scent families that every fragrance house abides by; in fact, some fragrance houses don't even bother categorizing their own products because they may not believe in pigeonholing fragrances into this or that group. Others may use diagrams like the Fragrance Fan or Fragrance Wheel.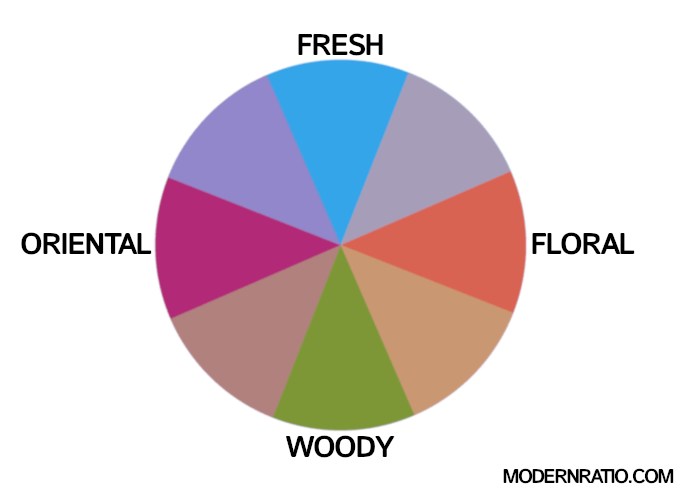 I personally find the Fragrance Compass the most helpful, which is a simplified version of the popular Fragrance Wheel. Most people in the fragrance world will know what you mean if you use these scent families when describing products.
The Fragrance Compass is comprised of four major scent families:
Fresh
Fragrances that are usually described as green, aquatic, citrusy, clean, crisp. The most prominent notes tend to involve grass, mint, lemon, grapefruit, cucumber, salt water. Often worn in the summer to cut through oppressive heat.
Notable example: Aqva Pour Homme EDT by Bvlgari
Floral
Fragrances that are usually described as flowery, bouquet, powdery, regal, fruity. The most prominent notes tend to involve rose, lilac, orange blossom, lavender, gardenia. Often worn year-round or for romantic occasions.
Notable example: Brit for Men EDT by Burberry
Woody
Fragrances that are usually described as earthy, outdoorsy, mossy, foresty, primal, confident. The most prominent notes tend to involve cedar, sandalwood, vetiver, pine, smoke, oud. Often worn year-round, but particularly nice in the spring and fall.
Notable example: Terre D'Hermes EDT by Hermes
Oriental
Fragrances that are usually described as spicy, rich, resinous, earthy, mysterious, warm. The most prominent notes tend to involve cinnamon, clove, nutmeg, vanilla, resin, amber, honey, carnation. Often worn in the winter as the warmth complements cold weather.
Notable example: The Dreamer EDT by Versace
Hybrids
Of course, not all fragrances fall neatly into one specific scent family. Perfume houses love to experiment and blend the lines in interesting ways, which is how we get hybrid fragrances.
If a normal compass has N, E, S, and W, then you also have NE, SE, SW, and NW in between those major cardinals. Similarly, the fragrance compass has hybrid scent families in between each of the four major scent families: Fresh-Floral, Floral-Oriental, Oriental-Woody, Woody-Fresh.
You'll also see some people emphasize a particular aspect within the major scent families. For example, a Fruity-Floral is a floral fragrance with emphasis on fruity notes whereas a Powdery-Floral is a floral fragrance with emphasis on powdery notes.
Other Scent Families You May Come Across
Some note combinations have become so popular that they've spawned their own genres of fragrances. These are a lot more specific than the major scent families mentioned above, and you don't really need to know what these are. However, if you find a fragrance you love and it happens to fall into one of these scent families, knowing which one could help you find other fragrances that you may also love.
Fougere
Fougere (pronounced "foo-jzair") is a fragrance built on a foundation of lavender, oakmoss, and tonka bean notes. All combined, these notes give off a scent that's simultaneously sweet, woody, and grassy in a way that evokes feelings of autumn. However, these days not all fougere fragrances smell alike, as the genre has increasingly been hybridized with other scent families.
Notable example: Eternity for Men EDT by Calvin Klein
Chypre
Chypre (pronounced "ship-ra") is a fragrance built on a foundation of citrus, oakmoss, and labdanum notes. Labdanum is a peculiar note that smells like pine and leather with hints of pepper, tobacco, and coffee. Because of this, most chypre fragrances sit in the Woody-Oriental family—however, there are also hybrids that are Floral-Chypre, Fresh-Chypre, and such.
Notable example: Vetiver EDT by Guerlain
Gourmand
Gourmand (pronounced "gor-mond") is a fragrance whose primary notes evoke scents found in foods, such as chocolate, vanilla, and honey. Gourmand fragrances are sometimes called "desserts for the nose" because they are sweet and delicious. However, not all gourmand fragrances are cloying, as the sweetness is often tempered with deeper notes like musk and various woods.
Notable example: Noir Extreme EDP by Tom Ford
Aromatic
Aromatic fragrances are ones that have prominent notes of herbs and spices that are traditionally used in cooking: rosemary, thyme, sage, cumin, mint, chamomile, marjoram, etc. These herbs are called "aromatics" in the culinary world, hence the name of the scent family. However, to avoid confusion (but ironically making things even more confusing), some people prefer the term Herbal scent family.
Notable example: Eau Pour Homme EDT by Giorgio Armani
Now it's time to get practical. Check out these best-smelling budget colognes for men and learn how to spray and apply cologne properly.
Subscribe to our newsletter!
Get the best of ModernRatio delivered right to your inbox!