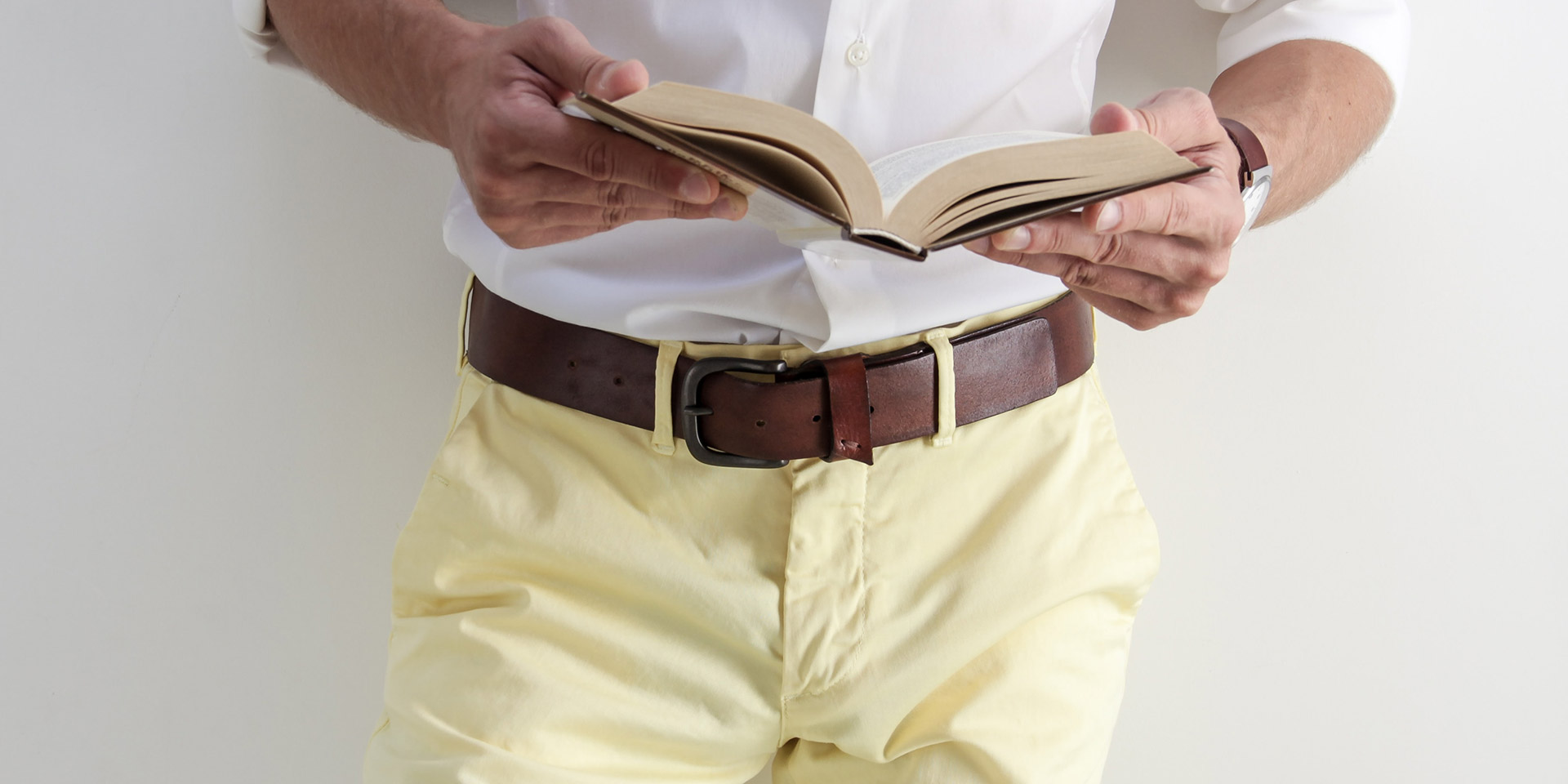 In terms of accessories for men's clothing, few items are more important than a belt. A perfectly-crafted outfit can be completely thrown off by the incorrect belt.
Fear not, though, because we're going to teach you everything you need to know about choosing the right color belt for the clothing you're wearing.
Choosing Belt Color
The first rule you need to know about choosing a belt is the color. You need to make sure that your shoes and belt are the same color in almost all cases. There are some exceptions, which we'll get to, but for the most part, if you match the color of your shoes with the color of your belt, you'll be off to a good start.
So if you're wearing a pair of brown shoes, you should wear a brown belt. If you're wearing black shoes, then a black belt is your best option. And if you're wearing blue shoes… You guessed it! A blue belt (though you can also wear a brown belt with dark blue shoes).
But what if you're wearing white or gray shoes? That's where the aforementioned exceptions come in! You should never wear a white belt with white shoes (or a gray belt with gray shoes).
If you want to wear a pair of white shoes, you should wear them with a black belt. Just remember that white shoes are a bold choice, and you need to be careful when you choose to wear them.
This same rule applies to white sneakers. You'll just want to go with a more casual belt, which we'll get to in the next section.
Choosing Belt Width
Outside of choosing the right color, the other important thing you need to worry about is the size of the belt. This is actually pretty simple to do—if you're wearing formal pants, go with a thinner belt. If you're wearing casual pants, go with a thicker belt.
The general idea is that the formality level of the belt should match the formality level of the pants. The color of the pants and belt aren't important, as it's all about how the size matches up.
So if you're wearing a pair of jeans, you should opt for a belt with a little more width to it. If you're wearing dress pants, you'll want a thinner belt.
Choosing Belt Material
Another important aspect of adding a belt to your outfit is the material. Not only do you need to match the color of the belt to your shoes, but you also want to match the material of the belt with the shoes you're wearing.
If, for example, you're wearing a pair of brown suede boots, then you'll want to wear a brown suede belt. It's all about creating a cohesive look that blends the belt and shoes together smoothly.
What Belts to Buy If Only Want Two
Not everyone wants to own twenty different belts to go with every single pair of shoes, and that's perfectly fine. If you just want to own a couple of different belts, then you should pick out your two favorite pairs of shoes and match your belt with them.
So if you have a pair of brown boots you wear all the time and a pair of white sneakers you adore, you should get a brown belt and a black one. Since the black one is designed to go with sneakers, you should opt for a wider belt. With boots, it'll depend on whether they're casual or formal in terms of how wide your belt should be.
The idea here is to have two belts that match as many of your outfits as possible. If you can get more, you can get a bit more creative, but if you want to save money, go with what matches the most possible outfits.
Subscribe to our newsletter!
Get the best of ModernRatio delivered right to your inbox!