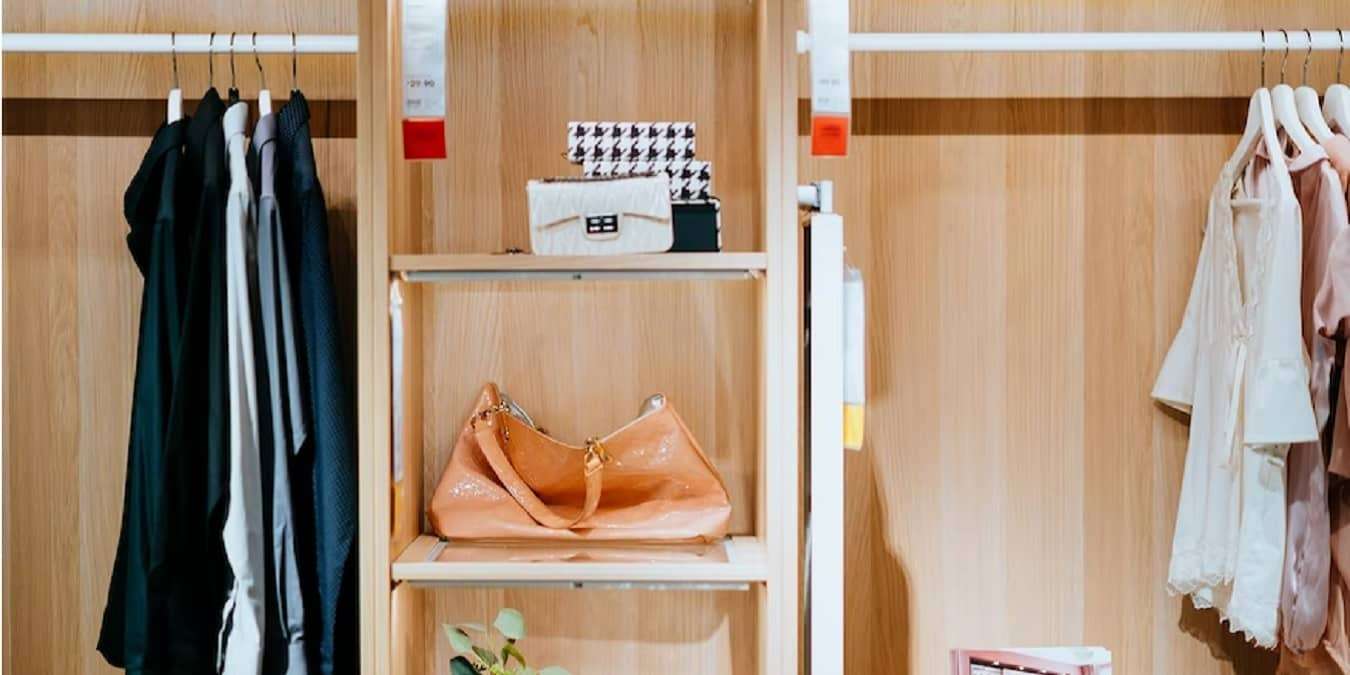 A messy wardrobe can cause you a ton of stress. When you get ready in the morning, you have to dig through piles of clothes that you never hung up, and rummage through old clothes you haven't worn in years. This time-consuming process might even make you late for work!
Having an organized closet will give you a sense of peace. You won't have to rush in the morning, and you can easily find what you're looking for. Here's how you can start the clean-up process.
1. Take Everything Out of Your Wardrobe
Remove everything from your hangers, and lay them out on your bed or on the floor. Now's a good time to give your closet a thorough vacuuming and a good wipe-down. Feel free to get your feather duster out to reach high shelves and the clothing rail as well.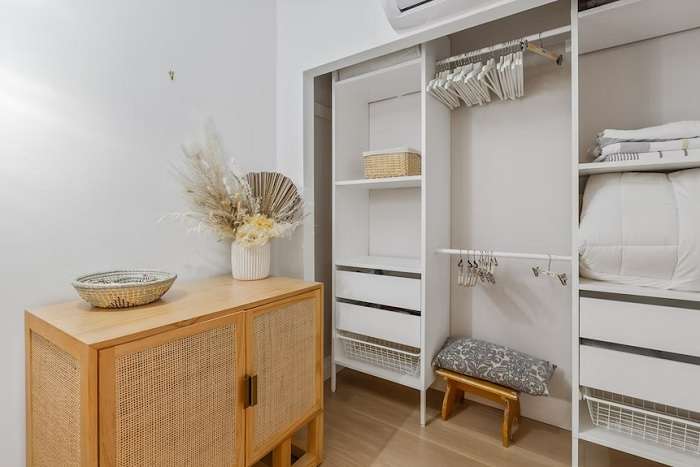 By having a completely clean closet space, you can start imagining how you'd like your closet to look.
2. Choose Which Clothes to Keep
From here, you can determine which clothes you want to keep, and which ones you want to get rid of. Just about everyone has clothes in their closet that don't fit, or have gone out of style.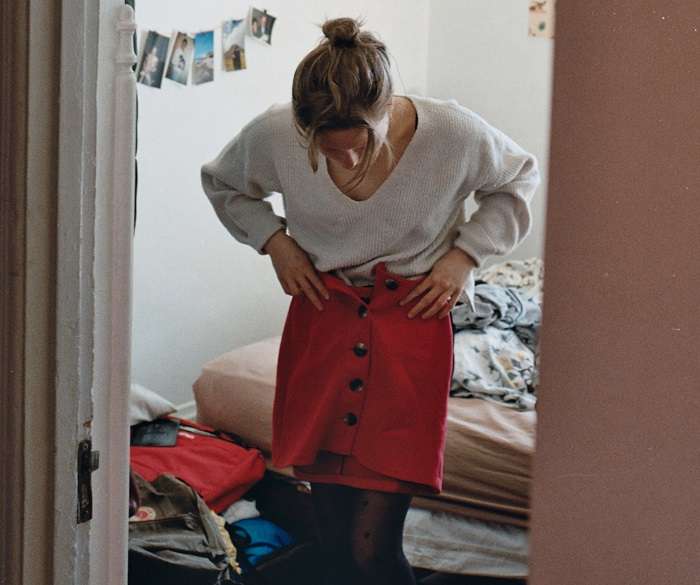 Although you might hold onto these clothes "just in case," you should really ask yourself: "How likely am I to wear these clothes?" If your answer is "Not anytime soon," then it's time to get them out of your wardrobe. This will save you a ton of space in your closet.
Just remember that you don't have to throw all of your clothes in the trash. You can actually sell your clothes at thrift or consignment shops if they're in good shape. Alternatively, you also have the option of donating gently used clothes. As for the clothes that have rips and stains, those belong in the garbage (or you can use them as cleaning rags).
3. Consider Closet Organizers
One of the fastest and easiest ways to organize your wardrobe is through closet organizers. These organizers come in many forms depending on what article of clothing you're trying to organize.
If you're looking for an overall sense of organization, I'd recommend looking into a Rubbermaid Configurations Closet Kit. This all-in-one kit comes adjustable rails and shelves to maximize space in your walk-in or reach-in closet. You can often double your space by having an upper and lower rack.
You can also use storage cubes as an organization solution for pants, shoes, handbags, scarves, and other accessories. Simply stack these cubes under or over your closet's clothing rail. Stowing away accessories and pants creates more space to hang your clothes, and looks a lot neater.
4. Reorganize Your Clothes
After you finish setting up your closet organizer, it's time to rearrange your clothes. You're probably tempted to throw all of your clothes back on the rack without any sort of order, but this isn't ideal. You'll want to group your clothes so that they're easier to find.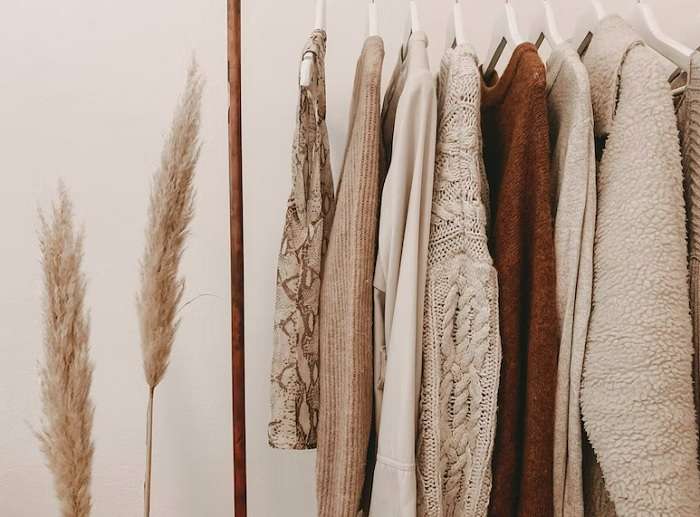 First, stow away the clothes you don't immediately need. If it's winter in your area, that means folding your summer clothes into storage bins and getting them out of your way. You can save even more space by using vacuum bags, such as Hibag Vacuum Storage Bags or Hefty Shrink-Pak.
In general, you should hang up blouses, dresses, suits, and skirts. That way, they won't get wrinkled. Make sure to keep each type of clothing together – shirts go next to shirts, dresses go next to dresses, and so on. Make sure you place the clothes you wear the most at the front of your closet, in an easily accessible area.
To save even more space, fold up thick articles of clothing (like sweaters and jeans) and stack them on shelves or place them in drawers.
5. Open Up Floor Space
Give yourself more room for shoes and accessories by opening up the floor more. Try to place all your lower hanging items at one end of your closet and the shorter ones at the other end. By grouping your shorter items together, you get an entire section of the closet floor free for other items.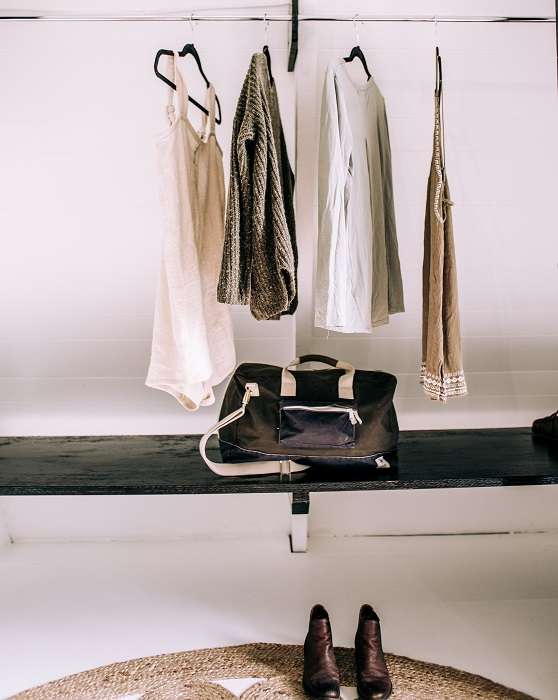 You can add bins or drawers to easily organize items in the floor. Plus, this keeps your clothes from snagging on any zippers or buckles on your shoes or purses.
6. Use the Door
Your door is a great place for keeping frequently worn shoes, belts, scarves, and purses. Think of it as accessory storage. Add an over the door shoe organizer, such as the MISSLO Door Shoe Rack, or a set of hooks to hang items on. The HapiRM Over the Door Organizer has baskets and hooks for organizing items.
7. Hang Your Boots
If you have space, consider hanging your boots. Use a small hanger with clip hooks to hang the boots. If you're using a closet organizer, set up a rod near the floor just for this purpose. It helps keep your boots from staying folded over all the time. Plus, this takes up less space than a bunch of large boot boxes in the floor.
8. Use Thinner Slip-Proof Hangers
Trying to organize your wardrobe becomes impossible if your clothes are always falling off the hangers. Plus, thicker hangers just take up extra space. Maximize your closet space and keep clothes on the hangers by buying slip-proof hangers. Some have rubber grips, such as the ELONG HOME Plastic Hangers. Another option is velvet hangers, such as Utopia Home Velvet Hangers and MIZGI Premium Velvet Hangers No Shoulder Bump Design.
Keeping Your Closet Clean
Maintaining a clean closet isn't the easiest task. You might have those lazy days when you sloppily hang up clothes or put something in the wrong spot. To prevent all of this disorganization from piling up, make a point to clean your closet once a month. You can use this time to restore order to your wardrobe space.
If you're planning on donating or selling your old clothes, you'll want to make sure that your current clothes last. Learn about the right way to wash and dry your clothes to prevent ruining them.
Frequently Asked Questions
How can I easily find items in my wardrobe?
Consider installing a light in your closet so you can see better. Battery-operated or rechargeable lights are easy to install without any wiring. You can also organize your wardrobe by color, type of clothing, and season.
How can I better use the corners?
The outer corners of your wardrobe just give you extra space to store more items. Many closet organizing systems include corner rods for hanging items around corners to give you extra room. You can also install racks, cubes, or shelves to store smaller items.
Image credit: CHUTTERSNAP via Unsplash
Subscribe to our newsletter!
Get the best of ModernRatio delivered right to your inbox!