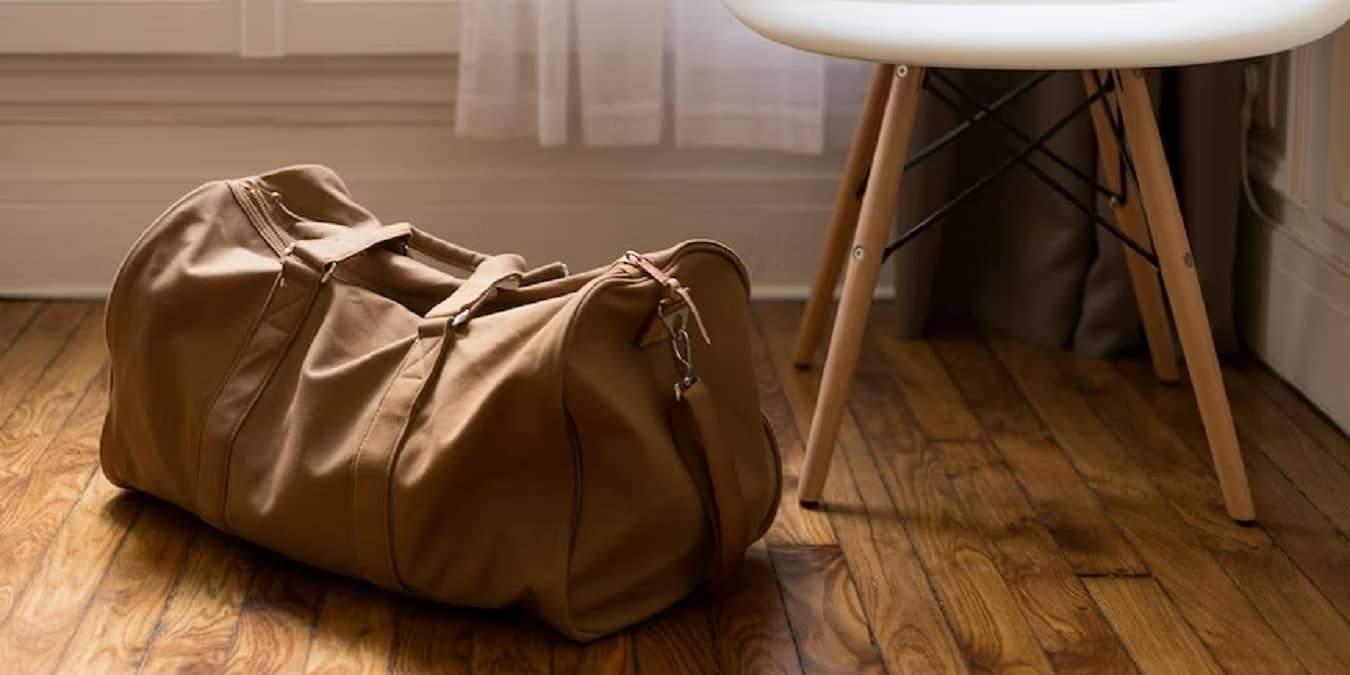 I know it's tempting to just grab your rank gym bag, throw in a few things, and head off for a weekend of fun. But, ditch the old tattered duffel bag and opt for stylish weekend bags for men instead. These look great while you're carrying them around and they usually have better organization options to keep your toiletries from getting tangled in your underwear and other clothes.
1. Best for Shoes: Herschel Novel Duffle Bag
Price: $64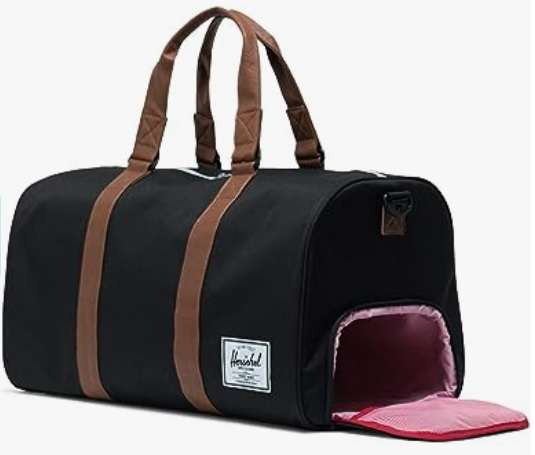 Stylish weekend bags for men should help keep your belongings clean and safe. If your off on a hiking weekend, the last thing you want to do is put your dirty shoes in with your clothes. The Herschel Novel Duffle Bag not only looks great, but has a separate shoe compartment. Plus, there's still ample room for clothes, toiletries, and more. While the black canvas with brown synthetic leather or the black crosshatch look the most stylish, you have 14 options to choose from.
2. Best Heavy Duty Canvas Bag: Newhey Oversize Travel Duffle Bag
Price: $50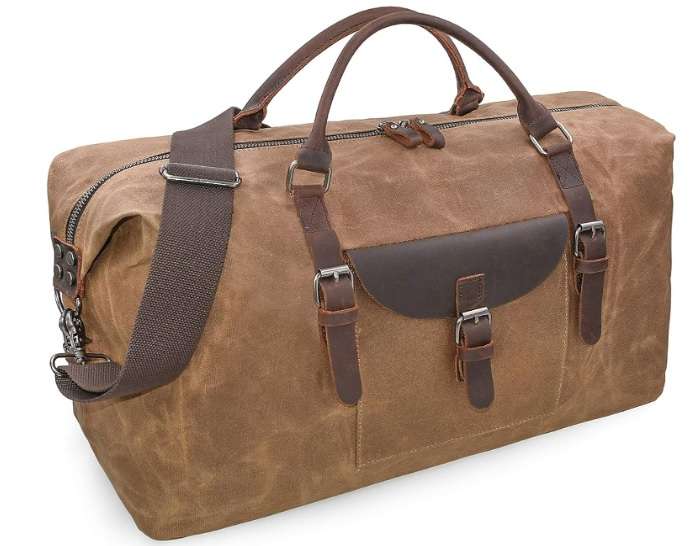 Think you need to spend hundreds for a waterproof canvas and genuine cowhide leather weekender bag? Think again. The Newhey Oversize Travel Duffle Bag includes handles and accents made from crazy horse leather, which is waxed cowhide leather that develops a stylish patina over time. The highly durable canvas is also waxed, making it waterproof. Several internal pockets and room for up to four days of clothing make it perfect for quick travels. Plus, it comes in eight varieties.
3. Best Leather Weekender: Time Resistance Leather Weekend Bag
Price: $330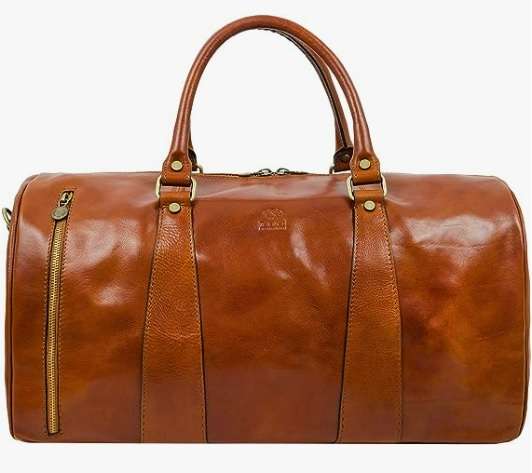 Time Resistance is well-known for its handcrafted Italian leather bags and the Time Resistance Leather Weekend Bag is another great example. The spacious interior and two internal pockets give you ample space for several changes of clothes. There's also a small outer pocket for smaller items you may need quickly. What really stands out is that every bag looks slightly different thanks to the tanning technique. If you want brown, I'd recommend opting for dark brown. The actual "brown" one has a reddish hue.
4. Best Lightweight Bag: Bagsmart Carry On Weekender
Price: $43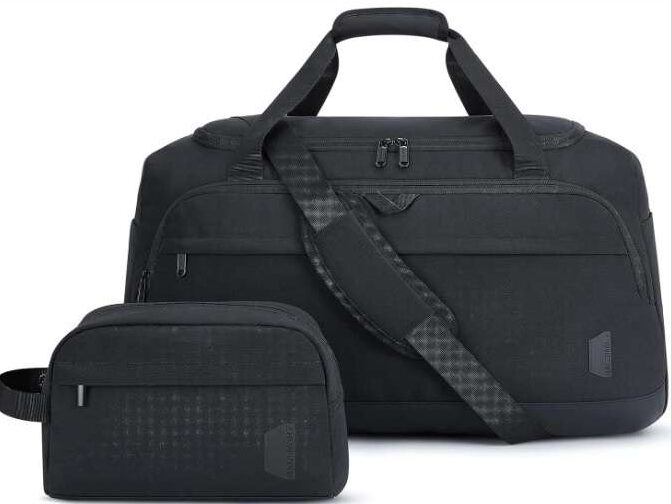 A stylish weekend bag for men shouldn't be heavy before you put anything in it. While leather bags are naturally heavier, the Bagsmart Carry On Weekender is less than two pounds. It's designed for 2-4 day trips and can fit the included toiletry bag, a pair of shoes, nine shirts, and five pairs of pants. Water-resistant fabric and an included shoe/wet item bag ensure everything stays dry and clean. Plus, it has a simple, elegant look without any frills.
5. Best for Wet Items: HYC00 Shoulder Weekender
Price: $34 – $43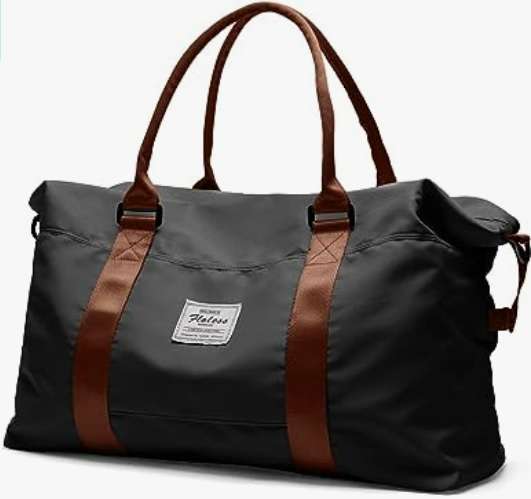 The HYC00 Shoulder Weekender is technically listed as a bag for women, but guys, don't let that stop you from picking up this stylish weekender. If you're planning on swimming or being out in the rain, you'll love the special compartment just for wet items. It's also got two other pockets to help organize your items. Depending on what you need, choose between the standard bag, the same bag with shoe compartment, or either option along with a toiletry bag. While there are several masculine options, the brown-on-black is a classic look.
6. Most Spacious Weekend Bag: S-ZONE Genuine Leather Weekender
Price: $160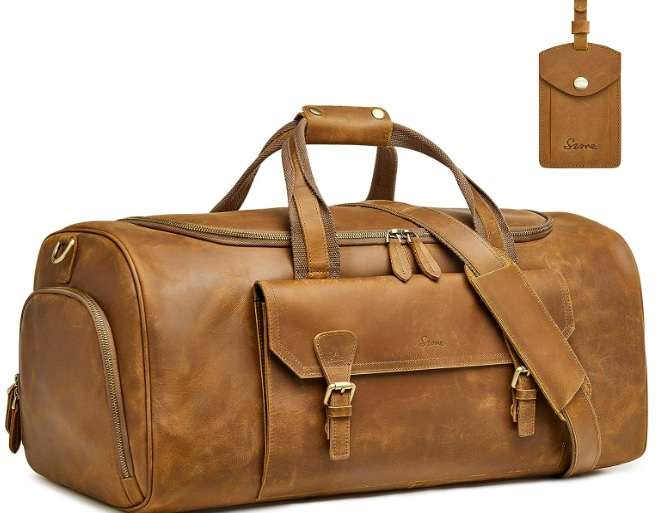 Style and storage mesh beautifully with the S-ZONE Genuine Leather Weekender. The main compartment features two smaller zippered pockets, but you also have a front pocket with a magnetic closure on the outside. Keep your shoes separate with the special shoe compartment. It's a durable weekend bag with leather that ages to create a unique look on every bag. If you prefer canvas with leather accents, try S-ZONE's canvas bag for just $90.
7. Best Duffle Alternative: tomtoc Travel Backpack
Price: $90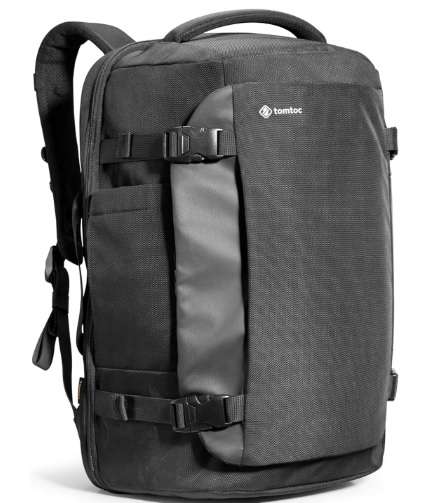 Most stylish weekend bags for men are a duffle or other handheld bag. If you prefer carrying your bag on your back, try the tomtoc Travel Backpack. No, you won't look like a kid going off to school or a hardcore hiker. Instead, this is a stylish duffle bag transformed into a backpack design. With three compartments, it's easy to separate clothing, shoes, and accessories. Plus, it's made from PET plastic bottles, so it's an environmentally friendly bag too.
Travel in Style This Weekend
Leave your usual gym bag at home and travel in style on your next weekend trip. Use these travel packing tips to make sure you don't forget anything or overpack. Also, keep track of the time and stay in contact with these stylish smartwatches.
Image credit: Unsplash
Subscribe to our newsletter!
Get the best of ModernRatio delivered right to your inbox!