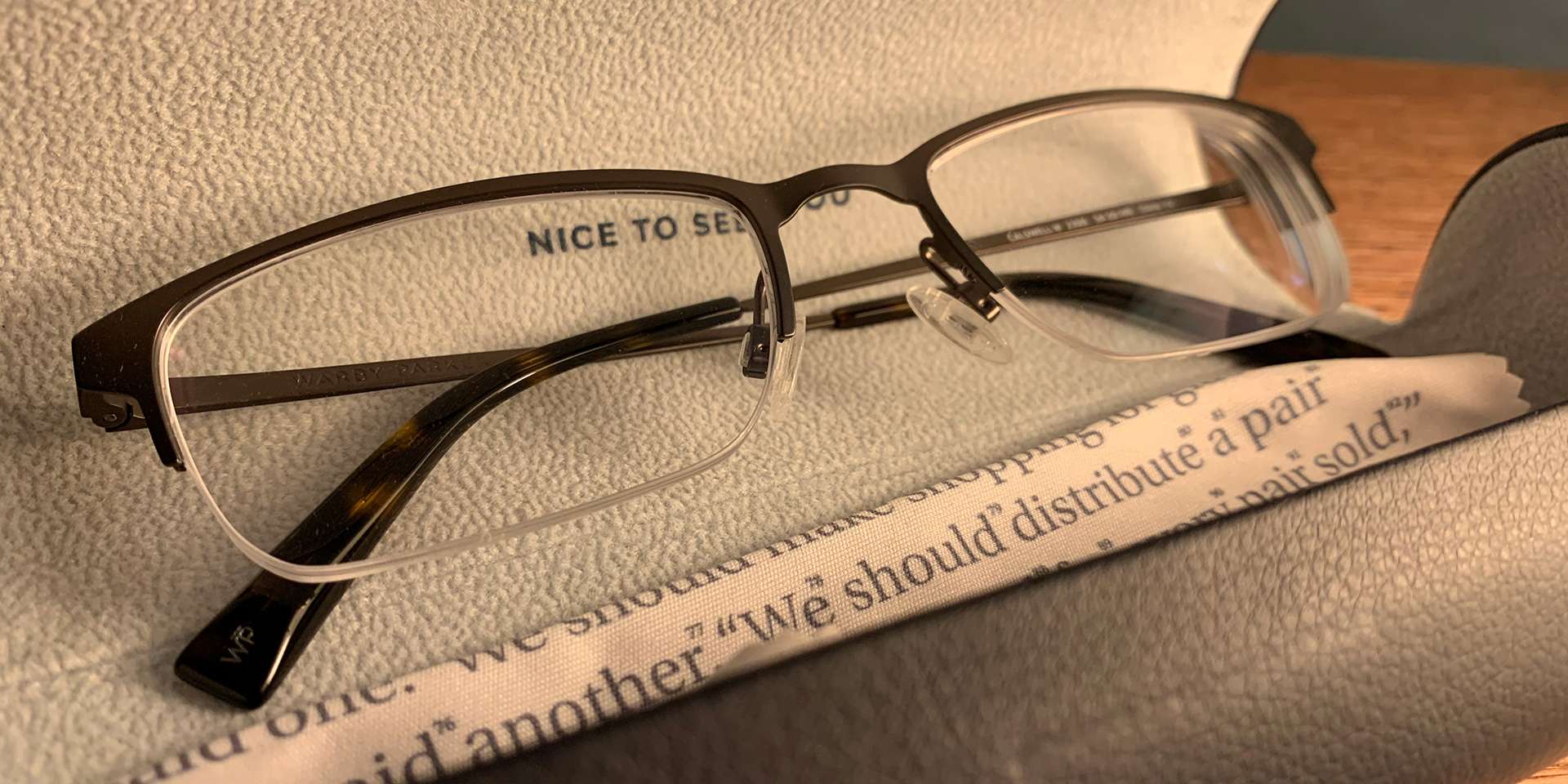 Every so often, a new company comes along and completely shifts an entire industry. Uber did it for transportation, and Warby Parker has done it for eyeglasses. The company lets you purchase glasses right from the comfort of your home, but with the same important benefit you get in a brick-and-mortar store—the ability to try before you buy.
In addition to trying on the glasses at home, Warby Parker also offers high-quality lenses and frames at reasonable prices. They're not as cheap as what you might find at Zenni Optical, for example, but they're substantially more affordable than going to your local Lens Crafters.
We decided to go through the entire Warby Parker shopping experience to see how it is. We tested the app, the home try-on, and we even went to our local Warby Parker store (the one in the King of Prussia Mall right outside Philadelphia).
The Warby Parker App
The first step to making the most of your shopping experience is downloading Warby Parker's app. With it, you can virtually try on just about every pair of frames. I was quite impressed with this feature, as it actually looks like you're wearing the glasses, which gives you a good idea of what you'll get when the glasses come.
Outside of the virtual try-on, you can use the app to order your home try-on package. Unfortunately, this is one of the drawbacks—not all frames are available as part of the home try-on service (the frames I ultimately ended up ordering were not available for home try-on).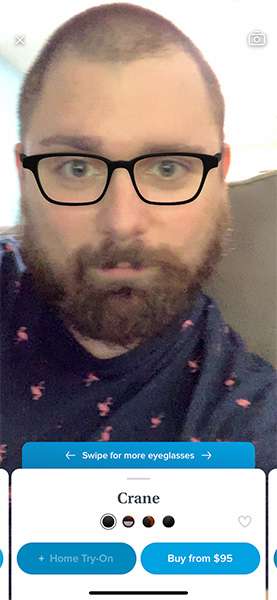 Warby Parker's app also lets you keep track of your order, view your prescription, and even view where local Warby Parker stores are located (they're available in most major US cities, but if you live in a small town, you're unlikely to find one near you).
When you click on a pair of frames in the shopping portion of the app you'll be able to slide down to try them on virtually, buy them, or add them to your five pairs to try on at home.
Warby Parker's Home Try-On
I quickly choose five pairs to try on at home so I could get a feel for how the glasses would look in real life, just as you would do in a physical glasses store. I ultimately ended up trying the Fletcher, Brady, Wallis, Graham, and Mitchell frames.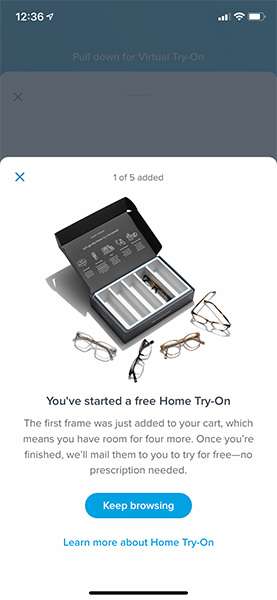 The package arrived quickly, and I was able to play around with the frames for five days before sending them back. On the last day, Warby Parker actually sent me an email reminding me that it was time to send the frames back, lest I be charged for the frames. I thought this was a nice touch as it shows the company won't just let you forget in order to earn a quick buck.
Once I was done trying on the frames, I sent them back using the same box they came in and the included prepaid shipping label. There's literally no cost to try on the frames at home!
Buying Warby Parker Glasses
As mentioned, Warby Parker didn't offer the particular frames I wanted for home try-on (I purchased the Caldwell Wide because I have a big head and I like low-key glasses that don't draw too much attention). Thankfully, as a Philadelphia resident, I was able to go to a nearby Warby Parker store and try them on to make sure they fit well and looked good.
Thankfully, if you don't have the ability to go to a store like I did, Warby Parker has a 30-day return policy. You can just order the glasses you want, and if you decide they don't look right on your face, you can send them back without issue. All you have to do is reach out to customer service to get the return process started.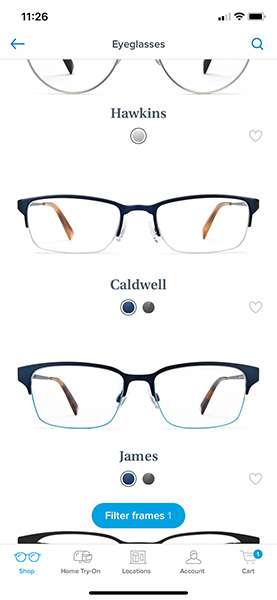 In terms of pricing, Warby Parker is quite reasonable. All of their lenses come with anti-scratch, anti-glare, and UV protection without any extra charge. If you see a pair of frames you like on the site, the final price is actually the price that's reflected on the site. For example, the Caldwell Wide frames I purchased were listed at $145, and that was exactly what I paid with my prescription lenses included.
There are extras if you want them, of course. If you want a blue light filter, there's an extra charge. The same goes for lenses that transition from clear to tinted in sunlight. But those are truly optional, and you can get the core lenses with the important coatings for no extra money, which makes for a nice transparent shopping process.
The one thing I don't love about buying glasses from Warby Parker is that you don't see the price right away. Instead, you have to click on the actual frames to find out how much they'll cost. Fortunately, the price range isn't too great—the cheapest frames are about $95 and the most expensive frames are about $195.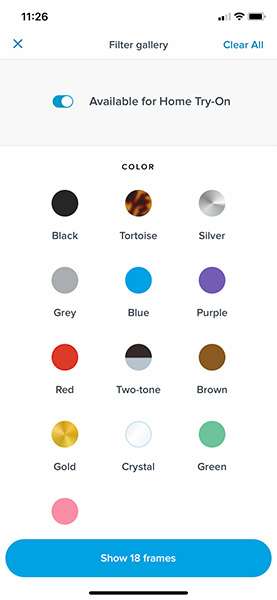 There's a wide selection of frames available on Warby Parker for both men and women. A lot of their frames are thicker plastic, so if that's your style, you'll find tons to choose from. I like a lower-profile frame, and while there aren't nearly as many of those to choose from, Warby Parker does offer a decent amount. I had no issue finding frames I liked.
Warby Parker also offers progressive lenses, but as is always the case with those, they cost substantially more than standard ones (about $200 more).
The actual process of ordering your glasses is easy enough. You choose the frames, enter your prescription, enter a payment method, and wait for the frames to arrive.
Receiving the Warby Parker Package
When I ordered my glasses, they actually came quite a bit faster than the employee at Warby Parker told me they would. I was told to expect them within two weeks, but they arrived at my door in just four days. Not many, if any, online glasses retailers will get glasses to you that quickly.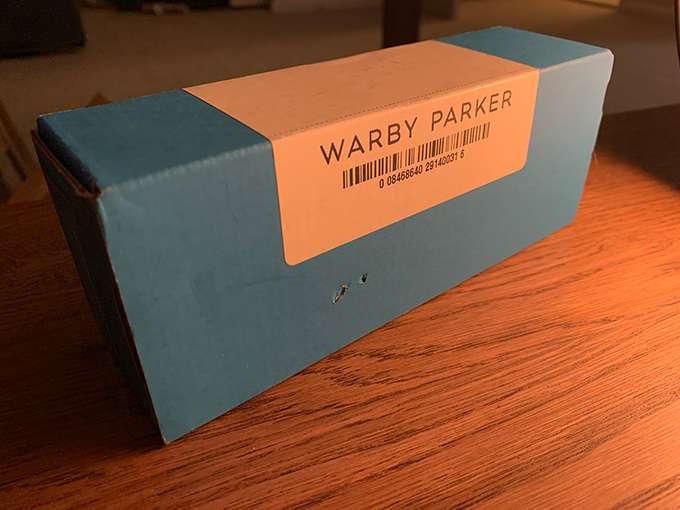 The glasses arrived in a small box with a nice cloth and a case. I put them on and quickly realized that they didn't feel quite right. If this happens, you can get the glasses adjusted at any local Warby Parker retail store if you have one nearby. If not, you can take your frames to just about any eyeglass retailer to get them adjusted—sometimes for free, sometimes for a small fee.
If you have to pay for the adjustment, Warby Parker will reimburse you up to $50 for the cost. I decided to get mine adjusted at Target to see what the reimbursement process is like, but as it turned out, Target didn't charge me.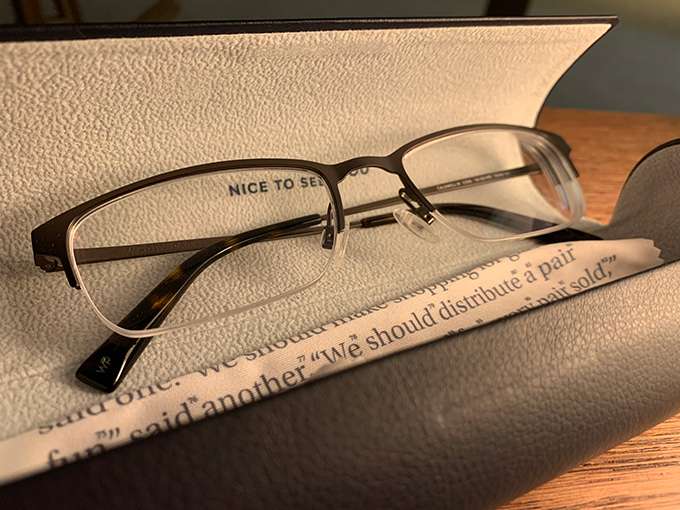 Once the frames were adjusted, I have to say I'm quite happy with them. They're comfortable, they look stylish, and they fit my larger-than-average head perfectly. My prescription is exactly as it should be, and the lenses themselves are resistant to smudges, as promised.
Warby Parker Overall Impressions
Warby Parker will be my go-to way to buy glasses going forward. Between the reasonable prices and the quality, I really don't have anything to complain about. If you're in the market for a new pair of frames and you're sick of spending $300 to $400 on a pair, then you should absolutely give Warby Parker a shot.
At the very least, order yourself a free home try-on kit and see what you think. There's no reason not to since it won't cost you a thing! If you want to spend as little as possible on eyeglasses, you might consider Zenni Optical instead (see our Zenni Optical review).
Subscribe to our newsletter!
Get the best of ModernRatio delivered right to your inbox!