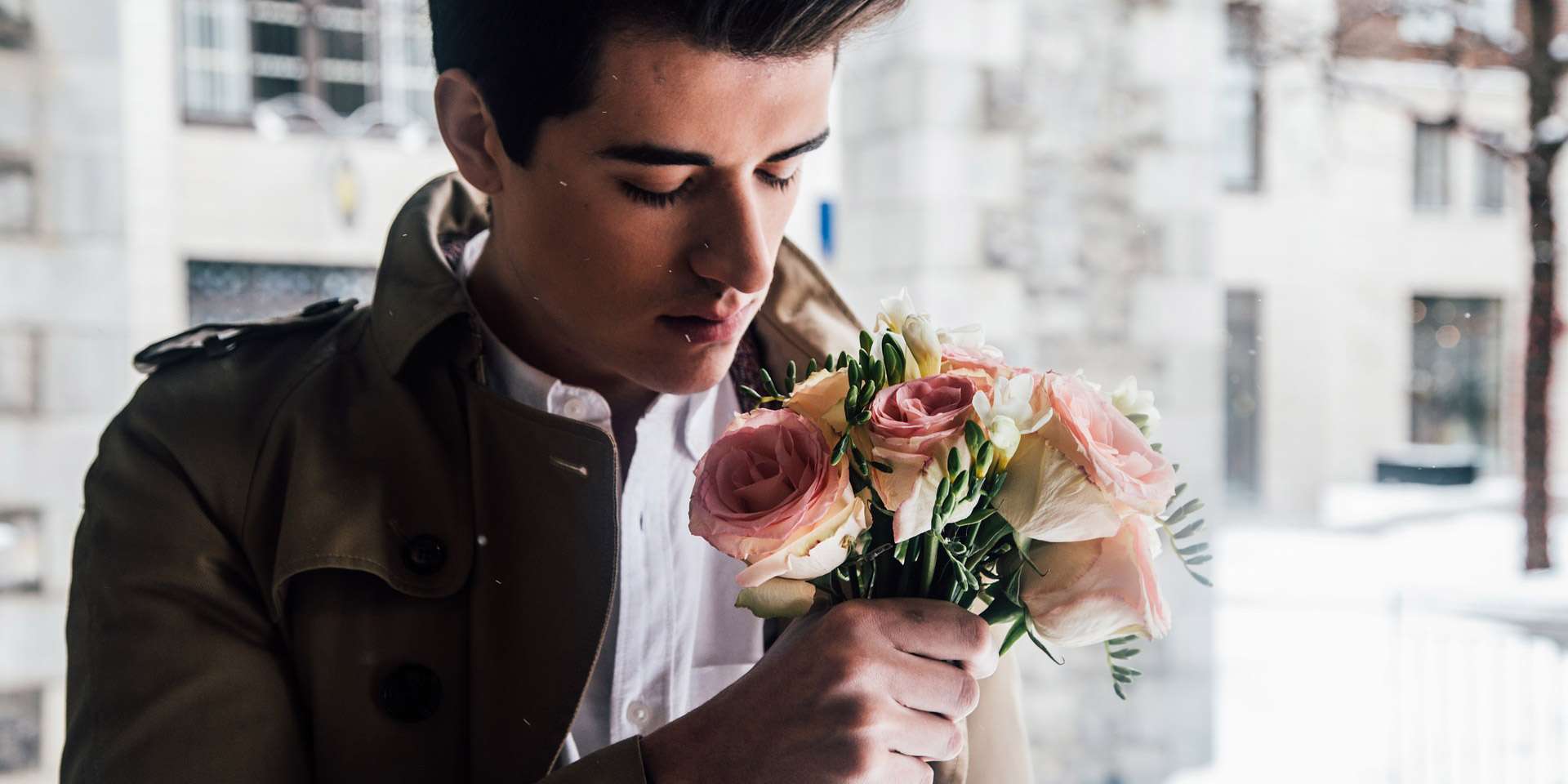 One of the scariest things that single guys face on a regular basis the first date. There are so many little details that go into getting ready for a first date. There's where to go, what to do, what to say (and more importantly, what not to say), what to do with your hair, what to wear…
We're going to help you with that last one, as choosing what to wear for a date is actually pretty easy once you know what you're doing on the date.
Does Style Really Matter on a First Date?
The main thing to keep in mind, whether it's a formal date or the most casual date you've ever been on, is to put in some effort. Showing up looking like you don't care is the quickest way to make your potential partner lose interest. After all, if you don't care to spend a few minutes making sure your clothes match and your pants aren't wrinkled, why should they care about you?
Dressing well for another person shows that you respect them. Not only are you taking time out of your life to meet them, but you've actually spent time preparing for the date beforehand.
Choosing the right type of outfit for a date shows that you have some social skills. You're able to correctly read the situation and dress accordingly. You'll get some points for not showing up in a pair of chino shorts and a graphic tee to a four-star steakhouse. At the same time, you'll look smart for not wearing a suit and tie to the county fair.
Foundational Style Advice for Any Date
Before we delve into what to wear for certain types of dates, here are a few do's and don'ts that apply to every outfit and occasion, regardless of whether you're going to the nicest steakhouse in town or having a picnic in the park.
Do: Wear nice underwear
If you have any potential plans for this date ending in either one of your bedrooms, you want to make sure you're wearing one of your nicer pairs of underwear. No one wants to see your ripped up and/or stained undergarments, and all the careful outfit planning you've put forth could be for naught if your underwear doesn't stack up.
Do: Wear a little cologne
No one wants to date a person who smells bad, nor does anyone want to date a person who smells like they swam in a pool of cologne. Just give yourself one spritz of the stuff and you'll be ready to go. Read more on why fragrances are an important element of personal style.
Don't: Wear crazy patterns
You want your date to get to know you, not be distracted by the ridiculous shirt you're wearing. Wear neutral colors and add splashes of personality with accessories like a pocket square or socks.
Don't: Wear hoodies
No matter how casual your first date is, we recommend staying away from hoodies. It comes back to the aforementioned effort, and hoodies come across as the ultimate low-effort article of clothing.
What to Wear on a Drink Date
Drink dates ("coffee dates") are great because they tend to be shorter than dinner dates, so both of you can get a feel for each other without feeling like you need to keep each other entertained for hours.
As for what to wear, a drink date can be pretty casual, though it really depends on the bar/cafe you're hitting. Generally, you don't want to take a first date to a dive bar, so we can assume you're probably going somewhere that's at least a little nice.
Because you've both chosen to keep it simple with drinks, you should dress accordingly: a pair of slim-fit chinos and a button-down shirt works well. Don't wear a tie, as it makes things feel less relaxed for both you and your date.
For shoes, you'll want to go with a neutral pair of stylish sneakers or casual shoes (stylish boots are OK in autumn and winter). If you do wear sneakers, stick with a pair that doesn't have too many colors—simple is almost always better. See our article on affordable stylish sneakers that are timeless.
If you need to layer up due to the weather, wear a casual jacket, not a blazer, and you will look perfectly in place at a bar or coffee shop.
Shirt: Collared shirt, neutral colors
Pants: Chinos or jeans, avoid distressed jeans
Shoes: Casual shoes or clean sneakers, no open-toed shoes
Outerwear: Casual jacket, no blazer or hoodies
What to Wear on a Dinner Date
Dinner dates can be tough to dress for, as there are so many different levels of restaurant formality. Personally, I try to stick to mid-level restaurants for first dates. If you have any say in the restaurant, I don't recommend pushing for a high-end place because your date might not feel comfortable there. And, obviously, going cheap isn't good for a first impression.
With that in mind, you'll want to dress in something that's one level above casual. You want to be comfortable, but not too comfortable. You can actually wear a similar outfit as you would wear to a drink date: a pair of properly-fitting chinos and a button-down shirt. (Why do some shirts have buttons on the collar?) Make sure you ditch the sneakers and stay away from t-shirts.
For most first dates—even a dinner date—you may want to avoid blazers, unless you're going to an upscale place that requires one or you know that your date would be comfortable with one. Blazers and sport jackets tend to give off the same impression as wearing a tie, creating a less relaxed environment that isn't conducive to getting to know a stranger.
Shirt: Collared shirt, neutral colors
Pants: Chinos or dark jeans, slacks if a nicer restaurant
Shoes: No sneakers or open-toed shoes
Outerwear: Casual jacket, no blazer or hoodies
What to Wear on an Outdoor Date
It's easy to think that because you're doing something outdoors that you can completely forget about how you're dressed. You can just show up in a tank top with a pair of basketball shorts, right? No! In fact, this is where you can really make yourself stand out. By taking a casual situation and dressing properly, you'll actually come out head-and-shoulders above other guys in the field.
Now, what to actually wear on an outdoor date will depend on what you're doing. Are you sitting in the park having a picnic? Stick with a casual outfit similar to what you'd wear on a drink date: chinos, stylish sneakers, a neutral t-shirt, and a light jacket if needed. This is the one type of date where you're probably better off without a collar on your shirt.
If you're going on a hike, you'll want to wear clothes that are appropriate for the physicality. In hot weather, wear a pair of well-fitting shorts. If it's cold, layer up with a nice sweater. The key here is going to come down to making sure everything fits properly. Just because you're out hiking doesn't mean it's OK to throw the basics of good fit out the window!
Shirt: Varies based on what you're doing. The general rule is something comfortable that fits well.
Pants: Pants or shorts that fit properly depending on weather
Shoes: For most situations, comfortable sneakers
Outerwear: Light, casual jacket
What to Wear on a Movie Date
When it comes to a movie date, you need to think about what else you might be doing before or after the movie. If you're going to dinner and a movie, then dress in a look that's appropriate for the dinner portion of the date. If you're going for drinks, then dress for the bar you're attending.
Personally, I wouldn't recommend only going to a movie for a first date, as movies don't leave you much opportunity to talk and get to know each other. Rather, think of a movie as a way to get a date started in that it gives you something to talk about.
However, if your plan is to hit the movie and call it a night, you can dress fairly casually. A pair of jeans can work well, just make sure they're comfortable enough to sit in for the duration of a film. For shirts, you can wear anything from a well-fitting t-shirt to a large-patterned button-down, as long as it jives with the overall vibe of your outfit.
Shirt: Dress for what you're doing besides the movie
Pants: Dress for what you're doing besides the movie
Shoes: Dress for what you're doing besides the movie
Outerwear: Dress for what you're doing besides the movie
Fit, Fit, Fit Is the Most Important Bit
If you take one piece of advice away from this article, it's that proper fit is by far the most important thing. Nothing will make you look like you put forth some effort more than wearing clothes that fit you properly. If you really want to go on a dinner date in a t-shirt (again, we don't recommend it), at least make sure the t-shirt fits properly!
Subscribe to our newsletter!
Get the best of ModernRatio delivered right to your inbox!