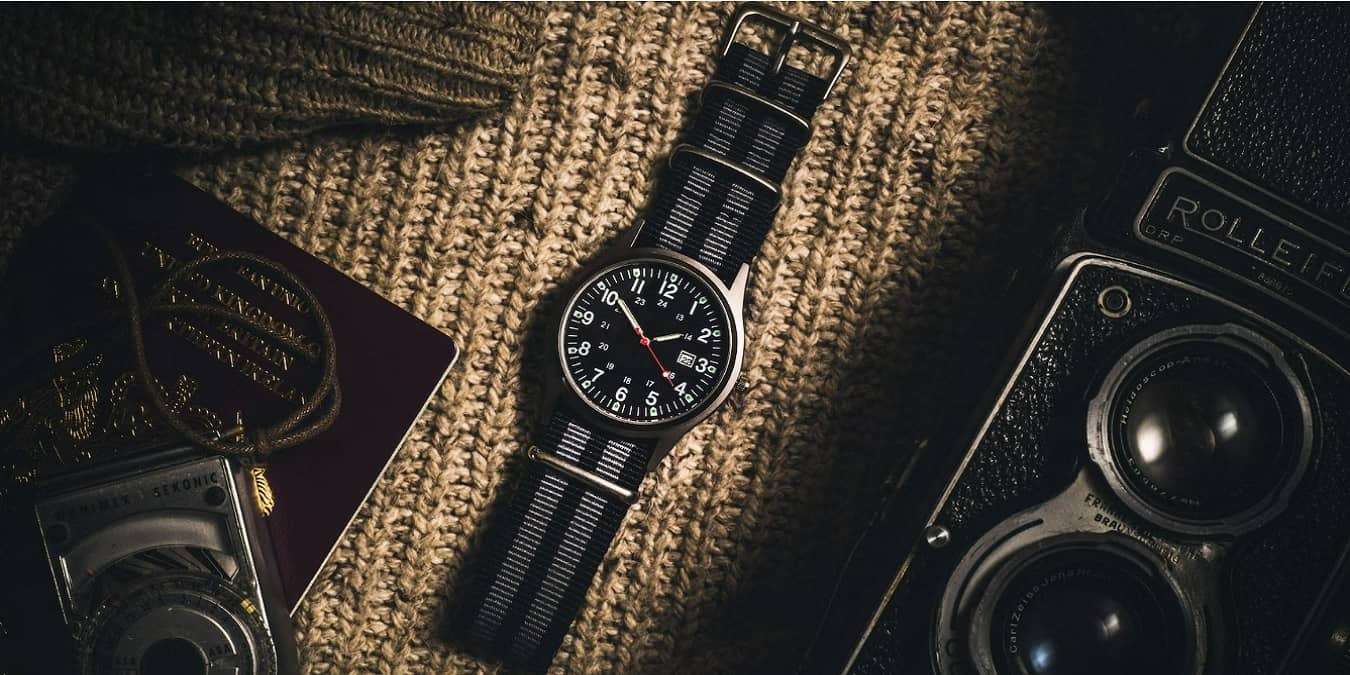 When it comes to being durable, functional, and easily interchangeable, it's hard to beat NATO watch straps. These affordable watch straps debuted in 1973 and were originally called G10s. No matter how cheap or expensive your watch might be, a NATO strap will look great on it, and you can get them for under $20.
Why Switch to a NATO Watch Strap
It's the durability and the way the watch case stays securely in place that makes these straps so popular. Since they were originally created for military use, they had to be both comfortable and strong enough to survive some rough wear and tear. Gear Patrol has an excellent history of these straps, if you're interested.
The tightly woven nylon straps were originally 20mm wide, but now come in other sizes too. They also had brass keepers and buckles that were chrome-plated, though stainless steel is now available too. An extra piece of nylon weaves through the back of the watch case to create a special pocket to drastically reduce how much the case moves. And, in the rare event that part of the strap breaks, the case doesn't fall off.
While some are more expensive, you can find quite a few affordable NATO watch straps within the $20 or less range. So, buy a bunch to quickly change your strap to match your outfit or occasion.
1. Clockwork Synergy Premium Nylon NATO Watch Strap
Price: $15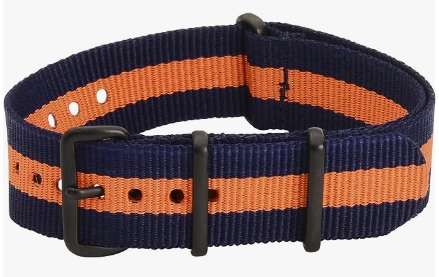 Clockwork Synergy's NATO watch strap ranges from 18mm to 22mm and is just 1.25mm thick. The PVD black (or gray, depending on the color you choose) hardware looks great and stylish. It's designed to fit most wrist sizes thanks to its 270mm length and 13 holes to easily adjust to your size. Plus, it comes in 12 beautiful color combinations.
2. Barton Watch Bands Ballistic Nylon NATO Watch Straps
Price: $6 – $21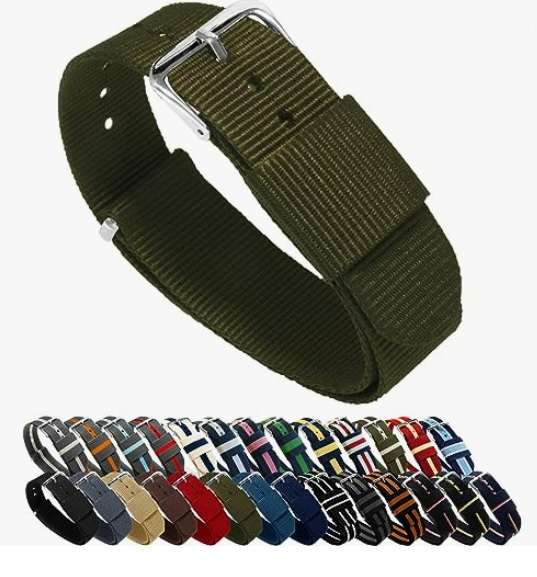 If variety is what you want, it's hard to beat Barton Watch Bands. The brand's NATO watch straps come in 26 different color combinations, including solids and stripes. They also offer more widths, ranging from 18mm to 24mm. Plus, there are both standard and long versions to fit average and slightly above-average wrists. What's great about Barton is the nylon is softer than most NATO straps, but features an even tighter weave to make them stronger. And, the strap holes are laser cut to prevent fraying.
3. Maratac Mil-NATO Bands
Price: $17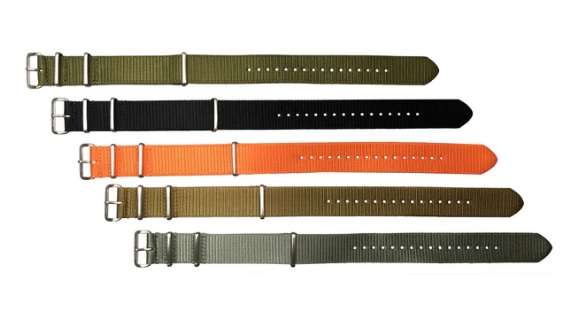 Maratac is well-known for creating high-quality, yet affordable watch bands and their Mil-NATO bands are no exception. The straps are made to exceed the original UK Ministry of Defense specifications. They're soft, strong (nylon is both stitched and ultrasonically welded), and feature ultrasonic drilled holes to avoid any rough spots or fraying. Plus, the stylish stainless steel buckles look amazing. Options are more limited with just five colors and widths of 20mm and 22mm.
4. Carty Military Nylon Strap 6-Pack
Price: $18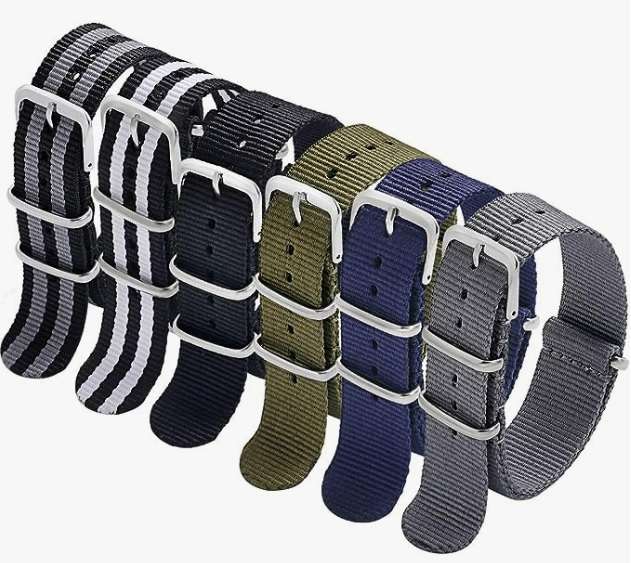 Affordable is an understatement with Carty's six-pack of NATO watch straps. Each "pack" contains six different designs and there are 10 packs available. They're only sized for standard or average-sized wrists and come in widths of 18mm to 22mm. They aren't quite as thick as other options on this list and based on reviews, they do wear out faster. However, it's a cheap way to try this strap style out for yourself or just to get a larger variety.
5. ArtStyle Watch Band With Ballistic Nylon
Price: $11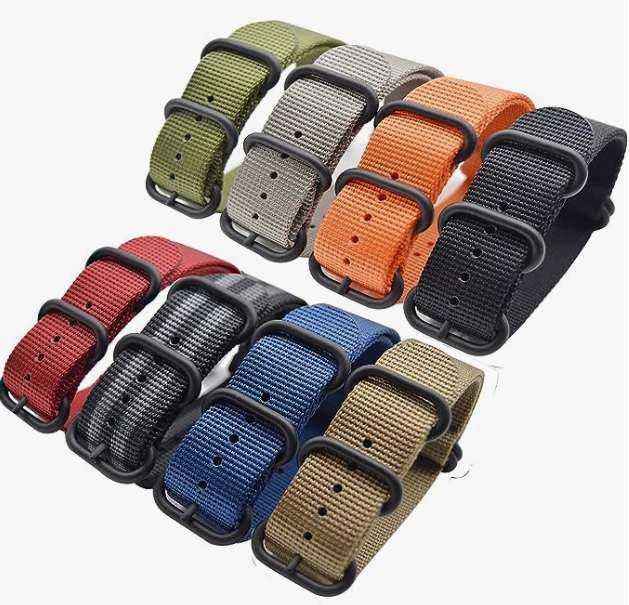 ArtStyle's NATO watch straps are durable, soft, and both water and dirt resistant. Thanks to ballistic nylon webbing, it's comfortable against the skin without being weak. For those who prefer a matte finish on their strap hardware, you'll love these bands. Not only is the hardware matte black, but is designed to never scratch or fade. And, the holes are sealed with laser heat to prevent fraying. You can pick the strap up in one of eight colors and in widths 18mm to 24mm.
6. Ritche Military Ballistic Nylon Watch Strap
Price: $18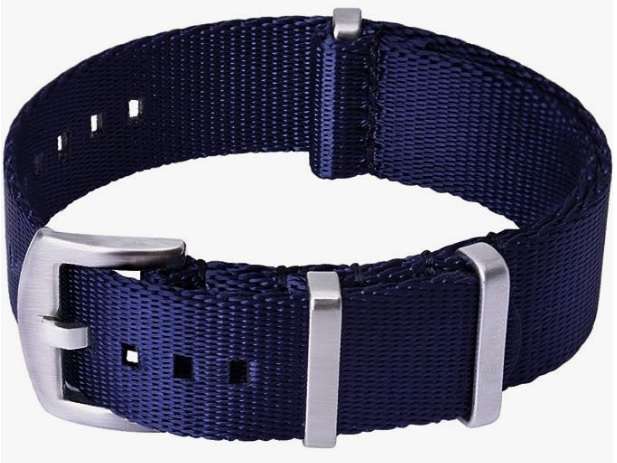 Ritche's NATO watch straps look and feel high quality without the expensive price tag. At 1.4mm thick, it's strong enough for daily wear, but not too bulky. The 316L stainless steel hardware not only looks great, it resists everyday wear and tear too. And, the holes are laser heat-sealed to avoid fraying. Thanks to being 10.5 inches long, these fit a wider range of wrists as well. Bands are available in widths 18mm to 22mm and come in eight natural tone colors.
7. MZBUTIQ Nylon Watch Band Replacement
Price: $17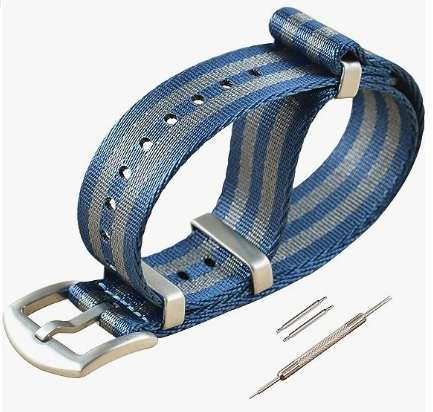 MZBUTIQ tends to stand out from the rest thanks to the shinier look of the watch straps. If you want to add some sheen to your wrist, this is a great way to do it. Both the holes and ends are laser cut to avoid fraying. The double-twill weave ensures that even though it's thinner at 1.3mm, it's still incredibly durable. It's designed for the standard wrist size of 6-8 inches and comes in widths of 18mm to 24mm. You also get to choose from 34 different color combinations.
Frequently Asked Questions
Do I need a special tool to switch straps?
You may be able to remove the current band and switch to NATO straps without a tool, but having a spring bar tool to remove the pins does make it easier. Some of the straps listed above do include the tool with them. Or, you can buy a separate one. A watch band replacement kit, such as the BYNIIUR kit, includes everything you need to size and switch bands.
Do NATO straps work on smart watches?
This depends on the size of the watch case. Some NATO straps specifically state in the descriptions that they won't fit smartwatches. Of course, you can always buy new watch straps specifically for your smartwatch, such as these Apple Watch bands.
What types of watches can I use these straps with?
Most watches will work with NATO watch straps, from the most expensive Rolex to cheap no-name brands. If you're looking for a new watch to use with your NATO straps, try these vintage-inspired watches and tough field watches for the outdoorsy folks.
Image credit: Unsplash
Subscribe to our newsletter!
Get the best of ModernRatio delivered right to your inbox!