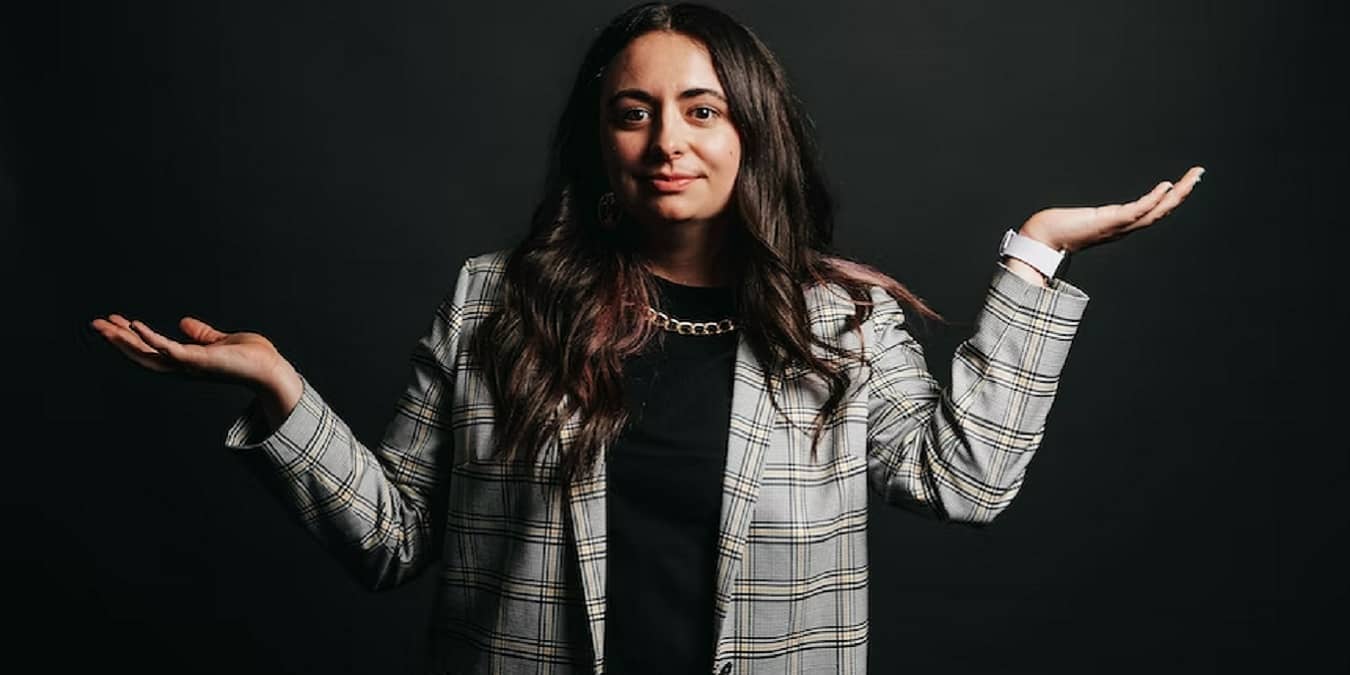 When you start a new job, your boss might inform you that all employees have to wear business casual attire. The term business casual is pretty vague, making it hard to figure out what to wear on your first day. You don't want to overdress, but you don't want to underdress either – so what constitutes business casual clothing?
If you need to do some shopping before you start your new job, make sure you know exactly what business casual attire for women entails.
What Does Business Casual Mean?
Business casual is a hybrid between formal and informal clothing. That doesn't mean you can pair a graphic t-shirt with a pencil skirt! It means each item needs to strike a balance between the two extremes of the spectrum, leaning more towards the formal side.
You'll want to dress more formal for your first day on the job until you're comfortable with the environment. Jobs that deal with the public or other clients typically require a more formal business casual look, but it's best to check out what your coworkers wear on a daily basis before you start dressing down your look.
Women have tons of options when it comes to business casual clothing, which is both a good and a bad thing. It gives you more flexibility, but can make it hard to decide on a proper outfit because there's a fine line between over-dressing and under-dressing.
Dressy Slacks
Skinny or straight-leg slacks are the staple to every business casual outfit for women. In general, you should avoid jeans unless you find that your work environment is a bit more casual.
Start out with black slacks, as you can match almost any color top with black dress pants. Once you get the hang of business casual wear, you can start expanding your pants collection to include more colors – navy blue, mahogany, and tan are some other great choices.
If you're really feeling feisty, you can throw on subtle plaid or striped pants as well. Just keep in mind that patterned pants are harder to match with a top.
Dressing Up With Blouses, Tops, and Blazers
You don't have to stick with black slacks and a white button-down – this standard business casual outfit gets old fast. Add some pizazz to your outfit with a colorful or patterned blouse. Just make sure that your top isn't too busy.
Pick out a top that flatters your figure. Blouses that are too baggy, tight, or revealing don't fall into the business casual category. When it comes to blouse styles, you have a ton of choices. You can't go wrong with a long-sleeved button-down, a top with a key-hole accent, or just a simple crew neck blouse.
Blouses with short sleeves or no sleeves are best worn with a blazer. Adding a blazer to your outfit can instantly make you look more professional. Some might say that you can replace blazers with cardigans, but this really depends on the formality of your work environment. For now, invest in a black blazer that you can wear with almost any color – a power suit is also a great idea for interviews and formal workplaces.
When it gets into the colder months, you can still wear sweaters to work. A turtleneck or a sweater with a collared shirt underneath make classy additions to your winter work wardrobe.
Skirts and Dresses
Wearing a blouse and slacks every day can get boring. When you want a change, make sure to add some business casual dresses and skirts into your wardrobe.
The dress you choose shouldn't make you look like you're headed to the beach, and it also shouldn't make you seem like you just came out of the club. It might sound old-fashioned, but stick with the fingertip rule – avoid dresses that end above your fingertips when your hands are at your side. Dresses with spaghetti straps or a plunging neckline are also a no-no.
The color or pattern of your dress all depends on your personal style. Pairing your dress with a blazer can boost the formality of any casual-looking dress.
If you feel like wearing a skirt, just make sure it's just slightly above the knee, or even below it. Pencil, A-line, and pleated skirts are your best bets. Tuck your blouse into your skirt, top it off with a blazer, and you'll have the perfect business casual look. When paired correctly, even midi skirts make a great option.
Shopping for Business Casual Shoes
The right shoes tie your whole outfit together. Sneakers, sandals, and flip flops are (unfortunately) out of the question, but your comfort still doesn't have to be compromised.
If you don't like wearing heels, you should try flats instead. Flats are extremely versatile – they come in different styles and colors, and you can pair them with almost any outfit.
Speaking of heels, avoid bringing your six-inch stilettos to the office. A small, subtle heel is better, not to mention much more comfortable. Feel free to wear wedges as well. When it gets too cold, put on some booties or riding boots.
Keep Business Attire Neutral
When it comes to mixing and matching colors, a great rule to follow is to keep your more formal business attire neutral. This means picking black, navy, tan, beige, and white for your formal pieces. Your formal attire is usually your slacks, blazer, and even shoes.
Then, add pops of color with bright or patterned shirts. You could even opt for a colorful dress with a black cardigan or wrap. The purpose is to make things easier to match. With neutral colors, it's easier to match a wide variety of colorful accent pieces.
You can also do the opposite. For instance, a bright or pastel colored business casual suit pairs well with a neutral solid colored shirt.
Wearing Business Casual Jeans
Jeans might not be the first thing you think of with business casual attire for women. However, jeans usually are allowed. Check with your company's dress code first. Some specifically list jeans as a no-go, while others are fine with it.
However, this doesn't mean grabbing your favorite pair of skinny jeans or ripped jeans. Instead, you need more formal jeans.
Opt for dark colors that aren't faded or frayed in any way. Khaki colored works well too. They should fit well, but not be so tight that they resemble leggings. A tapered or straight leg usually works best and often looks similar to a dark pair of slacks, but are typically more comfortable.
Use these tips to help your new business jeans last longer.
Attire to Always Avoid
If you're looking at your wardrobe and still aren't sure what might be too informal, always avoid wearing the following when there's a business casual dress code:
Spaghetti strap tops
Crop tops
Leggings and yoga pants (some businesses do allow leggings)
Ripped pants
Overly tight clothing (fitted, but not clubbing attire)
Sweats
Hoodies
Sneakers (solid color sneakers that look more like dress shoes are sometimes allowed)
Flip-flops and sandals
Plunging necklines (little to no cleavage should show)
Baggy clothing (too baggy looks frumpy and unprofessional)
Capris (some businesses do allow capri slacks in the summer)
If you're not sure, wear something you know is acceptable business casual attire for women and see what others are wearing first.
Dress for Success
As much as your appearance shouldn't matter in today's world, your taste in clothing can determine whether you land your dream job. Knowing the difference between business casual and informal clothing can save you from making the wrong impression.
Worried about the expensive price that comes along with business casual clothing? Take a look at our list of the best online thrift shops to find fashion-forward clothing for less.
Frequently Asked Questions
Is business casual different for different businesses?
Yes. It's always a good idea to see how others are dressed when you go in for an interview. This lets you know how formal or informal the dress code might be.
How will I know for sure if something is okay to wear?
Ask HR. You may even receive a list of dress code rules when you first start the job. Stick to the rules as closely as possible. However, HR doesn't mind if you ask about clothing just to make sure you're dressing correctly for the position.
Is sleeveless ever okay?
Some companies do allow dressy tank tops and sleeveless blouses. However, the "sleeve" portion should cover most of the top of your shoulder.
Image credit: Unsplash
Subscribe to our newsletter!
Get the best of ModernRatio delivered right to your inbox!