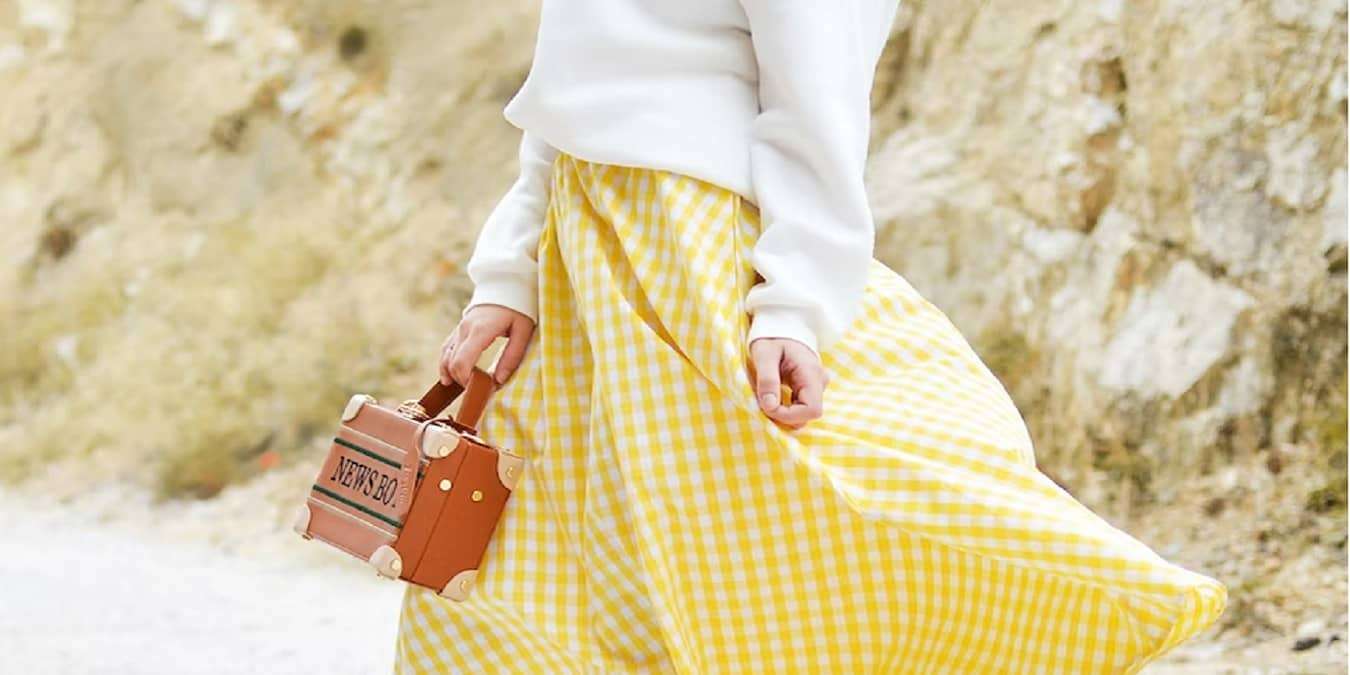 Midi skirts are a timeless style – the mid-calf length and array of styles can add a classic touch to your outfit. Unlike other skirts, you can wear them both casually or formally. It's just a matter of the type of midi skirt you choose, as well as the top you wear with it.
If you've never worn a midi skirt, you might not know where to begin. That's why we've created this list of the best ways to wear a midi skirt.
1. Pair It With an Oversized Sweater
A cold winter day calls for a chunky sweater. Luckily, an oversized sweater pairs well with midi skirts. To avoid looking bigger than you actually are, don't leave the sweater untucked. Simply tuck the front of the sweater into your midi skirt for a cozy and stylish look.
2. Go Casual With It
Like I mentioned earlier, a midi skirt isn't only for formal occasions. You can easily transform your look from dressy to casual by wearing your midi skirt with a graphic t-shirt and sneakers.
3. Have Fun With Patterns
Solid-colored midi skirts aren't your only options. Feel free to play around with fun patterns and prints. Just make sure that your top meshes well with your skirt's pattern! The funky black and white pattern in the above image goes perfectly with the white sneakers and white shirt.
4. Make It Minimalist With a Plain T-Shirt
You've always heard the expressions "less is more," and the same can apply to a midi skirt. If you want a simplistic look, wear a plain t-shirt or long sleeve shirt with a solid-colored midi skirt. Although this outfit might seem plain, the midi skirt's unique style can instantly spruce it up.
5. Add a Cardigan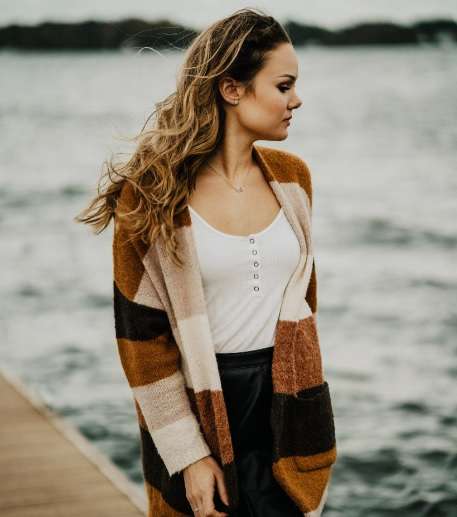 The combination of a cardigan and midi skirt looks casual, yet classy. After you learn how to style a cardigan, you'll have no trouble wearing one with a midi skirt. Try to pick a cardigan that's waist-length – any longer and you'll risk looking frumpy.
6. Try a Denim Mini Skirt
Denim mini skirts were once all the rage, and now denim midi skirts have stolen the spotlight. You might feel hesitant about wearing a full denim skirt, but you just have to wear it with the right top. A button-up blouse with a blazer can give you a more professional look, while a graphic t-shirt will give you that awesome 90s vibe.
7. Get a Two-Piece Set
When you have no idea what to wear with a midi skirt, just buy a matching set. A set makes getting dressed easy – it combines a form-fitting midi skirt with an equally stylish top. A two-piece set is perfect to wear to a club or party, as it almost looks like a dress!
8. Wear a Crop Top
A crop top and midi skirt make an effortless, summery pair. The short crop top contrasts beautifully with a long and flowing midi skirt.
9. Tuck in a Silky Camisole
Want another party-friendly midi skirt look? Simply tuck in one of your favorite silky camis, and strap on a pair of heels. This sleek style goes exceptionally well with a midi skirt on the tighter side. Better yet, you can throw a blazer over your cami to wear this look to work.
10. Rock It With a Turtle Neck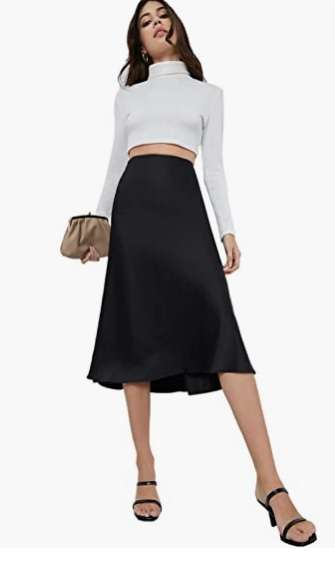 A turtle neck and midi skirt make the perfect elegant outfit. Go for a cropped turtle neck for a more casual look. Or, tuck a fitted turtle neck into your midi skirt, and you'll look ready to head to the office.
11. Add a Denim or Leather Jacket
Whether you're going for a casual look or a rock type look, wear a midi skirt with a denim or leather jacket. These match most every type of top and give your midi skirt look a bit more of an edge. It makes a great combination for cooler weather too.
Wear the Right Midi Skirt for Your Body
If you really want to rock the midi skirt, you might also want to think about the perfect style for your body type. While the following are some general guidelines, in the end, go with what you like best. As long as it makes you feel good, then wear it.
Hourglass body – Pencil style midi skirts accentuate curves, while highlighting your waist
Apple body – Opt for high-waisted midi skirts which hide your mid-section while showing off your legs
Pear body – A flowy A-line midi skirt gives the look of longer legs and sits more naturally on your waist
Triangle body – Create a more balanced look with a midi skirt that's slim at the waist and widens at the base
Diamond body – These are similar to apple body types and also work well with high-waisted midi skirts, especially more flowy varieties
Rectangle body – Look for midi skirts with ruffles, pleating, or fringe to add more shape and volume
Petite body – Most anything goes, but flared or flowy midis look best
Midi Skirts Offer Plenty of Possibilities
You aren't limited to just one style with midi skirts. In an instant, you can go from casual, to clubby, and even to formal. That's what makes midi skirts a great option for just about every occasion.
If you're planning on pairing your midi skirt with a pair of kicks, make sure to check out these stylish women's canvas sneakers for everyday wear.
Frequently Asked Questions
What's the best season to wear midi skirts?
There isn't a best season. The great thing about midi skirts are they're long enough to wear all year long. Of course, if you want to stay warmer, opt for sweater midi skirts or those made of wool. They're heavier, thicker, and keep you nice and toasty. They pair great with solid tops, especially close fitting tops like turtlenecks.
What shoes pair best with midi skirts?
Midi skirts are incredibly versatile. Choosing the best shoes comes down to your desired style. Want a casual look? Opt for flats, sandals, flip-flops, or even sneakers. Want to dress things up a bit? Pair the skirt with heels, boots, or cute strappy sandals. You really can dress a midi skirt up or down easily.
Image credit: Tamara Bellis via Unsplash
Subscribe to our newsletter!
Get the best of ModernRatio delivered right to your inbox!