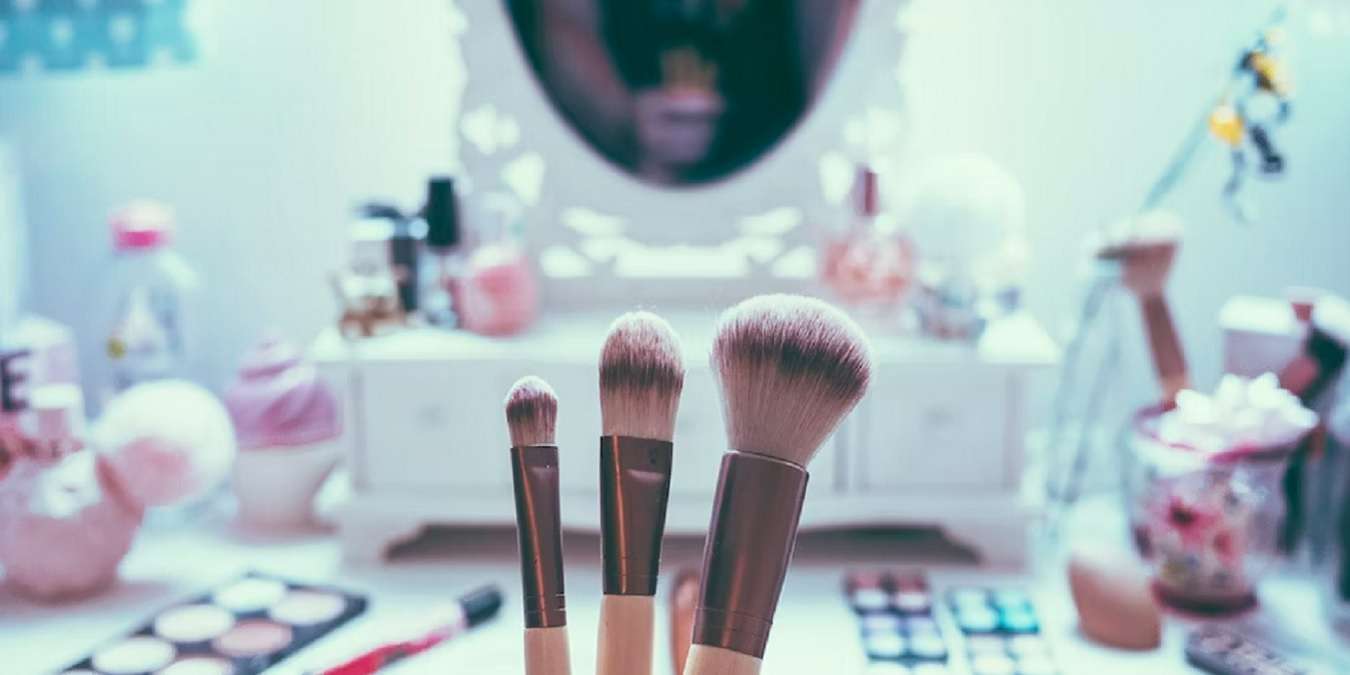 When you're in a rush, your makeup vanity can go from tidy to disastrous in a span of 15 minutes. This is especially true if you don't have any type of organization system for your makeup.
If you have brushes, eyeshadow palettes, eyeliner and mascara scattered all over your vanity, this needs to change. Stop losing your favorite makeup tools, and use these vanity organization tips to restore order to your makeup vanity!
1. Get Stylish Brush Holders
Instead of laying out your makeup brushes on your vanity, place them in stylish brush holders. The right container should match the overall look of your vanity and room.
For a modern, elegant look, try a brush holder with a marble pattern like the one above. Just keep mind that you might need to purchase more than one holder if you have a lot of brushes.
2. Invest in Drawer Organizers
Have a drawer full of makeup? Use a drawer organizer to clean up any clutter. Drawer organizers fit right inside your drawer and have separate trays with different shapes and sizes. This makes it handy for organizing all of your makeup and tools.
3. Use Clear Organizers for the Rest
Everything that you can't fit inside of a drawer tray or brush holder should go inside of a clear makeup organizer. Masirs' Clear Cosmetic Storage Organizer is a great example of how these acrylic organizers look.
On top of the organizer, you'll place any brushes, mascara, eyeliner, and any other tools you can stand up vertically. The bottom of the organizer has a set of four drawers where you can store smaller items (like blush or a small eyeshadow palette). With a clear organizer, all of your tools and products are visible. Plus, it's easy to clean and looks incredibly classy.
4. Sort Everything by Type
Before you start organizing, you should plan out where to place your makeup and tools. To keep things neat, sort your makeup by category – your brushes belong with brushes, your eyeliner belongs with other eye makeup, and so on. This makes it easy to find what you're looking for.
You can also sort your makeup by the order in which you use it. If you moisturize your face and apply foundation in the first half of your beauty routine, place those items to the left side of your vanity. Gradually fill in the middle and right side of your vanity with the next steps of your routine.
5. Throw Out What You Haven't Used in a Year
You probably have at least one makeup product that you haven't used in years. And yet, you still keep it on your vanity because you think you might need it at some point. Your makeup vanity's precious space is compromised by any dusty, unused products. If you haven't used a specific product in over a year, it's time to toss it.
6. Don't Be Afraid to Get Crafty
Fortunately, you don't have to spend a ton of money on storage containers to organize your makeup. Try making your own magnetic makeup boards, or use a shoe organizer to store all of your makeup. You can also lay out all of your makeup on trays, or stick your tools and tubes of makeup inside foam cubes. There are endless ways to organize your tools using household items, you just have to get creative with it. Use these DIY makeup storage projects as inspiration.
7. Have An In-Use Tray
When you're in a hurry, the last thing on your mind is organizing your makeup vanity. As you already know, it doesn't take long for things to get out of hand. While putting on your makeup, have a tray in front of you to place everything on. When you get home, then you can put everything away. This keeps you from having things scattered everywhere and makes cleanup later super easy.
8. Clean Up Often
A tidy makeup vanity might make it easier to find things, but you also need to keep your vanity clean. For instance, do you know which brushes are clean and which ones aren't? Is there powder all over the top of your vanity? Do you find yourself squinting in the mirror because it's so dirty? Part of organizing your vanity is keeping it clean.
Once a week, wipe down your mirror and the top of your vanity. This gives you a clean workspace. Keep a separate cup just for dirty brushes, makeup applicators, and sponges. Each week, clean everything in the cup and put it back in its place. Use this guide to keep your beauty products cleaner.
At least once a month, clean out drawers that might have loose makeup in them, such as setting powder, power eye shadow, etc. You should also take this as an opportunity to get rid of any old or expired makeup.
9. Keep Skincare and Haircare Products Separate
Sometimes, your makeup vanity turns into the everything vanity. If you're trying to dig through bottles of face lotion and serums to find your foundation, you'll lose valuable time. Organize your makeup vanity by keeping your skincare and haircare products completely separate from your makeup.
If everything has to be in one place, place all your skincare products in one drawer or container. Do the same with your haircare products. There are even special organizers just for haircare with spaces for hair dryers and curling irons.
Having designated containers for your makeup products can instantly transform your vanity, and the same can be said for keeping your wardrobe clean. That's why it's important to know how to organize your wardrobe and maximize space.
Frequently Asked Questions
What if I don't have much space at my vanity?
Consider multi-level organizers to sit on your vanity. Take advantage of vertical space to store more items without taking up so much space across your vanity.
Is there a cheaper way to replace old makeup?
Image credit: Unsplash
Subscribe to our newsletter!
Get the best of ModernRatio delivered right to your inbox!