The effortless tuck isn't as effortless as it seems. Different types of shirts require different tucks, which definitely complicates things. Not to mention that each type of tuck has different levels of formality.
So, which type of tuck do you use, and when? This guide will go over all the ways to tuck in your shirt, and how to master them.
Full Tuck
The full tuck is reserved for more formal occasions. Whether you need to dress up for a party, job interview, or for your workday, the full tuck is the way to go.
With a full tuck, the whole hem of your shirt gets tightly tucked in. This way, your shirt almost looks like it's attached to your pants or skirt.
To pull this look off, you need a pair of high-waisted pants, a high-waisted skirt, or even paper bag waist pants. Avoid pairing this look with any pants that sit low on your waist, as it makes it harder for your shirt to stay tucked in, and it just doesn't look as good.
Loose Full Tuck
The loose full tuck is the slightly less dressy version of the full tuck. You'll want to wear this style with a pair of high-waisted pants or a high-waisted skirt. Unlike the regular full tuck, the loose full tuck only works with flowy blouses, rather than skin-tight shirts.
To get started, tightly tuck in your shirt the same way you would with a full tuck. When you're done, lift your arms over your head to loosen the tuck. This gives you a clean, yet casual look that you don't get with a tight tuck.
Front Tuck
The front tuck is the most versatile tuck. From t-shirts to blouses, and even slim-fitting shirts, the front tuck can look great with just about any type of top. It's especially helpful when you have an oversized shirt that makes you look boxy — a quick front tuck can instantly define your waist.
The only tops you should avoid with the front tuck are chunky sweaters and long tunics. These shirts will bunch up when tucked in, creating an unflattering lump of fabric.
You can do the front tuck with both mid-rise or high-rise jeans, pants, or skirts. Take the middle part of your shirt's hem, and tightly tuck it into the front of your pants. From here, you'll want to loosen the tuck a little, while the sides and back of your top stay untucked.
Half Tuck
A half tuck gives off a carefree vibe that's best for casual occasions. For this look, you'll want to wear a button-down shirt or a loose blouse with high-rise pants, jeans, or a skirt.
If you're wearing a button-down top, leave the bottom half of your shirt unbuttoned, and tuck only the button side of the shirt into the side of your pants. The half tuck is a little harder without a button-down shirt, but it's still doable. Just loosely tuck one side of your top into your pants or skirt, and it'll look just as great.
Keep Your Shirt Tucked In
Tucking in your shirt usually isn't difficult once you master the desired style. The problem is keeping it tucked in, especially with a full tuck. As anyone who does this regularly, you know how quickly it becomes a loose or half tuck as you go about your day. While there are some products that help, let's take a look at a few tips for choosing the perfect shirts that stay tucked in:
Choose a fitted shirt – When your shirt is too loose, it moves around more, leading it to ride up. Plus, this often leaves you with too much excess fabric to tuck in comfortably.
Have at least 3 inches of fabric below the waist line – While you don't want an overly long shirt, you should have several inches of fabric available below your waist line. This allows you to tuck in enough fabric to keep it from riding up as you move.
Choose shirts with longer backs – As you bend and more, shirts ride up, especially in the back. To keep a better tuck all day, opt for shirts that are slightly longer in the back than in the front. This provides extra movement without turning your tuck into a mess.
Using Products to Keep Shirts Tucked In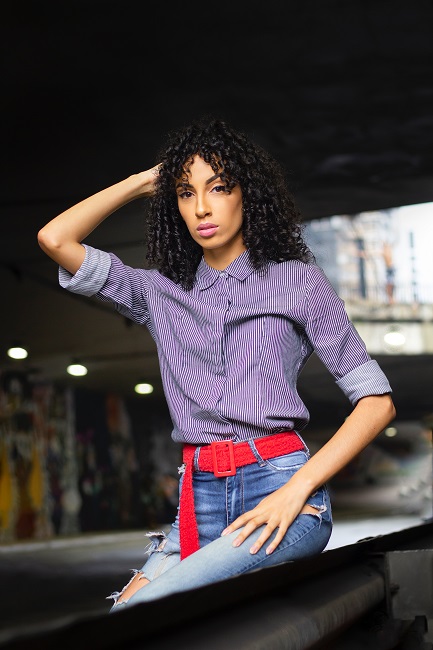 Outside of shirt style, you can also opt for products that help keep your shirt in place. Men already have numerous products for this, such as suspenders that attach to your socks, but some products work well for men and women. A few things to try include:
Wear a belt – A snug belt has always been one of the best ways to keep shirts tucked in. Even if you're wearing a skirt without belt loops, an adjustable elastic belt not only looks nice, but keeps your shirt tucked in place. You can get them in multiple colors, like these SATINIOR belts, or opt for a dressier style with these vintage-looking Grace Karin belts.
Wear a belt on the inside of your pants/skirt – As odd as this might sound, it's actually a popular method men use to keep their shirts tucked in. A thin, elastic belt goes just below the waist, and under your pants/skirt to keep the bottom of the shirt more snug. TCKYOU is made for men, but also fits most women easily/ There's even an option to attach to the bottom button of a blouse. You can also use invisible, elastic belts.
Tuck into shapewear – If you wear shapewear, you already know how snug it fits. Tucking your shirt into the shapewear is a simple and highly effective way of tucking in your shirt.
Switch Up Your Look: Try Tucking in Your Shirt
It takes a little practice to master the tuck. You might find yourself having to redo the tuck over and over again, but remember: your tuck doesn't have to look perfect. The more you try the tucked-in style, the easier it'll get.
Tackling the tuck is only one aspect of styling an outfit. If you really want to improve your style game, check out all of these fashionable ways that you can wear a white shirt.
Frequently Asked Questions
How do I know whether to tuck in my shirt or not?
Much of this is just personal preference. While some women prefer to always wear their shirts untucked, others can't imagine not tucking them in. Some professional environments require all employees to tuck in their shirts, so make sure to read all dress requirements.
As a general rule, shirts with long tails should always be tucked in, especially in professional environments. If you hate tucking in shirts, but your shirt's rather long, add a belt to it and wear fitted pants or a skirt. This gives you a dressier look.
What's the easiest tuck to master?
The front tuck or loose tuck is the easiest. They're both more casual, yet still look good for slightly dressier events. They're also the most versatile, working with a wide range of blouses.
How can I make my tuck look more flattering?
Nothing's as frustrating as when you tuck in your shirt only to discover it ruins the entire look. Often, this comes down to how low or high your bottoms sit. Low-rise skirts, jeans, and pants don't always look great with a tucked in shirt, especially a loose tuck. Instead of accentuating curves, you either get a bulkier look or your curves disappear. Wear more fitted blouses or opt for a front or half tuck with these types of bottoms. If you're wearing a dress, try these tips for picking the most flattering style.
Mid to high waisted bottoms work great with tucked in shirts. They also help your shirts stay tucked in better.
Image credit: Mark Adriane via Unsplash
Subscribe to our newsletter!
Get the best of ModernRatio delivered right to your inbox!