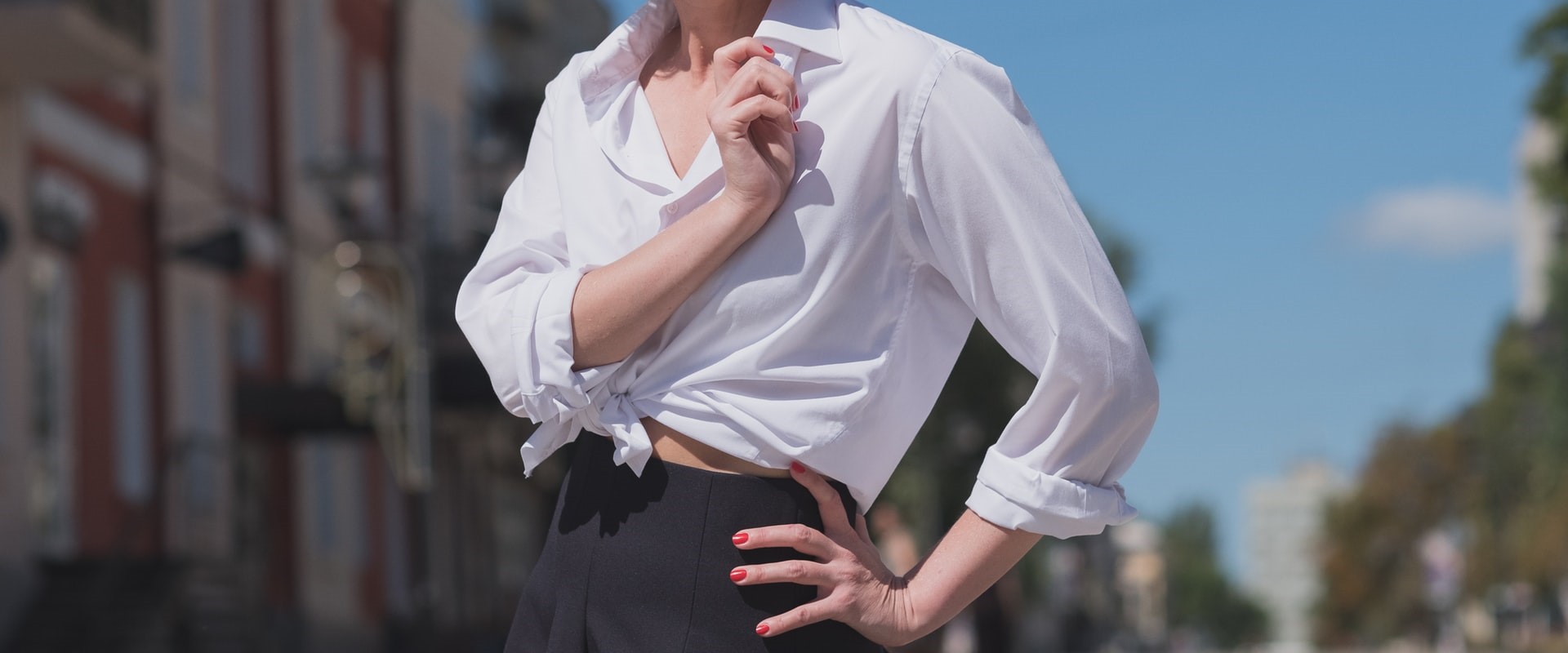 Never underestimate the power of a white shirt. This simple staple can make a statement when you wear it the right way. Plus, it's versatile enough to dress up or down.
If you're tired of feeling bland when wearing a white shirt, check out these fashionable ways to wear a white blouse.
1. Tuck It Into a Mini Skirt
While you might not even think about busting out your plain white shirt for a night out, you can easily make it look party-ready with a mini skirt. Tuck your white blouse into a form-fitting mini skirt, and pair it with some heels (or even boots). Your white top definitely won't look plain anymore!
2. Wear It With Blue Denim
A white shirt with a pair of blue jeans is the most classic way to rock a white top. This look never goes out of style. Tuck the front of your shirt into some loose-fitting or skinny jeans. You can opt to dress it up with colorful heels, or go casual with a pair of white canvas sneakers.
3. Pair It With Black Slacks
A white button-down blouse is an essential addition to your office wardrobe. Get the most out of your look by tucking your white blouse into black slacks, and top it off with a black blazer. Don't be afraid to dress up your look even more by integrating a colorful chunky necklace.
4. Color Block With a Midi Skirt
If you're not a fan of the black and white look, color block your outfit by tucking your white shirt into a vibrant, non-patterned midi skirt. Add another layer of color with a blue denim jacket, and you'll have your new favorite everyday look.
5. Experiment With Black Leather
Leather pants are flashy, which is why they look especially sleek when worn with a white blouse. A white top balances out the shiny leather, giving you a casual, yet sophisticated look that you just can't get with jeans.
6. Wear High-Waisted Bottoms With a Belt
Whether you wear a white blouse with high-waisted jeans or shorts, it's always a good idea to split up the look with a belt. A stylish belt can make your outfit look a lot less bland.
7. Try Gingham or Plaid Print Pants
You don't have to worry about looking tacky when wearing plaid or gingham pants if you match it with a plain white top. Pants with a black and white pattern look amazing with a white blouse—the modest top counteracts the busyness of the slacks.
8. Rock Burgundy Pants
White and burgundy make a beautiful combination. When you get tired of wearing black and white to work, slip on a white blouse with burgundy tie waist pants.
9. Get Sporty
On days when you don't feel like dressing up, put on your favorite pair of tapered sweatpants, a white t-shirt, and some white sneakers. This way, you can feel comfortable while looking stylishly sporty.
10. Bring Back Overalls
Overalls are back in style! This 90s trend looks best with a white tee or long-sleeve shirt underneath. It's a low-maintenance look that'll give you a ton of nostalgia.
Styling a White Shirt: Success!
When you compliment a white shirt with certain colors, accessories, patterns, and pants, you'll have an eye-catching outfit. Whether you opt for a simple or layered look, a white shirt will soon become part of your daily wardrobe.
You can't rock a white shirt with jeans that don't look or fit right. Go on and find the perfect pair of jeans so you can look your best.
Subscribe to our newsletter!
Get the best of ModernRatio delivered right to your inbox!