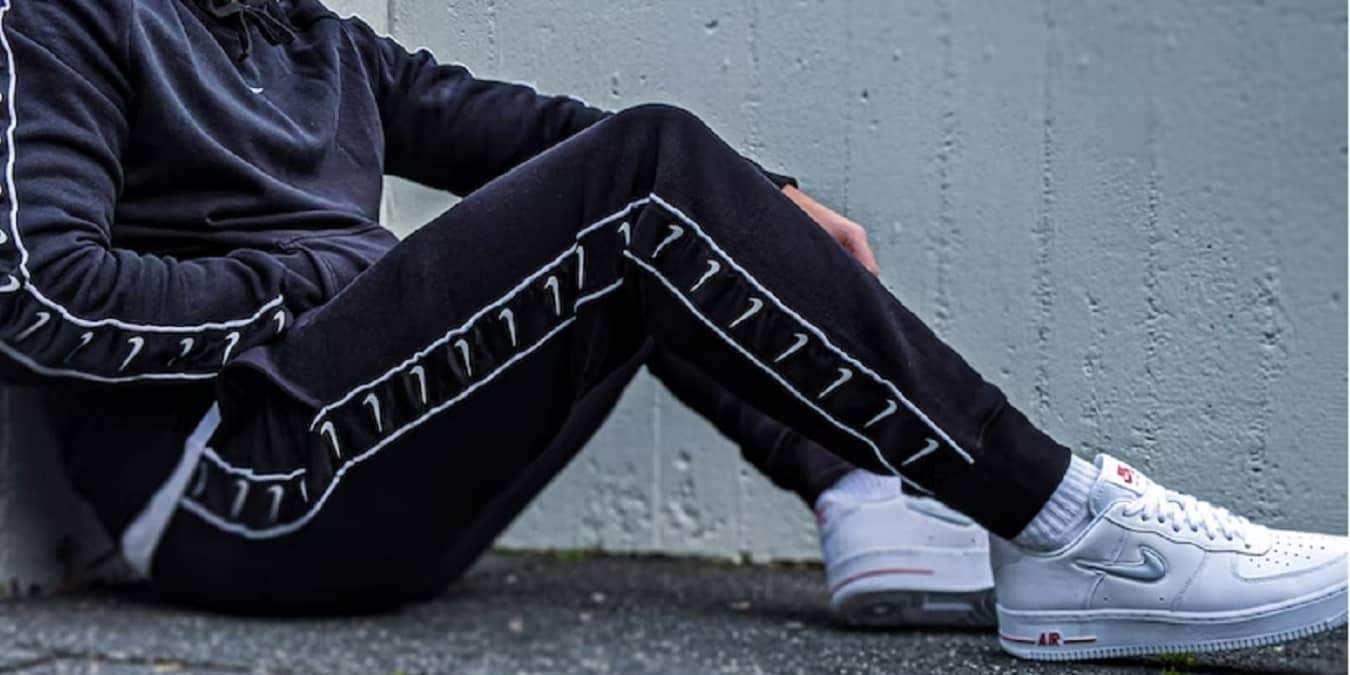 Sweatpants and joggers have a reputation of being a lazy garment that should only be worn around the house. While that reputation isn't completely unfounded, if you know what you're doing, you can actually wear joggers and sweatpants fashionably. They can be just as useful as a pair of jeans or chinos if pair them with the right shirt and shoes.
Today, we're going to dig deep into the casual world of joggers to help you leave the house in a pair while still looking great. If you enjoy looking good while being ultra-comfortable, you're going to love this.
What Are Joggers and Sweatpants?
Joggers and sweatpants were originally created as exercise attire. They're both made of the same materials, but joggers are thinner (because they're made for jogging).
While they're meant to be worn while working out, they've become quite popular clothing items with certain fashion styles. But you need to be careful when you wear either joggers or their thicker cousins because if you don't pair them with the right items, you won't look like you're making a fashion statement. Instead, you'll look like a bum, which is probably not the look you're going for.
General Jogger and Sweatpants Wearing Tips
If you're going to wear joggers while out and about, here are a few things you should keep in mind so you can look your best in them.
Make sure you don't wear them too baggy, or you'll look sloppy. Keep them slim-fitting just like you would with a pair of jeans or chinos.
Joggers and sweats are inherently casual, so don't try to wear them with formal outfits.
Different types of joggers are appropriate for different situations

Smart: These are designed to be the most formal form of joggers. They often look like Chinos, but they're made of softer materials.
Standard: These are your regular joggers or sweatpants. They're not designed to look like chinos or anything else. If they fit well, these will look great with just about any casual outfit.
Sport: These are joggers made with performance materials. They're designed to be worn for exercise primarily, but they can also be used for ultra-casual situations.
Lounge: These are the baggy joggers or sweats that you generally don't want to leave the house with. They have a place, and that place is strictly where few people see you.
Jogger and Sweatpants Outfits
There are three primary levels of joggers and sweatpants outfits, and they're all fairly low on the formality scale. You can go from the super-casual look that'll walk the line between going to the gym and going to the bar to the smart casual look that might be acceptable on a casual Friday at work, depending on where you're employed.
Most Casual Outfits
If you want to go ultra-casual, joggers are the perfect pair of pants for you. Simply rock a basic t-shirt with them and you'll have a clean, casual look that will work well in many different situations. If it's cold, a crewneck sweatshirt or a hoodie is the perfect outerwear item for those casual situations. For shoes, any casual sneaker will work perfectly here.
Slightly Less Casual Outfit
You can find a nice middle ground with your joggers and sweats if you pair them with the right items. A denim or leather jacket is a great option for outwear. For shirts, a polo shirt or a very casual button-down shirt is the perfect option here. For shoes, sneakers or casual boots will be the best options, as they'll keep you in that medium casual range perfectly.
Smart Casual Outfit
If you want to go as close as you can get to formal with a pair of joggers, there are a couple of different things you can pair with them. For outwear, you can rock a casual blazer. Mix that with a button-down shirt for a look that's almost formal. You can tuck the shirt in to move slightly higher up the formality scale or leave it untucked if you want to go the other way. You can change the look a great deal with different styles of shoes – sneakers will bring the formality down while a pair of oxfords will bring it up, for example.
Consider Material and Shape
Finally, looking stylish while wearing joggers and sweats depends a lot on the material and shape of the pants. Let's start with material:
Stretchy cotton – Ideal for most body types. However, these can stretch out in the butt and knee areas quickly, leaving the pants looking baggy. Definitely opt for higher quality joggers in this case so they last longer.
Chino – This is a more durable material that looks both casual and stylish. It's usually not stretchy, so it'll hold its shape better.
Twill – This is more a type of weave used on a variety of materials, including chino. It's durable, holds its shape well, and lets you achieve casual and more sophisticated looks with your joggers and sweats.
Nylon and polyester – These can be casual, but due to the sheen of the fabric, these often look more professional and they're far easier to dress up.
Once you've decided on a material, you also need to think about the shape. One of the reasons joggers have become so popular is they're a great mix between leggings and jeans without the super tight fit of jeggings. It's kind of like jeggings married baggy sweats.
For the most stylish look, go for a tapered, straight, or fitted leg. These all give your lower half more shape without looking frumpy or baggy. Plus, it makes it far easier to pair with some flats, sneakers, or sandals like you would with a comfy pair of jeans.
Frequently Asked Questions
Can I only wear certain types of tops with joggers and sweats?
As long as your joggers and sweats aren't super baggy, you can pair most any top with them. Think of them as jeans. Whatever you might wear with jeans will usually work with joggers and sweats. The only exception is dressier or more formal tops that are best pair with dress slacks.
Are heels or flats better with joggers?
Both work, but with the casual nature of joggers and sweats, flats and sneakers usually work best. But, if you're going for a dressier look, short heels or nicer looker sneakers work well. These canvas sneakers for women pair well with joggers and sweatpants.
Do all joggers and sweats have drawstrings?
You'll notice that many pairs of joggers and sweats have a drawstring to adjust the waist versus belt loops. However, some just use an elastic waist band, while occasionally, you'll find some with a button/zipper.
Image credit: Grailify via Unsplash
Subscribe to our newsletter!
Get the best of ModernRatio delivered right to your inbox!