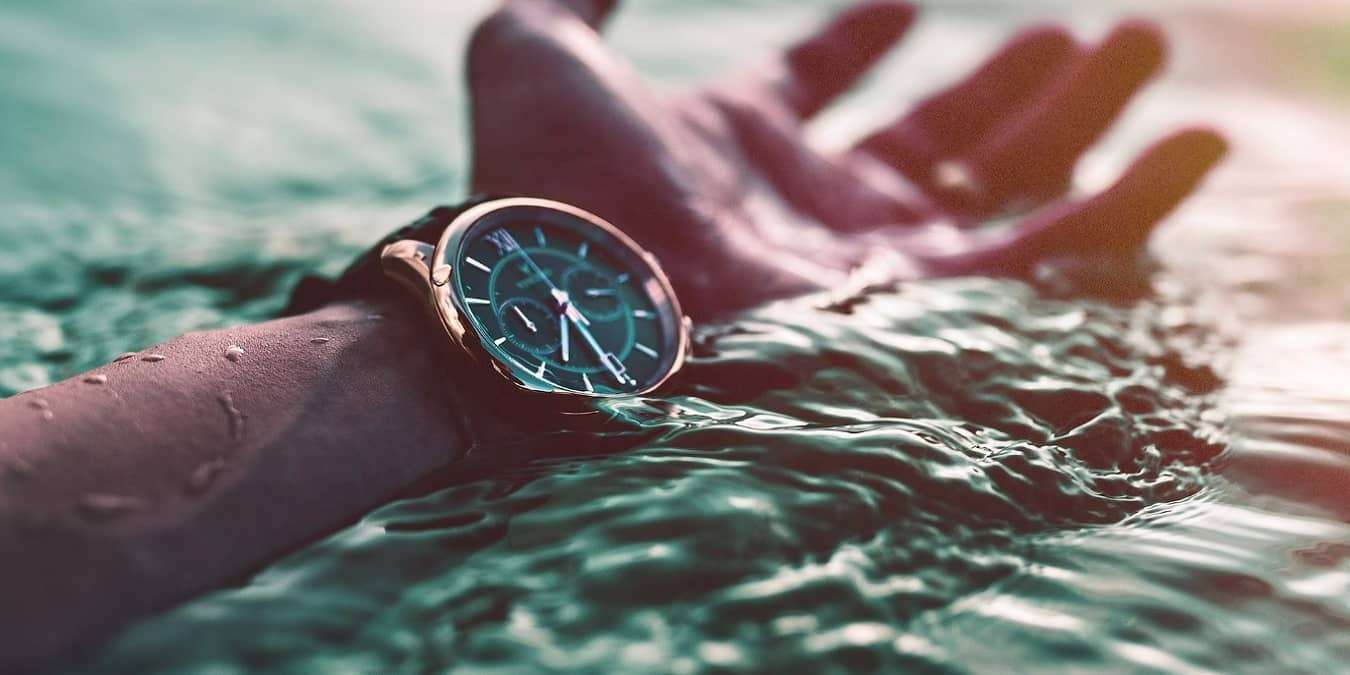 When it comes to durable watch bands, it's hard to beat sailcloth watch straps. The great thing is they're compatible with a wide range of watches and you can find a good selection of inexpensive options directly from Amazon. You'll find different sizes, designs, and colors along with hybrid options.
What are Sailcloth Watch Straps?
The word "sailcloth" might make you think about sailing or boating. Actually, sailcloth watch straps get their name from the woven patterns found on sails. Not only do they have a similar weave, but they're designed to be highly durable even in harsh saltwater conditions.
The result is a sturdy strap designed to withstand active lifestyles, even when swimming, boating, and diving. One thing to know about these bands is they're usually fairly stiff when you first wear it. However, they'll soften slightly as you wear them, making them strong and comfortable.
1. StrapHabit Quick Release Sailcloth Watch Strap Hybrid
If you love the durability of sailcloth watch straps, but the prefer the way a rubber strap stays in place, you'll love StrapHabit's Quick Release Sailcloth strap. The outside features a strong sailcloth layer. However, the inside is made of FKM rubber.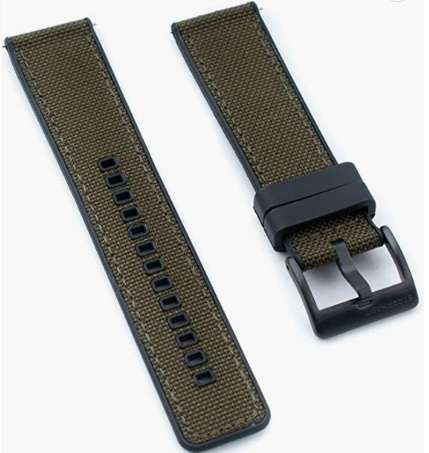 This hybrid model is ideal for active lifestyles. A major problem with sailcloth on its own is it's not waterproof. So, if you're sweating, the watch might not feel so comfortable against your skin. The rubber is water and sweat proof and also helps the watch conform to your wrist faster than sailcloth alone.
The strap comes in eight colors and has quick release springbars for just $37. If you're looking for more variety of colors, try this other StrapHabit strap that comes in 20 styles for $27.
2. Barton Sailcloth Quick Release
For a more traditional sailcloth watch strap, try the Barton Sailcloth Quick Release strap. A thick sailcloth weave combines with an ultra soft underside to reduce any friction and provide a more comfortable fit. The watch is entirely cloth, including a slightly padded layer between the sailcloth and underside cloth.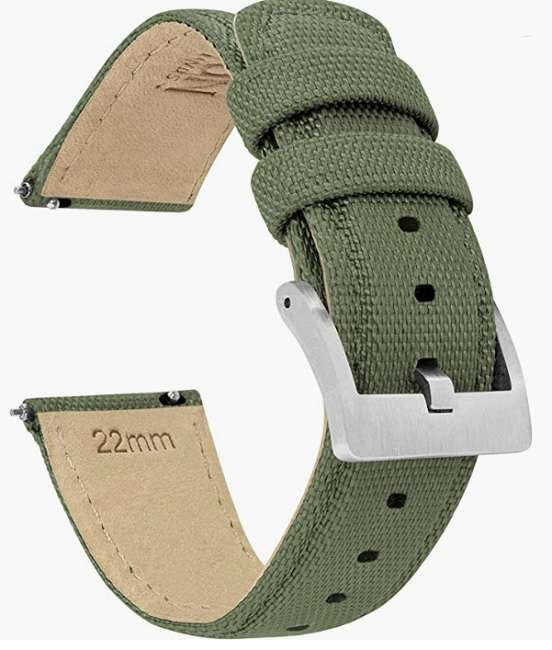 A stainless steel buckle keeps the strap from coming loose easily. The quick release buckles are ideal for both traditional and smart watches. If you have an Apple Watch, consider these replacement bands.
You can grab this strap in one of 39 different designs for just $11.
3. Ritche Sailcloth Watch Strap
Sailcloth watch straps don't have to take a while to adjust thanks to the Ritche Sailcloth Watch strap. A breathable inner layer fits softly against your skin, helping the shape adjust faster and feel more comfortable overall. A round tube encloses the springbar to better protect it and make it more durable.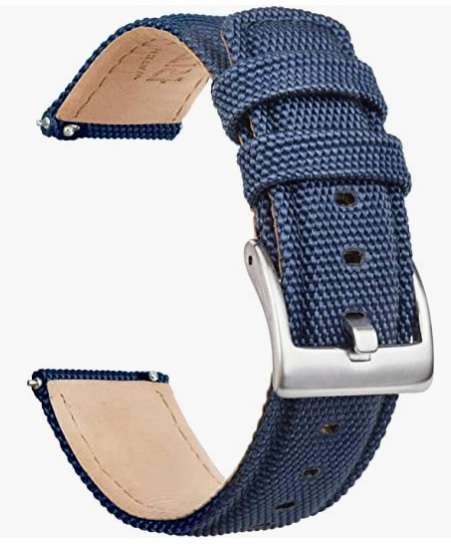 Thanks to various sizes, the strap is compatible with many popular watch brands. Plus, the brushed steel buckle matches most watch faces well.
Choose from 10 different styles, including different colors and stitch coloring. It's an inexpensive option at just $20.
4. Benchmark Basics Quick Release Sailcloth Watch Straps
For a tighter, thicker weave, it's hard to beat the Benchmark Basics Quick Release Sailcloth watch straps. This line of straps uses 900D nylon canvas to better resist daily wear and tear. This also gives the strap a more sophisticated look, though the smooth edges and high sheen fabric add to that.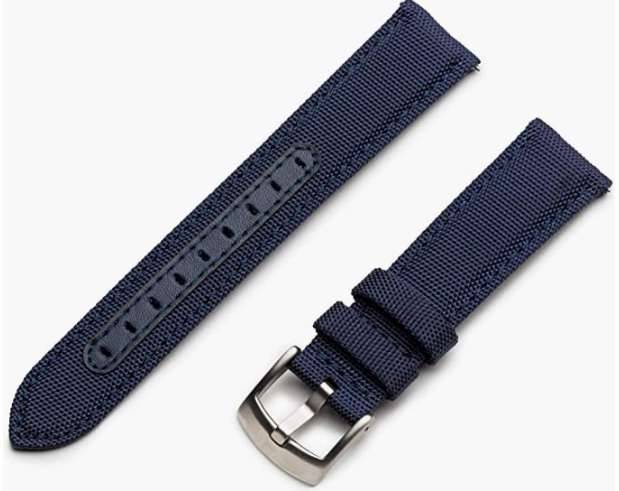 A smooth leather underside gives you the perfect mix of comfort, flexibility, and durability. Even the holes are reinforced with leather to prevent premature wear and tear. A stainless buckle and quick release make this a great strap to work with a variety of different watches.
Plus, you can get this strap in either blue or black for just $20.
5. B&R Bands Sailcloth Waterproof Sport Dive Strap
If love being out on the water and diving, you'll definitely want to check out the B&R Bands Sailcloth Waterproof Sport Dive Strap. It's not made with smaller wrists in mind with widths between 20mm and 24mm. Like most sailcloth watch straps, this one features quick release bars to easily change out bands whenever you want.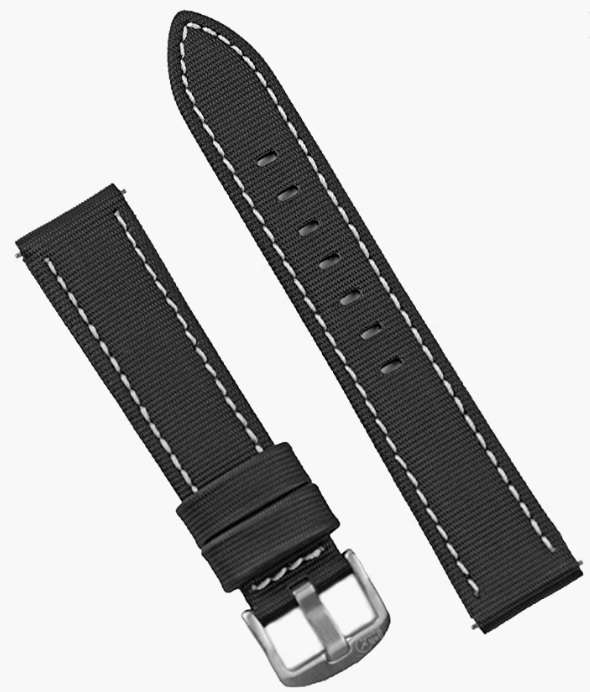 This strap is made from a synthetic PU material with a sailcloth weave. Unlike straps with a leather or cloth inner layer, the entire strap is waterproof. While you can pair it with a variety of watches, it's designed with dive watches in mind. Thanks to brushed stainless steel buckles, you don't have to worry about the strap falling off.
While the strap is only available in black, you can get it solid black or with one of four colorful trim stitches. It's not the cheapest option, but at $60, it's a highly durable dive strap. If you're looking for a completely new watch under $100, check out these Casio watches.
Frequently Asked Questions
How do I know what size to buy?
Typically, you'll need to pay attention to two measurements – width and length. The width is the most important for ensuring the strap attaches to your watch correctly. The width is the distance between the lugs on the watch itself. The lugs are the areas where the strap actually attaches.
While some watches print this on the strap that comes with the watch or on the box the watch came in, you may have to measure this distance yourself. Always measure in millimeters as this is what most brands use.
Second, measure your current strap to check the length. This is the distance you'll need to fit comfortably around your wrist.
How hard is it to change the strap?
For the easiest transition between straps, opt for straps with quick release bars. It only takes seconds to attach the strap. Otherwise, with fixed bars, you'll need to wind the current strap out carefully. Make sure you purchase a strap that's compatible with fixed bar watches to replace it.
Image credidt: Alex Perez via Unsplash
Subscribe to our newsletter!
Get the best of ModernRatio delivered right to your inbox!