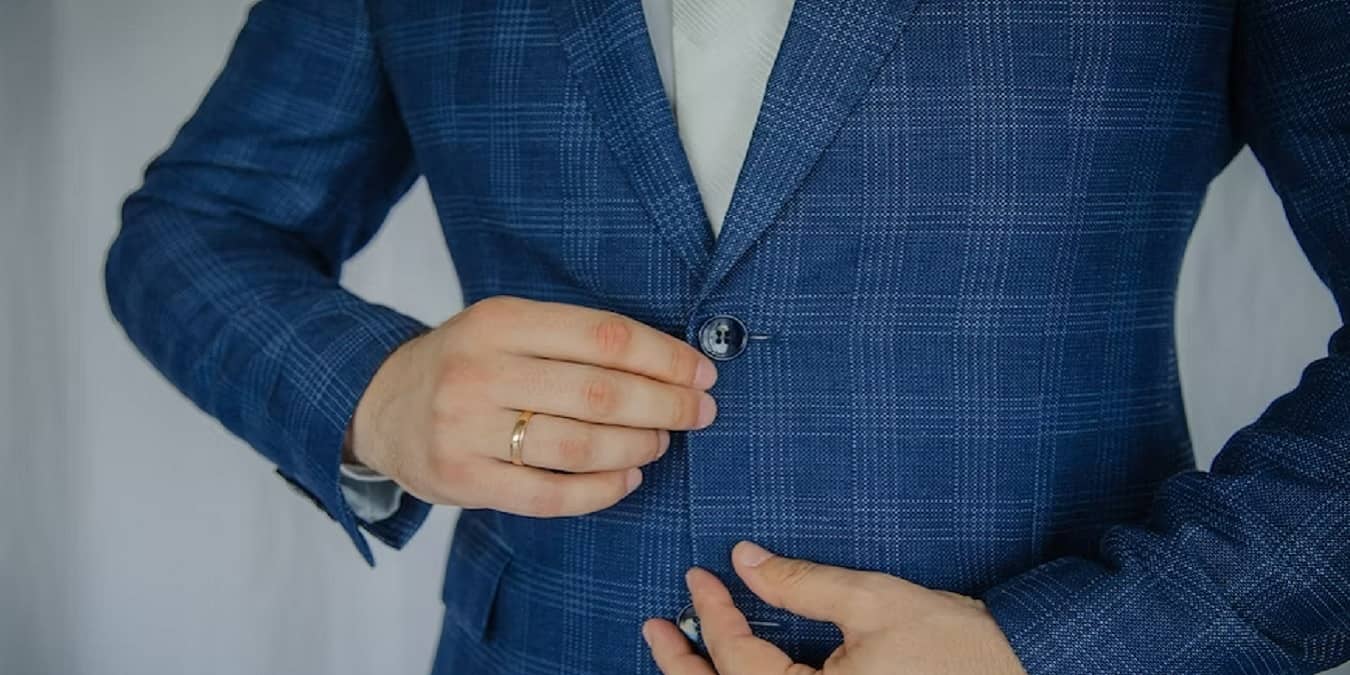 Sports jacket vs. blazer vs. suit – while the words are often used interchangeably by brands, they're actually all different types of jackets. Each one has unique aspects and serves different purposes. Knowing how to pick the right one will ensure you're always dressed properly for any occasion.
What's a Sports Jacket?
A sports jacket, also called a sports coat, was originally created to be worn during sporting events, such as horseback riding or hunting. As a result, the material is often more durable.
Typically, sports jackets have a looser fit to allow for layering and a better range of movement. Of course, this also means they tend to look more casual as well. They're most often single-breasted and can have a sports lapel flap, notched lapel, or a closing front lapel.
You'll usually find these made of tweed, herringbone, houndstooth, and flannel, though corduroy, polyester, and other fabrics are also available. If you just want a nice-looking jacket for non-formal events or something more versatile, this is the one for you. It's considered the least formal between sports jacket vs. blazer vs. suit.
Ideally, pair this type of jacket with jeans or any pants that aren't the same color as the jacket itself. It also looks great when paired with almost any type of shirt, from turtleneck sweaters to button-up shirts.
What is a Blazer?
Blazers and sports jackets are the easiest to confuse since they're so similar. In fact, don't be surprised to see "blazer sports jackets" listed when shopping. However, blazers are the most versatile option of all three, able to function as both casual and formal wear.
While slightly less formal than a suit jacket, blazers are still more formal than sports jackets. Think of them as the middle ground. This type of jacket is more fitted than sports coats, yet looser than a suit jacket. Most notably, blazers have far more relaxed shoulders than a suit.
Most often, you'll find blazers in some form of blue (traditionally, navy), but various shades of brown, green, and red are common too. Another stand-out feature is the buttons. Silver, gold, or mother-of-pearl buttons are most common, though you may find other varieties as well.
Usually, blazers come in two or three button single-breasted and six button double-breasted varieties. Since they can be both casual and formal, there's a wider range of fabrics, such as cashmere, fresco, flannel, worsted wool, hopsack, and serge.
Easily dress down by wearing a blazer with jeans. Or, dress it up a bit with a nice pair of chinos. Blazers also work well for a business casual dress code.
What is a Suit Jacket?
In the battle of sports jacket vs. blazer vs. suit, the suit jacket is always the most formal. Sure, you can dress up a blazer, but a suit is best for your most formal events. While you can wear a suit jacket without matching pants, usually, a suit jacket is paired with pants of the same fabric and color.
Suit jackets have a much snugger fit and are designed to be worn with collared shirts. They're not ideal for layering with most other types of shirts. Outside of bespoke suits, expect to find these in more neutral colors and simple patterns. The idea is less is more with a suit.
You won't find any extra embellishments or pocket designs (outside of a single, simple pocket on the breast). With a suit, the main standout should be your tie.
These formal jackets are often found in linen, seersucker, cashmere, silk, cotton, and worsted wool. They also feature peak and notch lapels, and come in two and three button single-breasted and six button double-breasted varieties.
It's recommended to always wear your suit jacket with its matching pants. If you want to wear it separately, just buy a blazer instead. Otherwise, all the extra washing will cause your suit jacket and pants to fade unevenly from each other.
Choosing the Right One for You
If you rarely go to formal events and don't have to dress up for work, a sports jacket is likely all you need. For business casual jobs and events, blazers are a must. And, for extremely formal events and jobs, a suit is mandatory.
Having at least one suit on hand for random formal occasions (or being able to quickly rent one) is a good idea. Otherwise, a blazer works for most casual, semi-formal, and even some formal events.
Frequently Asked Questions
Is off the rack or tailored best?
For sports jackets and blazers, you'll often be fine with off the rack. If you need to wear a suit often, you'll likely be most comfortable in a tailored suit. If you're hard to fit, always go with a tailored option.
How many of each do I need?
If you love the way a sports jacket or blazer looks, consider having 2-3 of each of the styles you like best. For those who don't wear suits often, 1-2 is plenty. If you wear a suit every day for work, opt for 5-7 to ensure you have enough to last a full week.
Image credit: Unsplash
Subscribe to our newsletter!
Get the best of ModernRatio delivered right to your inbox!