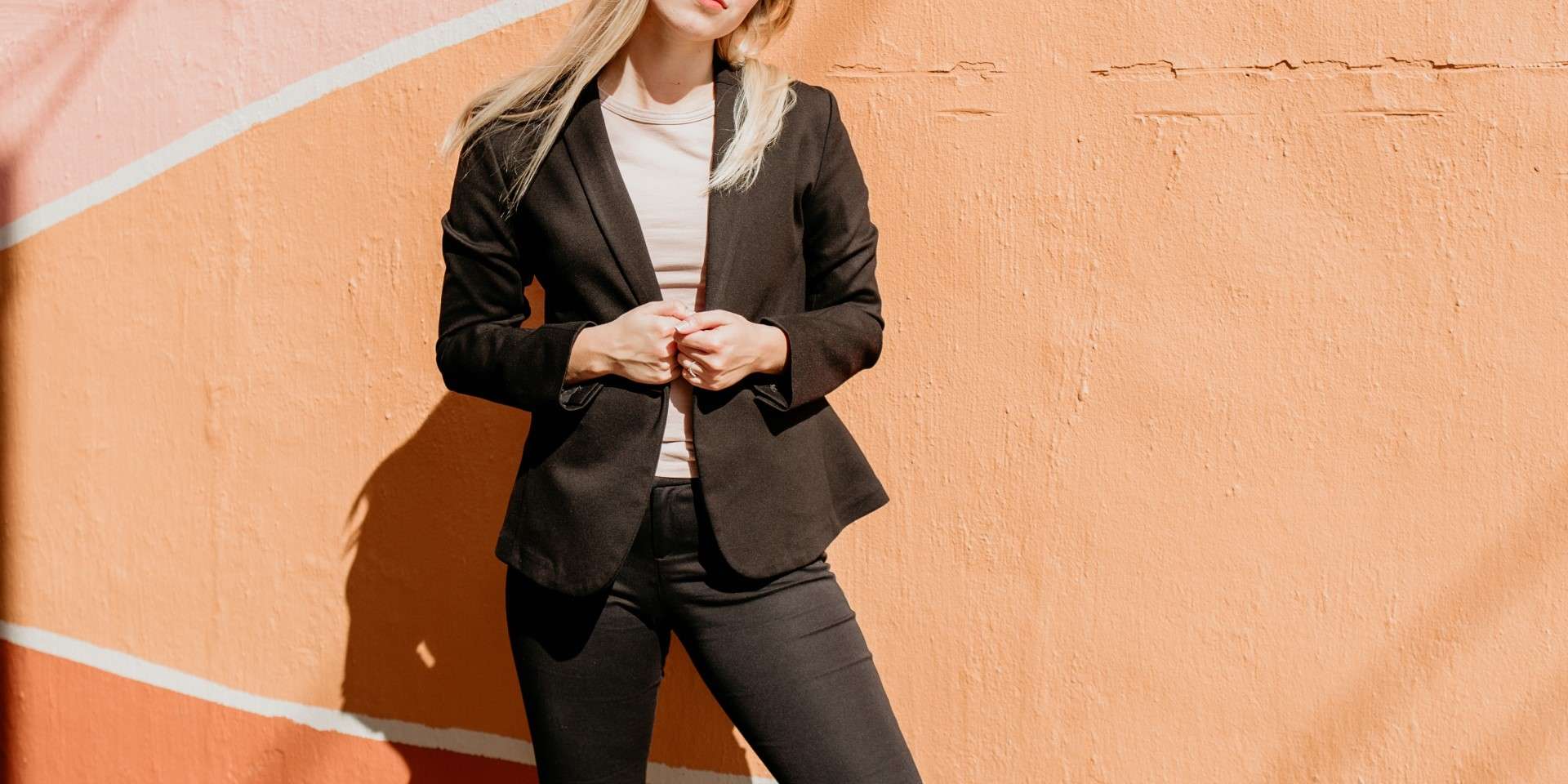 When you work in an office or another formal setting, you're expected to come to work in business casual attire. For many women, that means wearing a suit.
The right suit can make you feel powerful and confident. If you're still searching for that perfect suit, check out these stylish women's suits that will add style to your workday. Most of these suits come in separate pieces, so you can mix and match to your liking.
You just can't go wrong with the DKNY One-Button Blazer and Skinny Pants suit set. It provides a classic, sleek look that will never go out of style.
The set only comes with the pants and blazer, so you'll have to pick out your own dress shirt to go with it. Whether you choose to buy the suit in gray, navy, or black, a white dress shirt will always pair well.
Want a classic dress suit with a modern twist? Try the above collection by Bar III. The collarless, open front blazer gives you a minimalist look, and the same goes for the straight-leg pants. This set also comes with a sleeveless, inverted-pleat top that you'll definitely want to include with this outfit.
Wearing the same bland shades of gray, blue, and black gets boring fast. When everyone else in the office wears the same colors, your stylish suit easily gets lost in the crowd. To stand out in your workplace, wear this ruby red suit by Kasper—it offers a pop of color that will make your workday a little more exciting. Make sure to pair this bold suit with a black dress shirt to match the blazer's black buttons.
Don't shy away from wearing patterned suits to work. This Plaid-Print Blazer and Pants by Tommy Hilfiger will make you look incredibly sharp, and it's unique enough to grab the attention of others.
While this blazer and suit combination comes with a white, knot-neck top, you can also opt to wear a navy blue shirt to highlight the blazer's stylish elbow pads.
You don't always have to wear a full pantsuit to work. Switch it up, and wear your blazer with a skirt instead.
Anne Klein's Three-Piece Skirt Suit Set ought to spice up your business casual work attire. This set conveniently comes with a single-button blazer, as well as a pair of pants and a slimming pencil skirt. Add a burgundy dress shirt underneath to break up the dull gray tones.
You wouldn't normally think that suits can be considered "casual," but casual suits do exist. They're especially great if you work in a more casual environment, or just want to look dressy during a weekend outing.
Either way, this Tommy Hilfiger suit set manages to look formal, yet laidback. The light gray blazer and denim-resembling slacks make for an effortless pairing. Wear a fun-patterned shirt underneath your blazer to lighten up your outfit even more.
Suit Yourself
Your suit should reflect your personality, as well as your workplace. If you already own multiple suits, don't hesitate to pair blazers with pants from different sets. Experimenting with colors and patterns will only improve your suit's style.
Perhaps you're looking for a suit for an upcoming job interview. If that's the case, make sure to pair your suit with the best beauty routine for job interviews.
Subscribe to our newsletter!
Get the best of ModernRatio delivered right to your inbox!