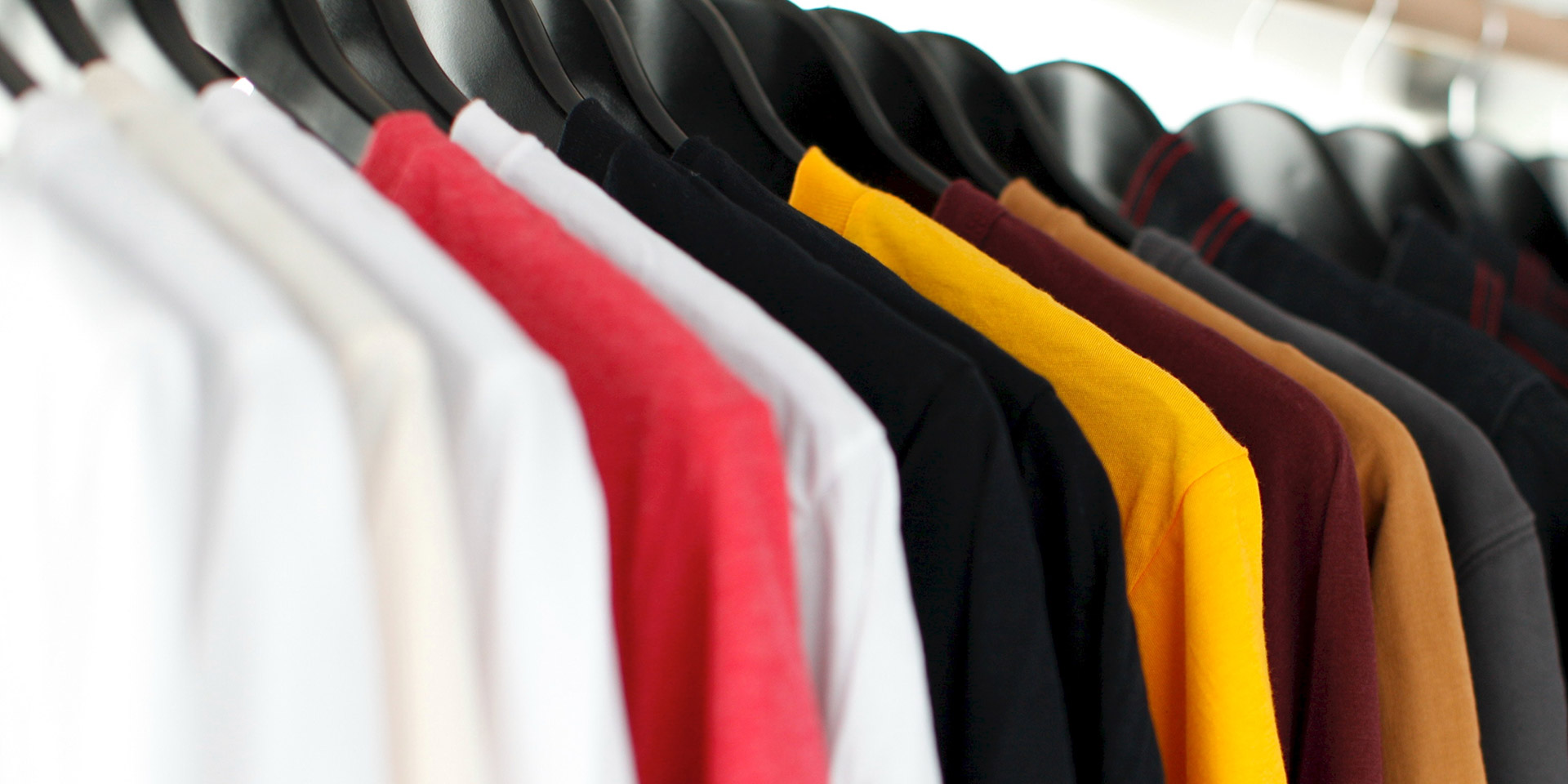 In terms of versatility, it's hard to beat a t-shirt. When the weather is nice and warm, you can do a lot with a basic short sleeve.
T-Shirts come in more styles than just a basic crew neck. In fact, there are all sorts of different kinds of t-shirts out there, and all guys should own at least one of the types we're looking at today. If your closet is missing any of these, it's to run out to your favorite clothing store and snag one, because it's necessary.
1. Plain White T-Shirt
If you don't have a basic white t-shirt, your wardrobe isn't complete. A white t-shirt looks good with so many different things. Even something as simple as a pair of jeans, some chukka boots, and a white t-shirt can be an incredibly solid outfit. Just as important as a crew neck is the white V-neck t-shirt. You can mix up your look by adding swapping out the crew neck for a V-neck. It'll make you look thinner and taller, and it's slightly less casual than a crew neck.
2. Plain Color T-Shirt
When it comes to basics, a white tee is as basic as it gets, but unless you're Fonzie, you can't wear white t-shirts every single day. As such, you'll want to get add some of the basic colors to your closet. You can safely avoid off-the-wall colors, as they'll be difficult to match with your bottoms and outwear, but neutral colors like gray, black, and blue are all worth owning.
3. Pocket T-Shirt
I love pocket t-shirts. They take the basic shirt and give it a little more visual interest. Even if you're just wearing a solid-colored gray t-shirt, adding the pocket to it will draw a bit more attention. Rather than overly busy graphics, you can get a pocket t-shirt with a small graphic on it. That way you can still represent your favorite brand or pop culture reference without looking too gaudy.
4. Henley T-Shirt
More often than not, you think of Henley shirts in a long-sleeve style, but a Henley t-shirt can also be a fantastic look if you want to keep your outfit fairly basic, but you also want to go a step up from a plain t-shirt. The buttons on a henley create a slightly more formal look, but it's still more casual than a shirt with a collar.
5. Striped T-Shirt
You absolutely need to have at least one striped t-shirt in your closet. In fact, having just one probably isn't enough, as you're want to add shirts with narrow stripes and wider stripes to your wardrobe. A striped t-shirt is a bit louder than a shirt with a single color, but it's still more subdued than a bright graphic t-shirt. It makes for a good middle-ground if you're looking for a way to make your outfit stand out a bit more. You can find striped t-shirts in both horizontal and vertical stripes, and if you're on the bigger side, you'd do well to stick with vertical stripes, as they're slimming.
6. Graphic T-Shirt
We all have things we're into. Rather you like Marvel, sports, certain movies, or whatever, there's almost certainly something that you'd be willing to wear on a shirt. That's where the graphic t-shirt comes into play. You can find basic crew neck t-shirts with just about anything printed on them, so you most-definitely have options. You can find low-key graphic shirts or bright gaudy ones—whichever way you go, just wear what you're comfortable with. Just make sure you know how to wear a graphic t-shirt like an adult.
Keep Cool and Look Cool
If you want to look your best while staying cool all summer long, snag each of these t-shirt styles and get ready to look your best! Don't let anyone tell you that a basic t-shirt can't be stylish, because if worn correctly, they absolutely can be.
Subscribe to our newsletter!
Get the best of ModernRatio delivered right to your inbox!