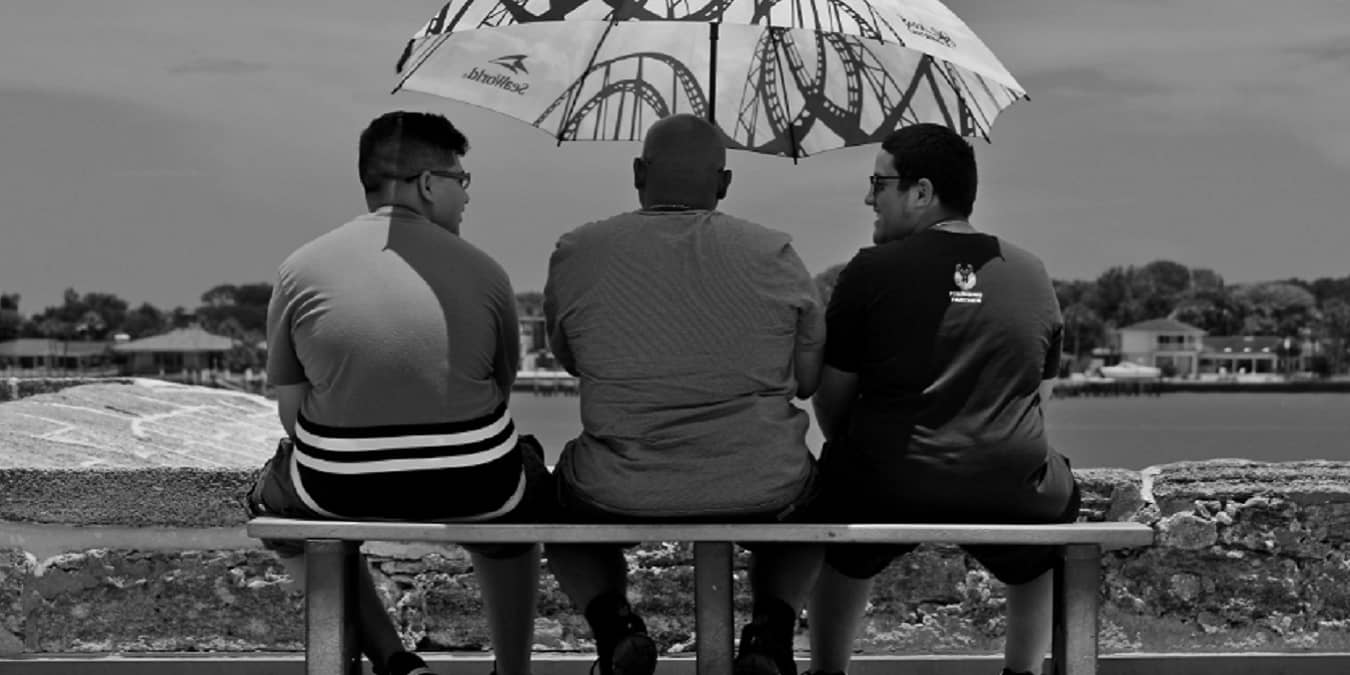 Just because you're not skinny, doesn't mean you don't want to dress with style. With some careful planning, big guys can be just as stylish as their skinny counterparts. Simply follow the tips we're outlining today, and you'll look thinner while remaining both stylish and comfortable in the clothing you're wearing.
1. Avoid Baggy Clothes
Your first instinct when it comes to hiding the extra pounds might tell you to go ahead and wear baggy clothes. After all, no one can see that you're carrying extra mass if your clothes are big, right?
This is actually the exact opposite of what you want. You want properlly-fitting, slimmer clothing. Baggy clothes actually make you look bigger, which is exactly what you're trying to avoid. You want to walk the line between form-fitting and slim. You want to be able to breathe, but you don't want too much space, as it's just going to make you look heavier.
2. Wear V-Necks
A key thing to think about when you're trying to slim down is making yourself appear longer. Longer and lean go hand-in-hand, so if you can stretch yourself out a bit, you'll create the illusion of thinness.
One of the easiest ways to do this is by ditching those crew necks and wearing v-neck shirts. These will make your neck look longer, which will make you look taller, and in turn, thinner.
3. Wear Small Patterns
Large patterns and over-the-top graphics make you look larger than you actually are. Smaller patterns have the opposite effect.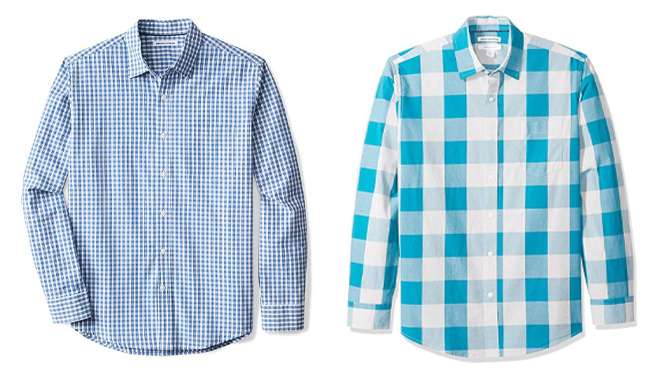 If you're out shopping and you see two shirts, and one has a tighter, smaller pattern, and the other has a wide pattern, make it a no-brainer to get the smaller pattern, as it'll look better on a larger frame.
4. Wear Vertical Stripes
This is one of the oldest tricks in the book when it comes to slimming down. Horizontal stripes will make you look wider, and vertical stripes will make you look longer, and thus, thinner. Just because a trick is old doesn't make it any less valid, and that couldn't be truer in this case.
Avoid horizontal stripes like the plague, and wear vertical stripes when possible!
5. Get Pants Without Pleats
The last thing you want to do is add unnecessary material or visual interest to any of your clothing, and adding pleats to your pants just does just that.
The same principle of wearing slimmer clothing and avoid baggier clothes applies here. Get rid of any extra material and you'll create a look that's better suited to your body type.
6. Untuck Your Shirts
This tip almost contradicts some of the other tips about adding extra material, but in this case, you want that extra material that comes with an untucked shirt. If you have a large stomach, tucking if your shirt will only draw more attention to said belly.
This doesn't mean you can just go untucking all of your shirts without any thought, though. You're going to want to make sure the untucked shirt has a flat bottom, otherwise, it'll look sloppy.
7. Minimize Contrast
Another trick that'll make you look longer is by wearing tops and bottoms that don't contrast with each other. When there's a hard stop between the top and bottom, it makes you look a bit shorter, which will also make you look a bit wider.
Pairing similar-colored pants and shirts will require a bit of careful considering, as you don't want to look too plain. If you'd normally wear a black shirt with a pair of khakis, think about swapping those light pants for something darker, causing your upper body and lower body to flow together more smoothly.
8. Wear Darker Pants
An easy tip for bigger guys to look slimmer is to wear darker pants. Dark colors help to hide extra weight easier than lighter colors. Try to opt for black, navy, dark gray, or dark brown/khaki when it comes to slacks and dress pants. For jeans, a simple plain wash in a dark color helps you to look instantly slimmer. Try using the Savile Row Fold to hang you pants to keep them from falling off the hanger and wrinkling.
Of course, follow the advice in the previous tip to create a darker outfit that slims you all over. Or, if you're wearing a light-color shirt, consider a darker jacket for a slimming effect.
There is one exception to this rule. If you're more top heavy, opt for lighter colored pants to help create a more balanced look.
9. Skip Bold Patterns
Even on slimmer guys, bold patterns can create the illusion of looking bigger, like the print above. Obviously, this isn't what you want. So, try to skip bold prints and patterns on shirts and opt for solid colors instead. If you want to mix it up a bit, look for gingham or vertical stripes. You may even try a denim shirt.
Of course, wearing t-shirts with a single design, such as a graphic tee, are perfectly fine. Just wear t-shirts that aren't too bulky.
10. Embrace the Tailored Jacket
A sport or dress jacket that has a tailored look helps slim your figure. By tucking in slightly near the waist, it also makes your own waist seem smaller. It also helps you avoid a bulky look. The great thing about a good casual jacket is they're perfect for formal and informal wear.
Plus, a tailored jacket helps to bring an outfit together well. Want to wear a brighter shirt and still look thinner? Just pair with a darker jacket.
Frequently Asked Questions
How can I find clothes that fit me well?
Bigger men often find it hard to shop for clothes that fit well off the rack. While some brands have started creating stylish big and tall lines designed to make bigger men look their best, sometimes selections are still limited.
When it comes to a perfect fit, custom tailored clothing may be your best option. This is especially true for suit jackets, sports coats, and slacks.
Should I wear high or low waist pants to look slimmer?
While it might seem like a good idea to hide your stomach with high waist pants, it's uncomfortable and makes you appear shorter and wider. With low waist pants, your stomach actually looks bigger than it is. Always wear pants that fit at your natural waist for the best look.
Are belts or suspenders more slimming?
Some style experts argue suspenders are best as they don't draw as much attention to your waist. However, a well-coordinated belt can look just as good. Much of this comes down to personal preference. But, make sure your pants aren't sagging as this makes you look bigger. Use this guide to pick the perfect belt.
Image credit: Mike Delima via Pexels
Subscribe to our newsletter!
Get the best of ModernRatio delivered right to your inbox!