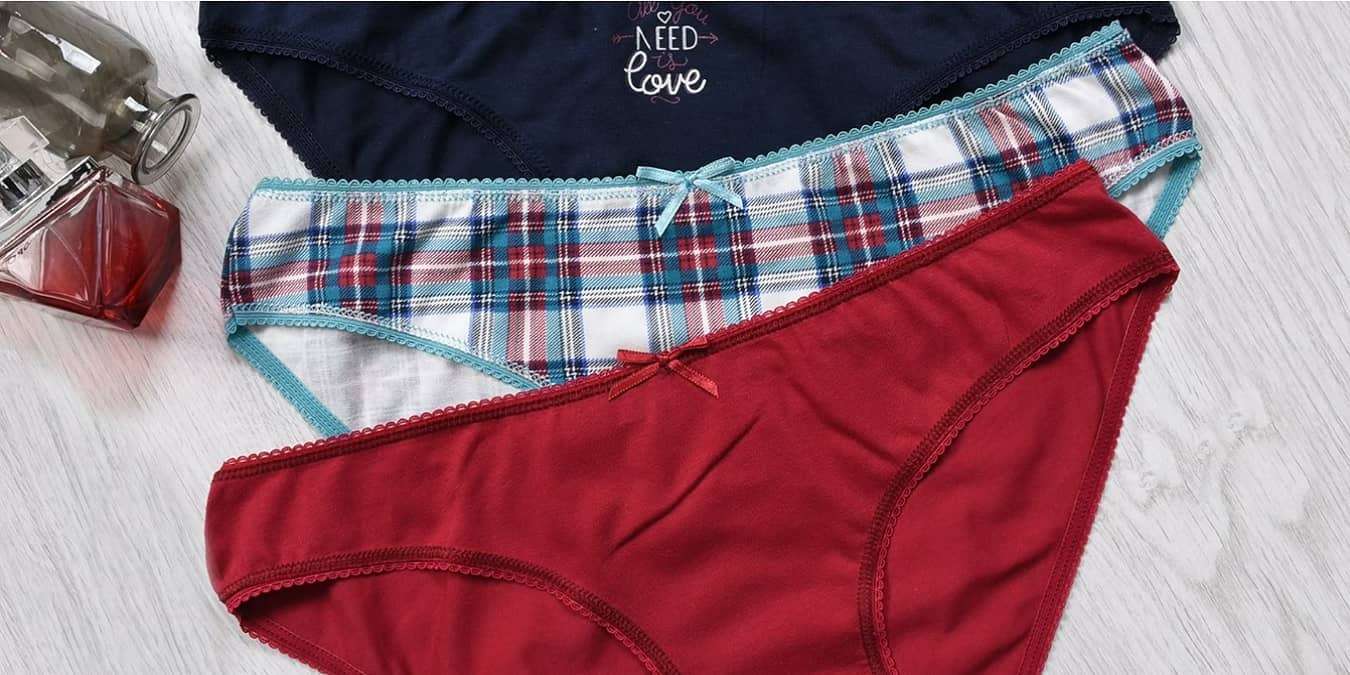 On what basis do you select your panties? You might buy panties based on the amount of lace they have, their patterns, or their colors. But when you pay no attention to the style or type of panty you're buying, your comfort will suffer. That's why it's important to understand women's panty styles and types.
All panties are created with different purposes in mind. Each type is made to go underneath certain styles of pants, dresses, or shorts. However, you don't have to wear every style of panty for their exact intended purpose. All that matters is what's most comfortable to you!
1. Briefs
What's the first image that comes to your mind when you think of briefs? Probably your grandpa's tighty-whities. But women's briefs (thankfully) look nothing like that.
Briefs are the most comfortable panty option, especially if you like full cheek coverage. They typically come in low-rise and high-rise styles, making them perfect to wear under your favorite pair of jeans regardless of cut or style. When looking for panty briefs, make sure to find a pair that won't bunch or ride up.
2. Boyshorts
Like briefs, boyshorts provide total cheek coverage. They extend slightly down the thigh, just like men's briefs – that's why they're called "boy" shorts.
You'll find that boyshorts are typically made from fabrics designed for all-day comfort, such as microfiber, cotton, and nylon. Not only can you wear boyshorts under sweatpants or jeans, but you can also wear them underneath skirts and dresses – that way, you won't have to worry about accidentally flashing someone!
3. Hipster
Hipster panties don't have anything to do with hipster culture. They're called "hipsters" because they sit below your waist, right on your hips. With hipsters, you don't have to worry about your underwear sticking out of the top of your pants when you bend down. They're low-cut enough to stay discreet.
That said, you can wear hipsters with just about any type of pants, dress, or skirt. Make sure you stock up on this versatile panty!
4. High-Cut/French-Cut
You might think high-cut panties look like "granny panties," but hear me out! Their high-cut leg holes reach the top of your thigh, allowing for extra comfort. High-cut panties also sit securely above your hips, which actually provides some moderate tummy control.
Pair your high-cut panties with high-rise jeans or shorts. High-cut underwear isn't compatible with low-rise pants because they fall above the hips, but they make up for that with their ability to elegantly shape your waist.
5. Seamless
Seamless panties aren't necessarily a specific type of panty, but it's a quality you should look out for. You'll notice that seamless panties come in all sorts of shapes and styles including boyshorts, briefs, hipsters (and pretty much every panty type on this list).
When you wear regular underwear, do you notice panty lines that show through your pants or leggings? Seamless panties completely eliminate panty lines, as they're made with no stitching whatsoever. You can wear seamless panties under virtually anything – they'll make you look and feel as if you're wearing nothing at all!
6. Thong
Thongs get rid of panty lines by providing very little cheek coverage. I guess you can say that their cheekiness makes them the most notoriously sexy underwear.
You don't have to wear thongs just because of their sexiness factor – they also come in handy when you want to wear tights, leggings, pencil skirts, or tight dresses. Visible panty lines can ruin any of those outfits, so wearing a thong can help you look your best.
7. Bikini
Think of bikini panties like a cross between a thong and brief underwear. While they're not as dramatic as thongs, they still have an air of sensuality thanks to their low-rise look and slight cheekiness.
Bikini panties are casual enough for everyday wear. You can pair them with just about any type of pants or dress, but you might want to choose a seamless pair if you're worried about panty lines.
8. G-String
G-strings have a thong-like shape in back, which leave your cheeks fully exposed. They offer even less coverage than thongs, as the straps around your hips are mere strings. You can find g-strings in more dainty fabrics like satin or lace.
You'll want to wear g-strings with any piece of tight clothing. While they'll leave you with no panty lines, they're not the most comfortable type of panty to wear 24/7.
9. Control Briefs
If you're self-conscious about your stomach, slap on some control panties for that extra boost in self-esteem. You can find some control panties that land just above your belly button, while others rise to the top of your abdomen.
Either way, these panties are designed to give you a slim and smooth appearance. They'll make you feel carefree in any bodycon dress, pencil skirt, or leggings.
10. Brazilian Briefs
Brazilian briefs are a thong and bikini hybrid. They have high-cut leg holes and leave your cheeks partially exposed. If you're not ready to transition from a bikini to a thong, Brazilian briefs can make you more comfortable with having less coverage.
You can wear Brazilian briefs with jeans, shorts, or skirts. Just keep in mind that there's a chance that they might ride up.
11. Activewear Panties
If you need great panties that keep up with you while exercising or playing sports, give activewear panties a try. These are designed more with function than style in mind, but having antimicrobial underwear that lets you skin breathe while wicking sweat away lets you focus on staying active versus uncomfortable panties. These are also called workout panties or athletic panties.
These can come in bikini, hipster, brief, and thong varieties. So pick whatever feels most comfortable to you. For athletes and more active lifestyles, this is one of the best women's panty styles.
12. Cheeky
Cheeky panties are often confused with Brazilian briefs. However, this women's panty style is more like a Brazilian brief mixed with hipster panties. Cheeky panties show a little less of your cheeks than Brazilian briefs, but the sides are cut higher than hipsters. It's a good middle ground if you want to show a little more cheek, but not too much.
While you can wear them with most anything, they do have a tendency to ride up a little.
13. Tanga
Want a comfortable mix between a thong, bikini, and hipster? Tanga is one of the more versatile women's panty styles, giving you slightly more coverage in back than a thong, a cut like a bikini, and sides like a hipster. However, some have string-bikini sides instead. If you're struggling to pick between those three styles, give tanga panties a try.
These panties are perfect for more form-fitting skirts, dresses, and pants since there isn't much of a panty line at all. They're also perfect for transitioning to a thong.
Don't Get Your Panties in a Bunch
You don't have to feel completely lost the next time you shop in Victoria's Secret. If you're not sure what type of panty you feel most comfortable with, I recommend trying multiple types. Wear a different style each day to get an idea of what you like best.
Now that you know the differences between each type of panty, take a look at our essential guide to shorts for women. Also, learn more about the different types of bras.
Frequently Asked Questions
Does the panty fabric matter?
Yes. However, much of this comes down to what you're doing and what your personal preferences are. Let's take a quick look at the most common panty fabrics for women:
Cotton – It's a soft, comfortable, breathable fabric that works well with most all skin types, including highly sensitive skin. However, it does absorb moisture, making your panties stick to you if you sweat much.
Synthetics – This usually includes polyester, nylon, and special activewear blends. These help wick away moisture better, making them more comfortable and sanitary for exercising and being out in the heat. Some of these fabrics are even antimicrobial to help reduce the chance of infections from sweaty underwear.
Special purpose fabrics – These can include everything from period panties with special absorption properties to wool for an extra layer of warmth in winter. You might want to pair those warmer panties with some of these warm winter weather fabrics.
Silk – If you want a luxurious feel, it's hard to beat silk. Plus, the thin fabric helps reduce moisture and regulates temperature, keeping things more comfortable downstairs.
Plant-based – While cotton is plant-based, other plant-based fabrics like modal and rayon give you the same softness as cotton (sometimes more), but don't absorb moisture quite as much. These are an ideal mix between cotton and synthetics.
What's the best time to try a new panty style?
Ideally, try out a new panty style when you can hang around your house for the day. After all, you don't want to spend all day at work, school, or out with friends while wearing uncomfortable panties. Give your new style a test run for several hours. If you're trying out activewear, do a workout at home to make sure the fit works well for you.
If you're going to wear a new style for the first time and you can't do a test run at home, throw a pair of your usual panties in your purse to quickly change if needed.
Should I try all the different styles?
This is up to you. There are a wide variety of panty styles for a reason. Every woman has her own preferences. Go with what makes you feel the most comfortable and confident. While everyone you meet during the day aren't going to see what you're wearing under your skirt or pants, a great pair of panties just makes you feel good and that's what matters.
Image credit: Unsplash
Subscribe to our newsletter!
Get the best of ModernRatio delivered right to your inbox!