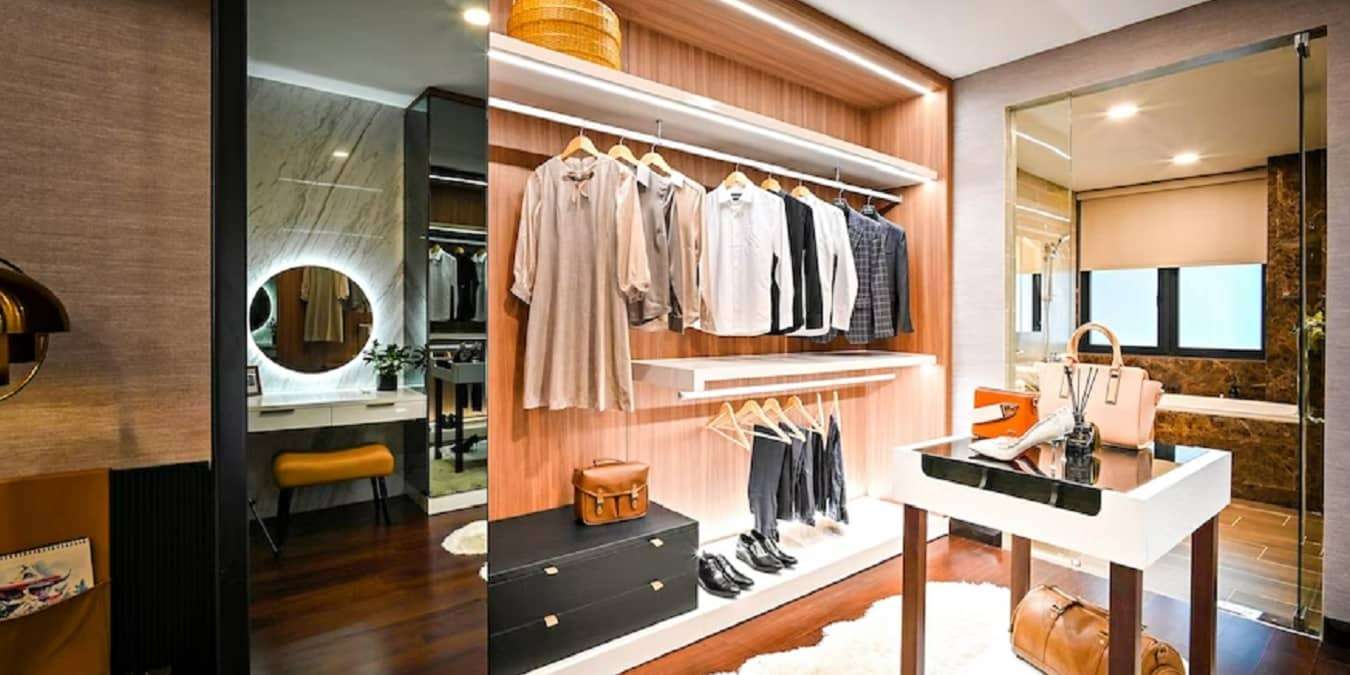 Want to makeover your closet and simply things with a capsule wardrobe? It's a common misconception that more clothing and accessories are better, but it just complicates things. Instead, take a minimal approach and learn how to build a new wardrobe that gives you just what you need without cramming your closet full.
What is a Capsule Wardrobe?
Before diving into how to build a capsule wardrobe, let's take a look at what it actually is. Typically, you buy more clothes to give you more options for outfits. After all, the more clothes, the easier it is to come up with creative new looks. But, this quickly just complicates the process of picking something out. It's harder to make decisions, clothes get crammed together, and you end up frustrated and just wearing the same few things over and over again.
The better option is the minimalist approach. Whether you have a small closet or just want to simplify picking out outfits, a capsule wardrobe is the solution. It's a limited amount of items that are interchangeable to create a wide variety of outfits. Typically, they're more neutral colors so each piece easily matches with another.
For example, you might have three shirts and three jackets. You can mix and match them to create nine separate looks. Add in two different bottoms and you get more outfits. But, your closet only has eight items in it. Not bad, right?
While the thought of downsizing your closet might terrify you, the benefits are hard to deny:
Skip the decision fatigue – Everything matches and it only takes a few minutes to put together your look for the day.
Create a sustainable wardrobe – Instead of filling your closet with trendy items that go out of style quickly, a capsule makeover gives you timeless pieces that are always stylish, letting you wear them for years.
Save valuable time – Once you know what items work best for you, it's easier to pick out replacements or a few extra items. Plus, you don't spend as much time digging through your closet.
Decrease stress – Less stuff in your closet means less time trying to rearrange things, finding things that still fit right, and less worry on picking the right items when traveling. Overall, it just makes life easier.
Save money – When you're buying interchangeable pieces, you don't need to buy as many clothes. Plus, this forces you to mainly buy items you'll wear regularly versus a closet full of one-off items.
Starting to Build a Capsule Wardrobe
There are two things you need to do before you start buying anything – clean out your closet and decide how many items you'll need.
The Closet Audit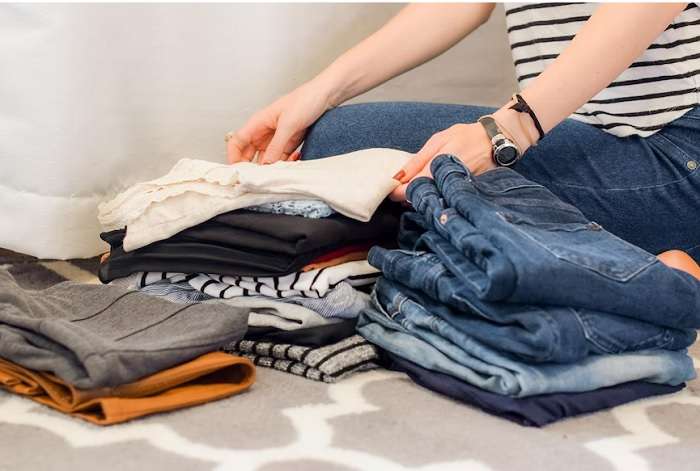 The first step is probably the hardest. You need to do a complete audit of your closet. During your audit, consider the following:
When was the last time you wore an item? If it's been a while and you don't see yourself wearing it anytime soon, it's not worth keeping. The only exception is if it's a special occasion item, such as a formal dress or suit that still fits well that you may need for a future special occasion.
Is the item from a trend that isn't trendy anymore and likely won't be again? When you're holding on to clothes you only bought because of a trend and don't wear anymore, it's time to donate them or sell them to online thrift shops to give you extra money for your new wardrobe.
Does an item still fit with your lifestyle? Do you have an entire section of your closet dedicated to a different time in your life? For instance, if you worked a corporate job, but now work from home, you probably don't need nearly as much business professional clothing.
Do you wear it regularly? If it's a go-to item, keep it. It can become a part of your new wardrobe.
Does it fit well? This should go without saying, but if it doesn't fit well and you're not comfortable in it, it's time to let it go.
By now, you should have far fewer items in your closet. For items you want to keep, but rarely wear, consider vacuum storage bags to save space and keep them nice and clean until you need them again.
Determining Your Desired Style
The next step is figuring out the basics of your capsule wardrobe. At this point, you're not picking out clothes yet, but just determining your style. A great place to start is by looking at what clothes you kept during your closet audit.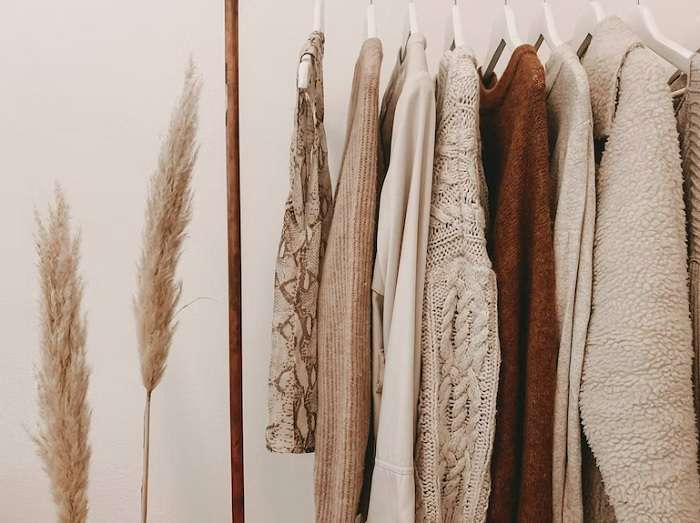 Do your clothes have certain colors in common? Are there specific types of material or styles you prefer? Is your style more casual or professional or a mix?
Another option is to pick a few style icons you love. Look at their fashion choices to determine colors and styles to see what you might want to add to your wardrobe.
Next, thing about your own lifestyle. If you workout, have an office job, and volunteer on weekends, you'll need three sets of clothing to match the different areas of your life. Each set is still minimal and interchangeable, but you want your wardrobe to work with each part of your life.
Finally, consider the seasons. In areas where the seasons are drastically different, you'll want season capsule wardrobes. You can pack away each season to make room for the new one. Then, just rotate as needed. Usually, you'll only need 2-4 sets depending on your locale.
Picking Your Items
Now for the fun part – buying new clothes and accessories! You should already have at least a few things from your closet audit. Both men and women benefit from building their own capsule wardrobe. While you should always pick what works best for you, fashion experts have a few guidelines to help make your choices easier.
Capsule Wardrobe for Women
Building your new wardrobe starts with just five steps:
Choose a foundation color. This is usually a dark neutral color, such as black, navy, or even dark brown.
Add neutral colors for your essential items. These colors are usually white, beige, gray, and similar colors that tend to match everything.
Pick a few accent colors and patterns. If you want a few pops of color, pick a few brighter or bolder colors, such as pink, green, or burgundy. You can also add in a few patterned items, such as stripes. If you'd rather keep it all neutral, then skip this step.
Add your layers. This includes coats, cardigans, wraps, etc. These are in your neutral colors.
Add in your shoes and other accessories. Pick a few pairs of shoes that match everything your wardrobe. Have at least one pair for each area of your lifestyle, such as work, home, and fitness. Next, pick accessories like purses, hats, scarves, and jewelry that match seamlessly with your other items.
Ideally, you should have 4-6 tops, 4-5 bottoms, 2-3 top layers, and a few dresses or skirts. These can include:
Tops – A few dressier blouses and a couple of t-shirts. Depending on the season, you'll also want 3-4 sweaters and tank tops.
Bottoms – Jeans, slacks, lounge pants
Layers – Pick at least two cardigans, coats, blazers, etc. that layer with your tops well (tank tops also work well for layering under items too)
Dresses/skirts – One formal and one casual option for both (skip this completely if you never wear dresses or skirts)
For shoes, usually all you need is one or two pairs of dressier shoes, such as heels or flats, a pair of nice sneakers, and a pair of sandals if you're in a warmer climate.
Men's Capsule Wardrobe
While building a men's capsule wardrobe isn't much different than a woman's, it's usually a bit easier for guys. Overall, you'll need:
8-10 tops – T-shirts, button-up shirts, polos, etc.
2-4 bottoms – Jeans and slacks
2 outer layers – Casual and dressier jackets
2-3 pairs of shoes – At least one dressier and one casual
Enough underwear and socks to last at least one week
Obviously, you want everything to mix and match seamlessly. So, consider the following:
Stick with neutral colors
Use a darker core color for jackets and bottoms for contrast
Consider adding in few pops of colors, such as red or green shirt under a dark blazer
Pick a dark pair of jeans as they look both casual and dressy at the same time
Remember, the key to any capsule wardrobe is to keep things simple. Always pick items that are interchangeable with other items in your closet.
Frequently Asked Questions
How often should I buy new clothes?
If you love shopping for clothes, switching to a more minimal wardrobe might seem daunting. But, this doesn't mean you can't buy something new now and then. Buy a new top or bottom each season.
Some people actually buy a completely new wardrobe each year and donate or sell the previous year's wardrobe. This lets you have something new every year, but still keeps things simple. And, since you're not buying a lot of items, it's still cost effective. Consider going to thrift shops when you replace your wardrobe since it's a more sustainable option.
Can I have more of certain items like t-shirts?
The numbers above are just guidelines. If you hate doing laundry, you'll probably want at least one top for each day of the week. After all, close fitting shirts like t-shirts and tank tops get dirty and stinky fast. So, it's perfectly okay to have 7-8 shirts.
The idea is to just keep things manageable. You don't want to end up with a month's worth of the same type of shirt in your closet.
Image credit: Huy Nguyen via Unsplash
Subscribe to our newsletter!
Get the best of ModernRatio delivered right to your inbox!