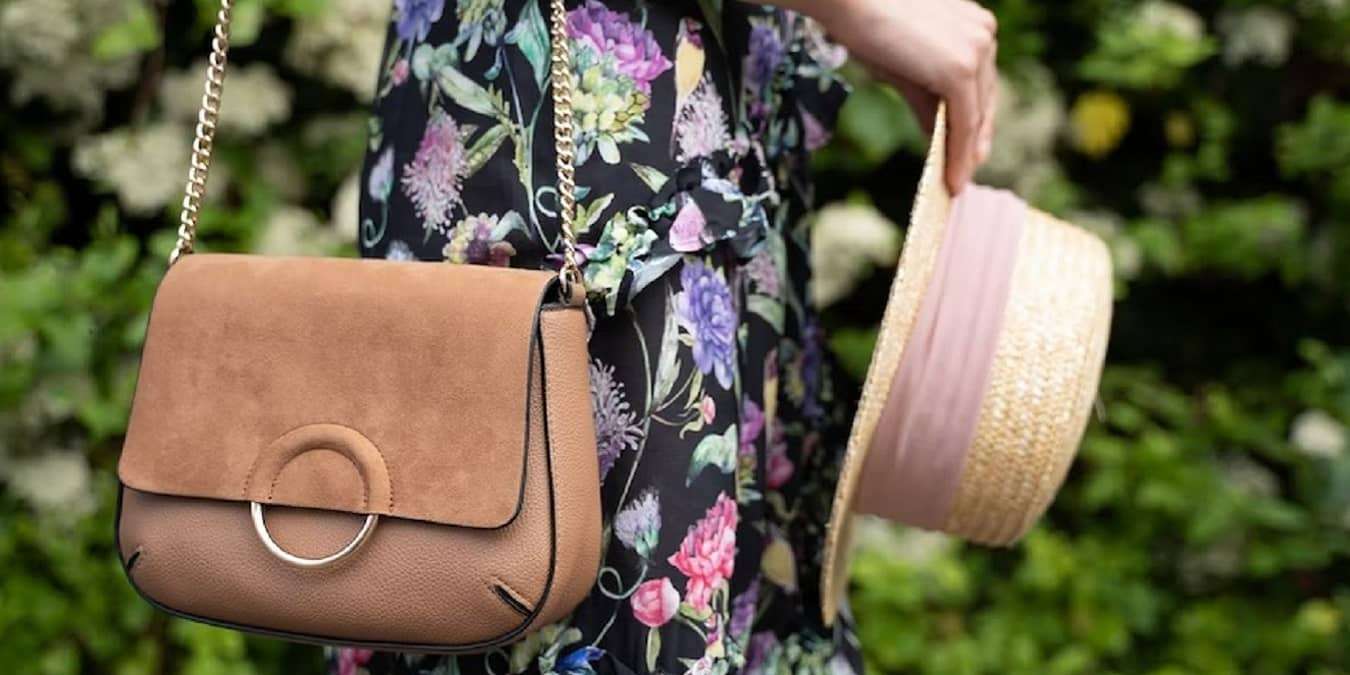 It's easy to become a collector of handbags. When there are so many colors, sizes, and patterns to choose from, how can we resist? Plus, different types of handbags have several different uses.
If you're not aware of the many handbag options, that could be a sign that you have too many handbags of a given style. Diversify your purse collection with these essential handbags suitable for every occasion!
1. Crossbody Bag
Crossbody bags typically have a long and thin strap that reaches across your body. These lightweight bags don't have a very large capacity, but they're still perfect for everyday use.
On those days where you only need your wallet, keys, and a tube of lipstick, strap on a crossbody bag. Feel free to wear a crossbody bag all-day – it's so light that you'll barely notice it!
2. Shoulder Bag
A shoulder bag is a staple in the world of handbags. Just about every woman has one, as they're the most versatile of the bunch. You can find large and medium-sized shoulder bags, but you can always expect them to have enough room for your entire makeup collection.
These handbags sit right on your shoulder. That said, you might not want to stuff tons of items in your bag, or you could risk getting a sore back.
3. Satchel
Satchels are the best handbags to bring to work. Not only can you fit your wallet, keys, and other essentials, but they're also big enough for you to store a small laptop, tablet, and other devices.
These bags come with two straps – you can choose to carry the bag by your side, or you can sling it over your shoulder. This versatility makes satchels great for weekends at the mall or for long days at work.
4. Hobo Bag
Hobo bags are characterized by a signature slouchy look. They're wide at the bottom, and taper towards the opening. It gives you a chic yet tomboyish style that you can rock just about anywhere.
They tend to have an ample amount of space, with one hand and one shoulder strap. Add this bag to your closet if you want to add some variety to your look.
5. Clutch
When you're going to a wedding, gala, dinner, or other formal event, you don't want to lug around a large purse. You'll be spending part of the day on your feet (and possibly dancing) so a clutch is the most ideal way to store your essentials.
Clutches are small enough to grasp with your hand. Some of them come with a strap that goes around your wrist or shoulders. You'll want to pack light when you have a clutch – a small wallet, car keys, and lipstick is about all you can fit!
6. Backpack Purse
High school students aren't the only ones wearing backpacks these days. Trendy backpack purses won't make you look like a student, they'll give you a lot more style.
Backpack purses have plenty of room for your laptop, snacks, extra clothes, and any other item you might need throughout the day. They look extra fashionable when they have a buckle accent, or when they're made of sleek leather or nylon.
7. Messenger Bag
Want a bag on the durable side? Messenger bags allow you to carry small electronic devices without having to worry about damaging them. Some messenger bags (like the one above) are even made with water-resistant material perfect for rainy days.
Messenger bags slide over one of your shoulders in a comfortable crossbody style. Switch it up, and make a messenger bag your go-to purse for work!
8. Belt Bag/Fanny Pack
I bet you never expected fanny packs to make a comeback, and yet, the trend has been revived. Thankfully, they don't resemble the bright and bulky fanny packs from the 80s – they look a lot less tacky.
Belt bags wrap around your waist and sit off to one side. If you get tired of wearing it around your waist, you can always sling it over your shoulder instead.
9. Saddle Bag
Give yourself a boho and country vibe with a saddle bag. These purses are inspired by the bags hung off the side of a saddle, but that doesn't mean they don't look amazing with the right outfit.
Saddle bags have a rounded look with a large flap on top. Some even come with tassels that add to its classic western look.
10. Bucket Bag
The name "bucket bag" might not sound so appealing, however, the name is very deceiving. These unique bags come with either a drawstring, magnetic fastener, or a completely open top. They have a cylindrical appearance that you can't find with any other bag.
Carry bucket bags across your body or use it as a shoulder bag. These bags vary in size – while some have tons of room, others are best for small items.
11. Bowler Bag
Inspired by bowling bags, a bowler bag is the more elegant version to carry all your necessities and then some. These bags have two handles and sometimes a shoulder strap as well. The unique design tends to make them more roomy and easier to dig through thanks to the large zippered opening.
Think of these as satchels, but with bigger openings. They often come in bright patterns, letting you express your personality even more.
12. Wristlet
Wristlets and clutches are often confused since they're so similar. They're both designed to hold just a few small items, such as a phone, lipstick, and a money. The biggest difference, though, is wristlets are made to be carried on the wrist. So, if you just want a tiny handbag to carry by your wrist on with your hand, this is the best option.
If you want a shoulder strap, opt for a clutch instead.
13. Fold-Over Bag
As the name implies, a fold-over bag has a fold-over top. This is usually either an extra compartment that folds over the top of your bag to close the main section, or it's actually the opening to the main section.
Many women love these because you can easily expand your purse at will. This style comes in a variety of types, such as shoulder, crossover, and even clutches and wristlets.
Frequently Asked Questions
How many types of handbags should I have at one time?
As many as you want. Ideally, you should have at least three – a larger bag for everyday, a smaller bag, and a clutch or wristlet for more formal occasions. If you're trying to simplify your closet, learn how to create a capsule wardrobe, including choosing just a few handbags to match everything.
Does price matter when it comes to handbags?
Yes and no. As with most items, designer labels will cost more, but that doesn't necessarily mean they're better or last longer. You can often find higher end designer handbags at online thrift shops at a steep discount. But, don't discount brands you've never heard of. Check reviews and you might just find your perfect handbag for less than $25.
Image credit: Rodrigo Santos via Unsplash
Subscribe to our newsletter!
Get the best of ModernRatio delivered right to your inbox!