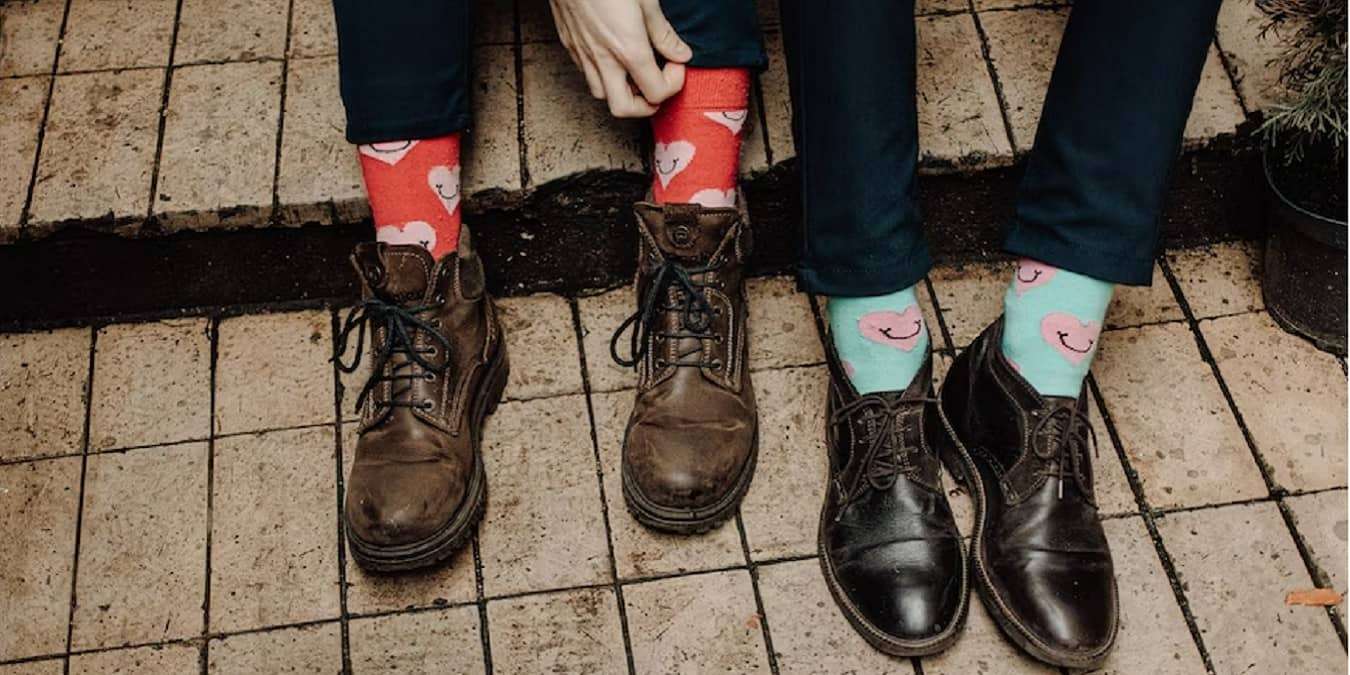 You probably spend an inordinate amount of time putting together your outfits to make sure they look just right. You layer up, pick the perfect pair of pants, match your belt and shoes, and then hit the road.
But do you spend any time thinking about your socks? Do you just throw on whatever pair is sitting atop your drawer? Perhaps it's time to gain some understanding of the different sock styles so you can make sure you're wearing the right pair for the job.
1. Over the Calf Socks
Over the calf socks are designed for those long days when you really don't want your socks to fall down around your ankles. They're the longest socks you'll have in your dresser, and they definitely serve a purely functional purpose.
In terms of style, they can be worn with pretty much anything other than shorts. They're a versatile sock, but they're also one you can totally live without if you don't have issues with your socks falling down throughout the day.
2. Mid-Calf Socks
Mid-calf socks are the go-to for just about any situation. With just about any pair of shoes, you can wear a mid-calf sock. Sneakers, dress shoes, loafers, boots; you name it and a pair of mid-calf socks will go perfectly with them. You can even wear these with shorts, you just need to be a little more careful with how you match colors.
The thing with this style of socks is that they're the most popular, so you can find them in literally any pattern and color scheme. If you want a pair with your favorite band on it, you can get them. If you want a simple pair in a solid color, you can snag them, too.
3. Ankle Socks
Generally, ankle socks only serve one purpose: being worn for athletic endeavors. They have almost no place in style, so your best bet is to avoid them with just about any outfit unless you're planning on hitting the gym or going for a run. Whether you're wearing shorts or pants, the other sock options are always a better choice for fashion.
The primary difference between ankle socks and no-show socks is that ankle socks are designed to sit above the shoe, offering complete blister protection while working out. The trade-off is that they don't look as good with low sneakers, and they're too low to wear with high-top shoes.
4. No Show Socks
When it comes to low socks, no-show is the lowest of the low. They're designed to offer the same protection and insulation of a full-sized sock, but without being visible under your shoes. Anytime you want to show off some naked ankle, no-show socks are the perfect option. A pair of no-show socks is particularly effective when paired with low sneakers or boat shoes and shorts. A pair of slip-on Vans with some no-show socks is a classic look that can be worn with just about anything.
During the summer, these are going to be your go-to option, as they're perfect with shorts.
Just make sure to avoid wearing them with boots, high-tops, or sandals. If you wear them with shoes that are too high, you could end up with blisters on your foot. And as far as the sandals go, you should never wear any socks with sandals regardless of the situation.
As far as color goes, you can wear pretty much whatever you want, since these socks are designed specifically not to be seen anyway.
5. Types of Socks
Now that we've covered the main men's sock styles, you need to also think about the type or purpose of the sock. For instance, if you go to buy mid-calf socks, you'll find several different types and materials.
The main types you'll encounter for all of the above sock styles include:
Athletic Socks
These are more durable socks and designed for sports, walking, hiking, and just everyday wear. What makes them so great is they often have breathable fabric, moisture wicking properties, and a little extra cushion in the toes and heels. While the exact features may vary, just check the package to ensure the socks have the features you want.
For instance, as a runner, you might want a breathable mesh panel along the arch. But, as a skier, you'll want thicker athletic socks to keep your feet from freezing off.
Protective Socks
These aren't the most comfortable socks, but they'll keep your feet protected for extreme conditions. Going hiking for a week? Going to be stuck in wet conditions and don't want athlete's foot? Going mountain climbing in the cold? Whatever you're up to, protective socks are the way to keep your feet, well…protected. They're thicker and come in different varieties to protect you against the elements. Often, these are called protective athletic socks as well.
If you're wearing these to stay warm in the winter, consider pairing them with winterized sneakers.
Dress Socks
Men's dress socks are often thinner than other varieties. During colder months, wool dress socks will keep your feet warmer. The thinner design makes them fit better into dress shoes. While you could stick with a solid color, patterns and prints are definitely a fun way to spice up your office attire.
Compression Socks
Finally, we've got compression socks. These are ideal for sports, recovering from an injury, or if you have certain medical conditions that cause swelling in your legs. As the name implies, they fit tightly to compress your leg. The purpose is to better protect your legs to prevent injury and reduce pain. It's a good idea to check with your doctor before wearing these regularly to ensure they're right for you.
6. Choosing the Right Fabric
Thought we were done? Not quite yet. I know it's easy to just buy the first bag of socks you see, but your feet will thank you for reading this guide. As a final part of understanding men's sock styles, you need to think about the fabric. Most socks are one of the following:
Cotton – It's lightweight, durable, and the cheapest option.
Wool – It's perfect for keeping feet warm, yet cool at the same time. They also don't absorb water as much as cotton. To cut down on the itchiness of wool, look for a synthetic blend.
Silk – It's purely for formal occasions. This fabric also tends to wear out quickly.
Cashmere – It's a luxurious fabric your feet will love. However, cashmere isn't as durable as wool and it's hand-wash only.
Synthetic – While less breathable and comfortable, completely synthetic socks are great for athletics. However, the best option is one of the fabrics above mixed with synthetic fibers to get the best of everything.
Frequently Asked Questions
Do I need every sock style?
Nope. Just buy what you need. Consider your job and hobbies and buy what's appropriate.
Are expensive socks worth it?
As you shop, you'll notice men's socks come in a variety of prices. From a few bucks a pair to well over $50 for a pair. Part of the pricing is due to the fabric. Wool is more expensive than cotton and silk and cashmere are more expensive than wool. The brand and special features also drive the price up. Consider more budget-friendly brands for more affordable socks. You can also try a men's style subscription box to try out new things every month.
Image credit: Unsplash
Subscribe to our newsletter!
Get the best of ModernRatio delivered right to your inbox!