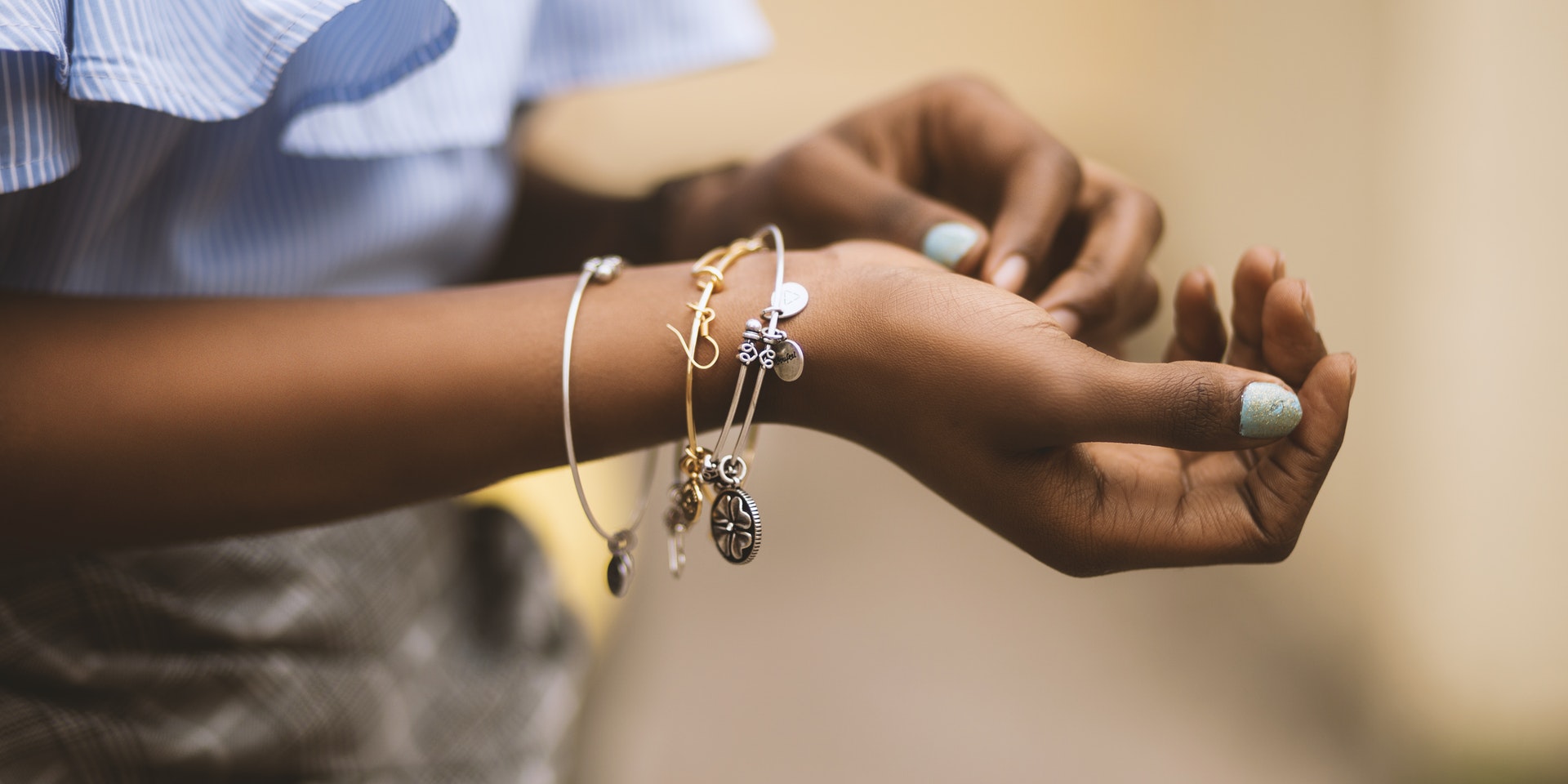 There's no shame in wearing cheap jewelry pieces. After all, it's not like anyone will actually know you're wearing cubic zirconia unless they take a magnifying glass to it.
If you're prone to losing jewelry, or if you just want to save cash, you should try wearing affordable jewelry instead. These budget jewelry pieces look like they cost way more than their actual price!
1. Amazon Essentials Plated Sterling Silver Lever Back Earrings
Sure, these earrings don't have solid gold backings, nor are they made with actual diamonds, but they're the perfect alternative to the real thing. These affordable earrings add an elegant touch to your outfit, and you won't have to freak out if you ever lose them. Just keep in mind that the plating can rub off if you don't store them correctly, or if you wear them very often.
2. Pavoi 14K Gold-Plated Opal Ring
For under $20, you can have a gorgeous plated ring with faux diamonds, as well as a colorful opal. The adjustable ring comes in three colors: rose gold, white gold, and yellow gold. Although this ring is cheap, the nickel-free finish ensures that it won't turn your finger green!
3. Phnibird Sterling Silver Cubic Zirconia Necklace
This necklace offers a simple, yet chic addition to your outfit. The silver twist design and cubic zirconia gems make it suitable to wear every day, or even for formal events. Its eye-catching shine definitely doesn't make it look like a budget piece. Plus, it's sterling silver plated, making it hypoallergenic.
If you don't like this one, you can get the same twist design from the same listing with pearls, moonstone, and even gold.
4. Finetoo Multi-Layer Wrap Leather Bracelet
If you're going for a boho look, add this multi-layer bracelet to your jewelry box. This bracelet comes in at under $15, and features a resin gemstone, faux leather, a magnetic buckle, and a sparkling diamond-like chain.
5. Dorriss Cable Cuff Bracelet
This affordable bracelet resembles the designer cable bracelets by David Yurman. When this cheap bracelet looks just as good as its $300 lookalike, why not save the extra money? The beautiful stainless steel cable features a subtle rhinestone ring in the center. You can get it in silver, rose gold, gold, or a silver/gold mix.
6. Lateefah Gold Feather Long Chain Necklace
This stunning, long necklace is the perfect accent to a solid-colored top or dress. The piece features two feathers made of high-quality alloy, while the chain is crafted from copper. If you're not a fan of the rose gold color, you can opt for yellow gold or silver instead.
7. AlenCOCO 18K Gold-Plated Black Rose Flower Studs
These detailed black rose earrings have a shiny, gold-plated backing. Not only do they have an authentic look, but they also come in three different sizes to help you find the best fit for your ears. They may look tiny, but they'll definitely make an impact on your outfit.
8. Barzel 18K Gold-Plated Filigree Hoop Earrings
Barzel's Hoop Earrings really give you a bang for your buck, as it's hard to find such intricate jewelry for a low price. The earrings are made with white gold-plated brass, and come with a beautiful filigree design. In addition to silver, the pair is available in rose gold and yellow gold as well.
9. Amazon Collection Gold-Plated Sterling Silver Criss-Cross Ring
Amazon Collection's Gold-Plated Criss-Cross Ring comes with Swarovski Zirconia that closely resembles real diamonds. Not to mention that the criss-cross style makes a lovely statement.
10. Pavoi Handpicked Freshwater Cultured Single Pearl Necklace
Pearls are timeless – you need at least one piece of jewelry with pearls, as they mesh with almost everything. This pearl necklace from Pavoi offers a delicate plated chain with an elegant cultured pearl.
11. Alexcraft Small Huggie Hoop Earrings Set
What's better than cheap jewelry that looks expensive? Getting multiple pairs of earrings for less than $20. These small hoops from Alexcraft come in several different sets ranging from 3-6 pairs per set. They're made of brass (both nickel and lead-free) and plated with 14K gold. My favorite is the 6-pair silver set featuring twists, clear stones, and plain hoops. After all, every woman needs some cute dainty hoops in her jewelry collection for everyday wear and special occasions.
12. Silvershake Sterling Silver Natural Moonstone Ring
This cute ring from Silvershake is dainty and has a vintage-style look to it. The shiny moonstone works well with any outfit. Plus, it's made of sterling silver, meaning no green ring around your finger. It's designed with anti-tarnish protection as well to continue looking like new no matter how much you wear it.
13. Kanoue 5 Cubic Zirconia Dainty Necklaces
I adore jewelry that comes with interchangeable pieces and this set from Kanoue is perfect for matching to most any outfit. While it might be a cheap jewelry piece at just $17, the sterling silver chain comes with five cubic zirconia charms in different colors. You can choose from hearts, circles, and teardrops in both gold or silver.
For more thrifty finds, check out the best stores for clearance clothes at a discount. And, pair your new jewelry with these affordable, yet stylish handbags.
Frequently Asked Questions
Can I wear cheap jewelry if I have sensitive skin?
If the jewelry contains nickel or lead, you may get a rash from wearing it. Try to find cheap .925 sterling silver instead. Jewelry made from brass, but plated with sterling silver or 14K gold may also be okay.
How can I keep my skin from turning green?
Cheap jewelry gets a bad reputation for turning your skin green. This is simply a chemical reaction between certain metals and your skin. Most often, this comes from nickel, alloys (mixed metals) and copper lead jewelry. Some people even have this problem with sterling silver and 14K gold when it's mixed with other metals.
If your skin tends to turn green easily, try to find rhodium-plated jewelry, which prevents the reaction. Also, avoid any jewelry that causes a reaction during hot days and while swimming as this can cause oxidation and the green ring.
Many people also paint a thin coat of clear nail polish on the part of the jewelry that touches the skin. It doesn't always work, but it's worth trying.
Image credit: Unsplash
Subscribe to our newsletter!
Get the best of ModernRatio delivered right to your inbox!