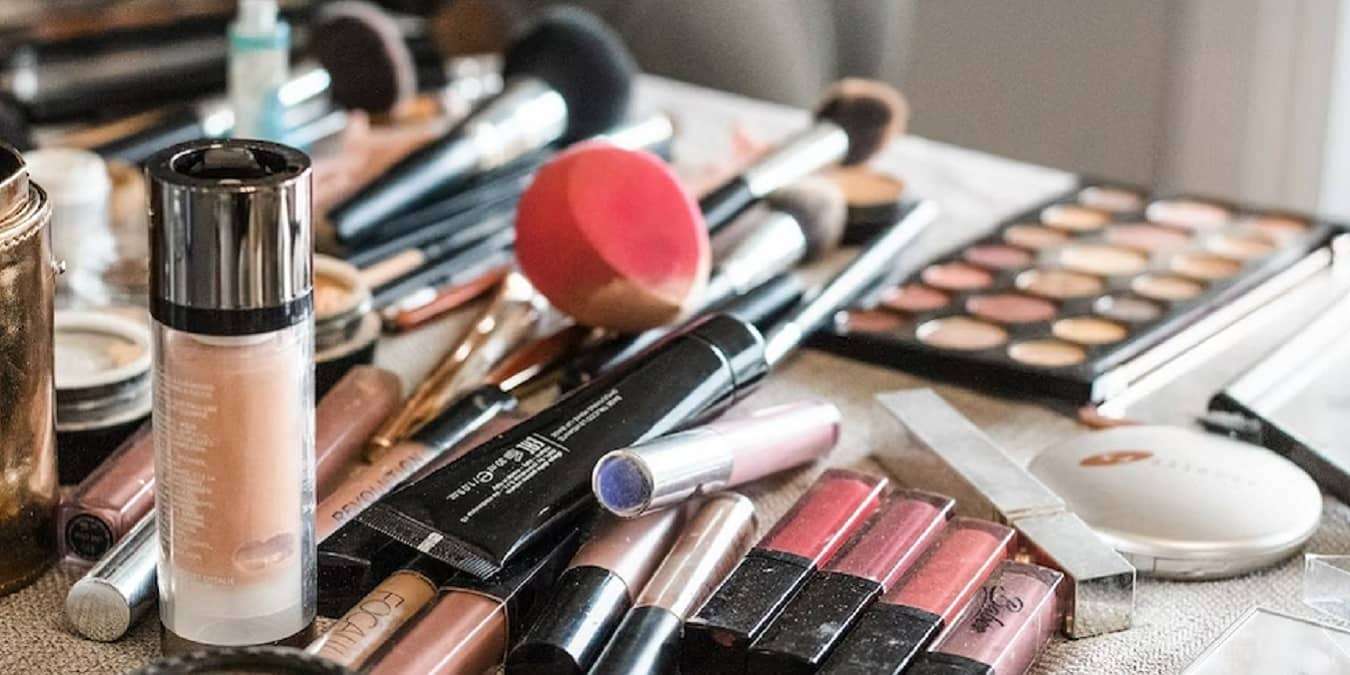 When you're new to the world of makeup, you might think that a highlighter is something that you use on paper. If that's the case, don't get stressed out. We've all experienced the confusion associated with beauty terms.
That's why we've created a glossary of the most important makeup and beauty terms. This list will make your life way easier, especially when you take a trip to the beauty store or chat with your makeup-savvy friends.
Ampoule
A gel-like formula that contains a high concentration of a specific ingredient that's beneficial to your skin. Most of the time, it works to fight wrinkles and brighten your skin. You'll usually find ampoules in a small bottle with an eyedropper.
Baking
The act of brushing a heavy layer of translucent powder on your face, and leaving it on for five to ten minutes. Your natural body heat sets the powder, along with the foundation and concealer that you put on underneath. Once the makeup is finished "baking," you brush off the excess powder.
Baked Eyeshadow
Easy-to-apply eyeshadow that you can use wet or dry.
BB Cream
Beauty balm that works as an all-in-one moisturizer and foundation. Learn more about BB cream and the best ones for your skin type.
Benzoyl Peroxide
An acne-fighting ingredient that's used in cleansers and creams.
Blush
A reddish or pink-colored powder that you apply to the apples of your cheek.
Blush Draping
Sometimes just called draping, this is the process of using blush to contour your cheeks. By applying from your temples down to your cheeks, you give the appearance of a lighted face.
Bronzer
A powder that creates a tan, sun-kissed glow on your skin.
Brow Pencil
An eyebrow tool that fills in and defines your brows. They often come with a pigmented tip on one end, and an eyebrow brush on the other.
Brow Pomade
A cream-based eyebrow product that darkens and intensifies your brows.
Brow Gel
A clear liquid product that holds your eyebrow shape in place.
Cat-Eye
Eyeliner that fans out at the edge of your eye, and also runs down your inner corner and waterline.
CC Cream
Color-correcting cream that functions as both a moisturizer and foundation.
Color Corrector
A product that reduces the appearance of facial redness, dark circles, and dark spots.
Concealer
A creamy or liquid product that works to hide any blemishes on your face or dark areas under your eyes. It's usually applied after liquid foundation.
Contour/Contouring
A makeup technique that creates more sculpted, defined facial features. By using a mixture of light and dark makeup in specific areas, you alter the appearance of your face, such as have slimmer or sharper cheekbones.
Cut Crease
An eyeshadow technique that's used to emphasize your eyelid crease. It involves contrasting eyeshadow shades with no blending.
DD Cream
Dynamic-do-all creams specialize in smoothing out wrinkles and balancing your skin tone. It also functions as a lightweight foundation.
Dewy
Refers to the radiant, glowing finish of a BB cream or foundation.
Essence
A liquid that hydrates your skin and gets it ready for your moisturizer.
Exfoliant
A product that you use to remove the layer of dirt and dead skin cells from your face.
Eyelash Curler
A curved tool that's used to lift your eyelashes up and away from your eyes. It gives your eyelashes a longer, curled look.
Eyeliner
Eyeliner comes in the form of a pencil, pen, liquid, or cream. You can use it on your top lashline and your waterline to make your eyes appear bigger and more defined.
Eyeshadow
Pigmented powder that you brush onto your eyelids.
Falsies
Refers to fake eyelashes.
Foiling
Give your eyes a foil or metallic finish. All you need is a shimmery cream shadow, makeup setting spray, and an eyeshadow brush. Spray your brush with makeup setting spray, dip it into the shadow, and apply.
Foundation
A powder or creamy liquid that you apply to your face to establish a balanced and even skin tone.
Halo Eye
Give yourself the illusion of larger eyes by adding dark eye shadow from the center outward. Use a shimmering color in the center.
Highlighter
A powder or liquid product that reflects light. It's used to define your features, or to make certain features (like your nose) look smaller. You can apply it to your cheekbones, nose, inner eyes, and your cupid's bow.
K-Beauty
Refers to the Korean beauty industry. Learn more about the 10-Step Korean skincare routine.
Kabuki Brush
A thick, short brush that's used to apply powder foundation to your skin.
Lipstick
A creamy, colored product that darkens or reddens your lips.
Lip Gloss
A liquid product that makes your lips look shinier, and sometimes redder or pinker.
Lip Liner
A colored, crayon-like pen or pencil that you use to outline your lips. It works to define and shape your lips, and also lengthens the wear of your lipstick.
Lip Stain
A gel-like or liquid product that sets a color into your lips. It lasts all day, and gives your lips a matte look.
Makeup Sponge
An absorbent makeup applicator that you use to get an even application of liquid foundation, powder foundation, and concealer. You can find makeup sponges in various shapes that each have different purposes.
Mascara
A (usually black or dark brown) liquid product that you brush onto your eyelashes. It works to darken and lengthen your eyelashes.
Matte
The non-shiny finish of foundation and BB creams.
Moisturizer
A cream that's used to hydrate your skin.
Monochromatic Makeup
Short on time? Use a single color for your eyes, lips, and cheeks. Instead of mixing and matching, pick a single shade. You can use multiple products in the same shade or opt for a monochromatic multi-stick for a single all-in-one product.
Overlining
Create fuller lips by drawing an line outside of your normal lip line. Even the tiniest bit beyond your lips is all it takes to create the illusion of much fuller lips.
Pressed Powder
A solid form of face powder that allows for a clean and accurate application. It's the opposite of loose powder, which consists of fine and loose powder grains.
Pigment
The concentration of color in a makeup product.
Primer
A liquid, cream, or powder makeup product that goes on before your foundation. It preps your skin for foundation, and makes your foundation last longer. In addition to smoothing your skin, primer also fills in visible pores and creases.
Root Stamping
Hold your mascara brush against the root of your eye lashes before sweeping across your lashes as usually. You'll look more awake without eye liner and get the appearance of thicker lashes.
Salicylic Acid
A skincare ingredient that shrinks and reduces the appearance of pimples. It's one of several effective acne fighting ingredients.
Setting Spray
You use setting spray on your face after applying makeup. It helps prevent your makeup from fading.
Serum
Like ampoules, serums are also a gel-like liquid with a high concentration of a skincare ingredient.
Stippling Brush
This brush helps you achieve an airbrushed effect, without an airbrush. With two sets of bristles (usually dense black ones at the base and white at the top), it gently blends tiny dots of makeup into your skin. It works best with liquid and cream foundations and bronzers. It's like a kabuki brush, but works best with liquids versus powder.
Strobing
This is a form of highlighting. However, you only focus on naturally sunlit areas, such as your brow bones, cheeks, and bridge of your nose. Apply your normal highlighter, but just in these areas.
Toner
Toner is very similar to essence, except toner is more watery. It goes on your face before your moisturizer to prep your skin for hydration.
T-Zone
Your forehead, nose, and chin form the T-Zone of your face. This area is usually more oily than the other parts of your face.
Waterline
The area between your eye and your eyelashes. You can put eyeliner on your waterline, but you have to make sure it's waterproof.
Winged Eyeliner
An eyeliner technique that forms a "wing" at the edge of your eyes.
More Makeup and Skincare Tips
Makeup is always changing. That means companies will constantly add new products and different ingredients to their makeup line. The best way to stay updated on the latest in makeup is to keep trying new products.
Want to know more about the world of makeup and skincare? Find out the proper way to clean your face without ruining your skin.
Image credit: Unsplash
Subscribe to our newsletter!
Get the best of ModernRatio delivered right to your inbox!