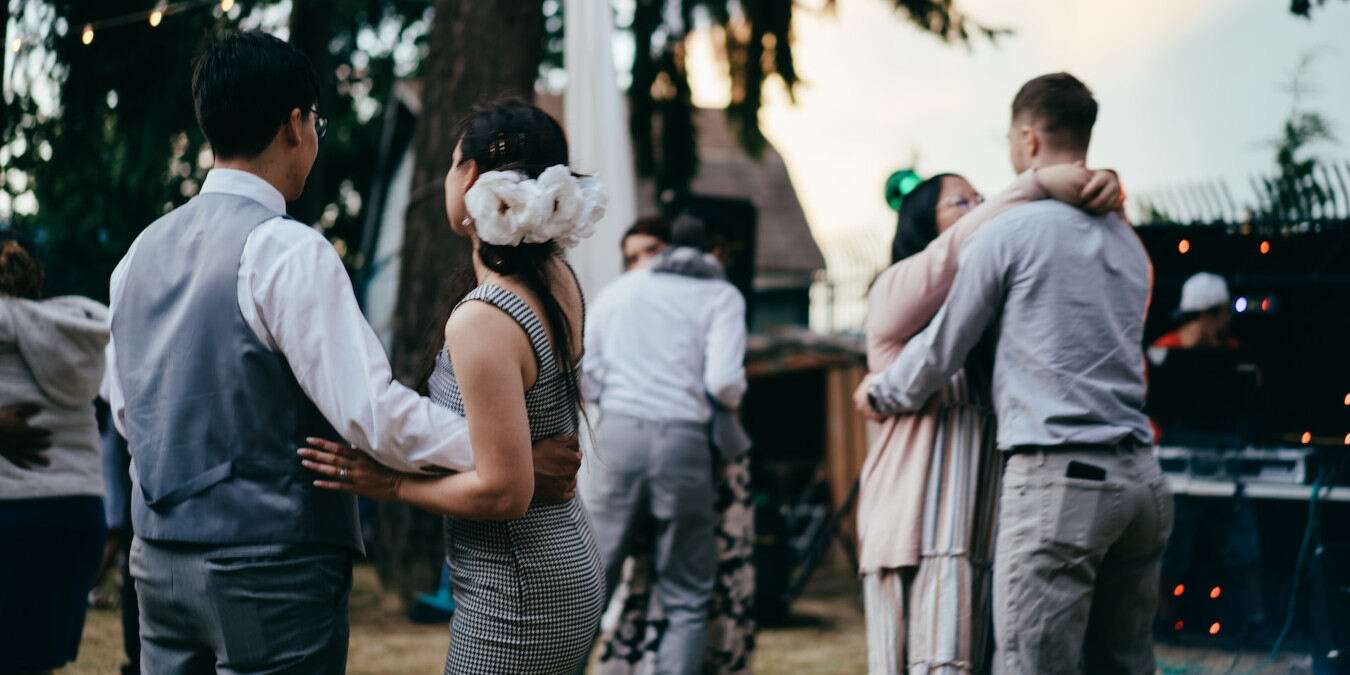 Attending a wedding is not just about celebrating love; it's also a chance to showcase your fashion while respecting the couple's vision for their big day. With the variety of wedding dress codes, figuring out what's appropriate to wear can sometimes be confusing. Don't worry, though! We've got you covered with this comprehensive guide to wedding guest attire and outfit suggestions for each wedding dress code that goes beyond basic dress recommendations.
1. Daytime/Casual Weddings
A casual wedding dress code typically indicates a more relaxed and informal attire for guests attending a wedding. This dress code is often used when the wedding occurs during the daytime when the wedding guest outfits should reflect the brightness and informality of the daytime setting. Other times, a casual dress code simply indicates that the wedding atmosphere is laid-back and not overly formal.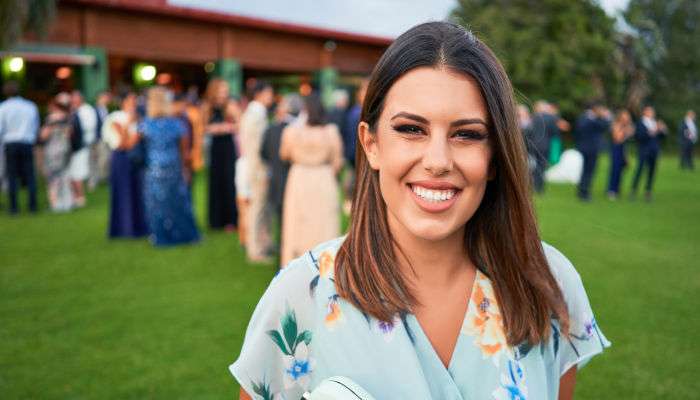 What to Wear for Casual Weddings
Keep in mind that even though the dress code is "casual," it's still a wedding, so wedding guest attire should avoid overly casual items like jeans, t-shirts, or sneakers. Instead, aim for outfits that are polished, put-together, and respectful of the occasion.
For female wedding guests, we recommend:
A sundress or a casual, flowy dress in light or pastel colors
A skirt or slacks paired with a nice blouse
Comfortable flats or low heels
Simple, understated jewelry and accessories
For male guests, consider wearing:
A dress shirt, likely without a tie
Slacks or dressy chinos
Loafers or dress shoes in a light color
2. Semi-Formal/Dressy Casual Weddings
"Semi-formal" or "dressy casual" wedding dress codes fall between casual and formal, striking a balance that combines elegance with a bit of relaxed comfort. In both cases, your wedding guest attire should make you look put-together and elegant without going to the extremes of a formal black-tie event.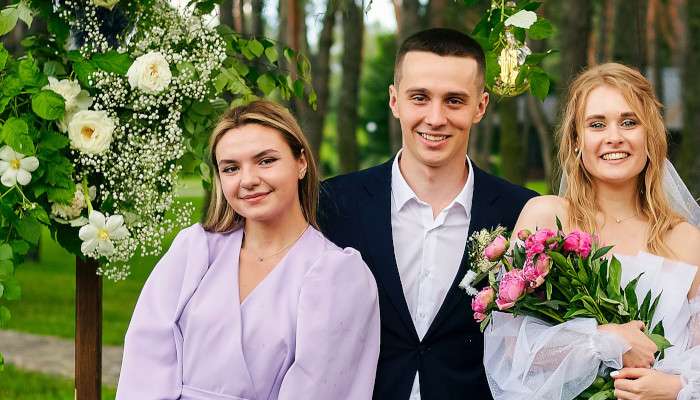 What to Wear for Semi-Formal Weddings
The goal for all wedding guest outfits in this dress code should be a more polished and refined look appropriate for early evening weddings or events that lean slightly more upscale. Some people often interchange this wedding dress code with "smart casual" or "business casual" looks, but options may vary based on other aspects of the event.
Women should opt for:
A cocktail dress or a sophisticated dress that falls just below the knee or at the knee
A tailored jumpsuit or pantsuit
Dressy separates, like a nice blouse paired with a skirt or dressy pants
Wedges or stylish flats
Tasteful jewelry and a clutch or small handbag
Meanwhile, men should consider:
A blazer or sports coat
Dress shirt (tie optional)
Dress pants (like chinos or slacks)
Dress shoes, ideally in a dark color like black or brown
3. Formal Attire Weddings (Black-Tie Optional)
With formal wedding dress codes, your outfit should have a polished and refined look. This dress code is often indicated for evening weddings, especially in upscale venues like ballrooms, hotels, or elegant banquet halls. This dress code can also be referred to as "black-tie optional."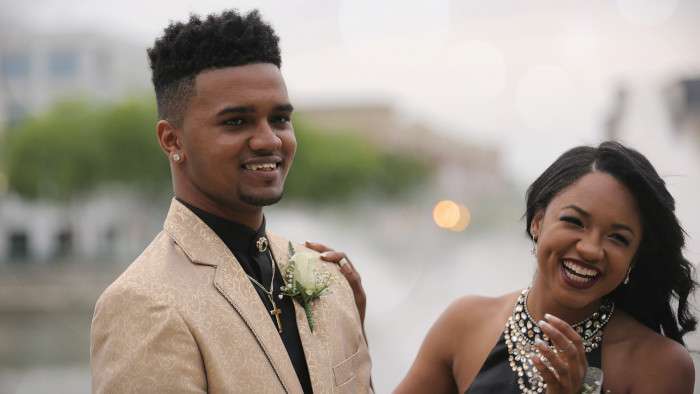 What to Wear for Formal Weddings
Formal wedding guest attire requires a more sophisticated and elegant look than semi-formal or casual dress codes. As formal attire demands high attention to grooming, accessories, and overall presentation, it's essential to pay attention to the details.
Female wedding guest outfits may include:
Rich colors like black, deep blue, or jewel tones
A formal evening gown that can be full-length or slightly below the knee
Elegant and understated accessories, such as statement jewelry
Heels or dressy flats
A clutch or small evening bag
Meanwhile, male formal attire typically looks like:
A dark-colored, well-tailored suit in black, charcoal, or navy
A crisp, white dress shirt
A conservative tie that complements the suit
Dress shoes, typically in black or dark brown
A dress watch and minimalistic accessories
Note: Men should make sure they know the difference between sports jackets, blazers, and suits when selecting wedding guest outfits for formal events.
4. Black-Tie Weddings
"Black tie" wedding dress codes are formal and elegant, typically associated with upscale and sophisticated events, often in the evening. These weddings are often high-budget and demand the most formal wedding attire.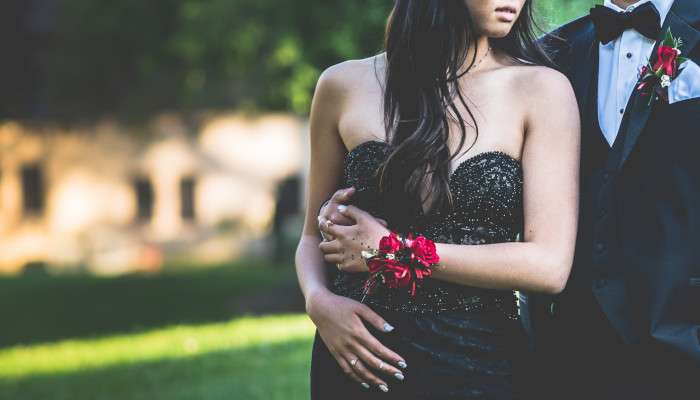 What to Wear for Black-Tie Weddings
At black-tie weddings, guests are expected to dress in a specific manner that reflects the formality of the occasion. You should stick to the wedding dress code for these events and don't try to dress casually.
Women typically wear:
A formal, full-length evening gown
Elegant and sophisticated accessories, such as statement jewelry and a clutch
Formal heels that complement the gown
More elaborate hairstyling and makeup
Meanwhile, men are expected to have:
A black tuxedo, preferably single-breasted, with satin lapels
A white dress shirt with a wingtip or spread collar
A black bow tie, preferably in silk
A formal waistcoat or cummerbund is worn to cover the waistband of the trousers
Black formal shoes, often patent leather or highly polished leather shoes
Black dress socks
Optional: A pocket square, cufflinks, and a formal watch
5. Cultural Weddings
Regardless of where you live, some couples choose to plan a wedding in the traditional format of their ancestors. In these scenarios, your wedding attire should respect traditions and cultural norms while also putting your best foot forward.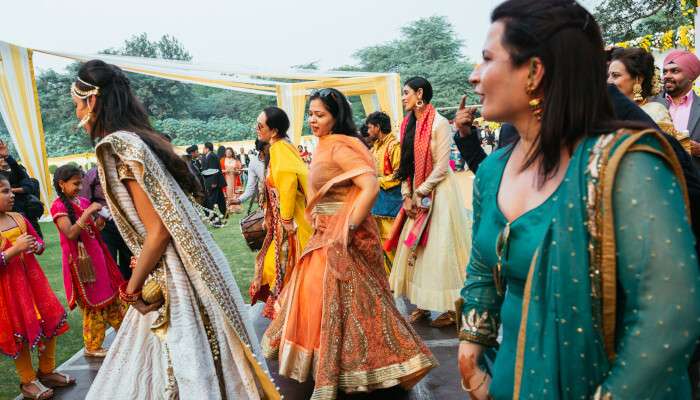 What to Wear for Cultural Weddings
Cultural wedding guest attire is entirely dependent on the religion or ethnic group of the wedding. However, we will provide some wedding guest outfit recommendations based on common cultural weddings.
Indian Wedding:
Women: Sari or Lehenga choli with intricate embroidery, heavy jewelry, and henna designs.
Men: Sherwani with matching trousers, embellished with traditional embroidery.
Traditional Chinese Wedding:
Women: Qipao (Cheongsam) in vibrant colors, adorned with intricate patterns.
Men: Tangzhuang or Zhongshan suit, often in dark or subtle colors, accompanied by a Mandarin-collar shirt.
Nigerian Wedding:
Women: Ankara or Aso Ebi outfit with bold patterns and vibrant colors, paired with gele (headwrap) and statement jewelry.
Men: Agbada or Babariga in richly patterned fabrics, often accessorized with a matching fila (cap) and embroidered shoes.
Scottish Wedding:
Women: Elegant dress with tartan accents, complemented by a fascinator or hat.
Men: Kilt with a formal jacket, sporran, and traditional accessories like a sgian-dubh (small knife) and kilt pin.
Japanese Wedding:
Women: Kimono or Furisode with elaborate floral motifs, along with traditional hairpins and accessories.
Men: Kimono or Montsuki Hakama, often in subdued colors, accompanied by a haori (jacket) and hakama pants.
Middle Eastern Wedding:
Women: Abaya or Kaftan with intricate embellishments, paired with a decorative hijab and statement jewelry.
Men: Thobe or Dishdasha with fine embroidery, worn with an accompanying head covering like a keffiyeh or ghutrah.
Wedding Dress Codes are Just One Part of a Wedding
Although wedding guest outfits matter to everyone attending the event, they aren't the only consideration attendees should make. Before you head to a friend or family member's nuptials, brush up on wedding etiquette so you know how to behave throughout the night. Also, avoid common conversational mistakes as you interact with other guests.
Image credit: Unsplash
Subscribe to our newsletter!
Get the best of ModernRatio delivered right to your inbox!