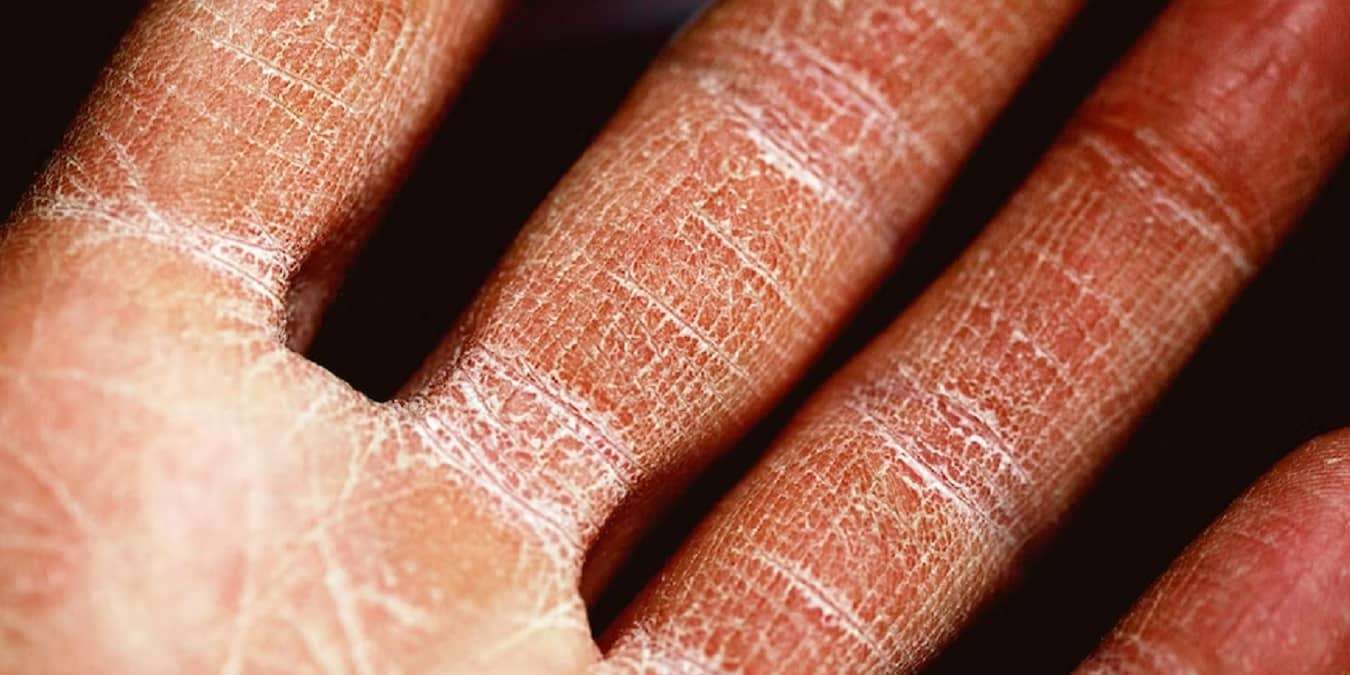 When you focus all of your attention on caring for your face, you might forget about your hands. Your face may look young and radiant, but your hands show your age.
If regular moisturizer doesn't work, you should try hand masks. Unlike face masks, they don't come as a flat mask – most hand masks come as a pair of moisturizing gloves that hydrate your skin.
Ready to get rid of rough, dry, and wrinkly palms? These moisturizing hand masks will make your hands feel smooth and soft.
1. Aveeno Repairing CICA Hand Mask
Nourish your skin with the Aveeno Repairing CICA Hand Mask. It's made with an ingredient called "cicatrizant," which is specifically made to soothe the skin.
It also comes packed with prebiotic oat and shea butter that work to replenish the moisture in your hands. Simply slip on the non-drip gloves for about ten minutes, and you'll notice how much healthier your hands look and feel.
2. Elixir Premium Lab Moisturizing Gloves
When you wear hand masks, you're probably tempted to use your smartphone. Hand masks usually prevent you from using your phone for several minutes, but this mask doesn't. Elixir Premium Lab's Moisturizing Gloves are made with a touchscreen-friendly material – that way, you can let the gloves do its job, while you relax with your tablet or smartphone.
These gloves will firm your hands' skin, diminish the appearance of wrinkles, and make your hands feel velvety-smooth. The nourishing lemon, anise, olive, and shea butter can even help improve the strength of your nails and repair dry cuticles.
3. Spa Life Men's Glacial Mineral Hand Gloves
Although Spa Life's Glacial Mineral Moisturizing Gloves are labeled as a "men's" product, you don't have to be a man to use it. These gloves are specifically formulated for working hands. If your hands are damaged from washing dishes or working outside in cold weather, use this hand mask to get relief from severely cracked skin.
Wear the gloves for 20-30 minutes to get the best results. Not only do Spa Life's gloves moisturize your skin, but they also shrink calluses, heal your fingernails, and remove dead skin.
4. Epielle Intensive Repairing Hand Masks
Epielle's Intensive Repairing Hand Masks deeply moisturize even the driest hands with coconut oil, hyaluronic acid, and milk extract. The creamy formula inside the gloves instantly goes to work to soothe and hydrate. Plus, there's even a sticker to keep them from slipping off while they're working.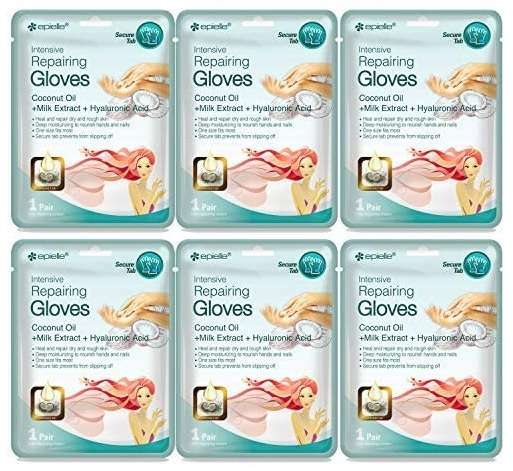 Epielle offers nourishing hand masks in several varieties with various skin loving ingredients, such as shea butter, jojoba oil, avocado oil, sunflower seed oil, Vitamin E, and more. And, if you have dry feet, grab the foot masks with the same ingredients as well.
5. Mediheal Theraffin Hand Mask
Sit back and relax for 20 minutes while the Mediheal Theraffin Hand Mask works wonders on your hands. The soothing shea butter scent leaves your hands smelling great when you're finished. The best part is if you have dry, flaky, or calloused skin, the exfoliating mask helps remove the dead skin, while moisturizing deeply.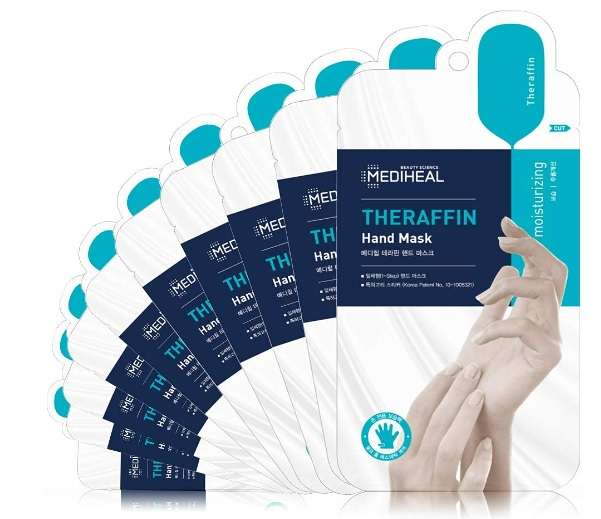 It feels like you've taken your hands to the spa thinks to shea butter, paraffin, and ceramides. Just one treatment and your hands feel softer and the skin looks brighter and healthier.
6. Voesh Collagen Gloves
If you want a total spa treatment from your own house, consider trying the Voesh Collagen Gloves. You can rip the fingertips of these gloves off, allowing you to paint your nails or use your smartphone.
This hand mask contains collagen, an ingredient to help your skin cells regenerate. It also has plenty of argan oil and shea butter to make your skin feel extra soft.
7. Nu-Pore Moisturizing Gloves
The Nu-Pore Moisturizing Gloves come with both jojoba oil and aloe vera extract that soothes and softens your skin. These gloves also help get rid of any small wrinkles that make your skin look older.
Insert your hands inside the gloves, and massage your hands to aid absorption. After 20 to 30 minutes, your hands will feel much more hydrated.
8. La Milee Hand Mask
While most nourishing hand masks are in glove form, the La Milee Hand Mask is a peel off honey wax treatment. Simply apply a thin layer, let it dry, and peel off gently after 20-25 minutes. A mixture of glycerin, honey extract, hyaluronic acid, and natural milk extract deeply hydrate, while exfoliating and even brightening dull, dry skin.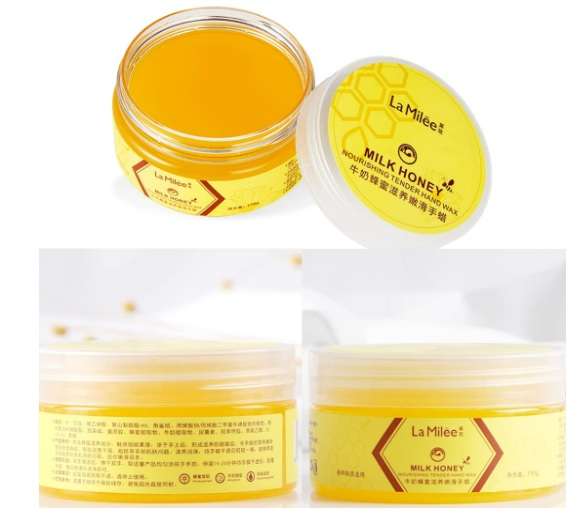 Use this on your hands and feet for a luxurious spa day at home. If you have extremely sensitive skin, you may feel a little sting as you peel the mask off. However, the company recommends applying hand cream immediately after for best results.
9. Aliver Hand Moisturizing Glove
The lively peppermint scent makes the Aliver Hand Moisturizing Glove immediately stand out from the rest. Collagen, shea butter, Vitamin E, and natural plant extracts nourish deeply to reduce fine lines, exfoliate dead skin cells, and leave behind smooth, soft skin. All it takes is 20 minutes to get incredible results.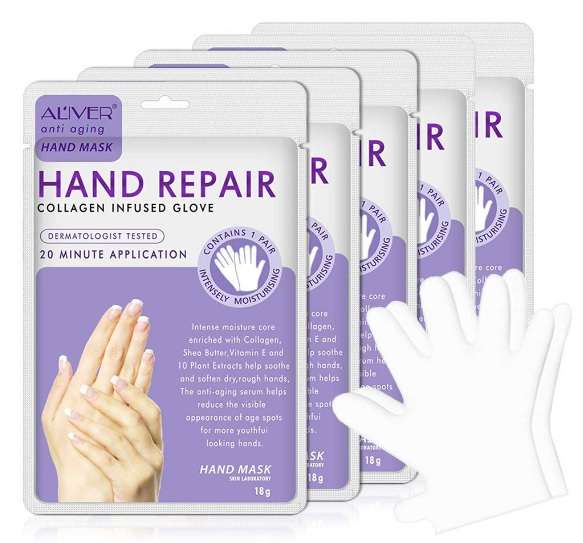 It's the perfect anti-aging hand mask, but it's really perfect for all ages. After all, it's never too early to start taking better care of your hands and skin.
For other cheap ways to take care of your skin, check out these household items that you can use in your skincare routine.
Frequently Asked Questions
Are hand masks safe for sensitive skin?
Unless you're allergic to any of the ingredients in the mask, they should be safe for sensitive skin. Peels are a little harsher because they exfoliate more as you peel them off.
How can I keep the gloves on?
If your gloves keep slipping off, look for varieties that have sticker to seal them. Or, slip a scrunchie around your wrist to hold the glove in place.
What are the most beneficial ingredients?
Ceramides, hyaluronic acid, Vitamin E, shea butter, and coconut oil are all ideal for very dry skin. In fact, some of these ingredients are often included in skin serums for their hydrating and anti-aging properties.
Image credit: Unsplash
Subscribe to our newsletter!
Get the best of ModernRatio delivered right to your inbox!