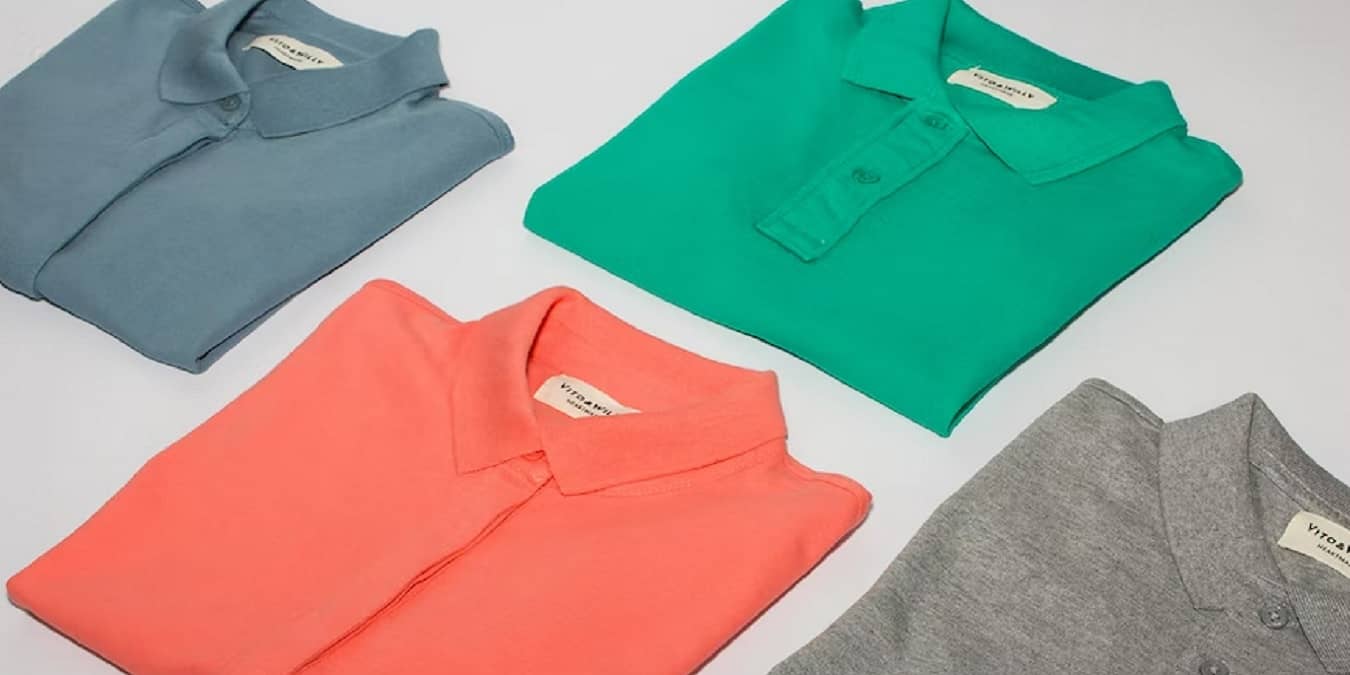 When you want a simple look that's a bit more dressed up than a t-shirt, a polo shirt is a fantastic tool to have in your wardrobe. Sometimes a button-down shirt is, well, too buttoned-up for the look you're trying to achieve, but you still want a collared shirt to make yourself look a bit more formal.
If you're going to head out of the house in a polo shirt, make sure you understand how to work with a polo shirt's buttons, how it should fit, and what you want to pair one with so you can create a look that's super stylish and comfortable.
1. Polo Shirt Collars and Buttons
The key to looking good in a polo shirt comes down to understanding how to wear the collar and buttons. It's not a cut and dry situation – the look you're going for will determine how you should position the top portion of your shirt.
To make it simple: the more buttons you leave unbuttoned, the more casual the look is. And yes, you can actually button the top button if you want to create a clean, polish outfit. It's not something you want to do in all situations, but if you're wearing a polo shirt with a blazer, for example, then it's perfectly acceptable to button all the way up.
The same goes for leaving all the buttons undone but in reverse. If you're wearing some boardshorts and hitting the beach, feel free to go fully unbuttoned.
For most situations, you'll end up wearing one or two buttons closed, and the top one or two open. This is a nice middle ground that's appropriate for a wide range of situations, but you can definitely have fun playing with how you wear the buttons for different settings.
And should you pop your collar? Nope.
2. How Should Polo Shirts Fit?
Like all men's shirts, the current trend is to err more on the fitted side and less on the baggy side. However, because a polo is a bit more casual, you can get away with a little bit of breathing room, as long as the shirt doesn't look baggy and sloppy.
Basically, just follow the same fit rules you would for any other shirt, and you'll be able to rock a polo shirt like a truly stylish gentleman.
3. What to Wear With Polo Shirts
The thing that makes polo shirts such a must-own item for stylish guys is their versatility. What you wear a polo shirt with will determine the feel of the outfit. Unlike a t-shirt, which is almost exclusively casual, or an oxford, which is almost exclusively formal, a polo shirt sits right in the middle, which means it can go with pretty much anything.
Beach Day Polo Outfit
A polo shirt is a perfectly acceptable top to wear for a trip to the beach. You can pair it with some board shorts and flip-flops and look completely natural. Personally, I prefer this look over a t-shirt because it shows that you still put forth a little effort even in a casual situation. If you don't plan on hitting the water, you can swap the board shorts for a pair of chino shorts and still fit right in.
Casual Polo Outfit
A polo shirt is actually perfect when paired with some joggers and low-top sneakers (it's also a good idea to pair the sneakers with no-show socks). This is a look you won't want to wear when you're going out on a night on the town, but for something lowkey like hanging out with friends, going for a walk around the city, or something along those lines, it's a smart look.
Standard Polo Outfit
When you think about someone wearing a polo shirt, the first outfit that probably comes to mind is the shirt, a pair of contrasting chinos, and some smart shoes. It's a truly timeless look that stays popular. Even as the cut and fit of chinos have changed and evolved, the polo shirt has remained a constant.
Formal Polo Outfit
Believe it or not, you can actually wear a polo shirt with a blazer to create a more formal look. No, you can't replace a shirt and tie for truly formal situations, but when you want to ramp things up a notch, swap the chinos out for some dressier pants, add a blazer, and put on a pair of nice shoes, and you'll have a semi-formal outfit that's as comfortable as it is good-looking.
4. To Tuck or Untuck?
Sometimes, this is a personal preference, but usually polo shirts look best untucked. Unless you're wearing one in a business casual or more formal environment that requires shirts to be tucked in, leave your polo shirt out. This is another reason why a more fitted style is best. Even when it's untucked, you still get more definition throughout the waist.
However, polo shirts are incredibly versatile. So, wear them tucked or untucked based on the situation. If tucking in, make sure you to choose a slightly longer polo so it stays tucked in.
5. Pick the Right Fabric
Knit, cashmere, athletic, cotton – what fabric is best for polo shirts? Just like most types of men's shirts, there's more than just one fabric and style to pick from. A knit cotton tends to be thicker, making it better for cooler temperatures, while an athletic blend with spandex works well for classier active wear.
Create an elegant casual look with a soft cashmere polo. Tend to sweat a lot or are in a warmer climate? Opt for a synthetic moisture wicking blend or a fine mesh style. Ideally, you should have a variety of polo shirts in different fabrics and styles, just like you should also have a variety of t-shirts.
Frequently Asked Question
Do golf polos fit differently than other polo shirts?
A golf polo is just one of many types of polo shirt styles. Often, golf polos tuck in more near the waist for a slimming effect. But, you can find other styles that fit looser or even more snug.
Try out different styles to find what feels and looks best on you. Usually, a tighter fit is difficult to pull off and it can be a little uncomfortable.
Outside of polo shirts, what are some other must-have items for a men's wardrobe?
If you're trying to step up your wardrobe, there are several things you should make sure you have. For instance, you'll want a great pair of sneakers and dress shoes. It also pays to have comfortable undershirts and a plain brown belt for both formal and casual situations.
When you're ready to complete your wardrobe, make sure you have these essentials.
How many colors of polo shirt should I have?
To give yourself the most variety, try to have at least two dark colors and two lighter colors. Since polos work well with most types of pants, pick colors that easily match most anything. Black and navy are popular darker colors, while red, light blue, and white are ideal light colors.
Image credit: Lena Kudryavtseva via Unsplash
Subscribe to our newsletter!
Get the best of ModernRatio delivered right to your inbox!