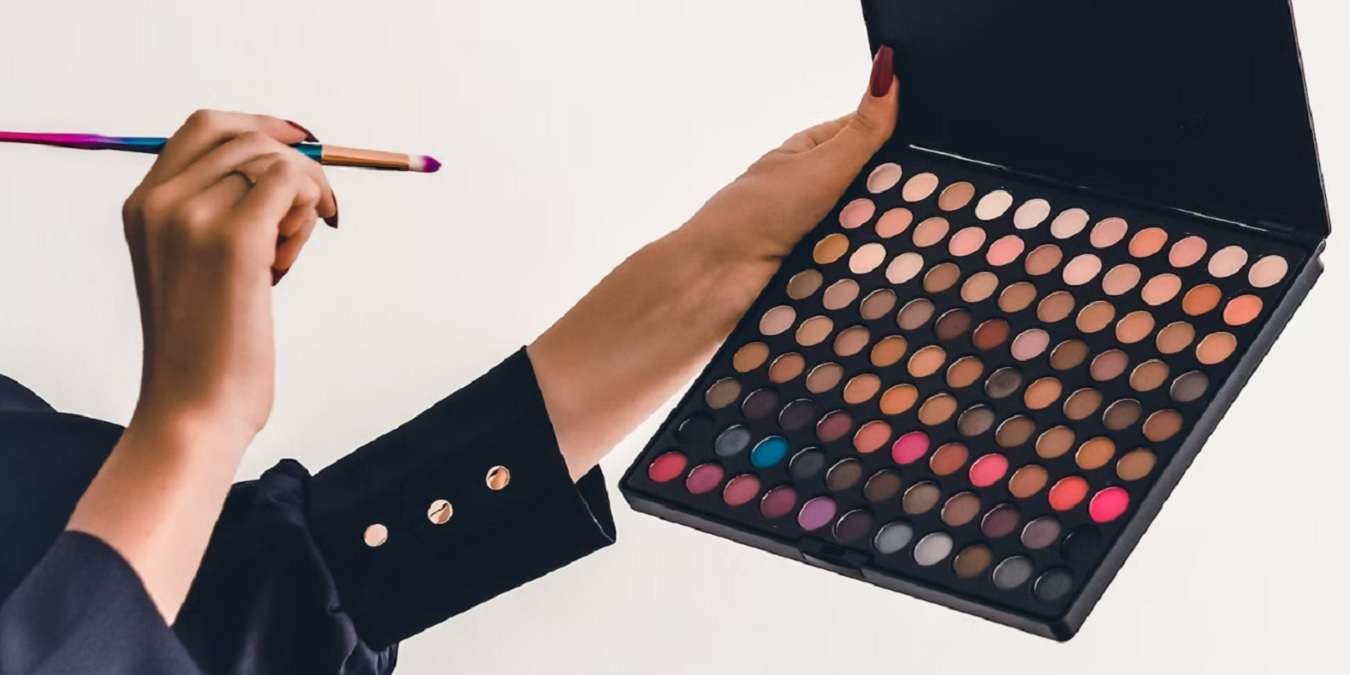 Summer is all about bright and vibrant colors. It's the one time of year that you can get away with wearing the funkiest shades on your lids.
From mermaid blues to sunny oranges, you definitely won't want to wear sunglasses to cover up your colorful look. These summer eyeshadow palettes will last you all season long.
1. Urban Decay Naked Mini Half Baked Eyeshadow Palette
Urban Decay's Naked Mini Half Baked Eyeshadow palette comes with six gorgeous shades, ranging from a light beige, shimmery gold, and to a warm brown. It's the perfect palette to give yourself a sun-kissed glow. Even though it's a neutral palette, it has just enough color to give your look a pop of sunshine. Blend shades together to create incredible looks.
2. NYX Off Tropic Shadow Palette
Nothing screams summer like NYX's Off Tropic Shadow Palette. This mix of satin, metallic, and matte shades can make your eyes match the look of a dreamy, tropical paradise. Plus, NYX is one of the best budget-friendly makeup brands.
3. Lime Crime Venus 3 Eyeshadow Palette
Lime Crime is known for its collection of bright cosmetics, and its Venus 3 Eyeshadow Palette captures the brand's colorful look. This vibrant set of shades comes with bright pinks and purples that give off that carefree summer vibe.
4. Docolor Gemstone Eyeshadow Palette
Most eyeshadow palettes for summer focus on a single palette, but Docolor's Gemstone Eyeshadow palette is actually a set of six bold palettes featuring nine shades each. Get a sun kissed look with bright yellows and oranges or try on some sultry pinks and purples for a hot night out.
5. Maybelline New York Lemonade Craze Eyeshadow Palette
Indulge in 12 shades in a mix of neutral, soft, and warm hues. Maybelline's Lemonade Craze palette is perfect for almost every skin tone, letting you mix and match between lighter and darker shades to create stunning day and night looks. No matter what your summer plans entail, this palette has exactly what you need.
6. NYX Cosmetics Ultimate Shadow Palette Brights
This NYX Ultimate Shadow Palette is the most versatile of all summer palettes. With every color of the rainbow at your fingertips, you can create a vivid, colorful look using just a single palette. The diverse set of metallic, satin, and shimmery shades can instantly brighten up your day.
7. BYS Festival Eyeshadow Palette
BYS is an Australian makeup brand that focuses on high-quality, yet affordable cosmetics. For under $10, you can indulge in Banarama's collection of brilliant summer festival shades. Go big and bold at this summer's festivals with 20 incredible colors.
8. Anastasia Beverly Hills Modern Renaissance Eyeshadow Palette
Anastasia Beverly Hills' Modern Renaissance Eyeshadow Palette is the perfect blend of neutral and vibrant tones. The 14 shades range from toned-down browns and beiges, to luminous pinks. Keep it more matte or add in some shimmer or even mix and match to create new looks. If you want cruelty-free shadow, Anastasia Beverly Hills is one of the best cruelty-free brands.
9. Smashbox L.A. Cover Shot Eyeshadow Palette
This luxurious mixture from Smashbox is like getting multiple eyeshadow palettes for summer in a single collection. Build the perfect summer look from nine mattes and seven shimmery shades. There's even four larger base layer colors along with a free gel liner.
10. Tarte Salt Lyfe Eyeshadow Holiday Palette
Truly embrace the salt life this summer with the Tarte Salt Lyfe Eyeshadow Holiday palette. These 12 shimmery and matte colors scream sun and sand. Keep it simple with shimmering neutrals or add a pop of color with pinks and purples to make your eyes look like stunning sunsets and sunrises.
11. Etude House Play Color Eyes Good Morning Camping
Why not look cute and sweet like a ethereal forest nymph while camping this summer? Etude House's Play Color Eyes Good Morning Camping palette focuses on soft hues with gentle pinks and browns. The shimmery lavender and green are beautiful standouts in this 10 shade palette.
12. Catkin Matte and Glitter Eyeshadow Palette
Catkin offers one of the top eyeshadow palettes for summer thanks to the creamy waterproof and anti-sweat formula. Enjoy long lasting color with a mix of warm and cool tones. Easily build unique shading combinations to create a summer look that's all you.
Tip: Need a break from bold palettes? Try these neutral eyeshadow palettes that look good any day of the year.
Frequently Asked Questions
How can I make my eyeshadow last longer?
Start by applying makeup primer to your lids. Some eyeshadows have primer mixed in. Then, apply your eyeshadow. You can even finish with makeup setting spray to outlast the summer heat.
How can I create the perfect summer eye?
Start with primer and then cover the lid in a neutral shade. Apply your favorite summer shade, such as pink or purple, to the crease and slowly fill in the lid. Next, apply a more vibrant shade, such as a deep purple or blue, to the lower lash line and gently smudge it. Finish with a thin line of black liner on your top lash line.
Image credit: Unsplash
Subscribe to our newsletter!
Get the best of ModernRatio delivered right to your inbox!